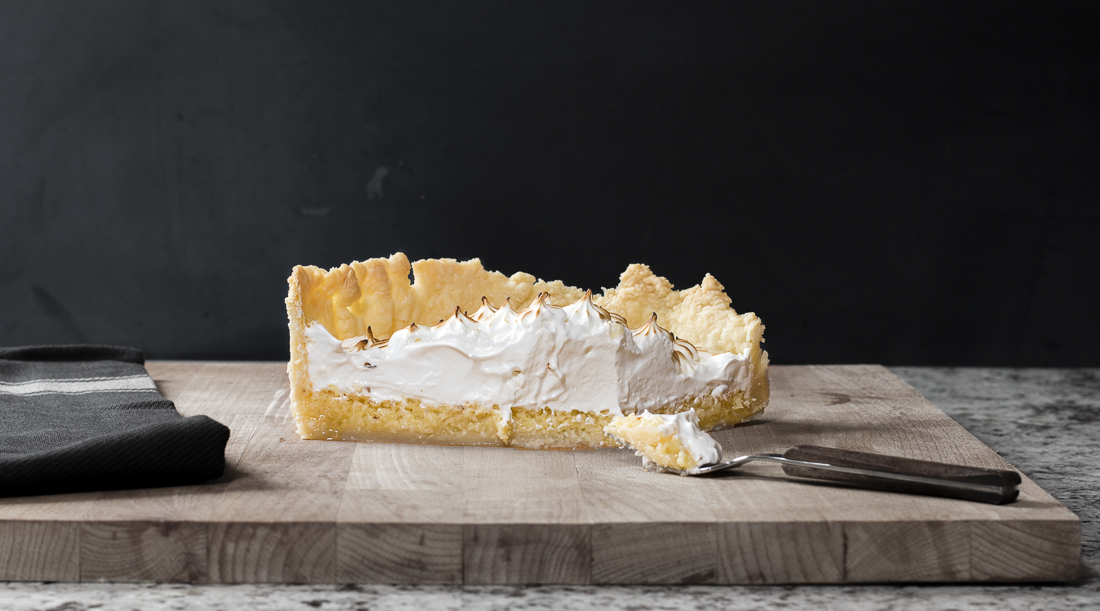 I had dinner with a friend a few weeks ago at a new-ish Ford Fry joint, Beetlecat. We dined, we chatted, we stuffed our face with octopus over labne, ginger curry shrimp, lobster rolls, and tostones with oooeee sauce. Then like any good northerner turned southerner, we ordered dessert. It's a thing; a choice of 4-5 beautifully thought out dishes that are on the same level as any entrée on the menu. You're basically expected to order dessert in the south. You're often handed a menu before you have a chance to ask for the check. And when you kindly tell your server that you're stuffed and "just can't", they will slightly tilt their head in confusion and slowly pull away the menus.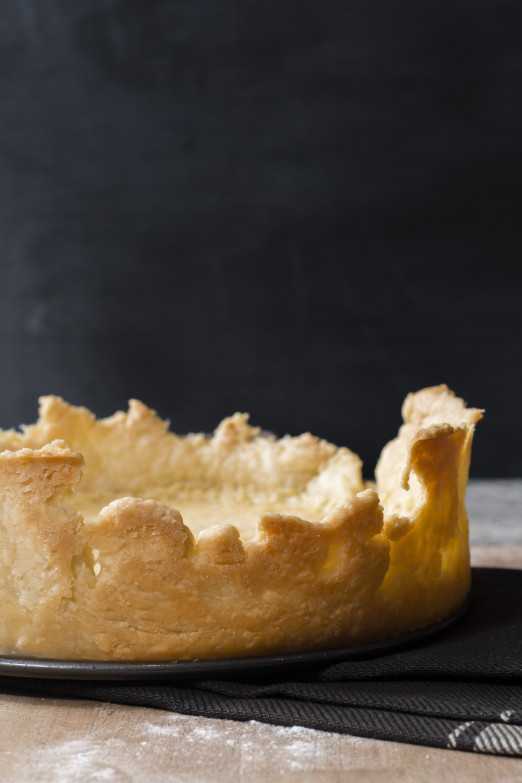 Simply put on the menu at Beetlecat, "Coconut Pie: Whipped Cream, Powdered Sugar". Sure, we'll take one of those. Server approved. When the plate hit the table, it was exactly what you expect. Coconut pie slice topped with a load of whipped cream, a sprinkling of powdered sugar and a bit of toasted coconut. We took our first bite, conversation suddenly stopped, our eyes locked and then rolled into the backs of our heads so far that we saw our brains. Dead. Just about half way through the slice, which wasn't very long at all, the server came over to see how we were enjoying it. We barely let him finish his question before saying, "We'll take another. Thanks. Bye." Perfectly orchestrated, as soon as we took our last bite, the second pie came out. The runner was about to place the plate down but saw that we had already received and finished a coconut pie. Immediately apologized, "there must have been a mistake". Mouths full with hunger still in our eyes we corrected her, "Oh, no mistake. We totally ordered a second one."
This pie was somewhat reminiscent of crack pie meets coconut cream pie. Sugary, sweet, dense coconut filling and airy whipped cream. Since I can't afford to eat a $7 slice of pie every week (I actually mean day), it had to be recreated. I just want to sit in front of this whole pie and eat it with a fork. #oneslicenotenough. Funny thing, I had just been sent some insane products from Anthony's Goods. Sour Cream Powder,
Heavy Cream Powder,
and their shredded coconut.
Could life get any better? I used the sour cream powder in the crust. It gave it a slight tang and also tenderized it. I love the way it ended up shaping out too. I wanted the crust to have a tall back side, which I kept referring to as junk in the trunk as I talked to myself while recipe testing. I let the dough hang over the sides of a spring form pan with the plan to slice off the excess after baking. What happened in the oven was science magical. Some of the crust slowly tore away in spots and left this abstract look. This is my way of glorifying a whoopsie. Mistakes can be discoveries. I can't promise that your crust will do the same as mine, but I hope it does.
I adapted Momofuku's
crack pie recipe for the base but changed milk powder to heavy cream powder, omitted the corn powder, and added shredded coconut. And oh, did it work perfectly. Instead of the whipped topping, meringue felt right. This pie is sweet. It's very, very sweet. If you're going to comment about the level of sweetness of this pie… please don't. IT'S VERY SWEET. The kind that hurts your teeth. If you're looking for something less sweet, use whipped cream instead of the meringue. Or just don't eat dessert.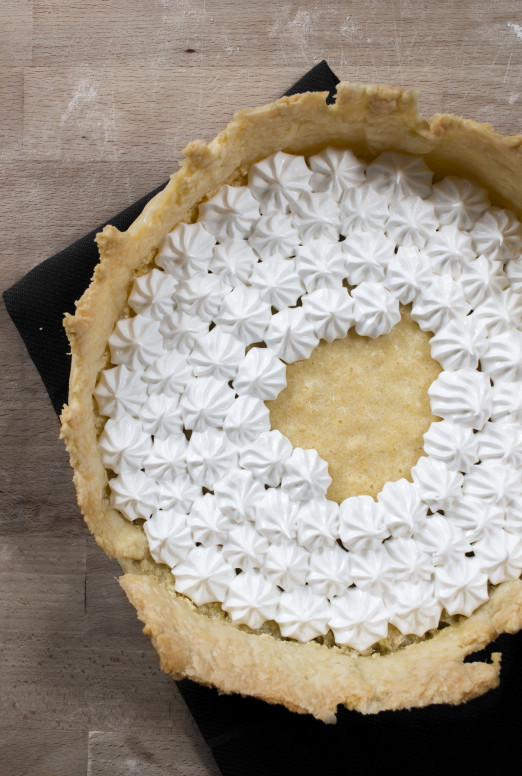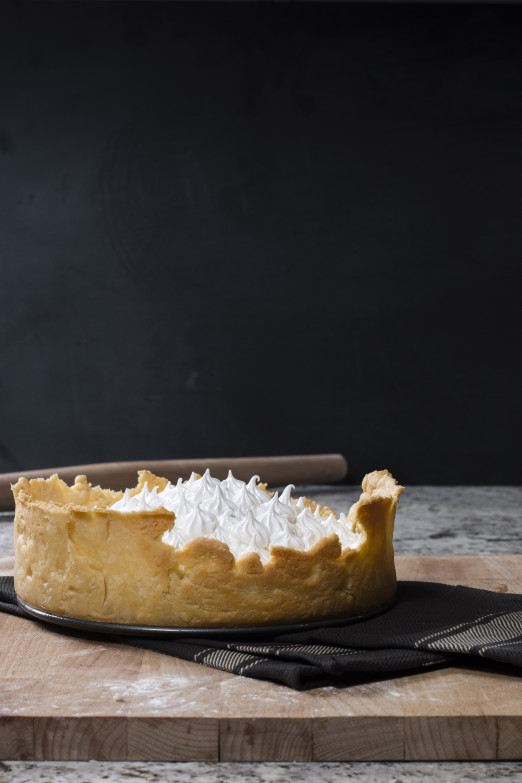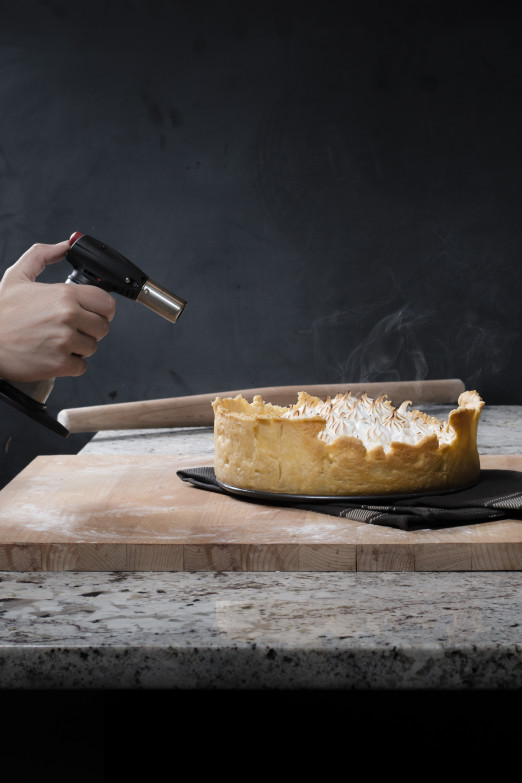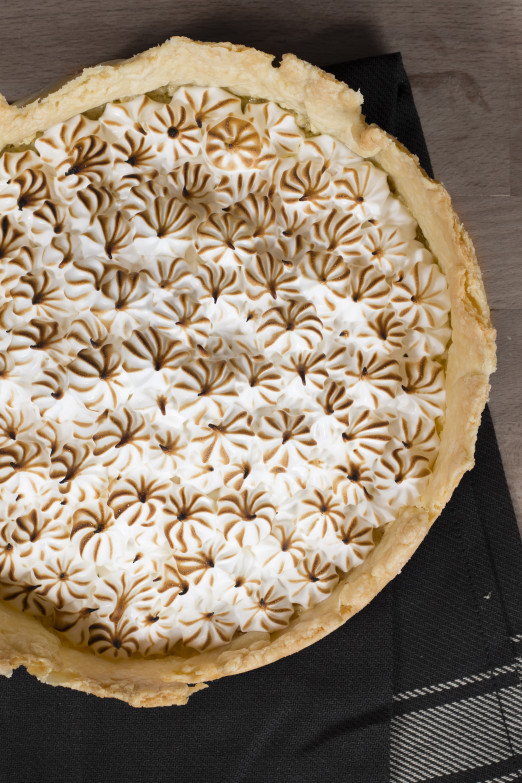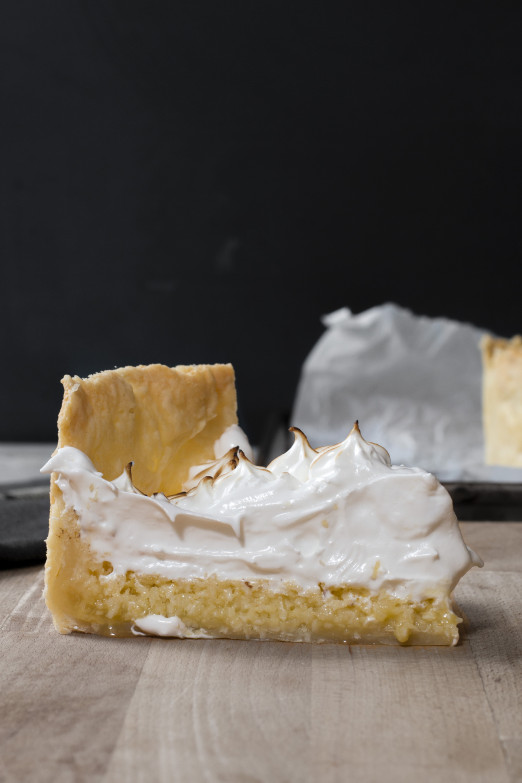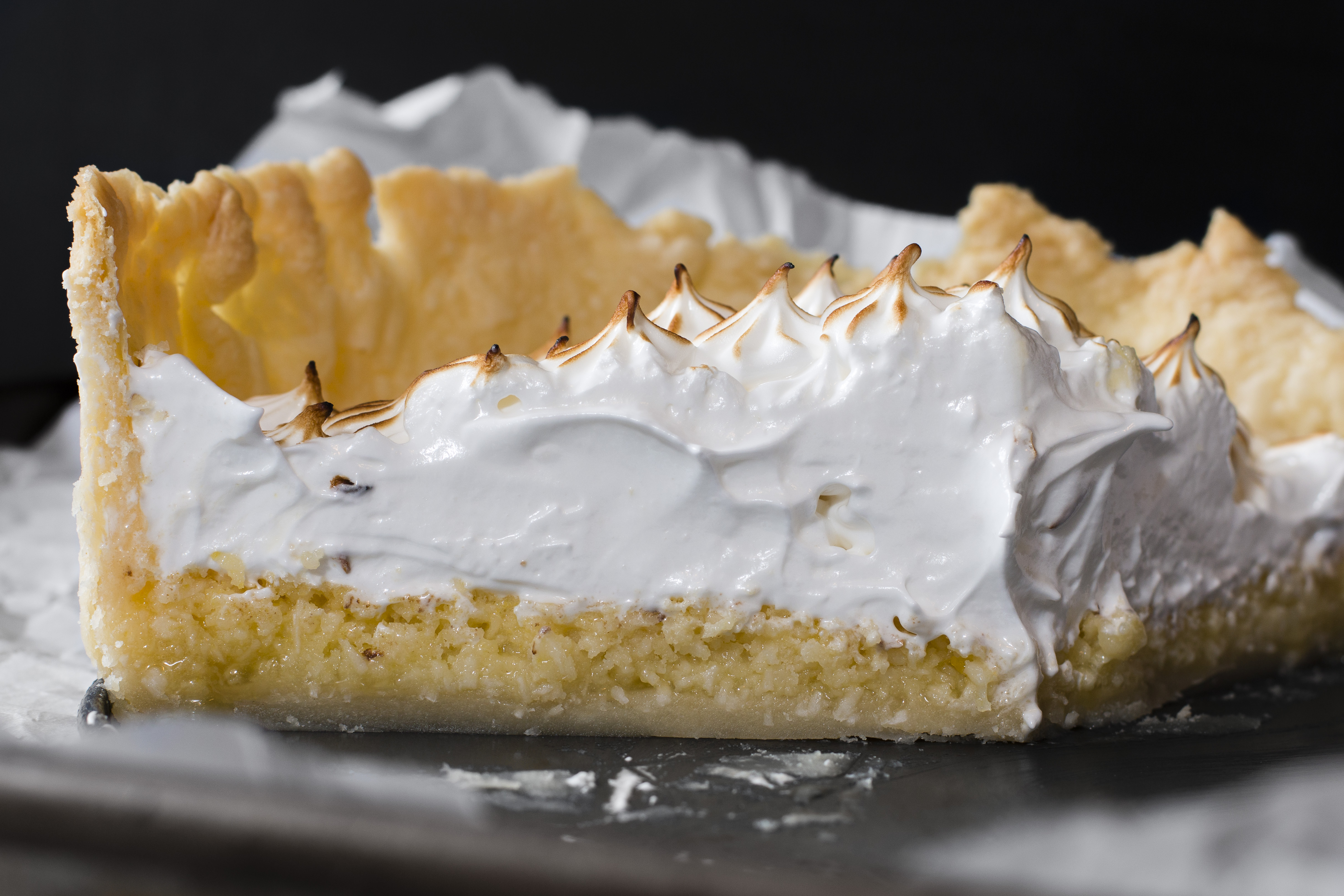 COCONUT SUGAR PIE
WITH SOUR CREAM CRUST AND MERINGUE
MAKES 9″ PIE
I HIGHLY RECOMMEND USING THE WEIGHT MEASUREMENTS!
THE THINGS
CRUST: adapted from ChefSteps Pate Brisée
250g (2 ¼ cups) bread flour
205g (14 ½ tbsp) cold unsalted butter, cut into small cubes
18g (2 tbsp) sour cream powder
, optional
3g (½ tsp) salt
55g (about ¼ cup) very cold water
COCONUT FILLING: inspired by Momofuku's Crack Pie recipe
240g (1 ¼ cup) granulated sugar
30g (1/3 cup) heavy cream powder
(or milk powder)
3g (½ tsp) salt
113g (8 tbsp) unsalted butter, melted
100g (1/3 cup + 1 tbsp) heavy cream
2g (½ tsp) vanilla extract
4 egg yolks
135g (1 1/3 cup) unsweetened shredded coconut
MERINGUE
4 egg whites
200g (1 cup) granulated sugar

THE WAY
CRUST
Place the bread flour, cold unsalted butter cubes, sour cream powder, and salt into the bowl of an electric mixer fitted with paddle attachment. Mix on the lowest speed until the chunks of butter are broken up into small pea size pieces. Add the cold water and mix on low until the dough just comes together smoothly. Keep an eye on this! Remove the dough from the bowl and press it into a round disk. Wrap well with plastic wrap and refrigerate for 3 hours.
Prepare a 9" spring form pan by lightly coating with cooking spray. Roll the dough onto a lightly floured surface to about ¼" thick. Be sure it's wide enough to fill the pan with extra to hang over the sides. Transfer the rolled pie dough into the prepared pan. Gently press the dough to the inside corners and walls of the pan. Allow the excess dough to hang over the sides. Set in the fridge for 1 hour.
COCONUT FILLING
In the bowl of an electric mixer fitted with paddle attachment, combine the sugar, heavy cream powder, and salt. Mix on low until homogenous. Add the melted butter, heavy cream, and vanilla extract. Mix on low until just combined. Add the egg yolks and mix again until just combined. Add the shredded coconut and mix again. You do not want to incorporate any air.
BAKING THE PIE
Pre-heat the oven to 350˚F and line a sheet pan with tin foil (precautionary). Pour the filling into the prepared crust and spread evenly. Transfer to the sheet pan. Bake for 20 minutes. Check the consistency by gently shaking the sheet pan. If the filling is still very jiggly around the edges, bake for an additional 5-10 minutes. The filling should still jiggle in the middle and be somewhat set on the edges. The piecrust will naturally fall off the edges of the pan in some spots. It's perrrtty. Remove the pie from the oven and set on a cooling rack. Once cool enough, break off any over hanging crust, cover with plastic wrap and refrigerate for at least 5 hours, best if refrigerated overnight.
MERINGUE
In a heatproof bowl, whisk together the egg whites and sugar. Heat the mixture over simmering water, double boiler style, whisking constantly until it reaches 140˚F. Immediately transfer to the bowl of an electric mixer fitted with whisk attachment and whip until light, glossy, medium to stiff peaks form. Remove the pie from the spring form pan. Spread or pipe the meringue onto the pie. Using a kitchen torch, lightly toast the meringue until lightly browned, or place under broiler.
This pie will keep for up to 5 days covered well in the fridge. Serve cold!