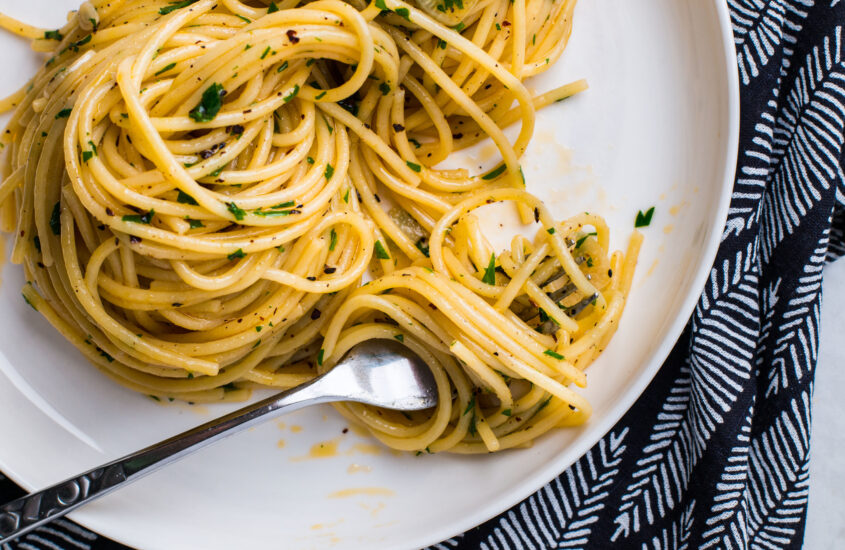 With URFA for an incredibly easy yet satisfying pasta!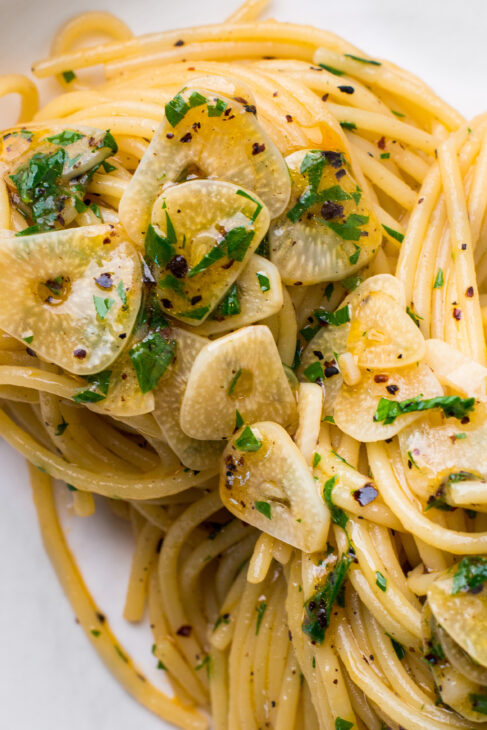 When you make Spaghetti Aglio e Olio properly it's juicy. The process of emulsifying the olive oil with the starchy pasta water makes all the difference in this simple 5-ingredient classic. There is a sauce, it's not just oil covered spaghetti. The sauce is glossy and sticks to the spaghetti just as if it were made with butter or even cream. It's so unctuous (I've always wanted to use that word and it's perfect here).
How is this done?
A balance of olive oil and starchy water plus CONSTANT stirring and tossing. When you constantly stir the spaghetti in the oil and pasta water, the starches begin to bind with the olive oil and this allows the water and oil to emulsify together. The right balance of pasta water, olive oil, and stirring/tossing will give you a silky, glossy, juicy kind of sauce.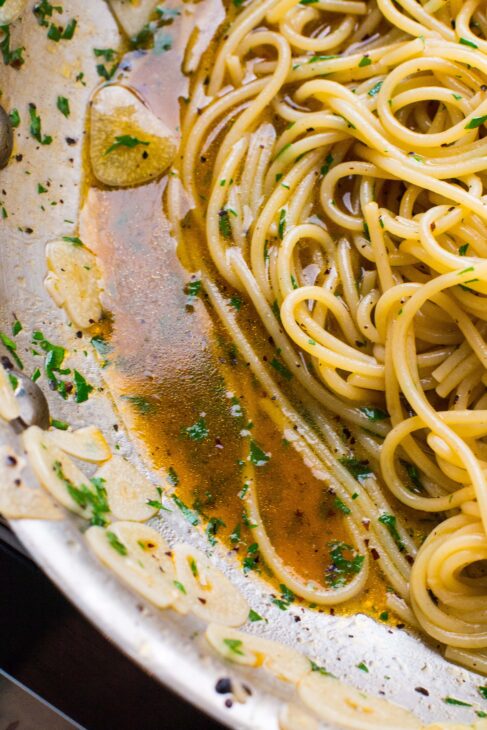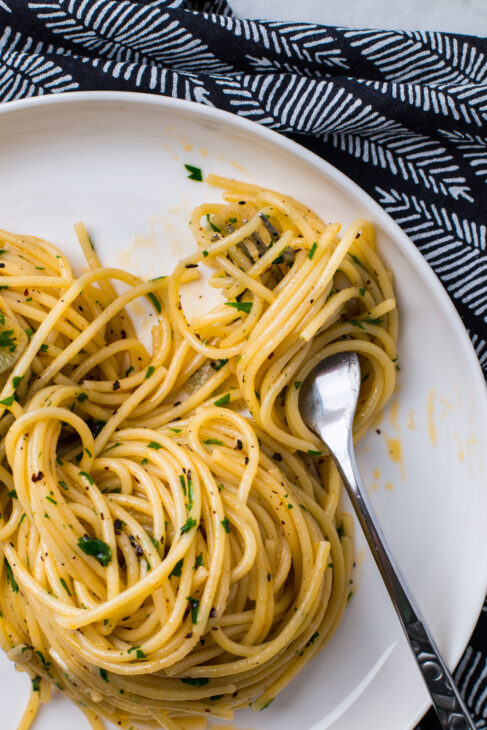 You really want me to cook my spaghetti 2 minutes less than directed on the package?
YUP. At least 2 minutes less if I'm being honest. You're going to keep cooking that spaghetti in the pan with the oil, adding pasta water and stirring until you have the right doneness for the spaghetti. This is kind of like how you cook risotto. This allows some more of those starches to come off of the pasta helping to created that emulsified sauce.
Why am I starting this off in a cold pan?
The best way to infuse that olive oil with the most garlic flavor without burning the garlic is to start it off in a cold pan and slowly bring it up to a sizzle.
What if I'm mixing but my sauce looks too oily?
This just means you need to add a bit more pasta water, it may have evaporated out leaving the oil with nothing to bind to. Just add a bit more water and keep tossing!
What if my sauce looks watery and doesn't cling to my spaghetti?
This just needs a bit more stirring and a bit more time! Keep tossing or stirring over the heat and allow a bit of that water to evaporate. But seriously, keep stirring or it wont emuslify!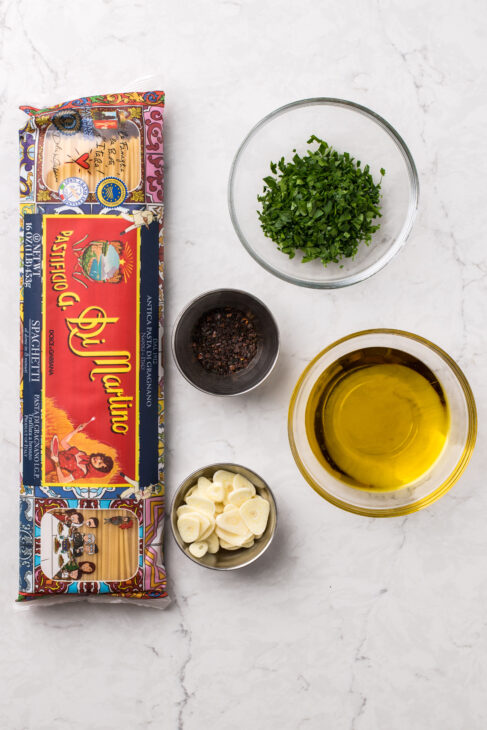 Do I have to use a great spaghetti brand?
Yes, this is important. If you can find Bronze Die extruded spaghetti, go with that. It has a rougher surface that helps with the making of the sauce. I've managed to find some very good ones out there.
Brands like these are great:
Why Urfa?
I love the smokey, sweet flavor of Urfa Chili Flakes. It's a nice little change to your basic red pepper flakes that you sprinkle on your pizza. If you can't find Urfa, you can omit it completely or add dried spicy red pepper flakes. Aleppo works nicely here too.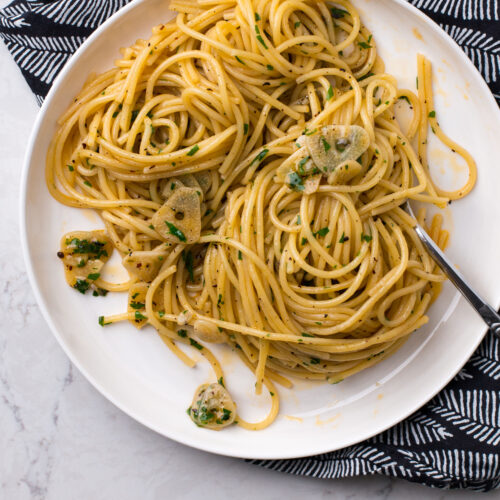 Spaghetti Aglio e Olio with Urfa
Spaghetti Aglio e Olio is by far the simplest pasta dish you can make. With the right technique you can make it insanely good! This one is made with Urfa for a bit of a smokey touch.
Print
Pin
Ingredients
1/2

lb

good quality dried spaghetti

1/4

cup

extra virgin olive oil

3

cloves

garlic

, thinly sliced

1

tsp

urfa bebier

, regular red pepper flakes are ok too

kosher salt

2

tbsp

chopped parsley
Instructions
Bring a large pot of heavily salted water to a boil. Cook spaghetti a full 2 minutes shy of package time for al-dente. (Mine was 9 minute so I boiled it for 7 minutes). SAVE at least 2 CUPS OF PASTA COOKING WATER before draining!

While the spaghetti is cooking, add olive oil and garlic to a COLD large sauté pan (12").

Place the sauté pan over medium heat. As soon as the garlic starts to sizzle, add the urfa and stir for 30 seconds.

Immediately add 1/2 cup of pasta cooking water and stir, bringing it to a boil, about 1 minute.

Add drained pasta and stir/toss for 1 minute.

Add another 1/2 cup pasta cooking water and continue to cook while CONSTANTLY stirring/tossing, about 1-2 minutes. This will be what emulsifies the sauce!

If you find that the spaghetti is still not cooked through at this point, add another 1/4 cup of pasta water and continue to stir/toss and cook until the sauce is emulsified, glossy, and coating the spaghetti. This is the key! Pasta water, stir/toss.

Once the spaghetti is cooked al-dente. Turn off the heat, add the chopped parsley and season with kosher salt and stir.

Plate and serve immediately.
Notes
The key to getting a glossy, emulsified sauce is adding enough pasta water and STIRRING/TOSSING! Keep going and it will get there!
You have to use a good quality dried spaghetti. Brands like these are great:
Di Martino Spaghetti (I have found this for less $ at some grocery stores)
Monograno Felicetti Spaghettoni (INCREDIBLE)
If you can't find Urfa, you can omit it completely or add dried spicy red pepper flakes.