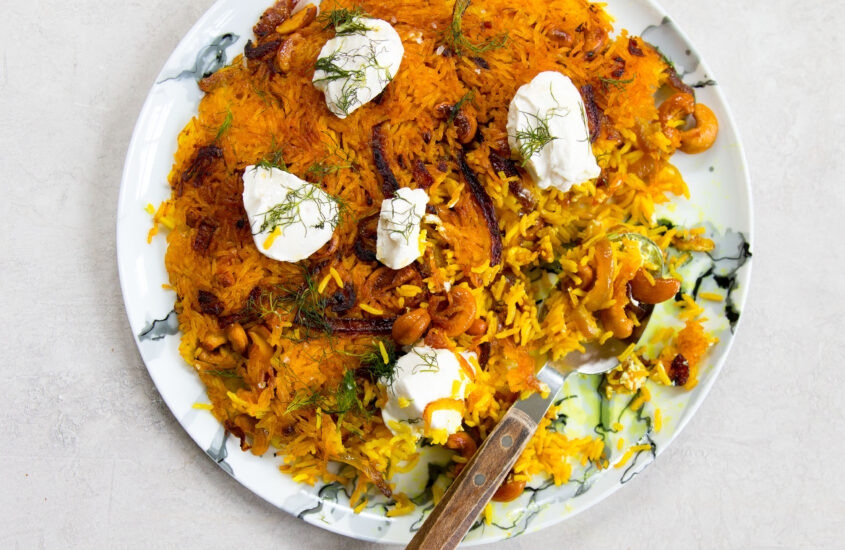 The crispiest, crunchiest, curry cashew rice. I've been asked for this recipe every time I've made it.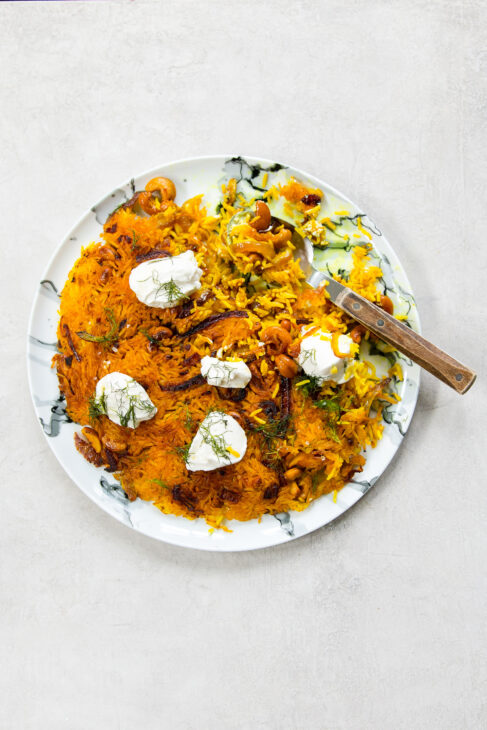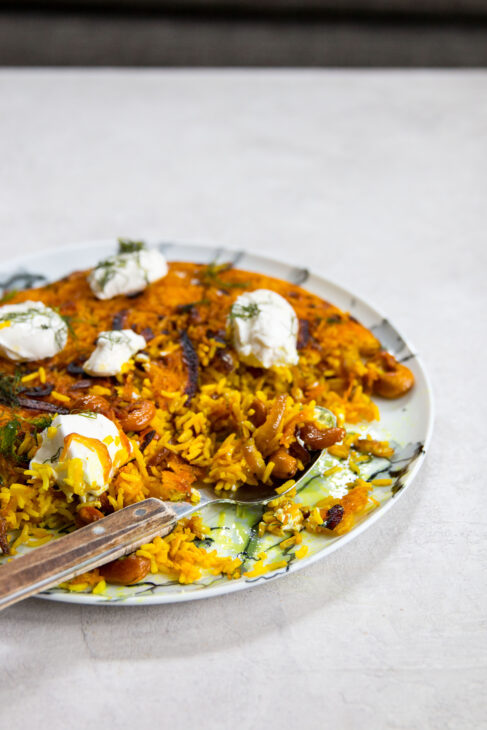 THE THINGS
Basmati Rice: I love a long grain rice for this dish but you can use any rice. This is super easy to make with left over rice from any take out place too.
FATS: I use a combination of olive oil and butter. Butter for the taste and olive oil so the butter can hold up to the heat and keeps from burning. You can use any combination of fats though! I've made this with both ghee and schmaltz instead of butter and it works beautifully.
Cashews: I'm obsessed with the whole roasted (unsalted) cashews here. They become meaty and substantial when cooked. You can also use slivered almonds though.
Spices: I love what the turmeric does to this dish. It gives it that wow factor because of the bright yellow color that is makes this dish. I wouldn't skip the turmeric. You can add more curry powder if your heart desires though!
Labneh: The creaminess of the labneh cuts through the savoriness of the rice. It's essential. If you can't find Labneh, you can use a full fat greek yogurt or even sour cream in a pinch.
THE WAY
LOTS OF WATER METHOD FOR MAKING RICE: The first time I heard about this method for cooking rice in Bon Appetit's podcast with Carla and Amiel, I was shook. It is the cannot fail way to cook rice. You boil rice in a large pot of boiling water, exactly like pasta, until just done. The beauty in this is there is no guess work as to when the rice is cooked because you can taste it with no fear of lifting any lids and letting steam escape. You don't have to worry about rice to water ratios either. AND I believe it may be the fastest way to make rice. The rice is beautiful and fluffy when cooked this way. You can pull out individual grains, they don't stick together. I love making rice salads with this method too. I can obviously go on and on about cooking rice this way. Just try it for yourself!
Mix until you shouldn't mix anymore: Once you've softened your onions, added the cashews, toasted the spices, and added the rice, you will want to press the rice down and compact it. Once you've done this DO NOT TRY TO MIX AT ALL. In fact, don't touch the rice. Just give the pan a few quarter turns throughout the crisping process to make sure the heat is evenly distributed on the pan. This ensures you get a great crust on that rice and that it will turn out of the pan in once piece.
Don't fear the flip: When you're ready to turn out the rice cake onto a plate, choose a plate that is just slightly bigger than the 10″ pan. A 12″ plate is actually perfect. Slide the plate onto the top of the pan and swiftly flip it all in one motion. DO NOT FEAR THE FLIP… it knows. You got this.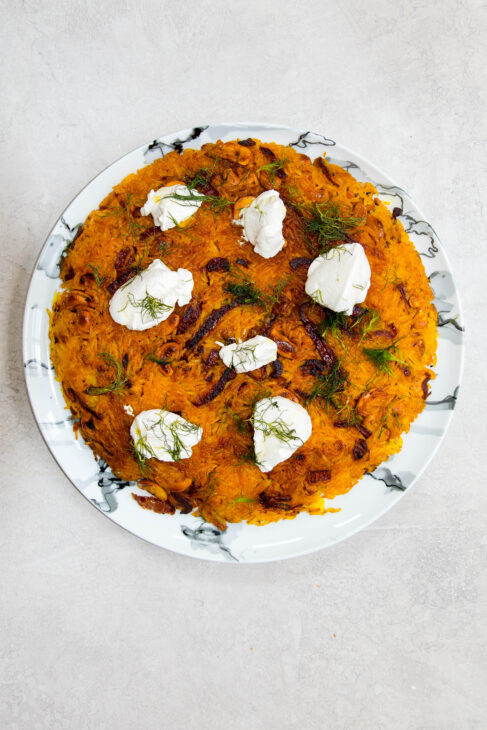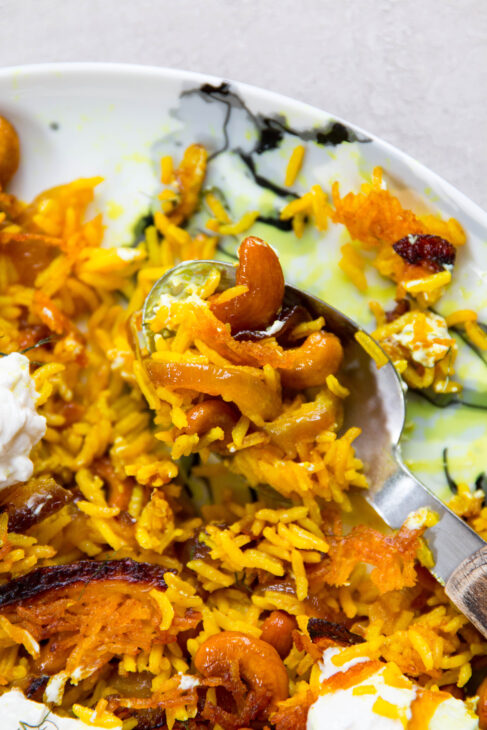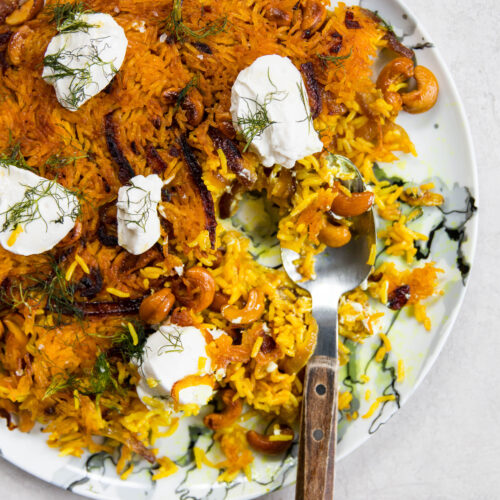 Crispy Cashew Rice
The crispiest Cashew Rice with caramelized onions, turmeric, and curry powder topped with tangy labne and fresh dill. So satisfying and the perfect side to any main!
Print
Pin
Servings:
4
small servings
Ingredients
1

cup

basmati rice

, or other long grain rice

kosher salt

3

tbsp

unsalted butter

, ghee or schmaltz work too

3

tbsp

olive oil

1

red onion

, sliced ¼" thick

3/4

cup

roasted unsalted cashews

1

tbsp

turmeric powder

1

tsp

curry powder

1/3

cup

Labneh

, greek yogurt or sour cream could work here too

fresh dill

, garnish but necessary
Instructions
TO BOIL THE RICE
Bring a large pot of heavily salted water to a boil.

Add the rice and stir immediately for about a minutes to prevent sticking.

Boil the rice for 8-10 minutes until just cooked through. Taste!

Drain the rice into a mesh strainer and rinse with cool water. Set aside
FOR THE CRUNCHY RICE
Heat the butter and olive oil in an 10" non-stick fry pan over medium heat.

Add onions and a pinch of salt to the pan. Cook, stirring occasionally until the onions have softened and started to pick up color, about 5-6 minutes.

Add the cashews, turmeric, and curry powder, stir and continue cooking until fragrant, about 1 minute.

Add the rice and season with a good pinch of salt.

Mix until the rice is coated nicely with the oil and fat.

Flatten the rice into a compact cake in the pan using a wooden spatula. Press down fairly firmly all around.

Turn the heat to low and cook, completely undisturbed, until the rice around the edges is slightly browned, about 10 minutes. Give the pan a quarter turn every few minutes to distribute the heat evenly around the pan.

Turn the heat off and place a plate (that's slightly bigger than the pan) upside down on the pan and invert the huge crispy rice cake onto the plate.

Top with dollops of Labneh and garnish with lots of dill.
Notes
If you are a dried fruit type of person, add a handful of raisins, dried cranberries, barberries, or apricots while cooking the onions and nuts.
Use left over rice from any take out!
Change out the cashews for slivered almonds!
You can use more curry powder here too to make it spicier.