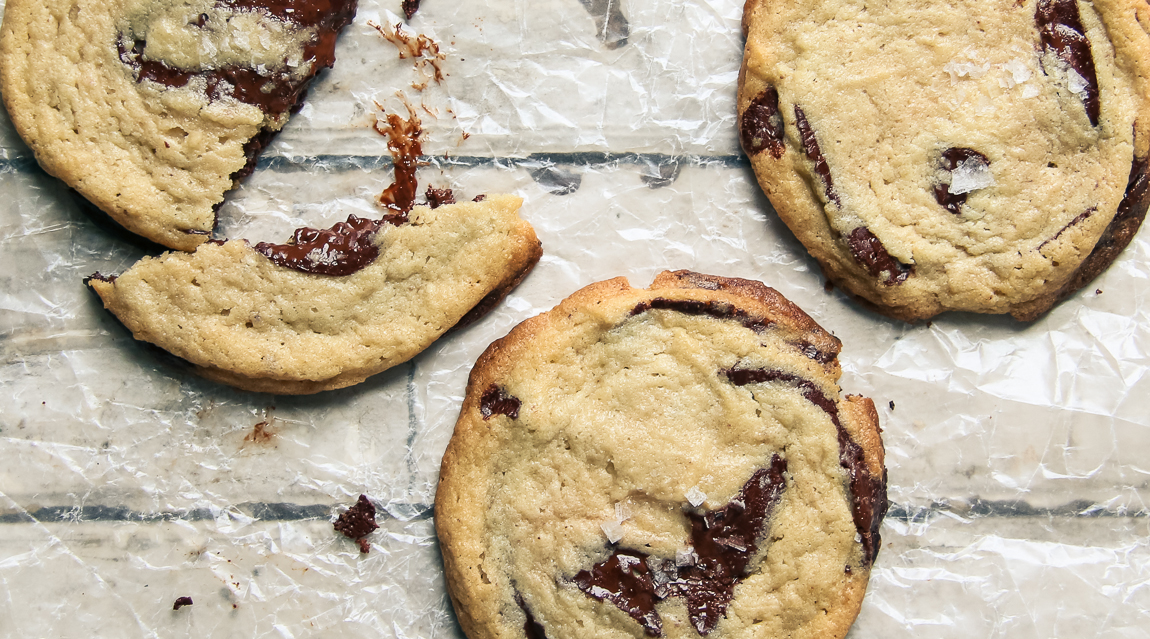 Famous Tahini Chocolate Chip Cookies
Herez it is! In honor of Page Street Publishing releasing Modern Israeli Cooking
in paperback, I give you the Famous Tahini Chocolate Chip Cookie recipe as seen in my COOKBOOK
, and in NY Times, and as a Genius Recipe on Food52, and as inspiration to David Lebovitz, and as a vegan/refined sugar free baking kit for Cake in a Crate! THE. Tahini. Chocolate. Chip. Cookie. Please, make this. Just think of it as your gateway recipe into Tahini in sweet stuff. Think peanut butter cookies if you're uncomfortable with this idea. Only sesame paste is it's hip and trendy cousin that always dresses well, has great instagram stories, and knows all the new music before you do.
"I own(ed) a cookie shop in Toronto. There needed to be a cookie recipe in this book. I dream that one day we will sell these in the shop. Luckily for me, the world has warmed to the idea of using tahini in desserts. I use it, a lot. These are super soft in the middle and crispy on the edges, just like a perfect cookie should be. Use the best-quality chocolate you can. I use Valrhona feves here because their shape and taste are superior to any chocolate I've tested with this recipe."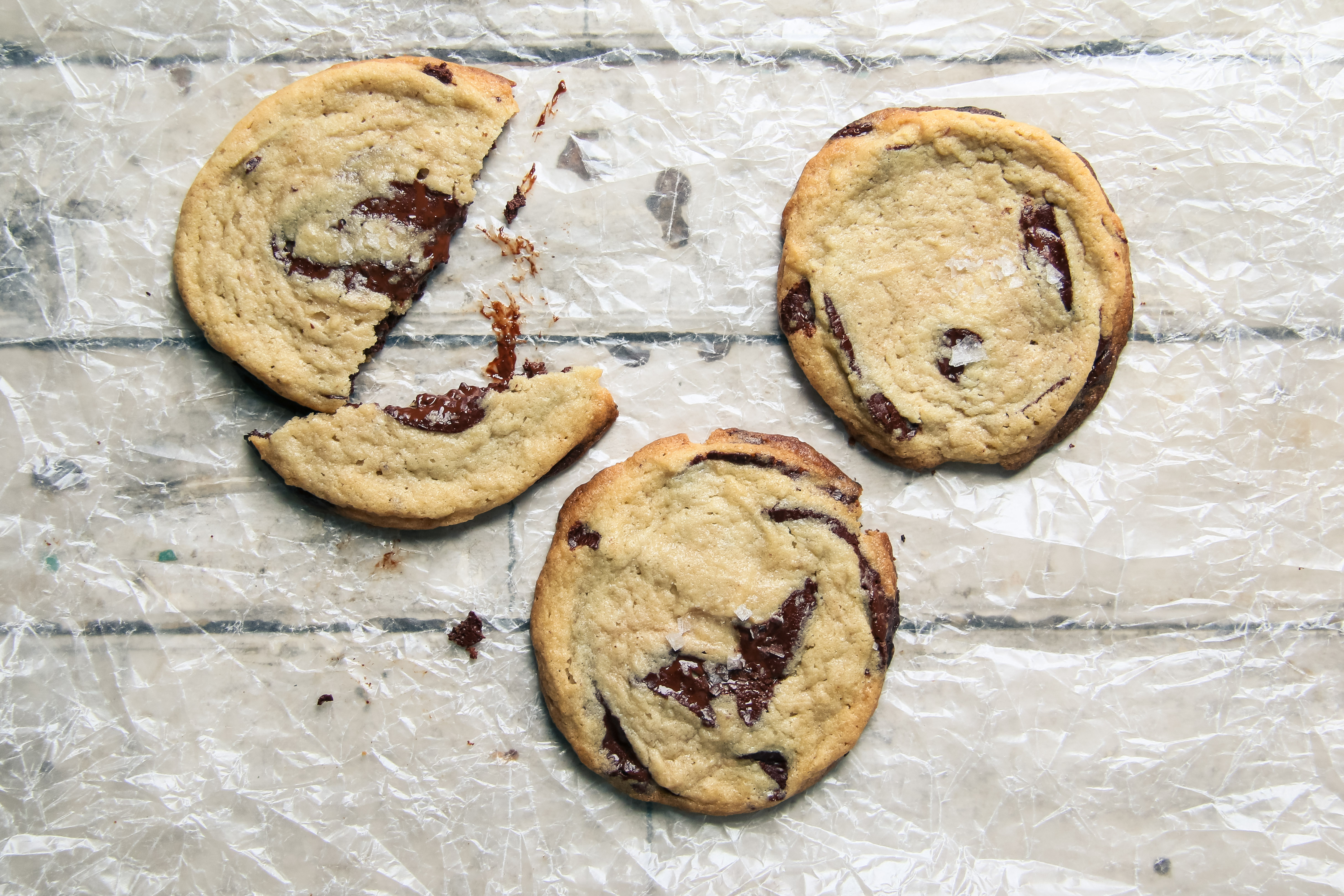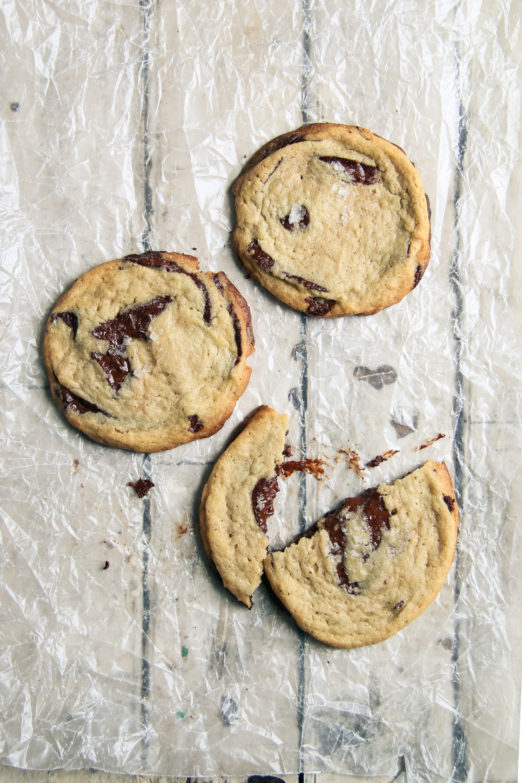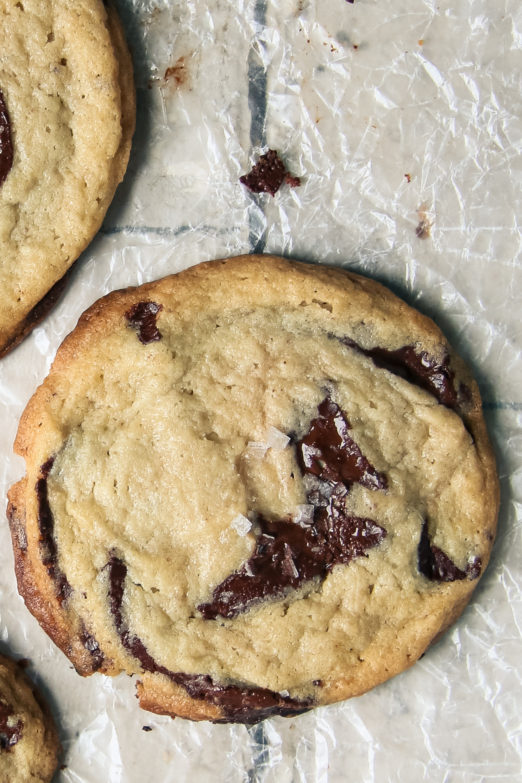 FAMOUS TAHINI CHOCOLATE CHIP COOKIES
MAKES 1 DOZEN COOKIES
THE THINGS
8 tbsp (113 g) room temperature unsalted butter
½ cup (120 ml) sesame paste (tahini)
1 cup (225 g) sugar
1 large egg
1 egg yolk
1 tsp vanilla extract
1 cup plus 2 tbsp (150 g) all-purpose flour
½ tsp baking soda
½ tsp baking powder
1 tsp kosher salt
1 ¾ cup (230 g) Valrhona Chocolate Feves (Manjari 64% Feves
or Guanaja 70% Feves
)
Maldon Sea Salt

THE WAY
In the bowl of an electric mixer fitted with paddle attachment, cream the butter, sesame paste and sugar together on medium speed until light in color and fluffy, about 5 minutes.
Add the egg, egg yolk and vanilla extract and continue mixing on medium speed for another 5 minutes.
Sift the flour, baking soda, baking powder and salt into a large bowl and combine. Add the flour mixture to the butter mixture and mix on low until just combined.
Add the chocolate discs and mix them in by hand with a rubber spatula.
Line a baking sheet with parchment paper. Using a 2-ounce (60ml) capacity ice cream disher (scoop with release), scoop out 12 dough balls and place them on the baking sheet. Wrap the baking sheet with plastic wrap and place it in the freezer for no less than 12 hours. This will allow the glutens in the flour to relax and will give you a tender soft cookie. Do not skip this step.
At this point you can bake 1 or bake all 12. Keep the cookie dough balls in a zip-top bag in the freezer for up to 6 months.
Pre-heat the oven to 325˚F (160˚C) and line a baking sheet with parchment or silicone mat. Space the cookie dough balls at least 3 inches apart to allow for them to spread. Bake for 13-16 minutes until just golden brown around the edges. They will still look fairly unbaked in the middle, which is perfect. Each oven is different and baking time and temperatures will vary depending on your oven. Sprinkle each cookie with Maldon Sea Salt when they come out of the oven.