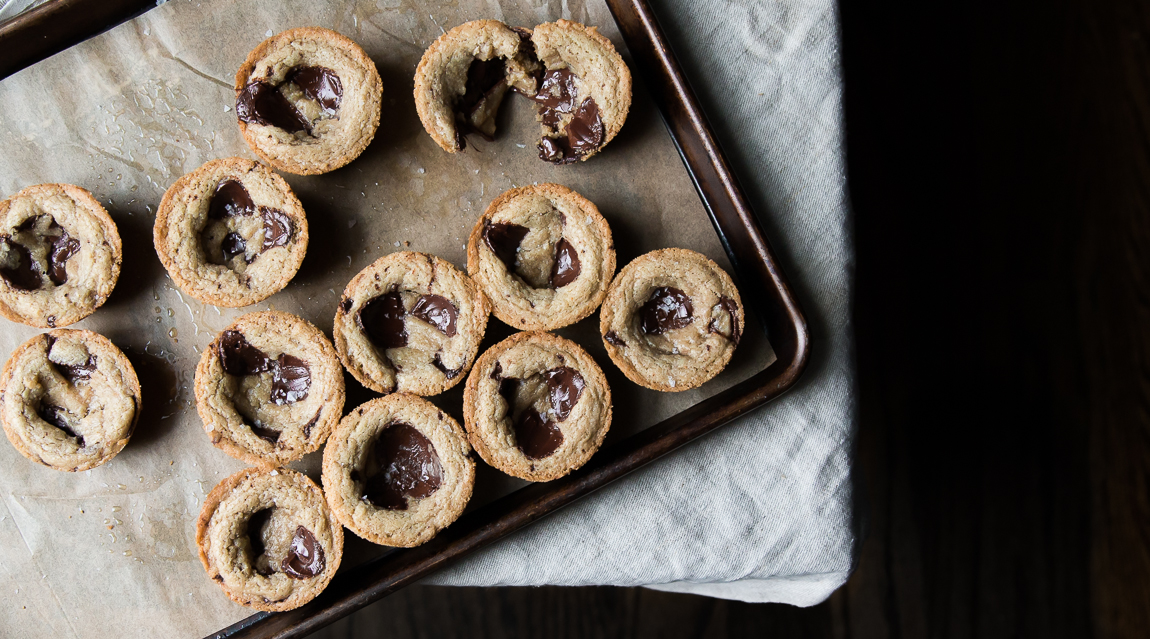 Brown Butter Tahini Rye Cookie Cups
I've been playing around with my Tahini Chocolate Chip Cookie recipe a lot lately. I've added nuts, tried different flour combinations, added halva, and even taken away the chocolate. It's become a hobby of sorts. I hit the jackpot when I decided to change out the butter for brown butter though. Oh. My. God. The hint of nuttiness you get from the tahini doubles and the finished cookie is more delicious that I even imagined. The smell is intoxicating.
I have tired to make the cookies with hot browned butter straight from the pan to the mixer. But found that the hot butter melts the sugar and the finished cookie is a bit too flat for me. My solution was to make brown butter, stick it in the fridge and mix it as it cools down until you have that softened butter consistency you usually use to make cookies. I know it's a lot. Doing it this way allows for the sugar and butter to cream together properly. It helps incorporate the ingredients better and breaks the sugar crystals up instead of melting them. This helps with the overall structure of the cookie. So don't take short cuts with this. Trust me, I've tried.
So I'm late to the game of "cookie cups". Which really are just cookies that are baked in a muffin tin. It keeps them from spreading so they stay oooey gooey inside. These cookies are packed with chocolate too which pools inside. I mean, these are mostly chocolate with a cookie doughy middle and a crispy/crumbly outer shell.  It's heaven.
FYI: THESE PACK UP BEAUTIFULLY FOR VALENTINE'S DAY
Here are some notes that I jotted down on these babies as I was testing:
Don't walk away from the pan while making brown butter. It can go from golden nutty goodness but burnt stinky oil in a matter of seconds.
Make sure your muffin tin is non-stick. I did not test these in anything else but a non-stick tin. So try at your own risk!
Buy good chocolate. You don't have to get the most expensive kind. That being said, there is a lot of chocolate in this recipe and you must like the flavor of the chocolate. Taste a piece on it's own and if you're eyes aren't rolling back in your head then don't use that chocolate.
Use different size chips and chunks to disperse the chocolate throughout the cookies but always include big chunks or huge feves for those chocolate pools. I used mini dark chocolate chips, regular sized semi-sweet chips, and 2 kinds of Valrhona feves.
More on chocolate: To make them extra pretty, after scooping out the cookie dough, break some large pieces of chocolate up and stick them on top of each ball. This is how you get that beautiful pool of chocolate.
These will cave in after they cool. But it's a perfect spot for a ball of ice cream if you ask me.
Use delicious tahini. You want to taste this on it's own and if it's too bitter, don't use it. I use Seed + Mill Tahini and it's perfect.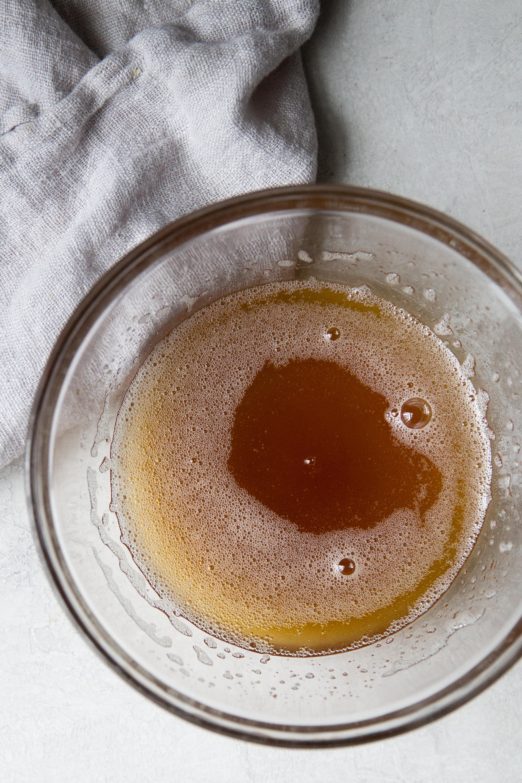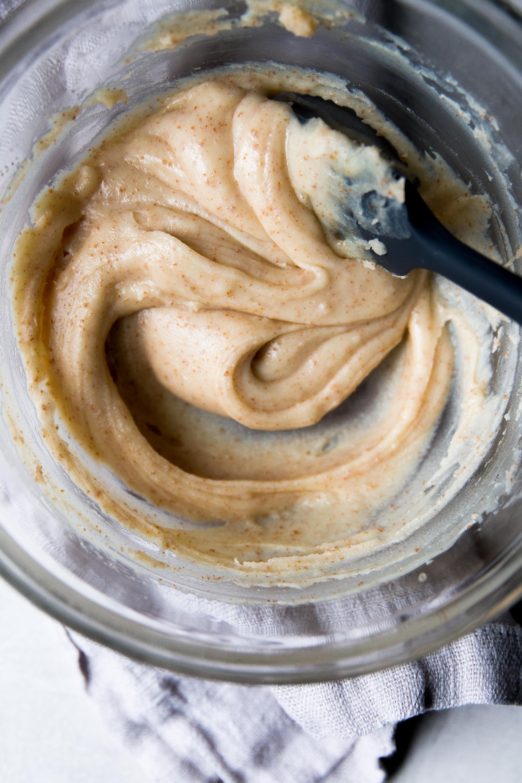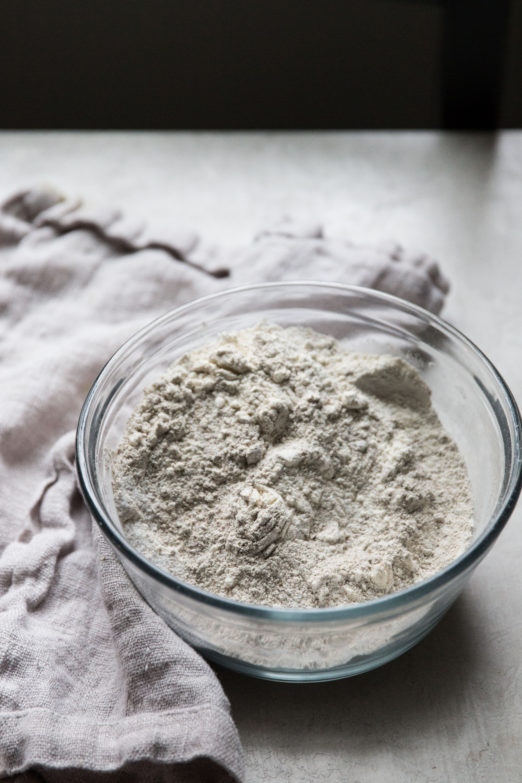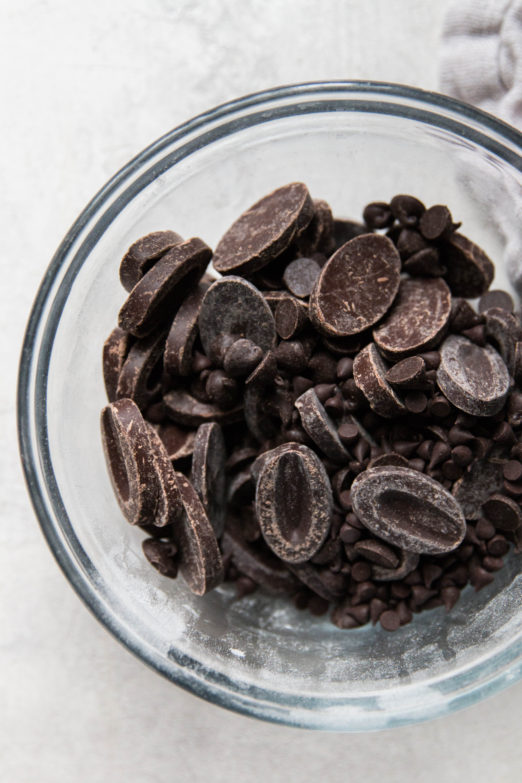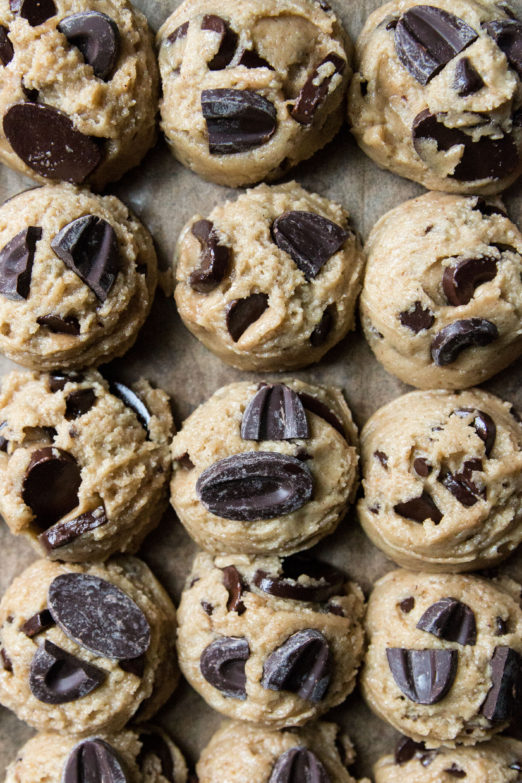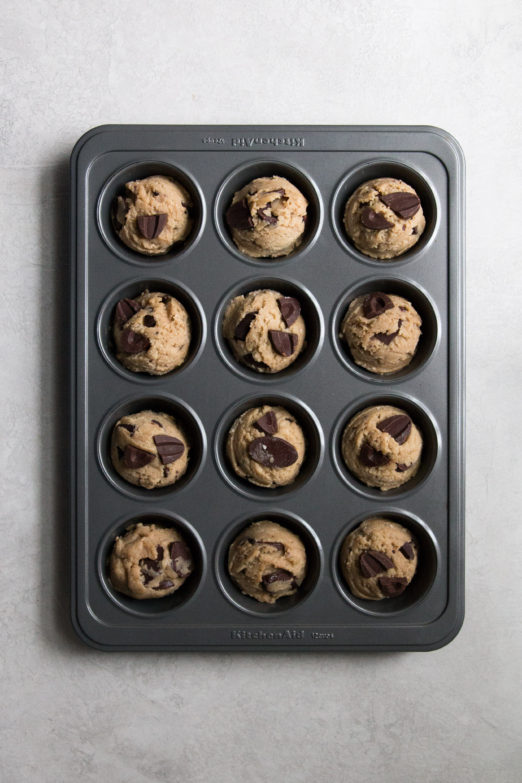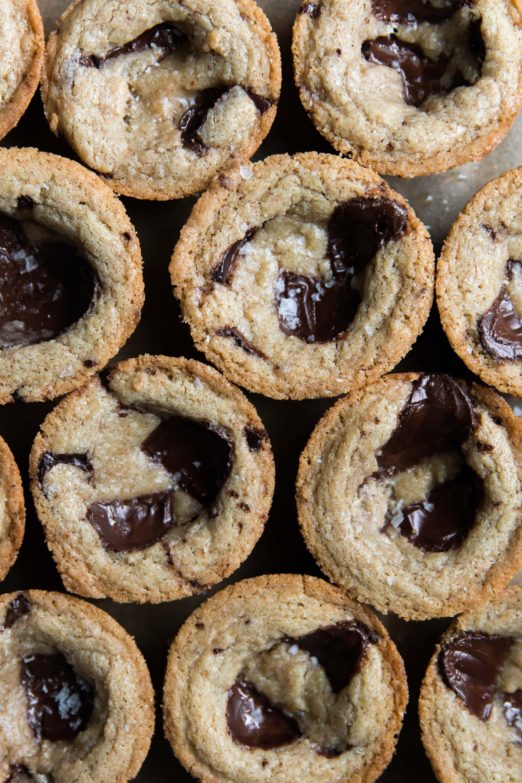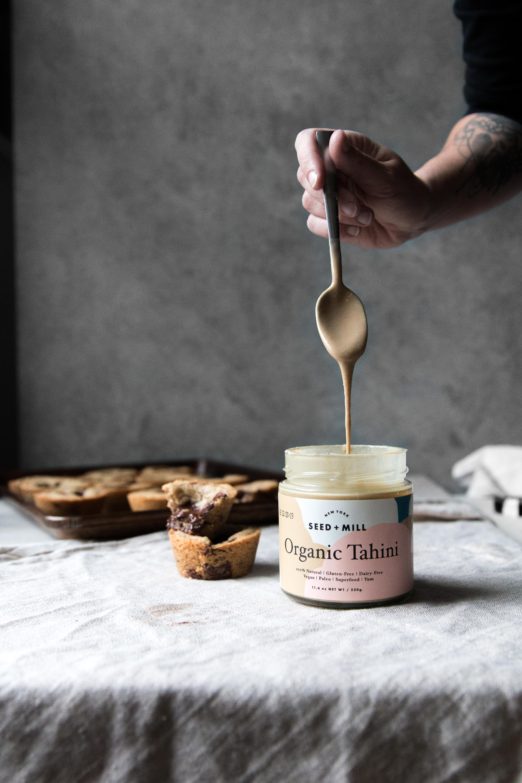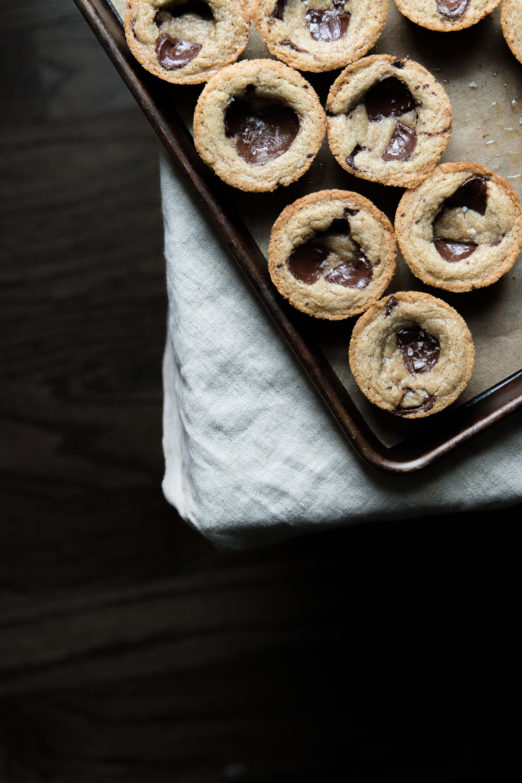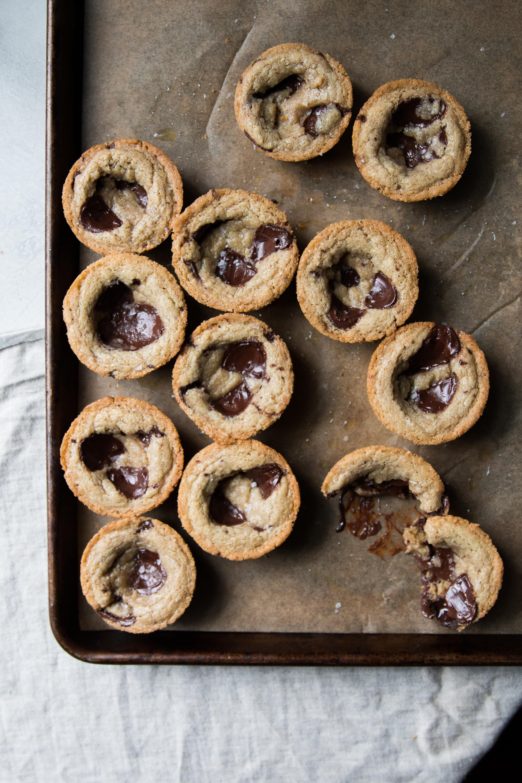 BROWN BUTTER TAHINI RYE CHOCOLATE CHIP COOKIES
MAKES ABOUT 18 COOKIES
THE THINGS
226 g (2 sticks) room temperature unsalted butter
300 g (1 1/3 cup) sugar
200 g (3/4 cup) tahini
2 large eggs
1 egg yolk
1 ½ tsp vanilla extract
165 g (1 1/3 cup) all-purpose flour
60 g ( ½ cup + 2 tbsp) rye flour
½ tsp baking soda
½ tsp baking powder
1 tsp Diamond brand kosher salt
280 g (2+ cups) 64% cocoa and higher chocolate pieces from bars/chips/mini chips/shards – I used a combination of Valrhona 64% Manjari feves, dark chocolate chips, and super dark mini chocolate chips
Maldon Sea Salt

THE WAY
Melt the 2 sticks of butter in a small skillet over medium heat. Cook while stirring until butter foams, then subsides to a gentle bubble. Continue cooking until the butter smells very nutty and the milk solids turn golden brown, about 8 minutes. Stay there and babysit the butter! Immediately transfer the butter to a heatproof bowl. Chill in the fridge until it begins to solidify, stirring every so often, about 25-35 minutes.
Weigh the browned butter, it should be about 175-180 g (just over ¾ cup). If you have less, add enough room temperature unsalted butter to get there. In the bowl of an electric mixer fitted with paddle attachment, cream the browned butter (which should be malleable and not very cold) and sugar together on medium speed until light in color and fluffy, about 5 minutes.
Add the tahini, eggs, egg yolk, and vanilla extract and continue mixing on medium speed for another 2 minutes, scraping down the sides every so often to be sure everything is incorporated.
Combine the AP flour, rye flour, baking soda, baking powder, and salt in a large bowl. Add to the mixer and combine on low until just combined. Add the chocolates and mix them in by hand with a rubber spatula.
Line a baking sheet with parchment paper. Using a 2-ounce (60ml) capacity ice cream disher (scoop with release), scoop out 18 dough balls and place them on the baking sheet. Break large pieces of chocolate and top each cookie dough ball that looks like it might be lacking some chocolate on the outside. Wrap the baking sheet with plastic wrap and place it in the freezer for no less than 12 hours. This will allow the glutens in the flour to relax and will give you a tender soft cookie. Do not skip this step. Cookie dough will keep in a ziplock bag in the freezer for up to 6 months. Bake them off as needed!
Pre-heat the oven to 325˚F (160˚C). Place a cookie dough ball into each cup of a non-stick muffin tin. Bake for 15-17 minutes until just golden brown around the edges. They will still look fairly unbaked in the middle. Sprinkle each cookie cup with Maldon Sea Salt when they come out of the oven. Cool for at least 20 minutes before using a small offset spatula (or butter knife) to transfer the cookie cups to a cooking rack.