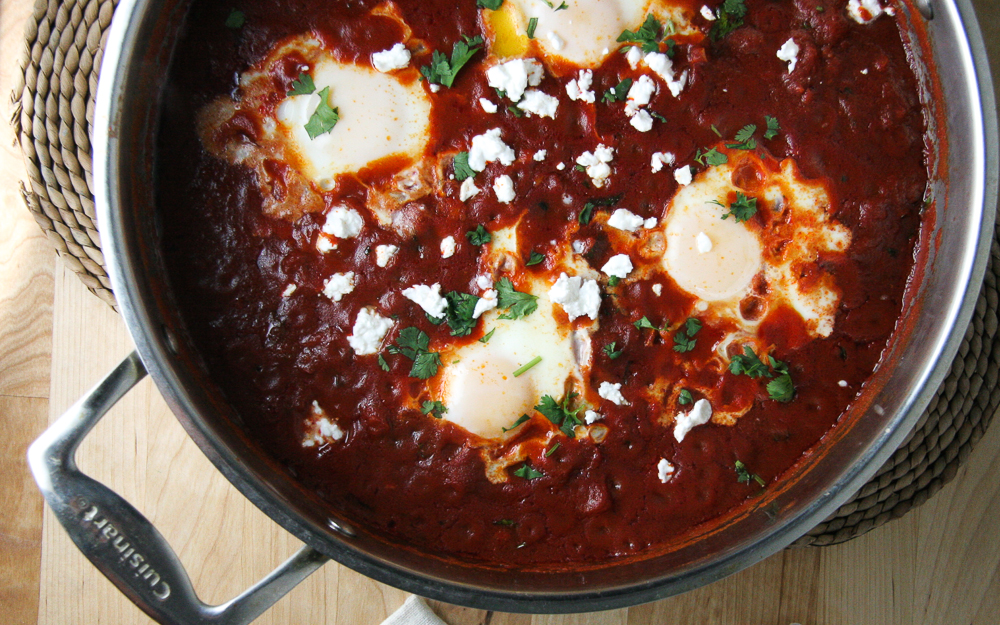 Shakshuka. A Middle Eastern dish of eggs poached in a tomato sauce. Uh. Just the word "shuka" makes me sigh. It's by far my favorite brunch dish of all-time. Hot and garlicky tomato sauce with eggs sounds just like heaven to me. It's comforting and insanely tasty.
Saturday mornings in NJ would consist of a large skillet of shakshuka, pitas, and left over "salads" from the previous night. Everyone liked their eggs at a different doneness, so, there was a roll call of sorts before the eggs were dropped in the sauce. My request was always for a runny yolk. #yolkporn. I would often create the pockets in the sauce which the eggs would be dropped in. The worst is when a yolk would break. So sad. When the shuka was ready, we would sit around the table, divvy up the eggs as per each family member's order, and eat with a fork in one hand, and a carb in the other. It's all about sopping up the sauce. We weren't done with our meals unless the plate looked like a piece of swirly artwork; the paint was the red sauce, and the pita, the paint brush.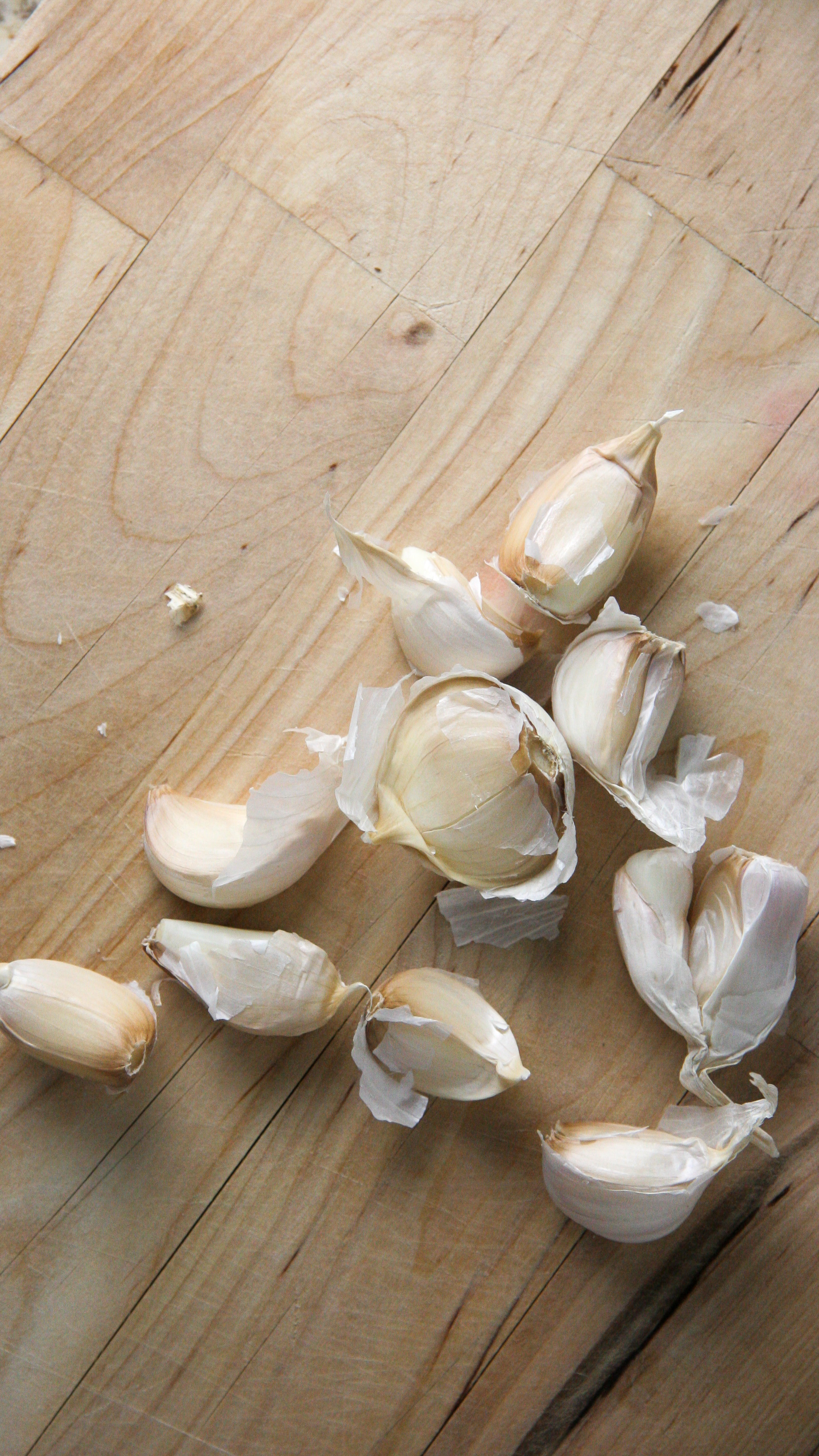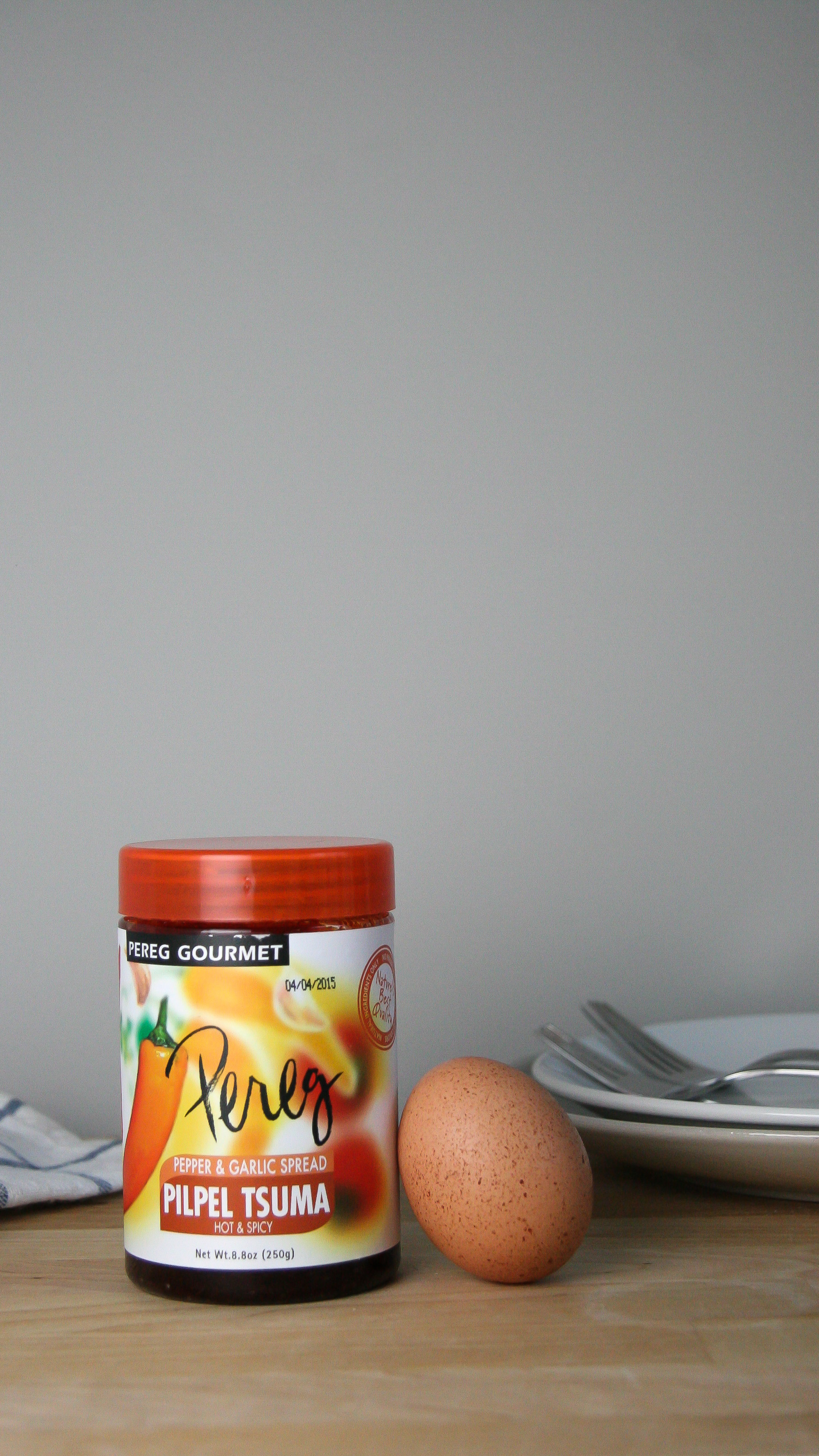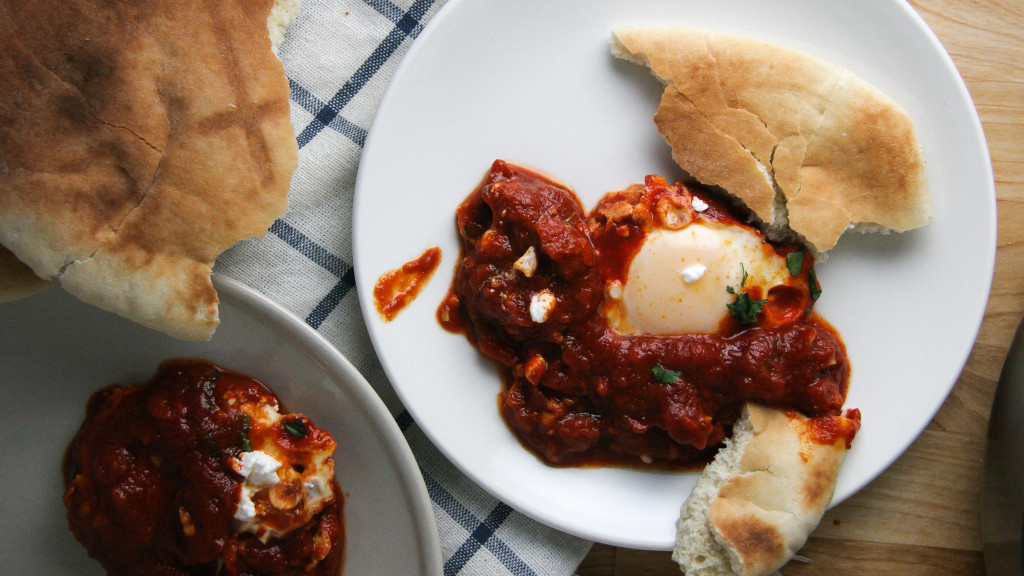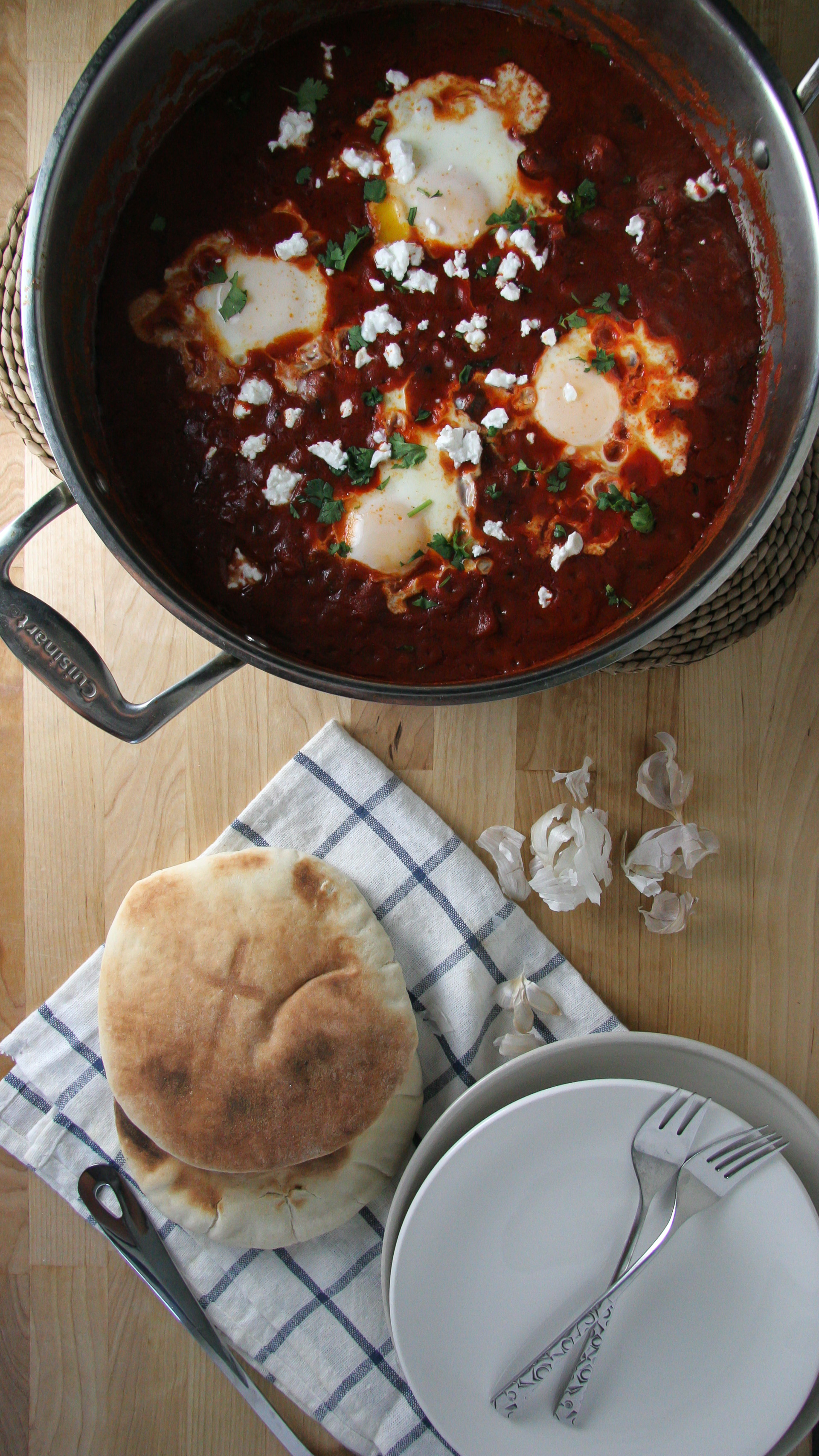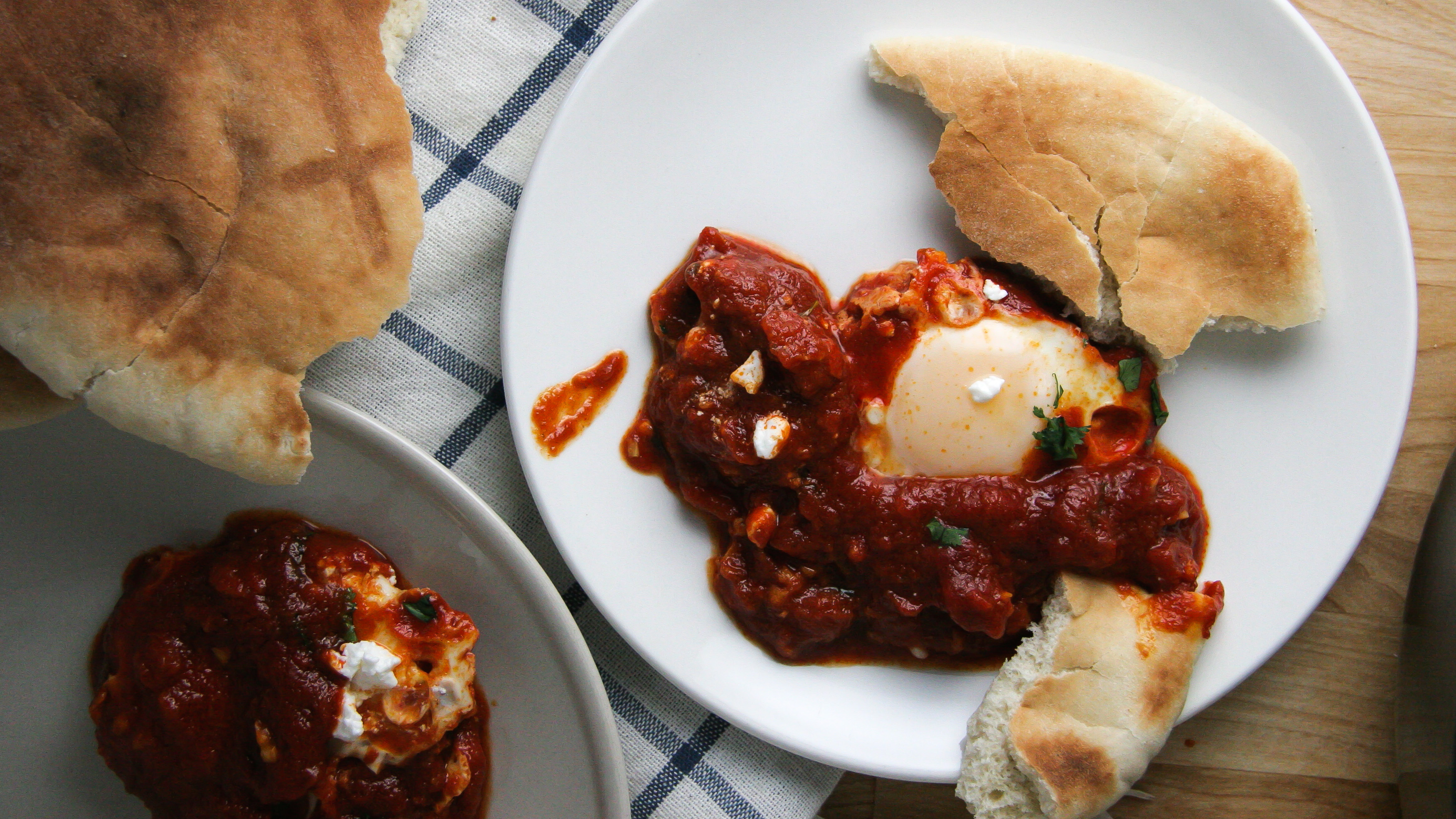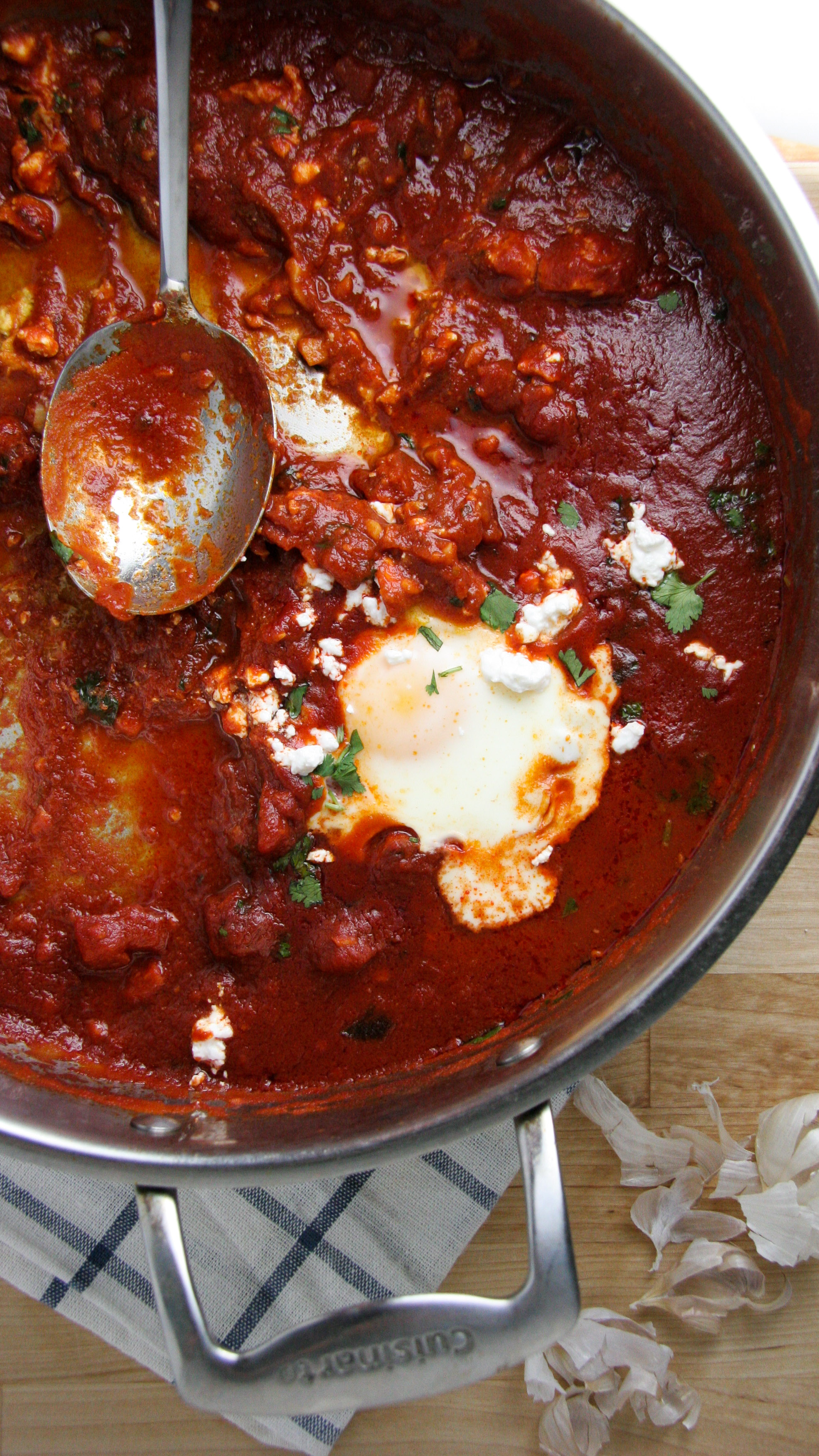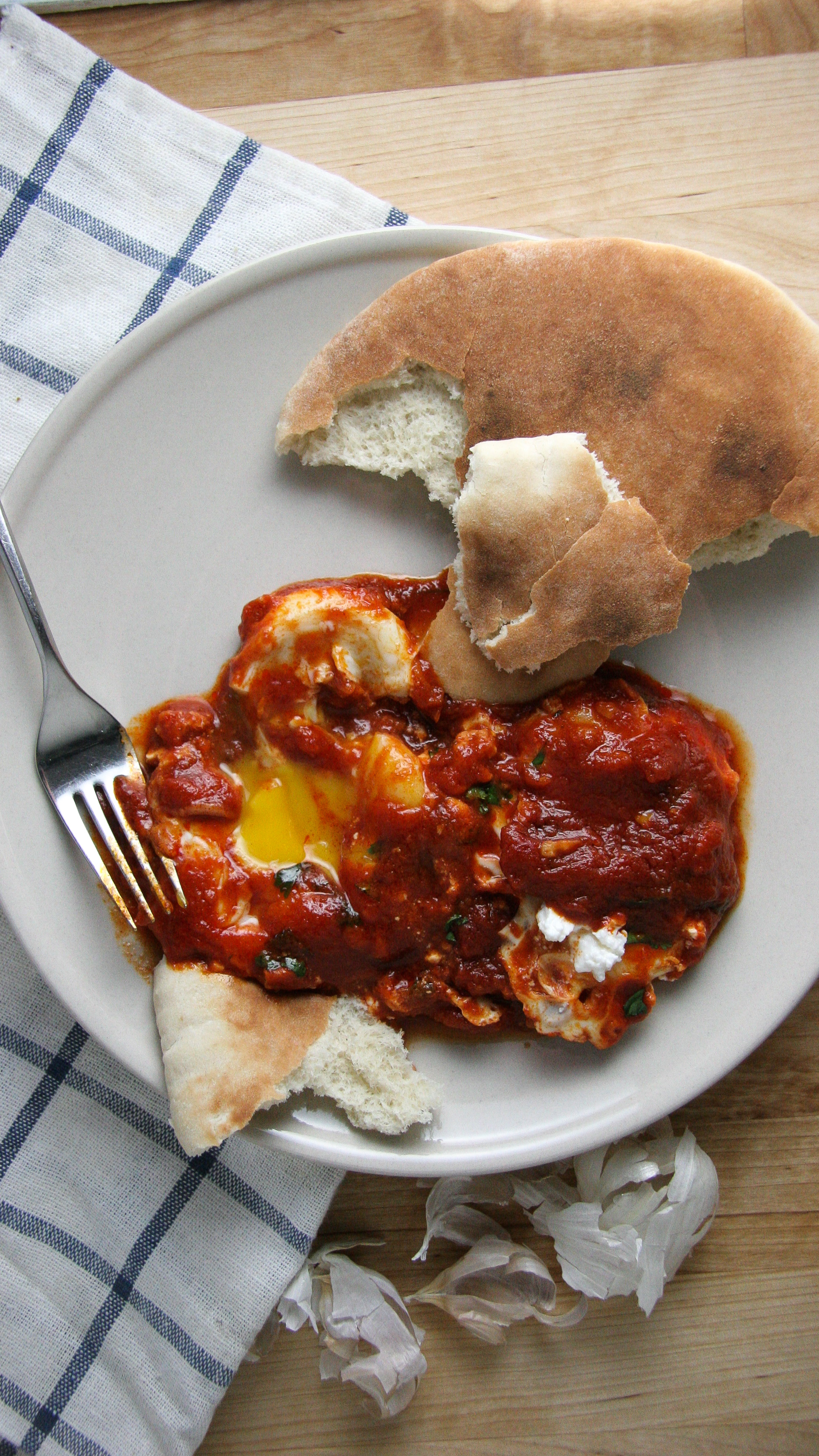 There are a ton of shakshuka recipes out there in the world. This one is made by an Israeli. Trust it.
Shakshuka
makes 4-6 servings
[one_half padding="0 10px 0 0″]
3 Tb olive oil
1 28 oz can crushed or small dice tomatoes
9-10 cloves garlic, chopped small
1 1/2 tb pilpelchuma, store bought or recipe below
1 Tb sweet paprika
1/2 tsp salt
1/4 tsp cumin
1/4 cup cilantro, chopped roughly
4-6 eggs
1/4 cup feta cheese
warm pitas or grilled crusty bread
[/one_half]
[one_half_last padding="0 0 0 5px"]
1. Heat the oil in a large skillet or pan with lid over low heat.
2. Add the chopped garlic, paprika, cumin, & pilpelchuma to the pan and saute for 2-3 minutes until fragrant.
3. Mix in the canned tomatoes & salt. Cover the with lid and simmer for 15 minutes.
4. Add and mix in the cilantro leaving a bit out of the pan to garnish with later.
5. Make pockets in the sauce with a wooden spoon or spatula and very carefully crack the eggs into them. Make sure to space the eggs out. There should be sauce in between each egg for them to cook properly (and prettily).
6. Immediately cover the pan, turn the heat up a bit to medium  and cook without lifting the lid for 5-8 minutes depending on how you like your egg yolks. 5 for runny and 8 for cooked.
7. Eat right away while its piping hot. Sopping up all the sauce with the pita. Enjoy!
[/one_half_last]
Pilpelchuma
if you can't find the store bought kind, this is a good alternative recipe
[one_half padding="0 10px 0 0″]
1 1/2 Tb olive oil
1 Tb sweet paprika
1/2 Tb hot paprika
1/2 tsp cayenne
pinch of cumin
pinch of salt
[/one_half]
 [one_half_last padding="0 0px 0 5px"]
Mix all of the ingredients together to form a paste. This will keep in the fridge for 3 weeks or longer.
[/one_half_last]