Grilled Chicken Kebab Bowls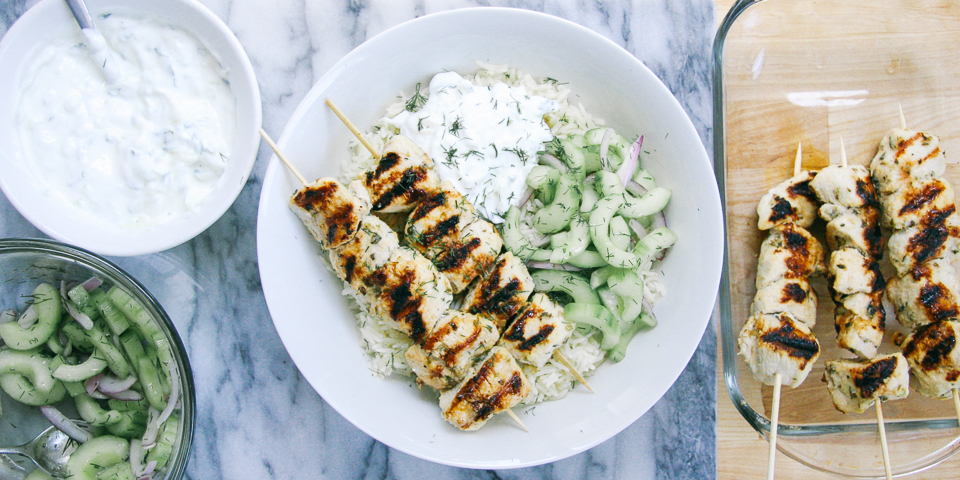 I'm pooped. Tas and I just got back from an 18 day trip where we ate our way through Italy and Spain. I can't even speak the word "ham" in fear of getting heartburn. Never though I would miss chicken so much.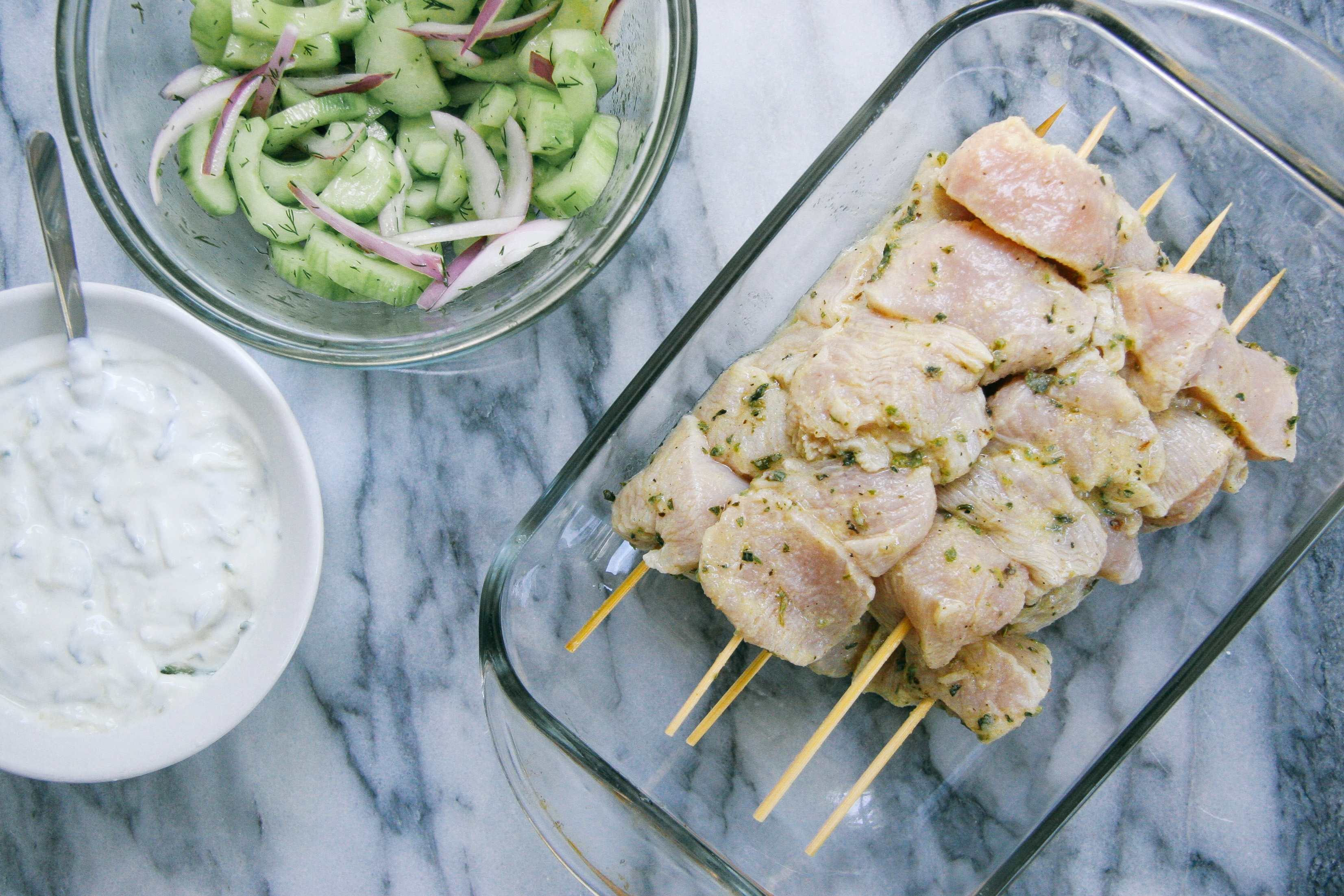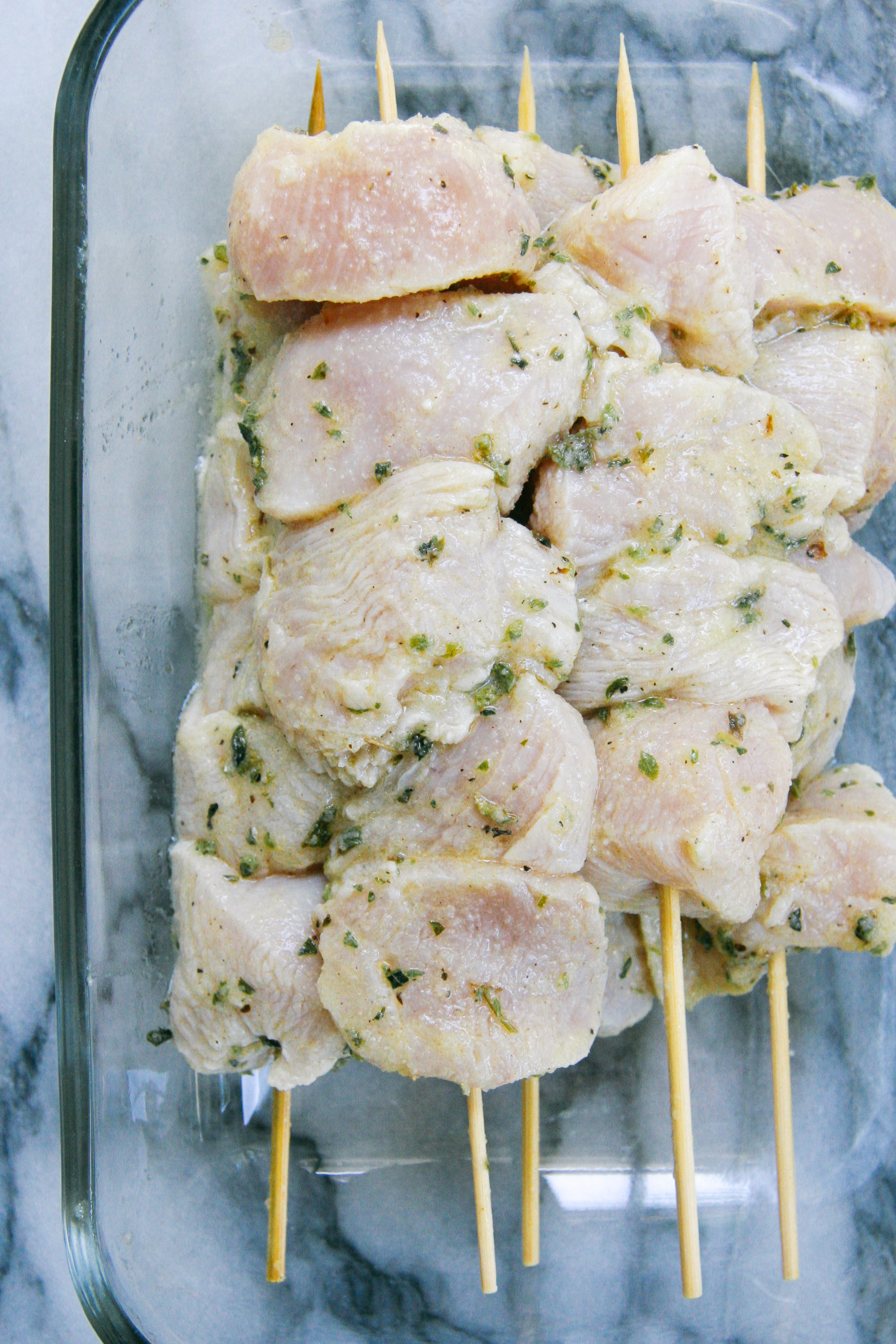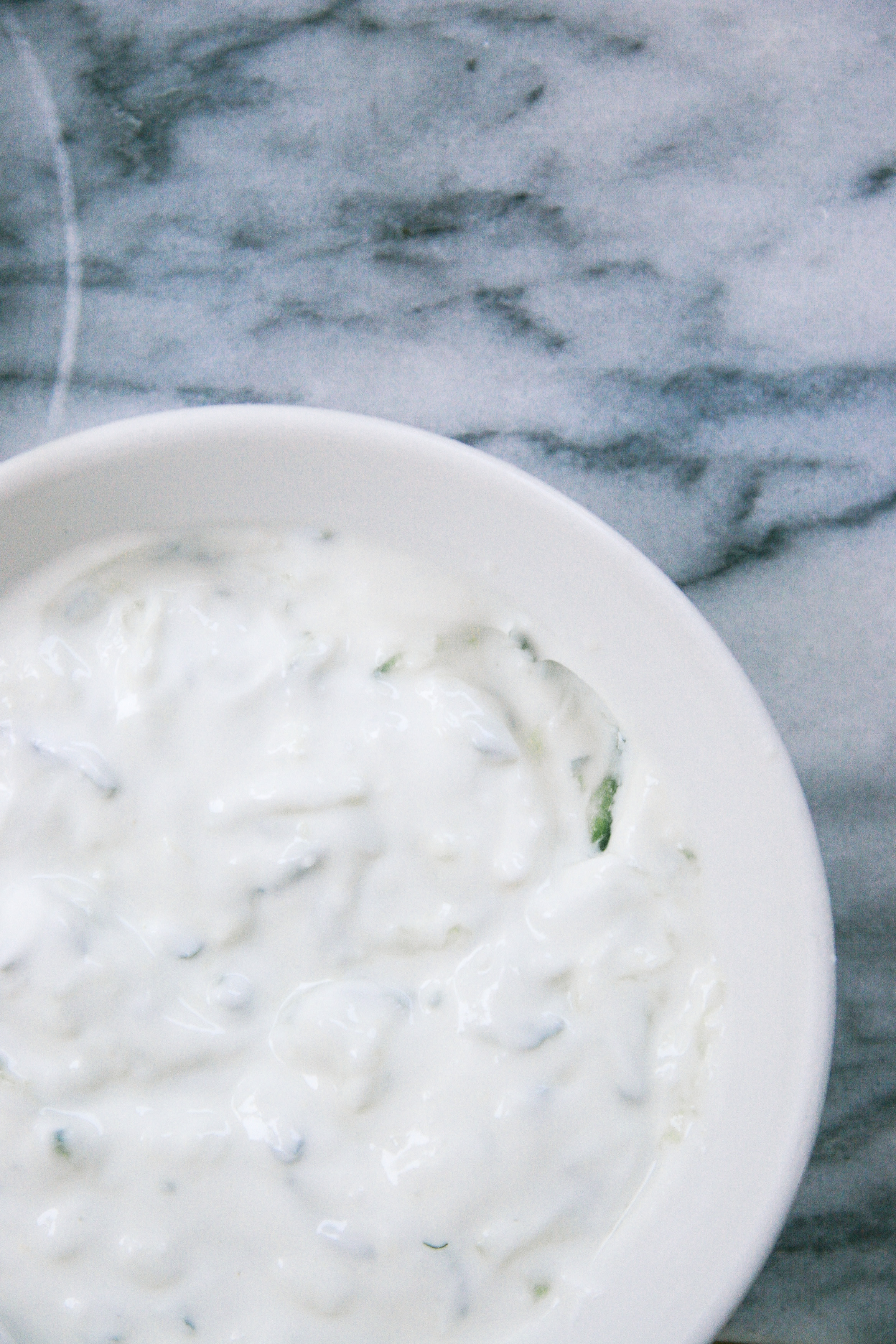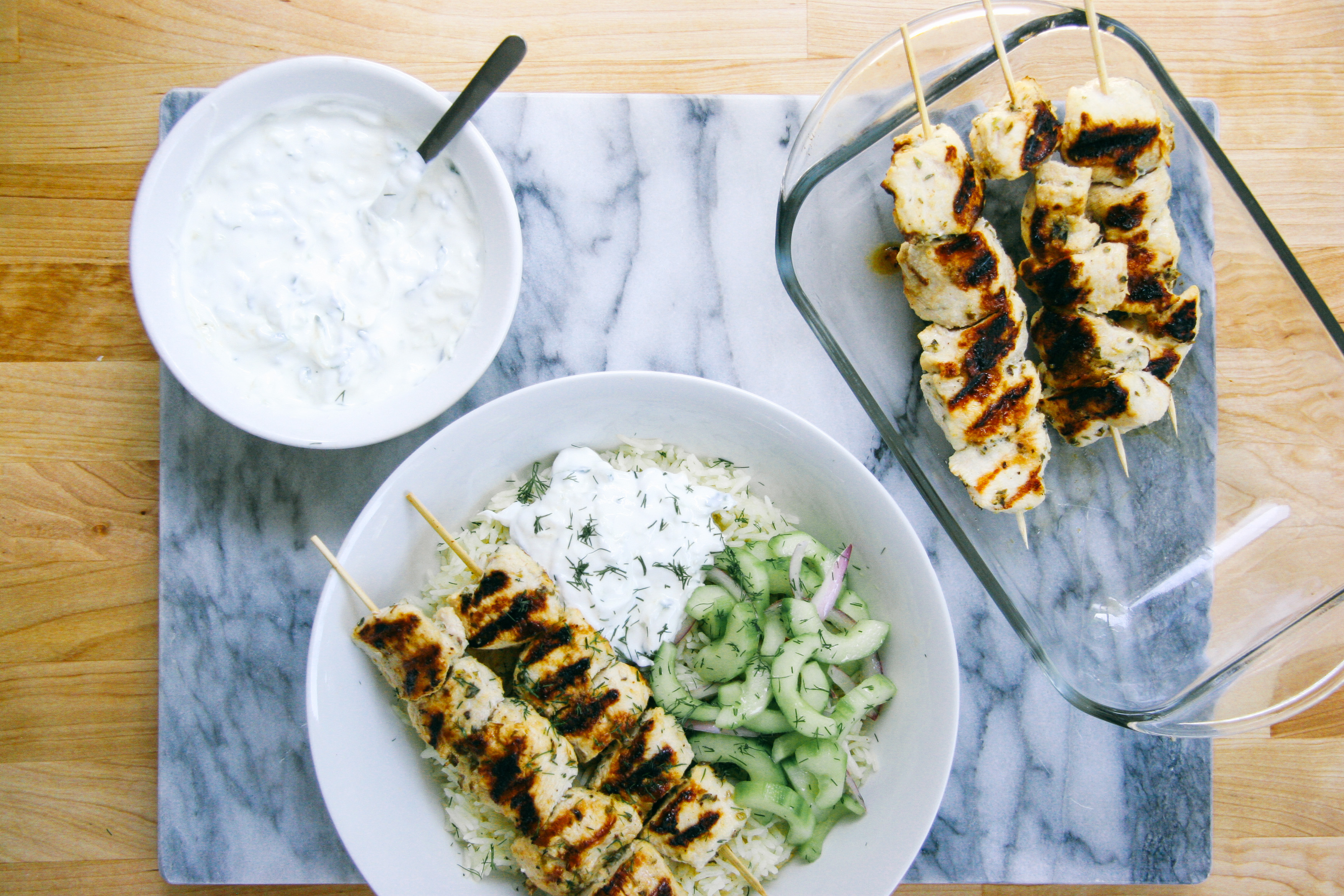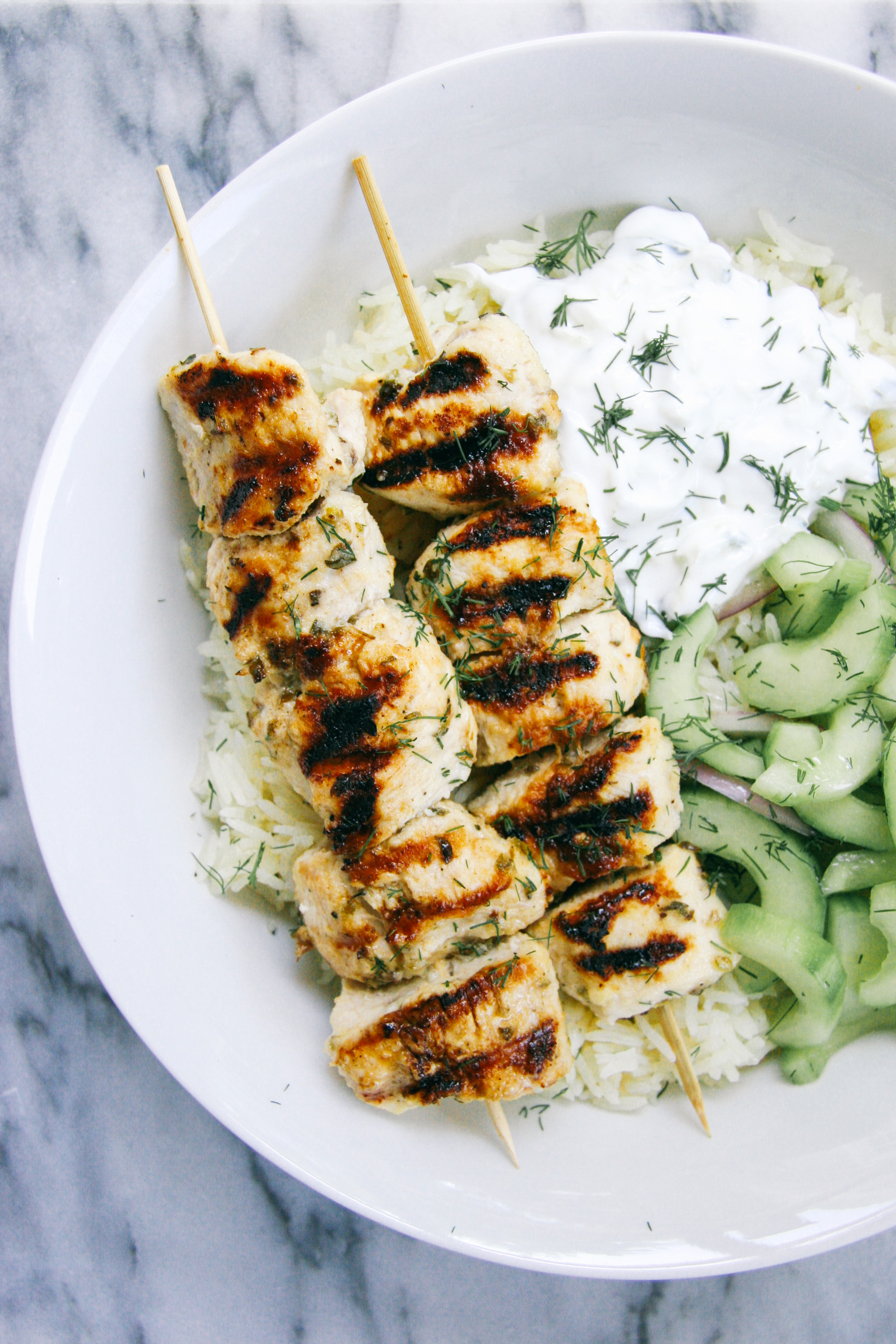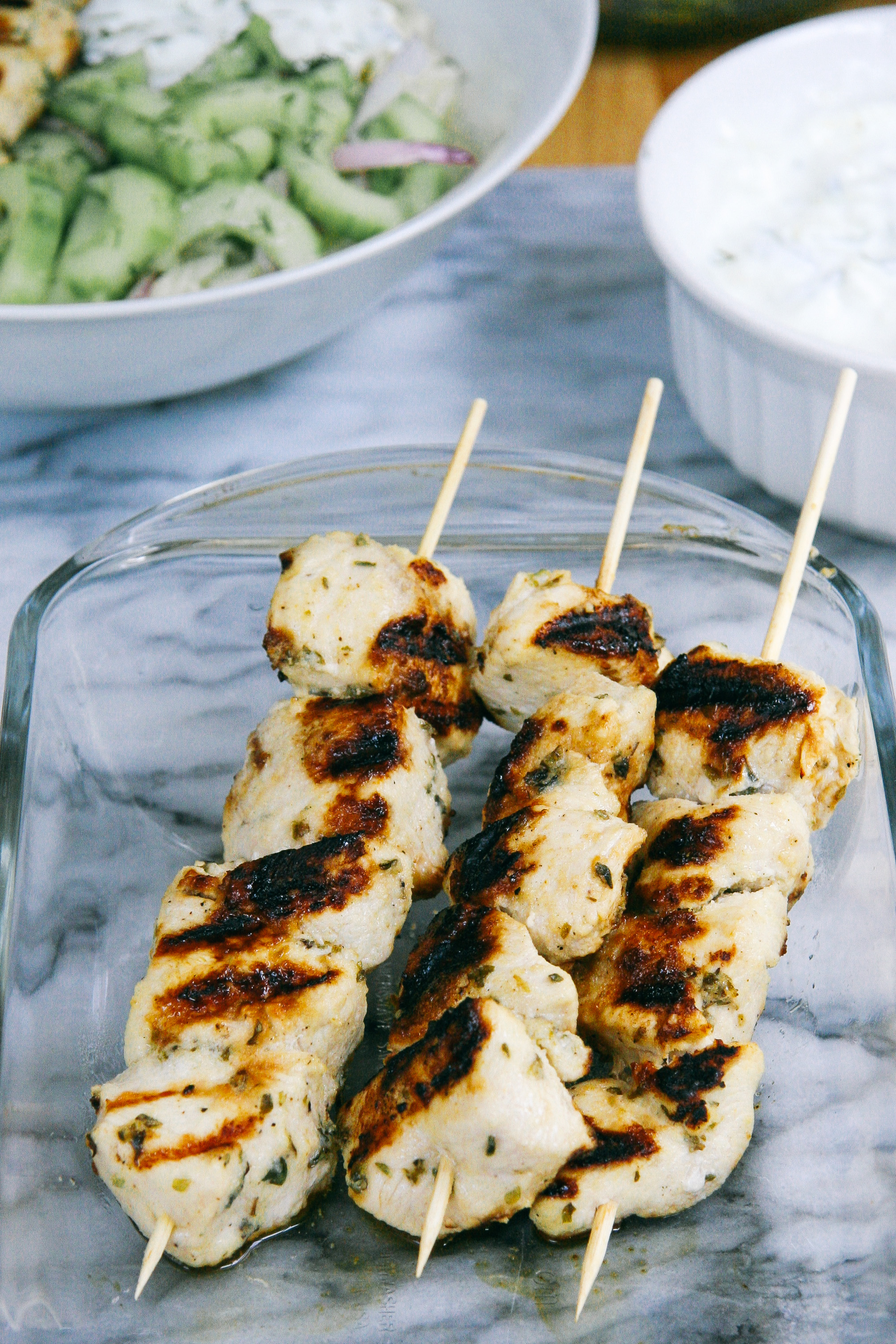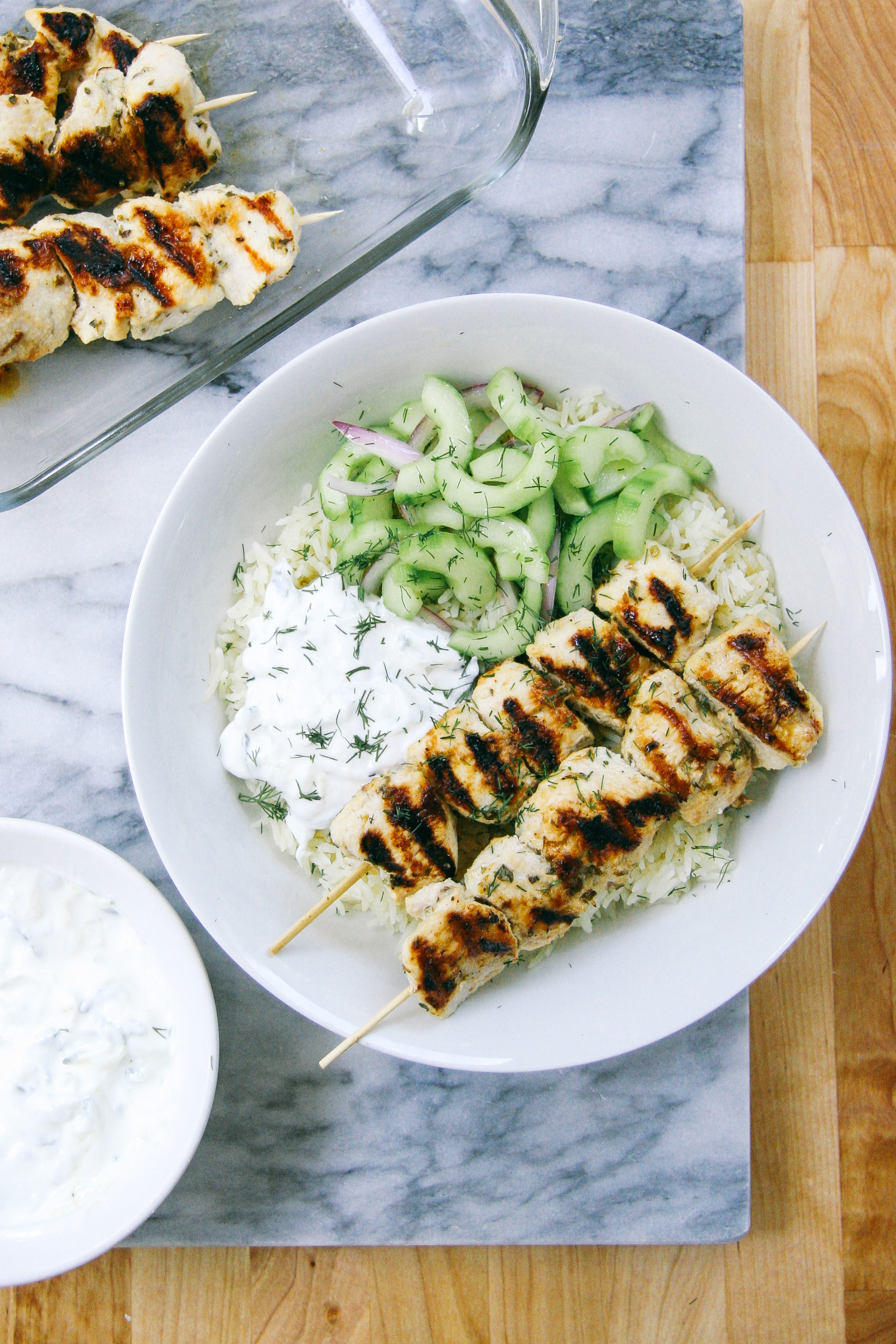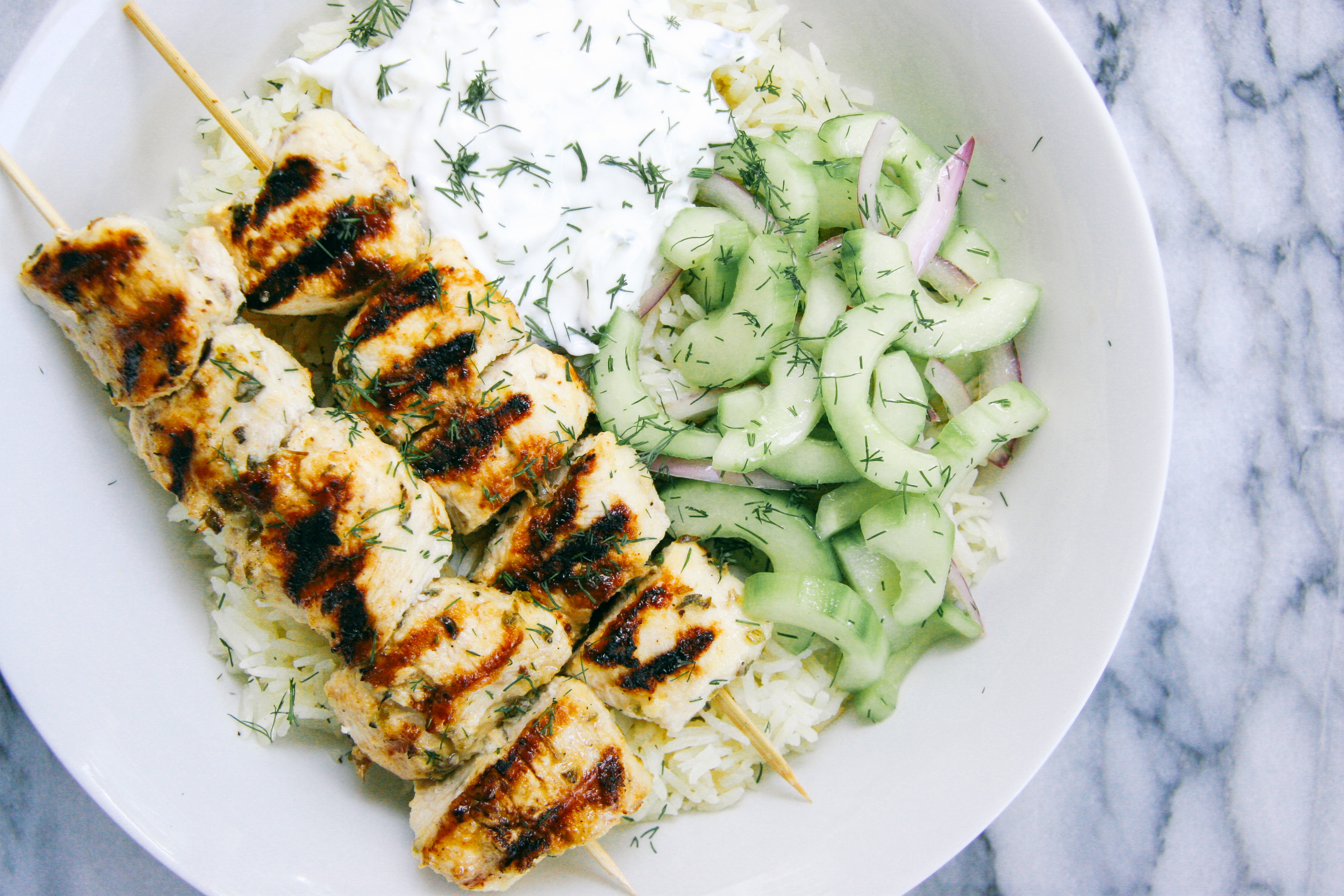 Grilled Chicken Kebab Bowls
with Cucumber Salad and Tzatziki
makes 4 servings
[one_half padding="0 20px 0 0″] For the chicken:
1 1/2 lb boneless skinless chicken breast, cut into 2″ pieces
1 1/2 Tb olive oil
3 Tb lemon juice
1 1/2 tsp dried oregano
1 tsp onion powder
1 tsp garlic powder
1/2 tsp salt
For the rice:
2 cups basmati rice, rinsed
2 3/4 cups water
1 small yellow onion, chopped
1 1/2 Tb grapeseed oil, or other neutral oil
3 Tb consumme powder or 1 bouillon cube
1/4 tsp salt
For the tzatziki:
1 cup greek yogurt
1/2 cup grated cucumber
1 1/2 tsp lemon juice
2 cloves garlic, minced finely
1/4 tsp salt
For the cucumber salad:
1 english cucumber, peeled
1/4 cup sliced red onion
1 1/2 tsp chopped dill
1 1/2 tsp lemon juice
1 1/2 tsp olive oil
1/2 tsp salt
[/one_half][one_half_last padding="0 0px 0 20px"] For marinating the chicken:
1. In a bowl, mix together all the ingredients except chicken.
2. Add the chicken, make sure that it is completely covered with the marinade.
3. Place it in the fridge and marinate for a minimum of 1 hour. This can also sit over night.
For the rice:
1. Heat the oil in a pot with fitted lid over medium-high heat.
2. Add the onions and sweat until they are translucent. About 4-5 minutes.
3. Add the rinsed rice and stir to coat the rice with the oil and onions.
4. Add the water and turn the heat up to high.
5. Add the consumme powder and salt. Mix.
6. When it comes to a boil, turn the heat down to low, cover and simmer for 15 minutes.
5. Turn the heat off and let the rice steam for an additional 10 minutes. Don't you dare touch that lid.
For the tzatziki:
1. Place the grated cucumber in a mesh strainer over a small bowl.
2. Sprinkle with the salt. Let it sit for 10 minutes.
3. Push as much of the water out of it as possible.
4. Mix the yogurt, lemon juice, and garlic together in a bowl.
5. Add the drained cucumber and mix. Place in the fridge until you're ready to eat.
For the cucumber salad:
1. Place the sliced red onions in a bowl filled with ice water. This will take away some of the sharpness of the onion. It's optional.
2. Cut the peeled cucumber in half, lengthwise.
3. Using a spoon, scoop out the seeded middle of the cucumber and discard.
4. Cut the cucumber into 1/4″ slices.
5. Mix together the sliced red onions (drain them first, obvi), cucumber slices, dill, lemon, olive oil, and salt.
Grilling the chicken:
1. Heat a grill or grill pan over medium to medium-high heat.
2. Make sure you have soaked your skewers for at least 30 minutes if you are using wooden ones.
3. Skewer the marinated chicken cubes making sure they aren't too crowded on the stick.
4. Oil the grill so the chicken doesn't stick.
5. Grill the kebabs for 5-6 minutes on one side, flip and grill the other side for 5-6 minutes as well.
Construct your bowls:
Place a nice heap of rice on the bottom of each bowl. Top with cucumber salad, tzatziki, and chicken kebabs. Enjoy! This can also be eaten cold… straight from the fridge… alone… while watching Sean Brock on Mind of a Chef. Life is perfect.
[/one_half_last]
---
---