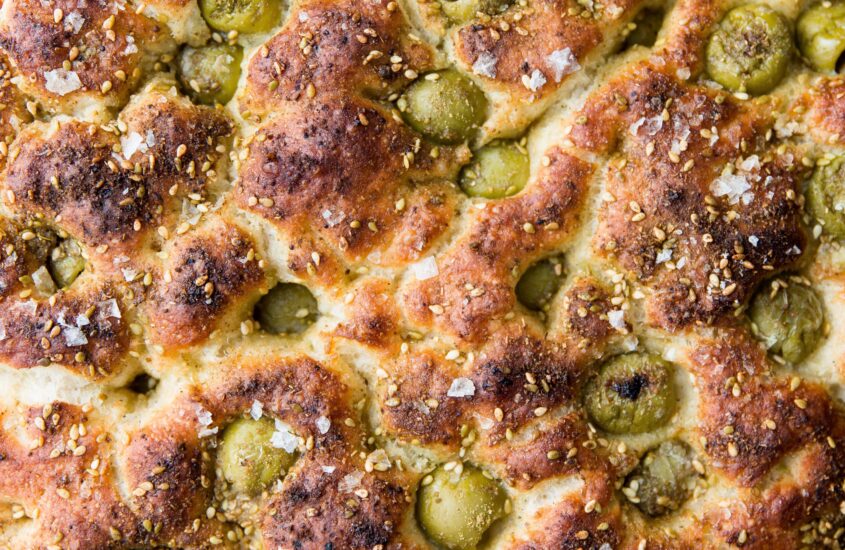 Olive and Za'atar Focaccia (No-Knead)
A simple, no-knead recipe for Olive and Za'atar Focaccia for beginner bakers! Crusty and spongey, this bread is so satisfying.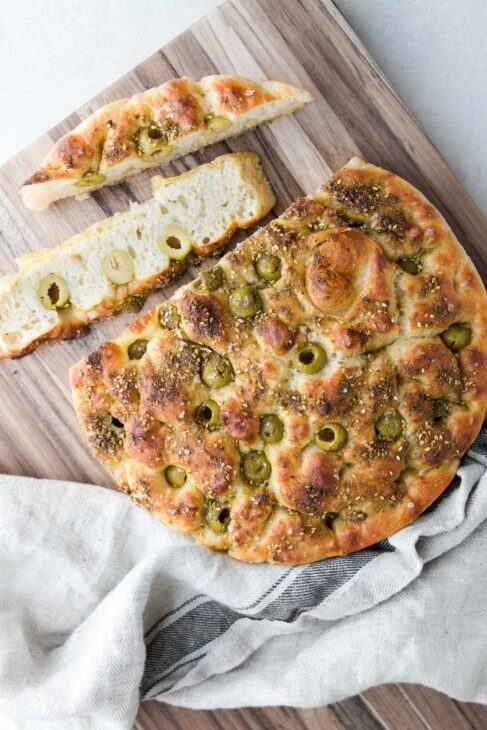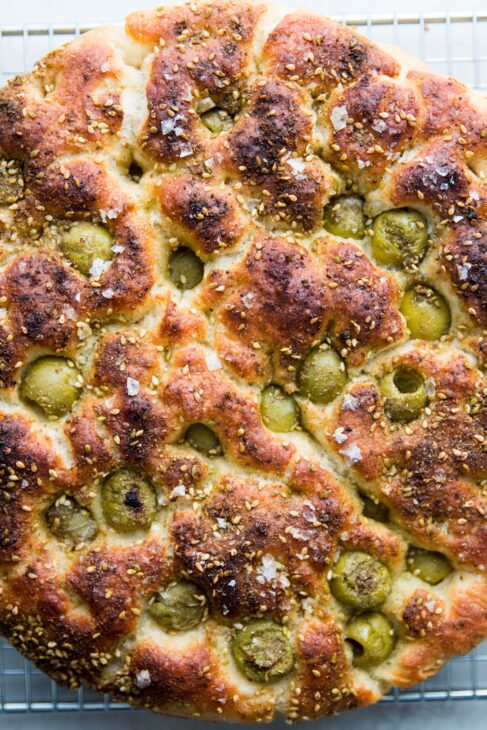 I have been making focaccia for a long time now and I am still not over the magic of how simple and easy it is to make. I find that this is a recipe I gravitate towards when I'm procrasti-baking (procrastination baking) since it is so straight forward and satisfying. I truly believe that even if you have never baked bread before, this will turn out to be a success. I made this no-knead recipe specifically for beginner bakers but use it a lot when I'm lazy… which most often happens.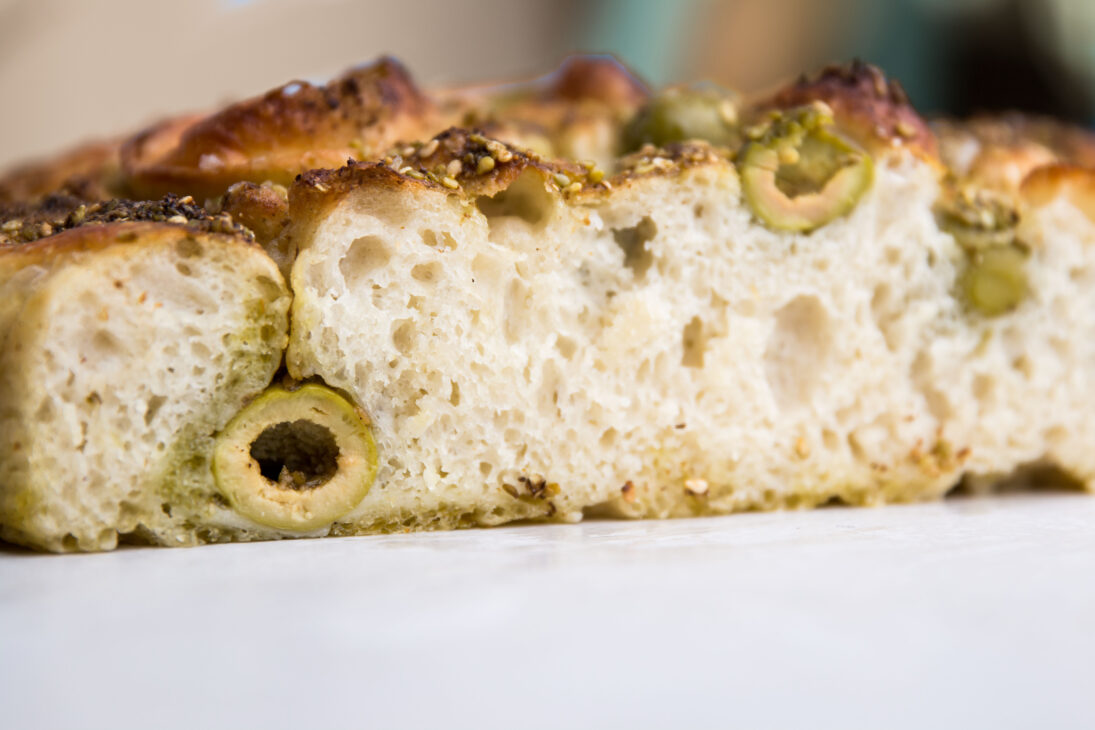 This bread is crusty on the outside and super soft and spongey on the inside. The olives are salty and bake right into the bread. The flavor of the za'atar really develops when it mixes with the olive oil and is baked. The aroma is intoxicating. This focaccia is perfect for dipping in olive oil and vinegar or serving along side a charcuterie board. I made this one to accompany a Whipped Feta and Urfa Oil Dip (RECIPE COMING SOON).
The reason the dough sits so long in the fridge is for flavor development. The longer it sits, the better the flavor will be. If you are in a rush, you can skip the fridge rise and go straight to the second rise in the cake pan. It wont be as tasty but you will still have focaccia.
The dough is sticky! So oil your hands and enjoy the process. The faster you work with handling it, the less will stick to your hands and tools. And here is a tip: Don't be gentle! You can be as aggressive as you want with this dough!
Here is a video of the process that will help any beginner get the idea of how this recipe works: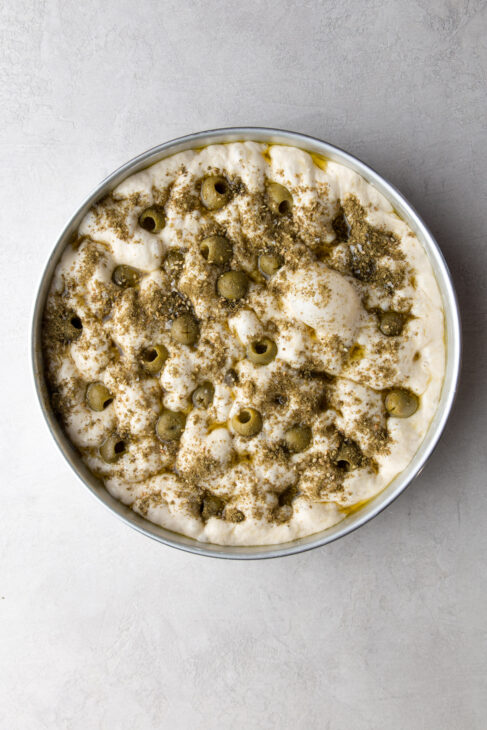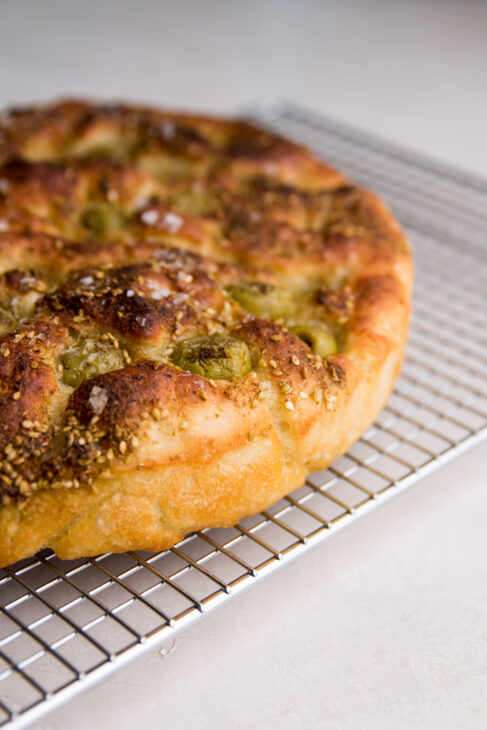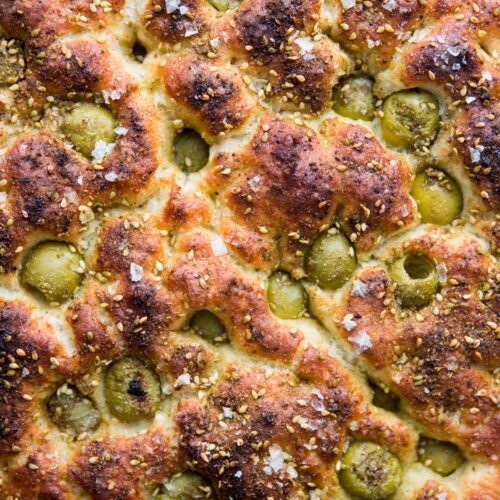 Olive and Za'atar Focaccia
A simple, no-knead recipe for Olive and Za'atar Focaccia for beginner bakers! Crusty and sponge-y, this bread is so satisfying.
Print
Pin
Servings:
1
10″ Round Focaccia
Ingredients
450

grams

lukewarm water

, 2 cups

5

grams

active dry yeast

, 1 tsp

10

grams

honey

, 1/2 tbsp

465

grams

unbleached all purpose flour

, 3 3/4 cups + 2 tbsp , (I used King Arthur brand with 11.7% protein content)

10

grams

kosher salt

, 2 1/2 tsp , (I used Diamond Crystal Kosher)

80

grams

olive oil

, 1/2 cup , divided

unsalted butter

, for buttering the pan

1

cup

pitted Castelvetrano olives

1

tbsp

za'atar

flakey sea salt
Instructions
Whisk water, yeast, and honey in a medium bowl or measuring cup and let sit for 5 minutes.

In a large bowl, mix the flour and salt.

Add the yeast mixture to the flour mixture and mix with rubber spatula until a shaggy, wet dough forms, taking care that there are no dry, flour patches.

In a separate large bowl, add 1/4 cup (4 tbsp) of olive oil and oil the sides of the bowl with your fingers.

Transfer the dough into the bowl. With a little olive oil on your hands, quickly flip the dough over.

Cover the bowl very well with plastic wrap and place in the fridge for AT LEAST 12 hours. This can actually sit in the fridge for up to 2 days to develop the flavor.

Butter a 10" round cake pan. Drizzle in 2 tbsp of olive oil.

Transfer the dough into the prepared cake pan pouring any extra oil left in the bowl onto the top of the dough.

Let rise, uncovered, in a dry, warm spot until doubled in size and relaxed. This can take anywhere from 1 hour to 3 hours.

Place rack at the bottom of the oven and pre-heat to 450˚F

Drizzle the dough with remaining 2 tbsp of olive oil.

Lightly oil your fingers, dimple the focaccia all over as if you're playing the piano. Don't be afraid to be aggressive. My fingertips touch the bottom of the pan when I do this.

Add the olives all around the dough by pressing some deep inside and leaving some closer to the top.

Sprinkle with za'atar and flakey sea salt.

Bake, on the bottom rack of the oven, until the focaccia is golden brown and puffy, about 30 minutes.

Allow to cool slightly, about 5 minutes, and remove the focaccia onto a wire rack to finish cooling. Enjoy!
Notes
I wrote this recipe using gram measurements and I HIGHLY RECOMMEND that you make it that way. I have written in the cup measurements from my conversion chart.   
An aluminum cake pan works best to get a crispy crust. Don't use non-stick here or a spring form pan! 
You can also bake this in a 13″ x 9″ baking pan. 
You want to remove the baked focaccia from the pan as soon as you can handle it so that the crust stays nice and crispy.