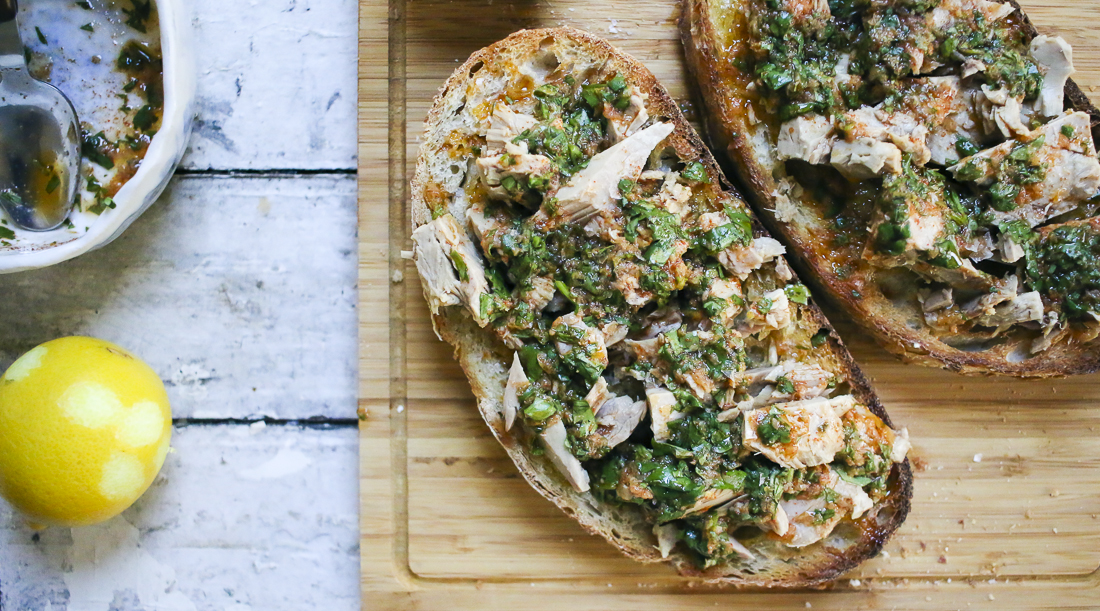 Tuna Toast with Chermoula
I'm re-watching some of the episodes of Mind of a Chef. Particularly the ones with Gabrielle Hamilton. She's fantastic. If you haven't yet, read her book Blood, Bones & Butter
, you better get on that. For this quick snack I usually make myself,  I was inspired by a dish she makes at Prune, her long standing NYC restaurant. It's a simple plate of canned sardines, triscuits, dijon, and cornichons. Humble. Some a-holes on chowhound find it too humble for a chef but I believe that the story behind it brings you to her world when she had no money to eat. That was her meal.
I can never say that I have gone hungry. Well, I'm always hungry. Hunger in the sense that you can only afford a can of tuna from the bodega. Although, it does remind me of a time in my life, college, when I was lazy as all hell. I would grab a piece of toast and throw some canned tuna on there, a nice squeeze of lemon and that would hold me over.
Because I'd like to think I'm a bit more fancy now than I was in college, instead of a squeeze of lemon I make a quick chermoula. It's a sauce made of a mixture of herbs, spices, lemon juice, and olive oil. Usually used to flavor fish in Moroccan cooking, it's kind of like a chimichurri. This recipe for chermoula is from my book
 for fish tacos. Darn good. It's super tasty on so many things. I use preserved lemons in this recipe, if you don't have any or can't find any at the store, lemon zest will do some wonderful work instead.  I plan to use this chermoula with some harissa for some flank steak in the future. You heard it here first!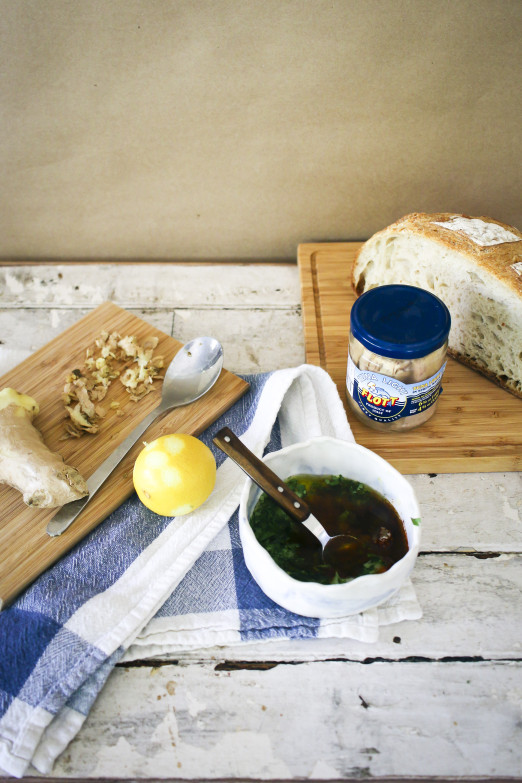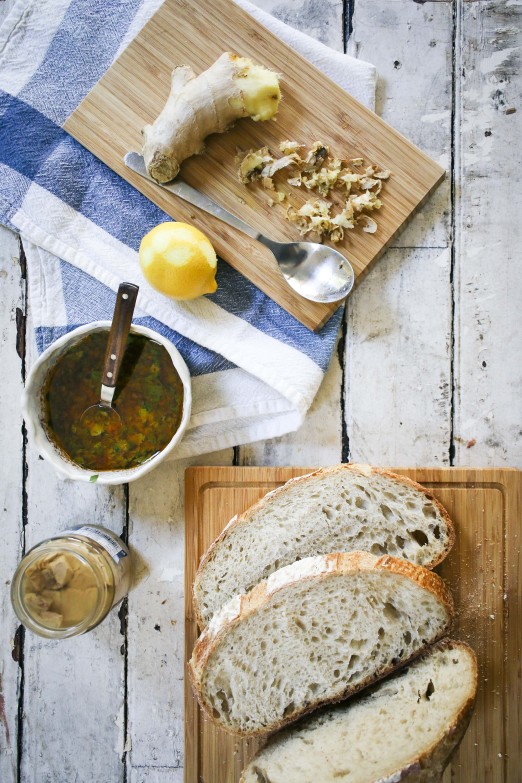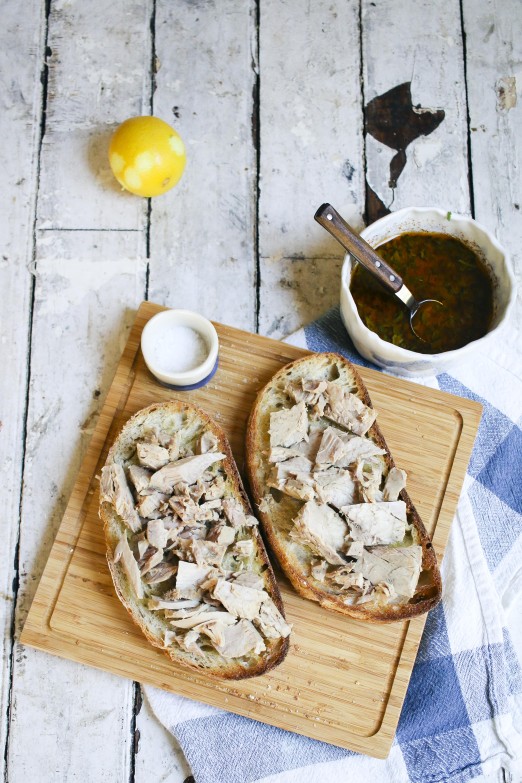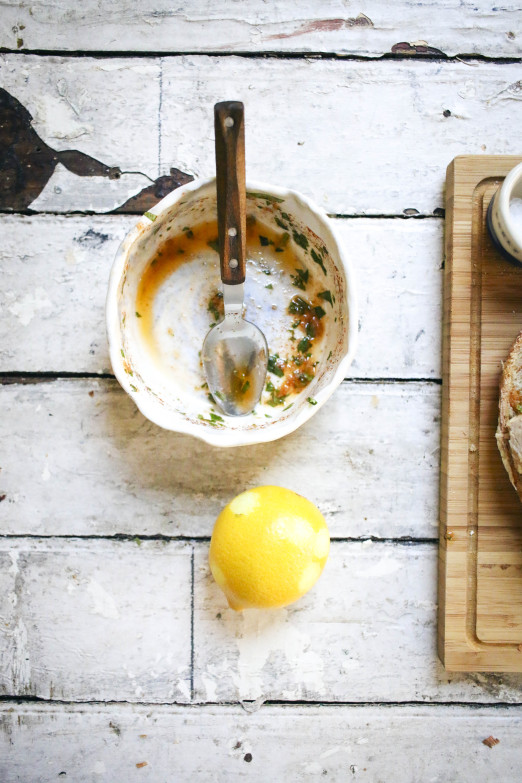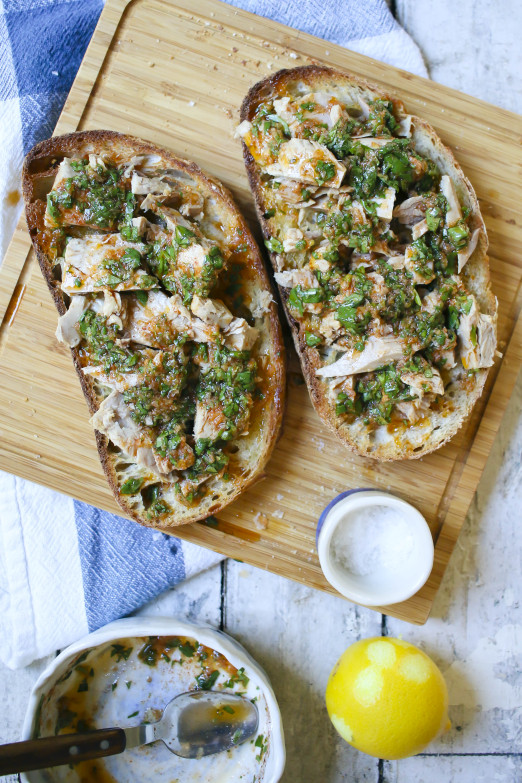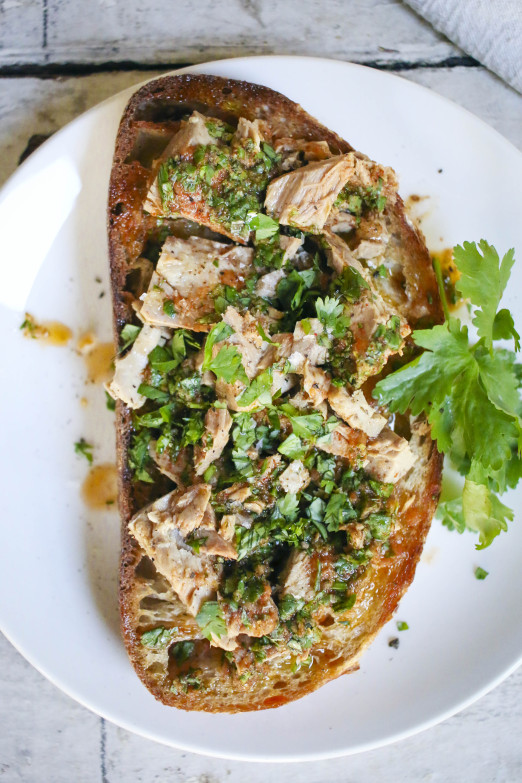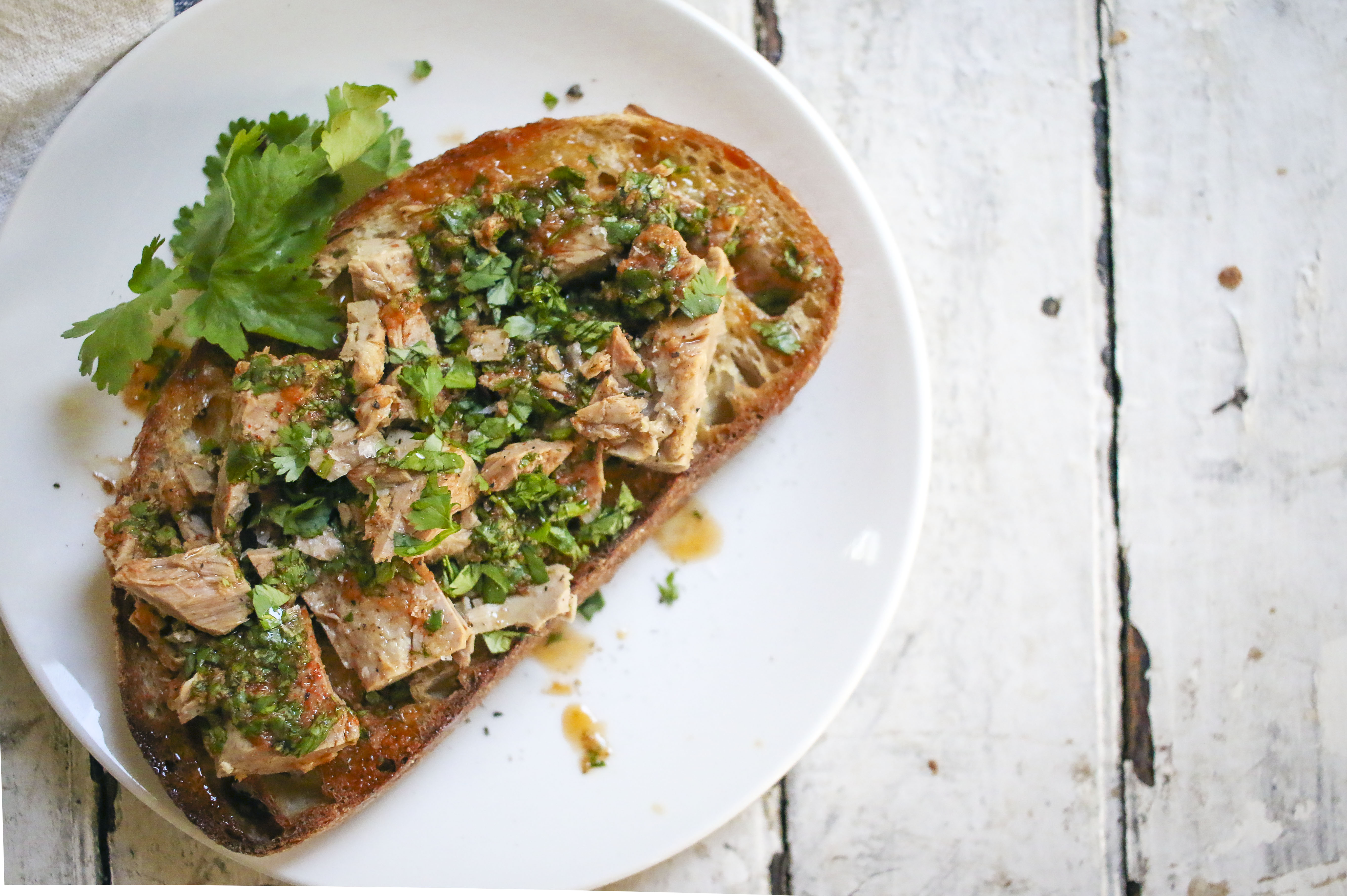 TUNA TOAST WITH CHERMOULA
MAKES 2 LARGE TOASTS
1/4 cup olive oil
1/4 cup chopped cilantro
2 1/2 tbsp lemon juice
1 tbsp grated garlic
1 tbsp grated ginger
1/2 tbsp finely chopped preserved lemon OR zest from 1 lemon
1/2 tsp paprika
1/2 tsp hot paprika
1/4 tsp cumin
pinch salt
 
2 pieces sourdough, lightly toasted
1 jar or can of good quality tuna
Maldon or other flaked sea salt
To make the chermoula, combine all ingredients from olive oil to pinch of salt in a small bowl. Top each piece of toast with the tuna, drench each with chermoula and sprinkle a bit of Maldon salt over top. Snack away!