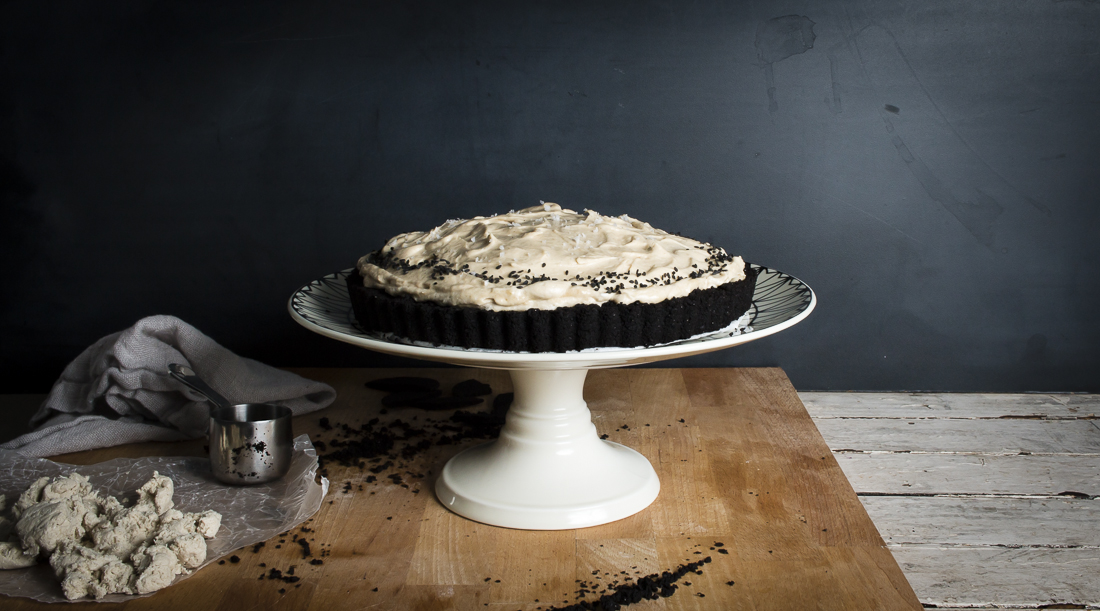 By popular demand… here it is! The recipe for the Tahini Mousse Pie with Silan & Halva that I served at my cookbook dinner at The General Muir. It was such an amazing night. Naturally, there was a lot of food. Guests enjoyed a 6 course meal which featured some of my favorite recipes from the book. Hummus, Fattoush, Moroccan Snapper, Braised Pomegranate Short Ribs over Peppery Farrotto… This pie ended the meal. They also took home a copy of my cookbook. Everyone was very complimentary as I sat awkwardly signing books on their way out. So not my thing. I had a really good time prepping and cooking with the team there. I could not have asked for more! I'm totally going to skip over the whole part where I passed some kidney stones the day before this dinner. FYI: Coffee does not equal water…
A HUGE thank you to the owners Shelley, Chef Todd, Jennifer, and Ben for hosting me, allowing me to have free reign over the restaurant, menu, and their kitchen. They are the best kind of people and I am grateful to have been able to work with them. More thank yous to the chef and sous chefs at The General Muir: Rob, Patrick, John, and John. And special thanks to Darryl, all the line cooks, and serving staff for the hustle and patience that night.
"What do you mean tahini can be sweet?!" Oh, yes. Think of it like peanut butter. Smooth, nutty, delicious. Halva
is made by mixing sugar with tahini, the raw sesame paste. There are stalls dedicated to halva in Jerusalem's Mahane Yehuda Market; one of my favorite places in the world. The stall I'm specifically thinking of translates to "The Halva Kingdom" where they made dozens of different flavors of halva. It's so damn good. I've had halva at home many times on vanilla ice cream with a drizzle of silan, a sweet date syrup
. So I did what I do best… Americanize a Israeli/Middle Eastern delicacy. My grandmother is rolling in her grave right now.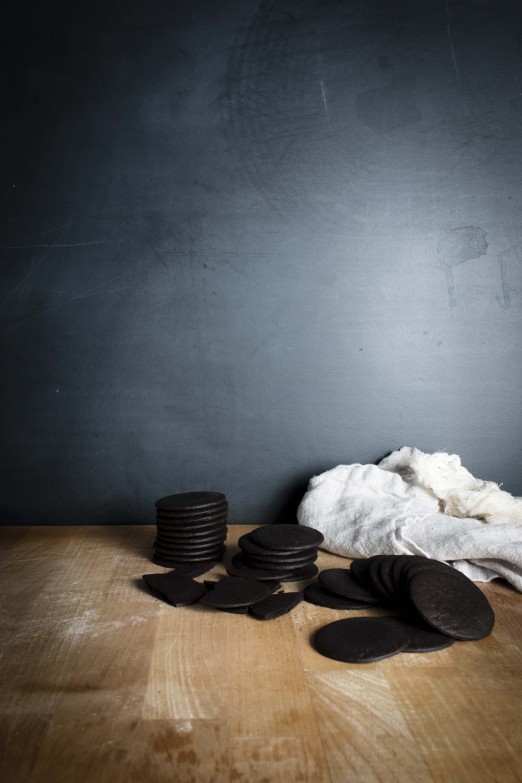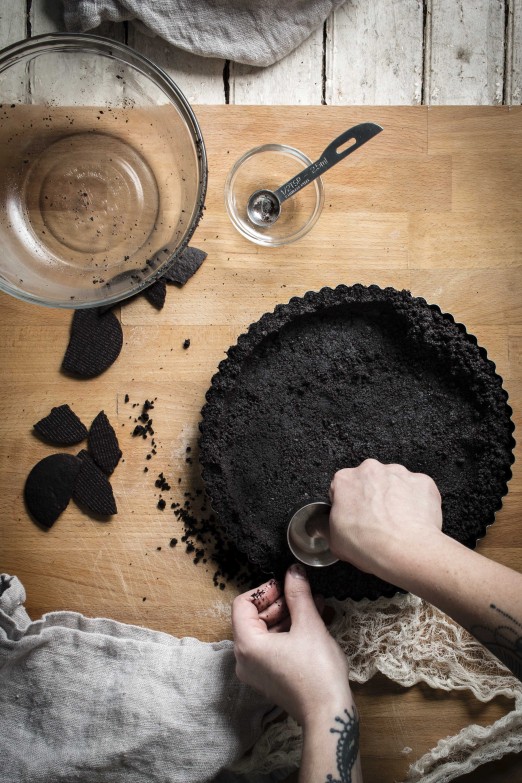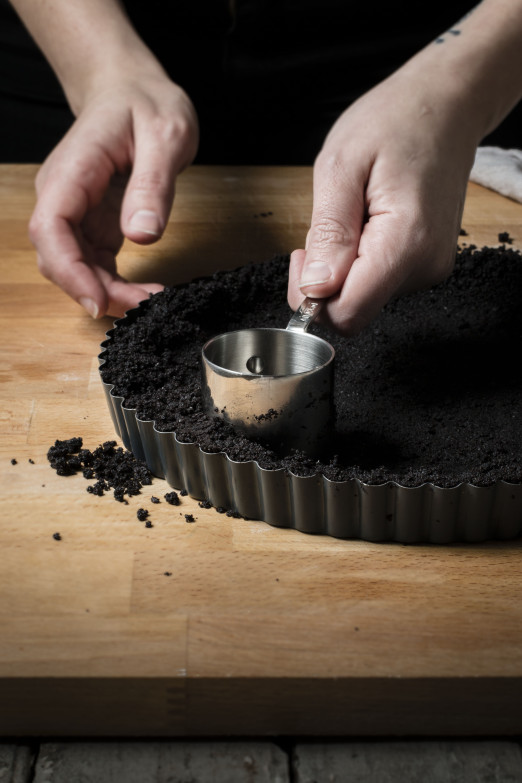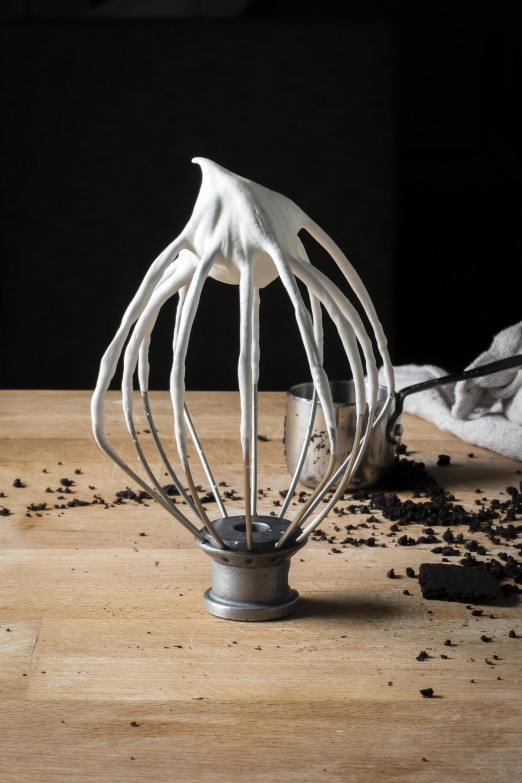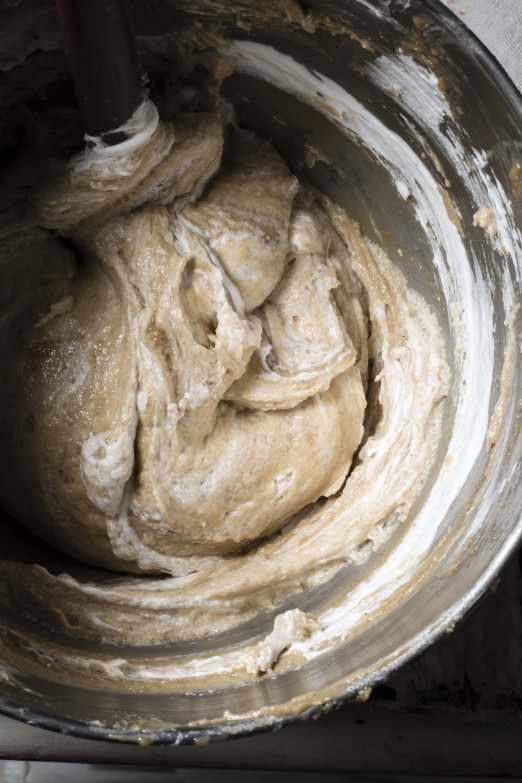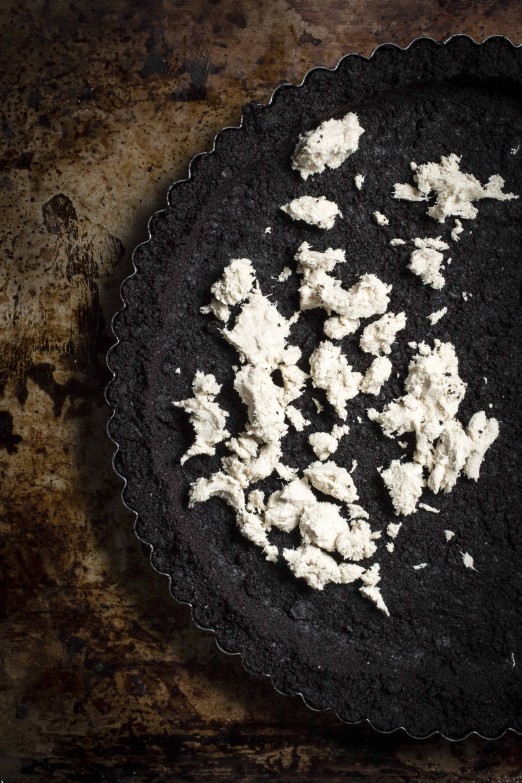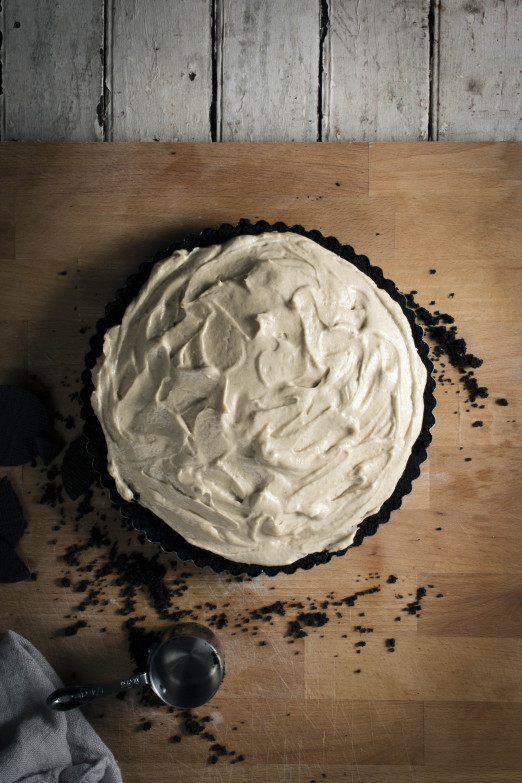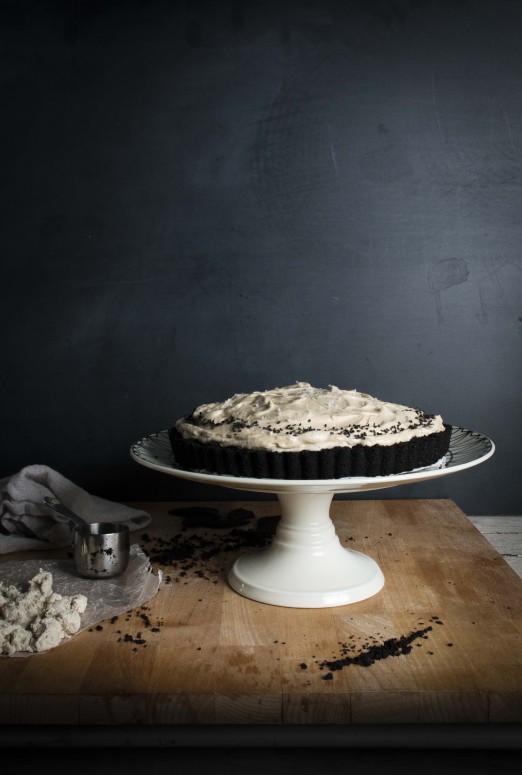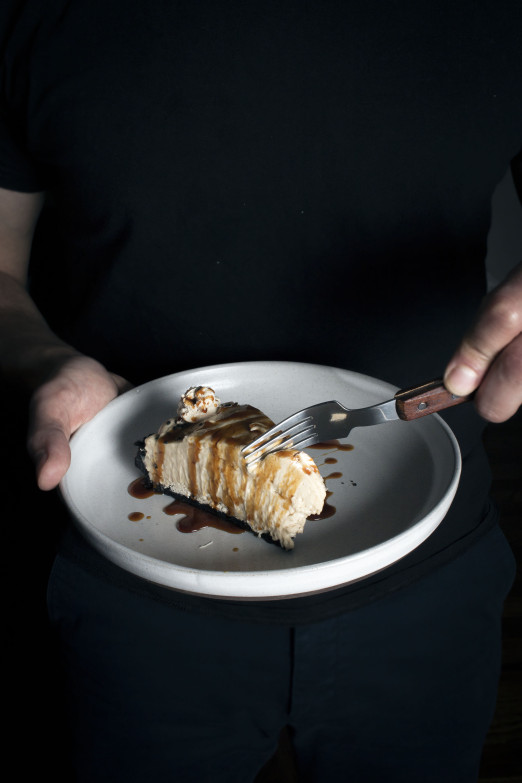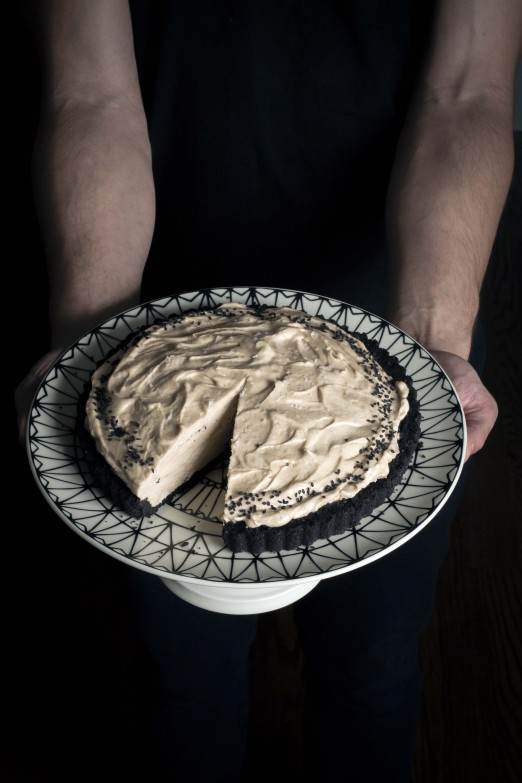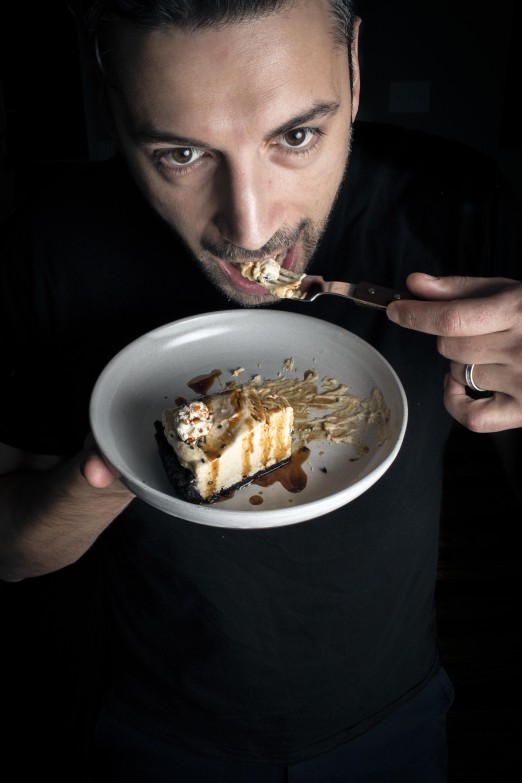 TAHINI MOUSSE PIE
WITH SILAN & HALVA
MAKES A 9″ PIE
FOR THE CRUST:
1 9oz (255g) package
Nabisco® Famous Chocolate Wafers
7 tbsp (100g) unsalted butter, melted
1 tsp (3g) finely
ground Turkish coffee
, or regular ground espresso/coffee
1/2 tsp (2g) salt
FOR THE PIE FILLING & FINISHING:
2 cups (450g) heavy cream
1/2 tsp cream of tartar
2/3 cup (175g) sesame paste (tahini)
1 1/2 cups (185g) powdered sugar (icing sugar)
1 1/2 tsp (6g) vanilla bean paste or vanilla extract
pinch of salt
1/4 cup heavy cream
1 10.5 oz (300g) package of halva

black sesame seeds
Maldon salt, or other flaky sea salt
silan, sweet date syrup
FOR THE CRUST:
Pre-heat the oven to 350˚F (175˚C). In a food processor, pulse the chocolate wafers until finely ground. Make sure there aren't any large pieces. Combine with the melted butter, turkish coffee, and salt. Press the mixture into a 9″ pie/tart pan with removable bottom. Pack it tightly! I use a measuring cup to press it into the sides. It helps create a nice shell. Place the shell in the freezer for 10 minutes. Bake on a sheet pan for 10 minutes. Allow to cool to room temperature and place it in the fridge until you're ready to fill it.
FOR THE PIE FILLING: Place the 2 cups of heavy cream and the cream of tartar in the bowl of an electric mixer fitted with whisk attachment. Whisk the cream on medium at first and then up to high until medium peaks form. Don't over whip the cream! Transfer the whipped cream into a different bowl. Change to a paddle attachment on the mixer, no need to clean the bowl! Place the sesame paste, powdered sugar, vanilla bean paste and salt in the mixer bowl. On low, mix until it starts to come together. While the mixer is running, SLOWLY drizzle in the heavy cream (1/4 cup). If you do this too quickly, or if the mixer is on too high the mixture will separate! It will be pretty difficult to bring it back together so make sure you do this slowly!
Fold in, by hand, 1/3 of the whipped cream mixture into the sesame mixture. Be a bit aggressive with this first addition to lighten the sesame mixture. Once almost combined, add an additional 1/3 of whipped cream to the mixture and continue folding, gently this time. Add the remaining 1/3 and fold until JUST COMBINED. Streaks of white are ok!
FOR FINISHING: Pull out the shell from the fridge and pop it out of the pan. Break up half of the halva with a fork and scatter evenly along the bottom. Top with the mousse mixture and spread it over the halva. Set the pie in the fridge for at least 4 hours to set. Sprinkle with sesame seeds and maldon salt. Slice, garnish with more halva, drizzle some silan over top and enjoy!
This pie will keep, refrigerated, for up to 2 days.
THANK YOU TO MY HUSBAND, TAS, FOR HIS FACE.