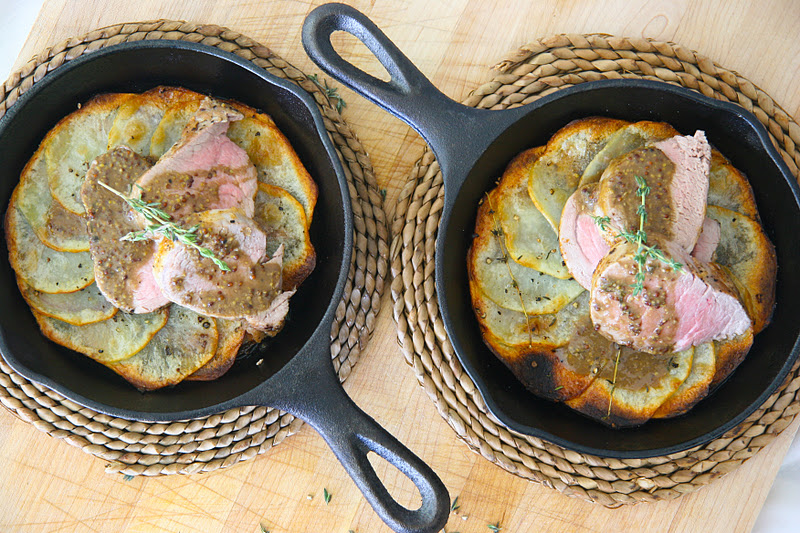 Pork Tenderloin with Brandy Mustard Sauce
I must apologize again. The past month has been another doozie. I've been flying around more than I've been home. It sounds fun, but there really is nothing like home.
I wait for the moment that I walk in the front door and drop everything. Whether it's a two day trip or a two week trip, the feeling of getting home is the same; extreme relaxation and elation.
I don't get worked up about much. I believe that I'm a fairly easy and flexible person, but put me in an airport and I'm teetering on losing my mind. When there's a crowd of people moving towards the same thing, I get serious anxiety.
In general, "people" are slow. Crowds are even slower. Yes, I just got back from the airport, how could you tell? There is about a 30 minute difference between someone exiting an international flight from the front of the plane versus the back.
I know, me and time valuations sound crazy, but it's the truth. And, that is why I look forward to the moment that I put my keys down, flick off my shoes (probably run to the bathroom since I didn't want to spend an extra 3 minutes at the airport), and just sink into my couch. Sighhhhh.
After I return from traveling, I really look forward to making that first meal. Don't get me wrong, it's fabulous to eat out and have both meals prepared, and, of course, dishes cleaned for you. I just like my own cooking because I can mold it to my exact specifications.
This pork recipe is one of my favorite to make when I'm back. It doesn't take long to put together and the results are incredible. You will not be disappointed. The potatoes are just a bonus. Feel free to create your own sides with this! Ahhh… it feels good to be home!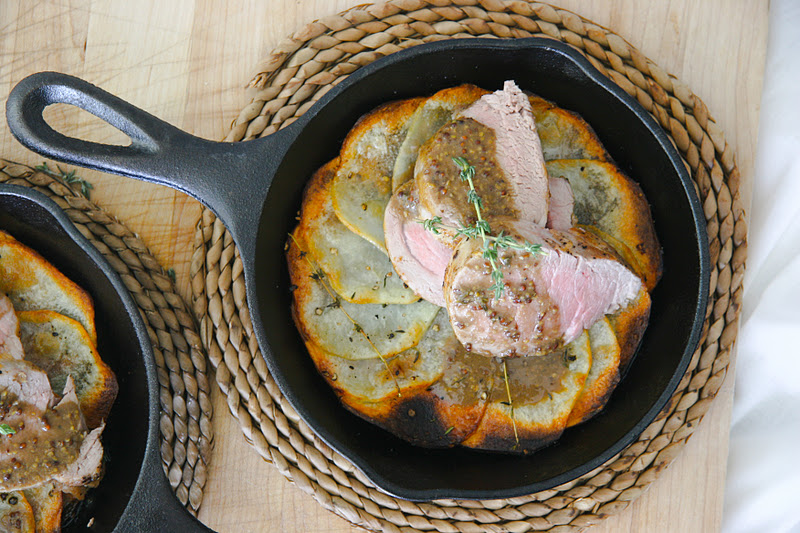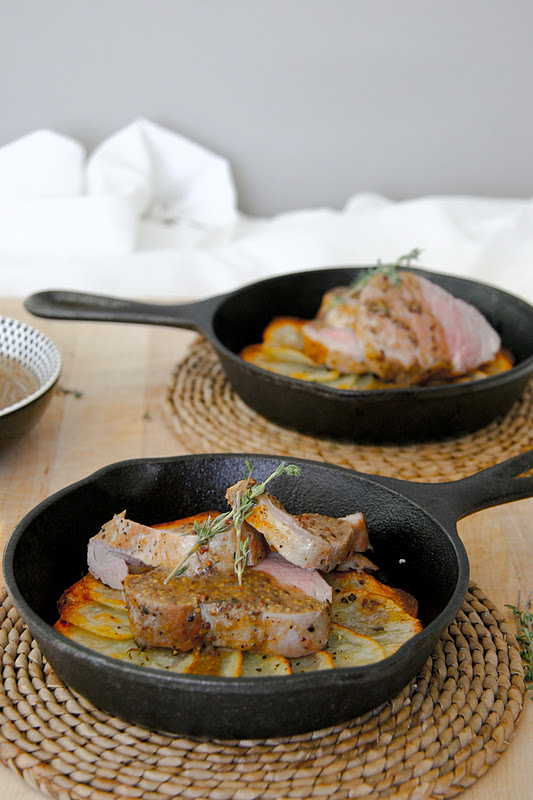 Pork Tenderloin with Brandy Mustard Sauce
Makes about 4 servings with a ton of extra sauce

1 pork tenderloin (between 1 – 1 1/2 lbs)
Salt and freshly cracked black pepper
1 TBSP olive oil
1 cup Brandy or Cognac (I used Rémy Martin)
2 TBSP grainy dijon mustard
2 TBSP dijon mustard
2 1/4 cups beef stock
1 TBSP butter

Pre-heat oven to 325˚ F. 

Pat the pork dry with a piece of paper towel. Season generously with salt and pepper. 

Heat a pan on med-high heat. Add olive oil. Add the Pork and brown on all sides. Lower heat to med-low and transfer pork to a baking sheet. Place in the oven on the middle rack for 15-18 minutes until cooked through (internal temp of 160˚ F – I like it pink in the middle). When done, let pork rest for at least 10 minutes before slicing. 

Turn the heat up again to med-high under the pan that the pork was seared in. Deglaze the pan with the brandy and scrape up all of the bits from the pan. Reduce until only 1/4 cup of brandy remains. Add the mustards and the beef stock to the pan. Whisk together until combined. Turn the heat up to high and reduce sauce until thick and covers the back of a spoon. Turn the heat off, taste and adjust seasoning with salt and black pepper if needed. Add butter and mix together. 

Slice pork and serve with sauce.

Crispy Potatoes (quick recipe)

Russet potatoes
Olive oil
Butter
Fresh thyme
Salt and black pepper
Heat oven to 325˚F.

Peel potatoes and slice thin using a mandoline. Drizzle some oil in a cast iron skillet and layer the slices of potato in a closed circle. Drizzle more olive oil over top, season with salt, pepper, and thyme. Add a dollop of butter on top. 

Place in oven on bottom rack for 12-15 minutes or until golden brown on top.