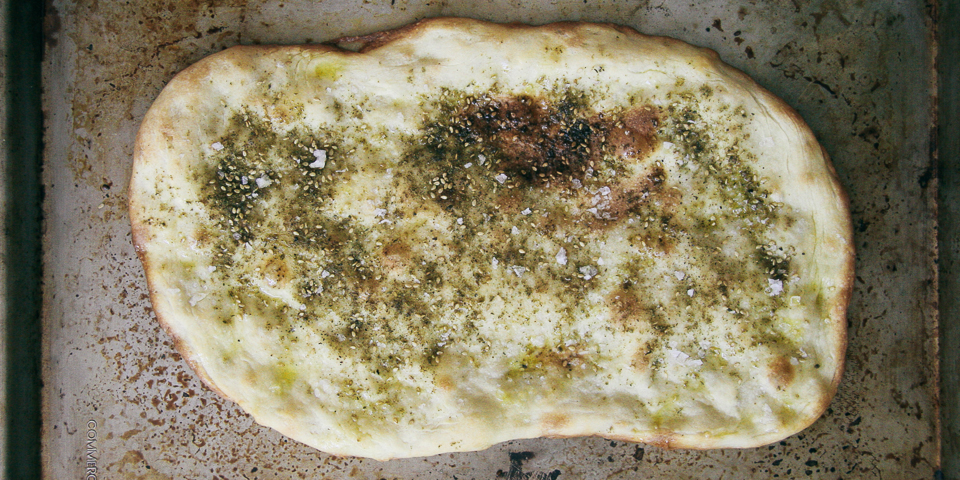 I'm falling in love with this Buvette
Cookbook as I'm sure anyone who owns this book is doing too. It brings me back to my classic French training at FCI. Ah… I miss those days.
This is the base recipe for the Schiacciata Dough from Buvette. I added a bit of Middle Eastern flare to it. Obvi. It just kind of happened as most of the best recipes do. Don't be afraid to make your own bread at home! This is a really easy recipe. Invest in some Za'atar
if you haven't already.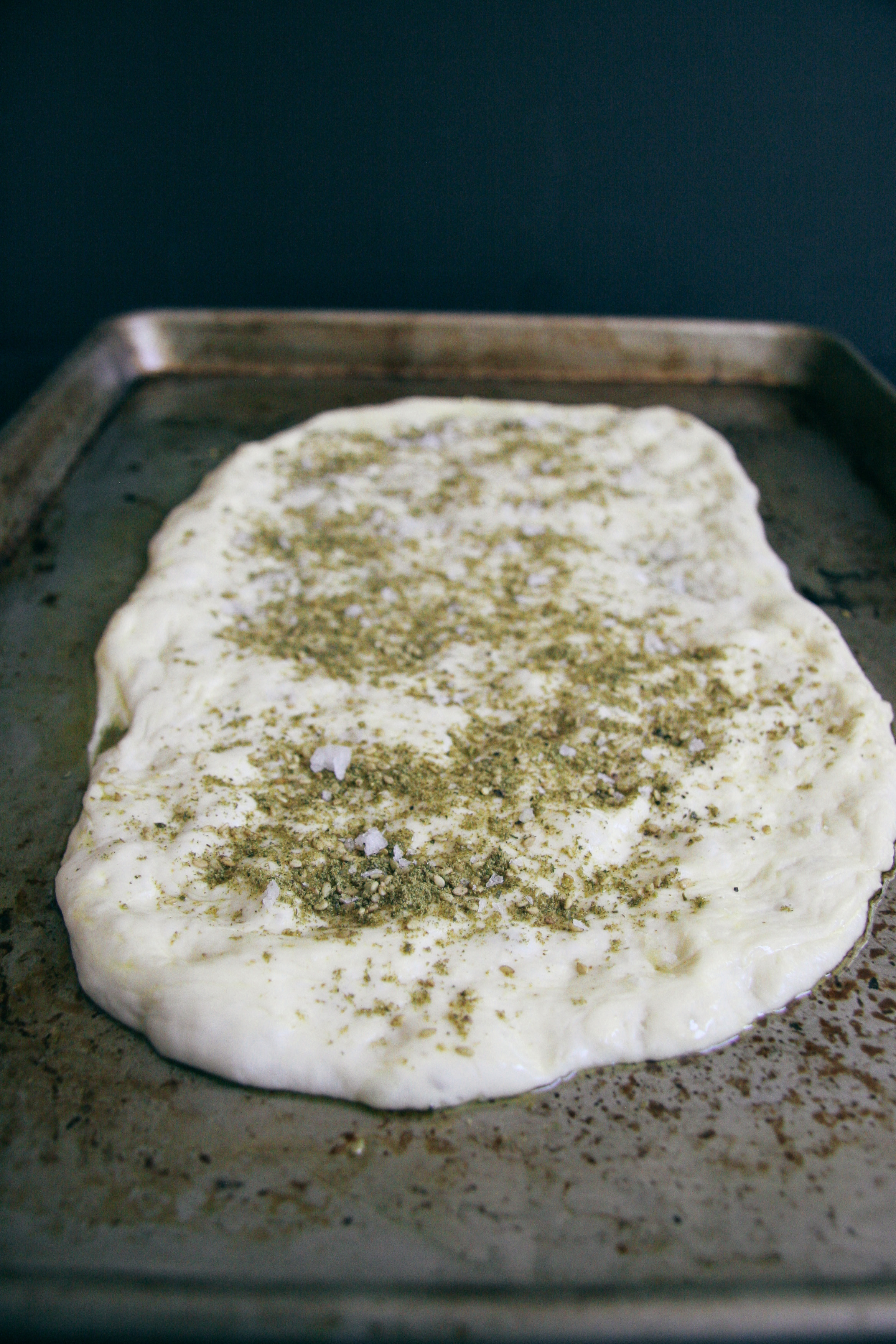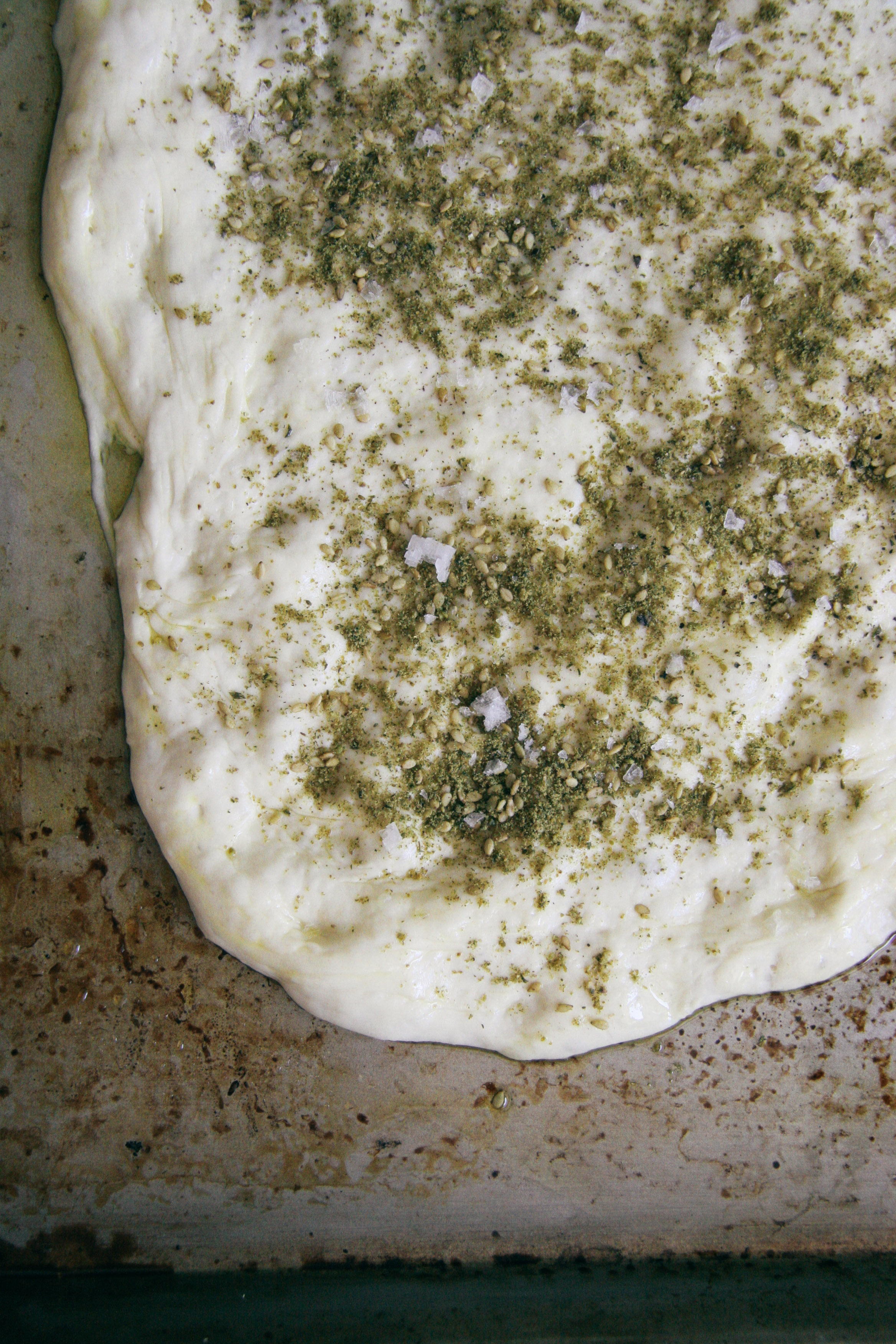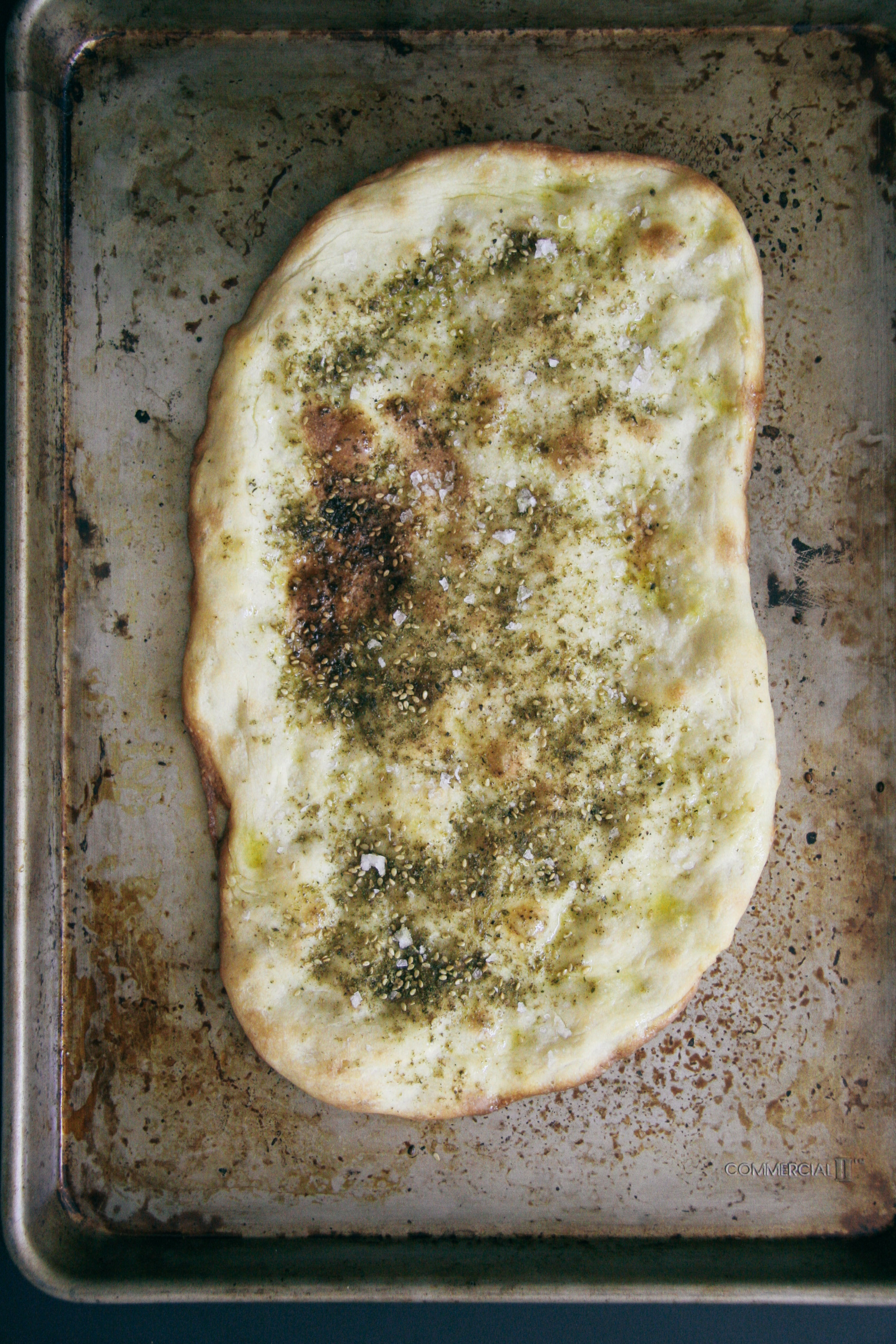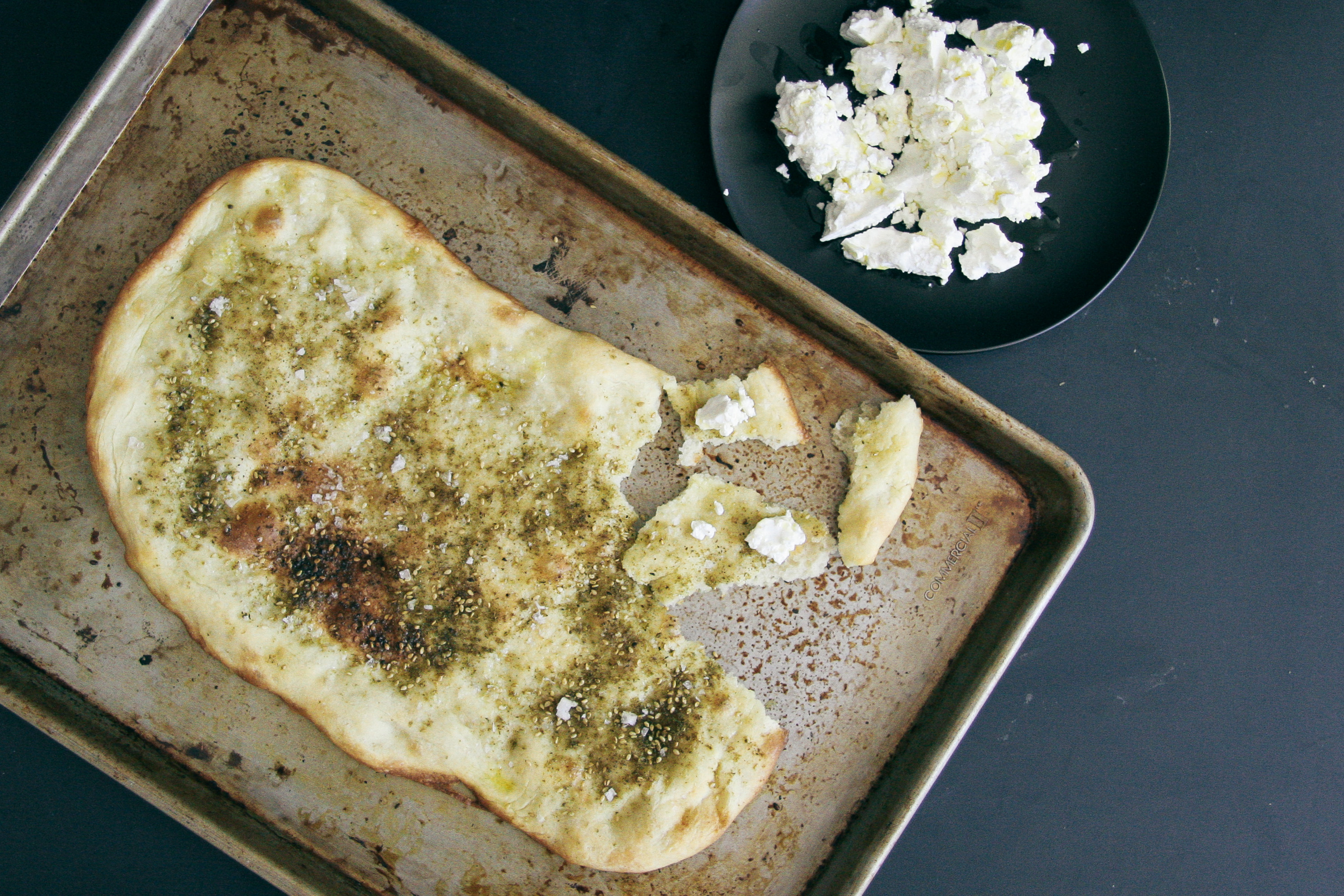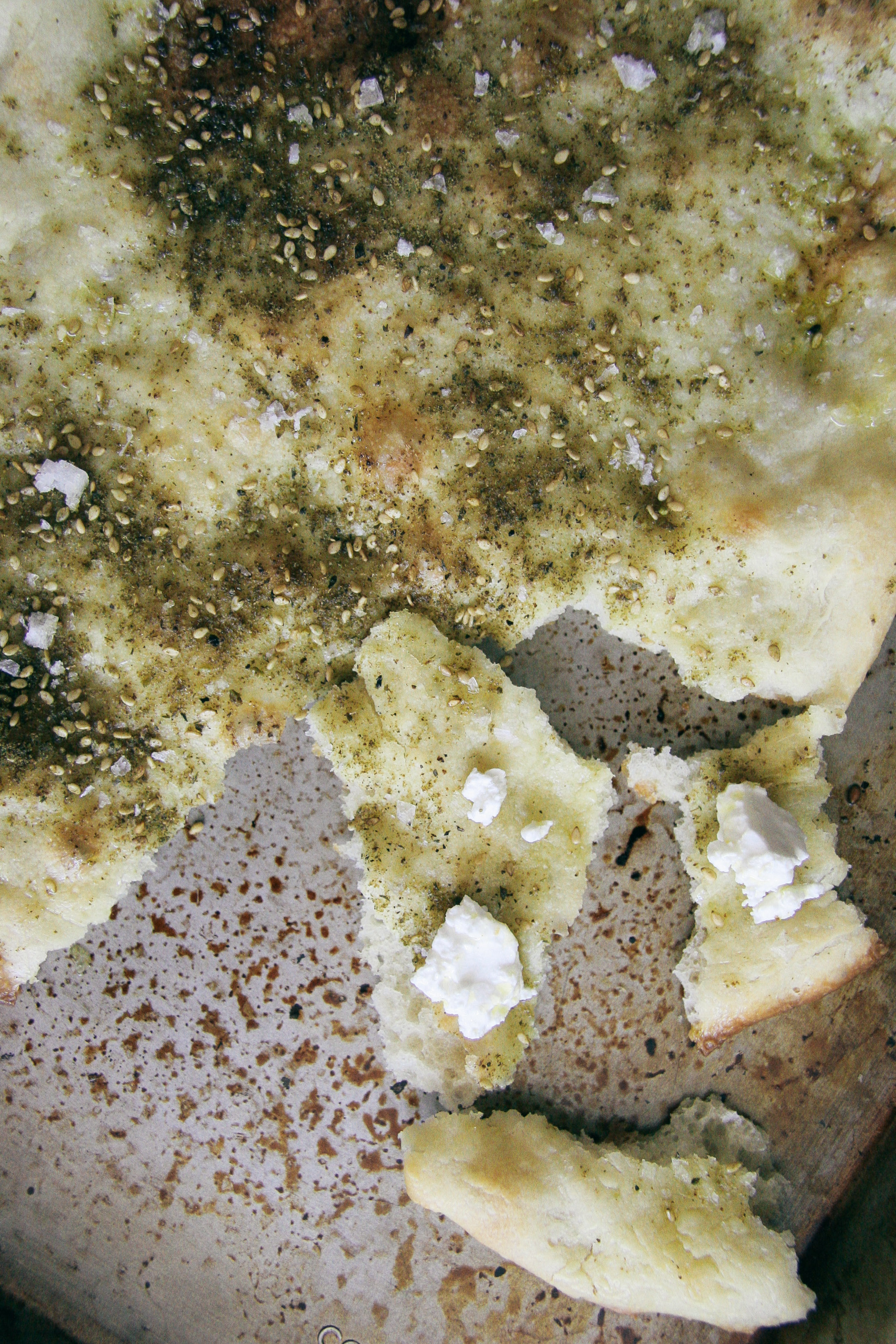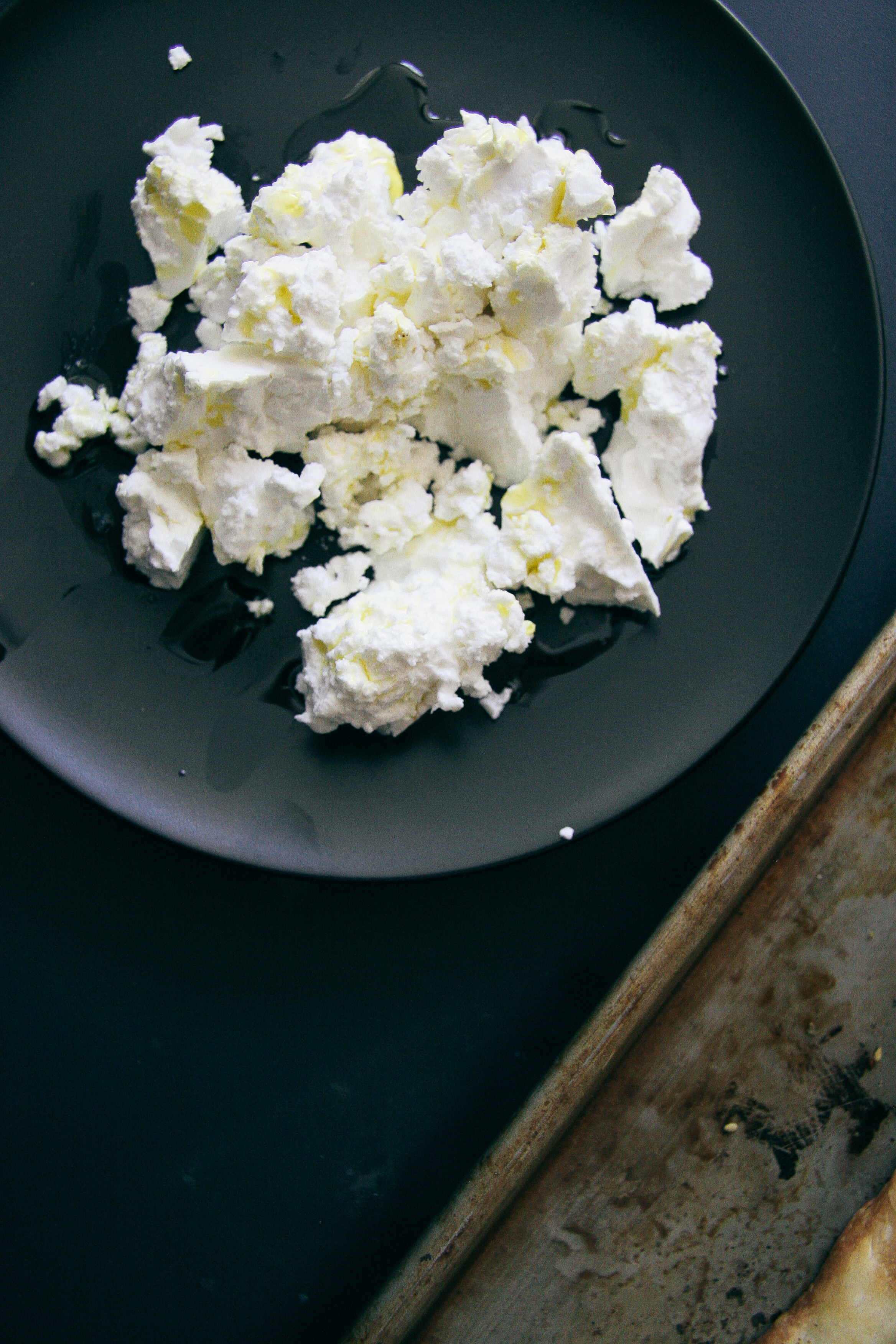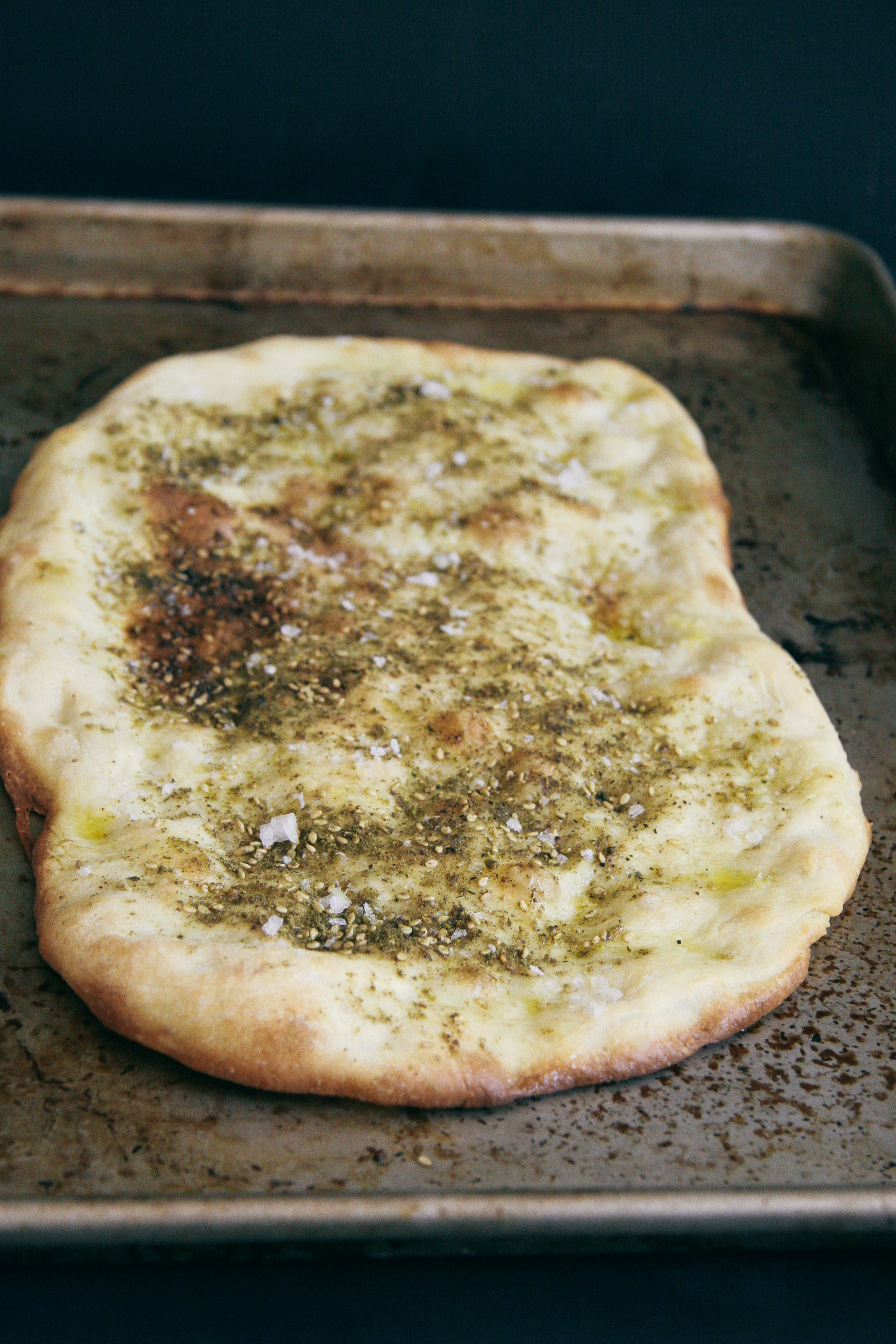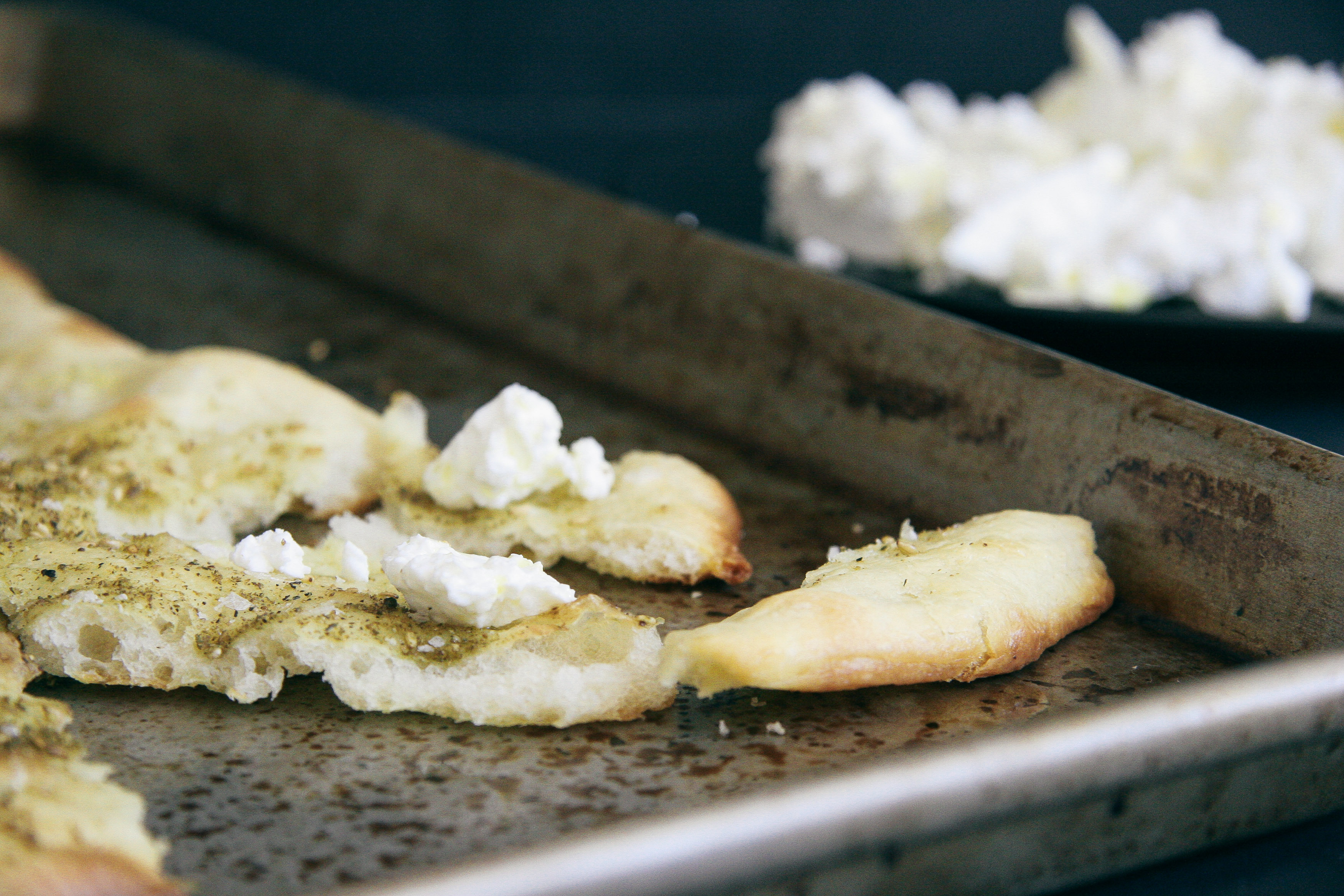 Za'atar Flatbread
makes 3
[one_half padding="0 20px 0 0″] 3 cups (426 g) all purpose flour
1 1/2 tsp active dry yeast
1 1/2 cups water, room temp
1 tsp coarse salt
2 Tb extra virgin olive oil, plus more for oiling dishes
1/3 cup Za'atar

Maldon Salt (coarse finishing salt)
 
1/2 cup crumbled Feta, Bulgarian is the best
1 Tb extra virgin olive oil
[/one_half][one_half_last padding="0 0px 0 20px"] Mixing the dough:
1. Fix the bowl of a stand mixer with the dough hook attachment. Combine half the flour (214g) with the yeast and 1 cup of the water.
2. Mix on low until just combined. Scrape the sides of the bowl and the hook to make sure everything is homogenous.
3. Sprinkle the remaining flour and salt over the "sponge" dough in the bowl. Drizzle with the 2 Tb of olive oil.
4. Mix on medium speed. Once you see that it has combined, slowly pour in the remaining 1/2 cup of water. The dough should be sticky! But it should hold together nicely. You may need to add a bit more water or flour to adjust for humidity that day.
5.Turn the mixer to high and let it "knead" until the dough is smooth and elastic and the sides of the bowl are clean. This will take 5 minutes or longer. Don't rush it!
6. Coat a large bowl with olive oil and transfer the dough into the bowl. Coat the top of the dough with a little olive oil too.
7. Cover with plastic wrap or a dish towel. Leave in a warm place in the kitchen for at least 2 hours until it has doubled in size. (This can all be done ahead of time and left in the fridge to rise for up to 3 days, but no less than 12 hours. Make sure to bring to room temp before baking).
Baking:
1. Pre-heat oven to 475˚F.
2. Oil a sheet pan with a pretty generous amount of olive oil. (prepare 2 sheet pans if you have for faster execution).
3. Oil your hands a bit. Separate 1/3 of the dough and start stretching it. Almost like a pizza dough. It will spring back. This is just the initial stretch. Don't stretch the dough thinner than 1/3″ thick.
4. Lay the stretched dough on the oiled sheet pan. Let it rest for at least 10 minutes.
5. Stretch on the sheet pan again by pulling the edges out. NO THINNER THAN 1/4″.
6. Rub the top of the dough with oil. Top with about 2 Tb of Za'atar and a generous sprinkle of Maldon Salt.
7. Bake for 15-18 minutes or until puffed and golden brown around the bottom.
8. Drizzle with some olive oil as soon as it comes out of the oven. Do this in batches if you only have 1 sheet pan to bake the flatbread on making sure to oil it up between every bake.
9. Serve with crumbled feta drizzled with a bit of olive oil. Enjoy!
[/one_half_last]