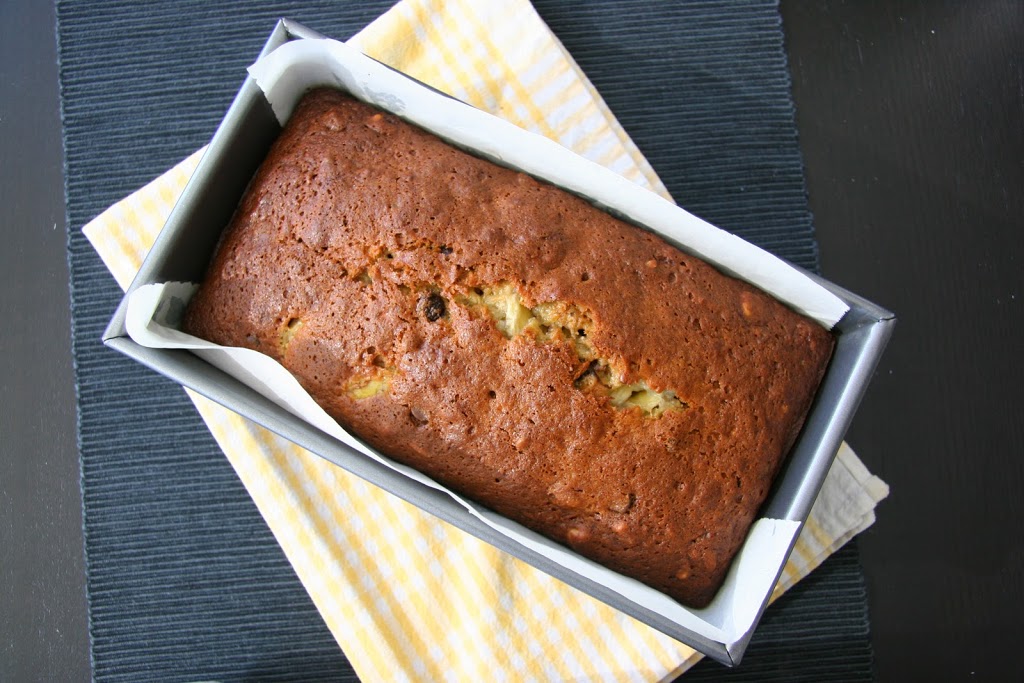 Brown Bananas?
I always find myself with tons of bananas at the end of the week that have turned to mush. My boyfriend's mom gives him a bunch of bananas every week and I'm tired of the smoothies. Nanner bread! (AKA banana bread).
I overload my banana bread with whatever I have left over in the cupboard. It may be peanut butter or pecans. This week it was chocolate chips, and walnuts, and 

chunks

 of banana. Why not?
I also ran out of vanilla extract, so I used bourbon. Love a chance to throw some alchy into my baking. Rum would also work well with this recipe. But of course, if you don't have either on hand, you could substitute with vanilla.

Chocolate and bananas are a classic combo. I try to always have chocolate chips in my concoction, but you can obviously exclude them for a "healthier" bread. I recommend them though.
The chunks of banana are my personal touch. I love biting into a piece and finding a nice sweet, soft chunk. They almost turn doughy, and who doesn't like dough??
Sometimes the bananas will turn a purplish hue – that's totally fine. It has something to do with the sugars, baking, and potassium. I'm no chemist though, so that's all the information I can give you about purple bananas. The bread is definitely still edible.
I love mini things. It doesn't matter what it is, if it's mini, it's an automatic like. I will occasionally make some mini muffins when making banana bread. Just so that I can coo at them when they come out of the oven.
Like my plate? Fishs Eddy. My favorite store in New York City. I'll leave there with tons of plates and cups I don't need. I got mini Pan Am airplane knives there once. True story. If you find yourself in NYC, you must go.




Nanner Bread

 
(aka Banana Bread)
1 2/3 cups all-purpose flour
4 very ripe bananas, 3 mashed and 1 sliced
2 TBSP creme fraiche (or sour cream)
1 tsp bourbon (or vanilla extract)
2/3 cup semi-sweet chocolate chips
Preheat oven to 350 degrees F. Line a 9″x5″x3″ loaf pan with parchment paper (only needed on the 2 long sides of the loaf pan). Butter the 2 short sides.
In a medium bowl, sift together the flour, baking soda, and salt. In a stand mixer with the whisk attachment, whisk the sugar and eggs until light in color and fluffy, about 10 minutes on high speed. Turn speed down and slowly drizzle in oil. Continue to mix until the batter comes together. Add in mashed bananas, creme fraiche and bourbon. Mix until just combined.
With a spatula, fold in the sifted flour mixture until just combined. Fold in walnuts and chocolate chips. Pour into loaf pan and top with the sliced bananas. Using your fingers, push the slices of banana into the batter so that they are submerged.
Bake for 1 hour. Test to make sure a toothpick comes out clean after inserting it into the center of the loaf. Allow to cool in the pan for at least 30 minutes before you cut into it.
Mini Muffins bake in 15 minutes – times change depending on the size of the muffin tin, so be sure to test them with a toothpick before you decide they're ready.