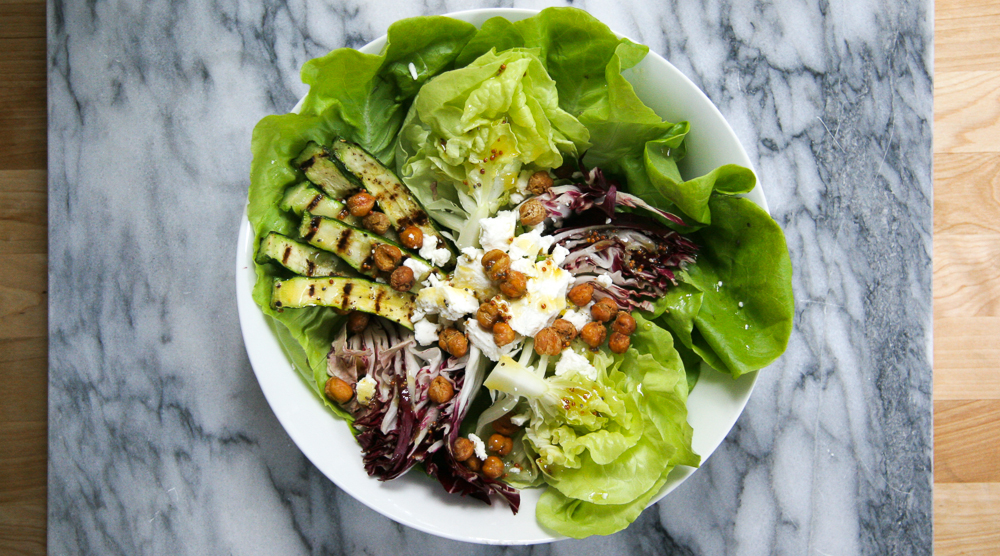 Bibb Lettuce Salad w/ grilled zucchini & crispy chickpeas
[full_width padding="0 20px 0 20px"] YEAY!!! The 4th of July is upon us and I'm happy to be back living in Uhmerica for it! I plan to celebrate with some friends, beer, BBQ, beer, pool time, beer, fireworks and beer! I've even switched my beer preference from Sapporo to Sweetwater 420 for the occasion! It's a local beer, no bigs, I drink local beer. It's a great regular beer. Say beer again. Beer. ANYWAY, enjoy your 4th of July, be safe, and make this salad because it's delicious.[/full_width]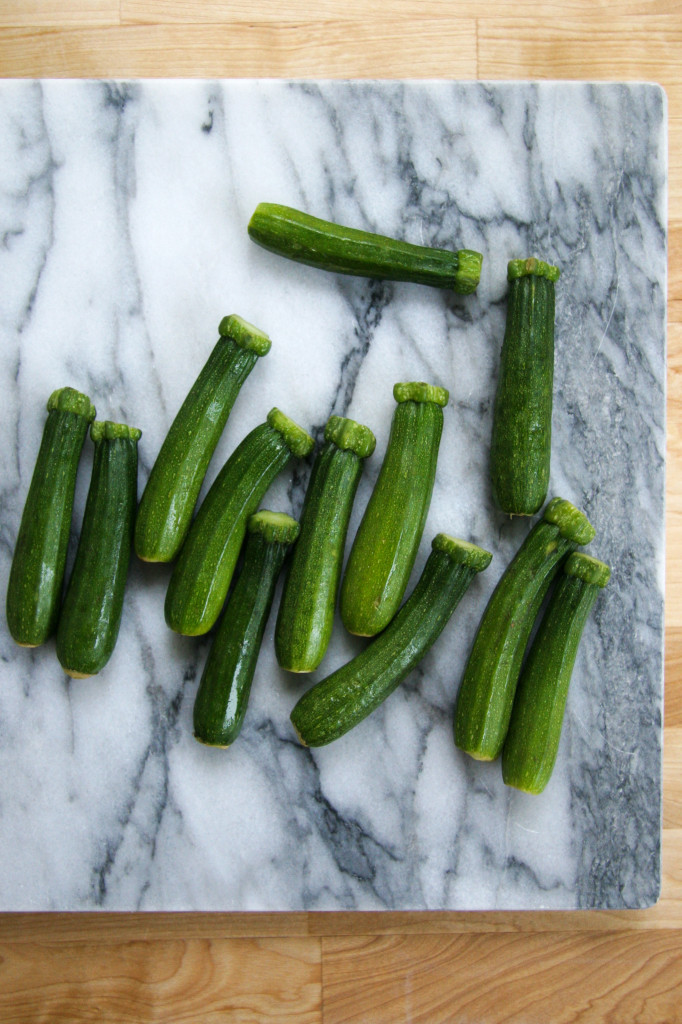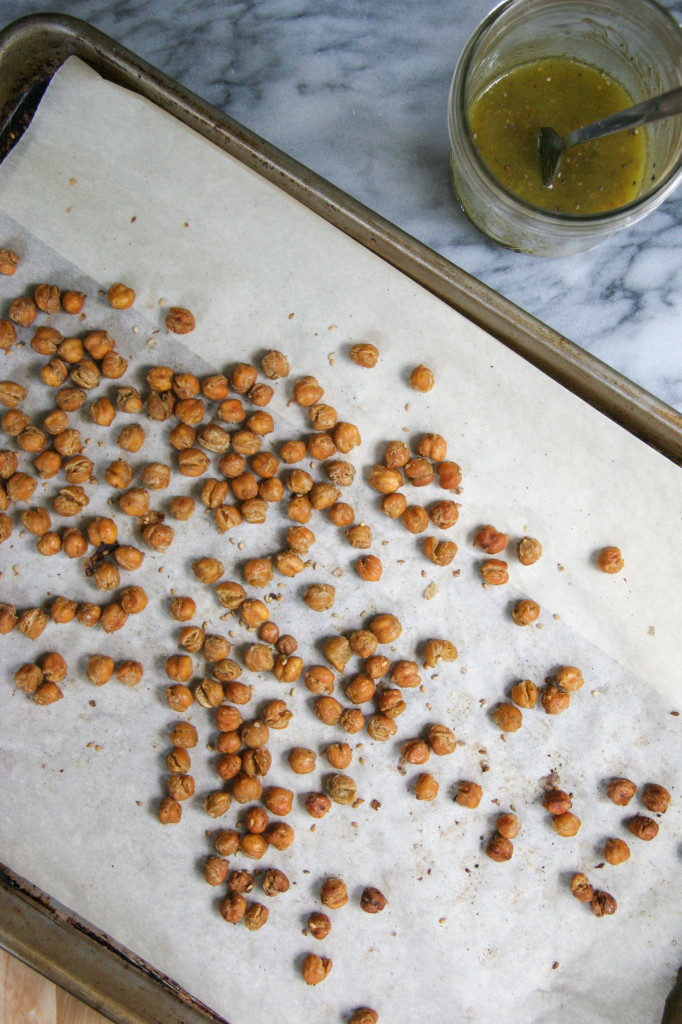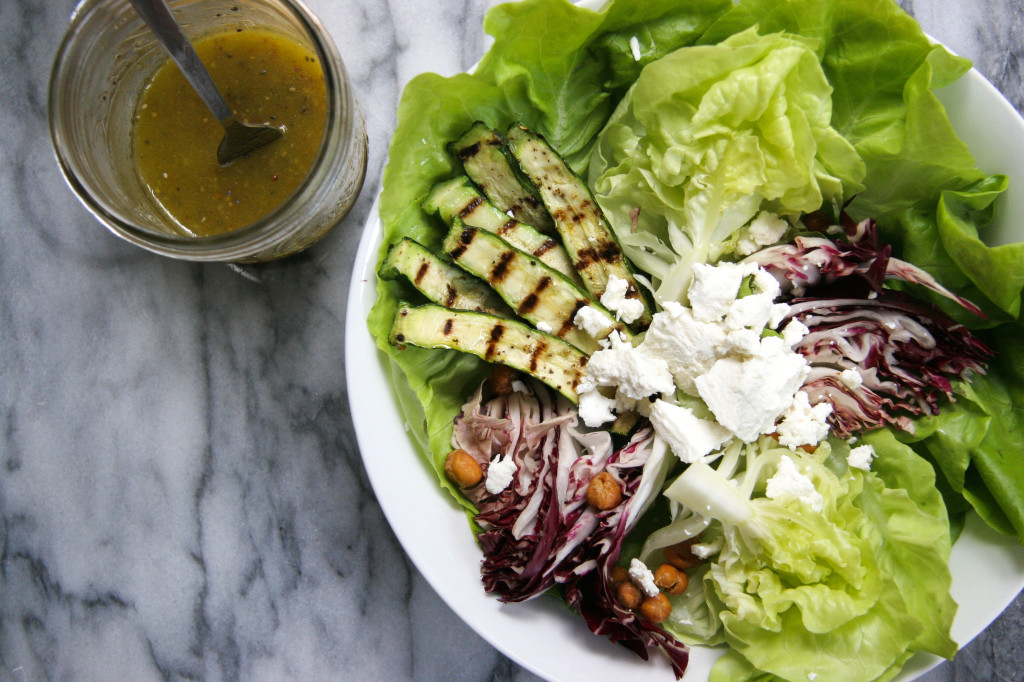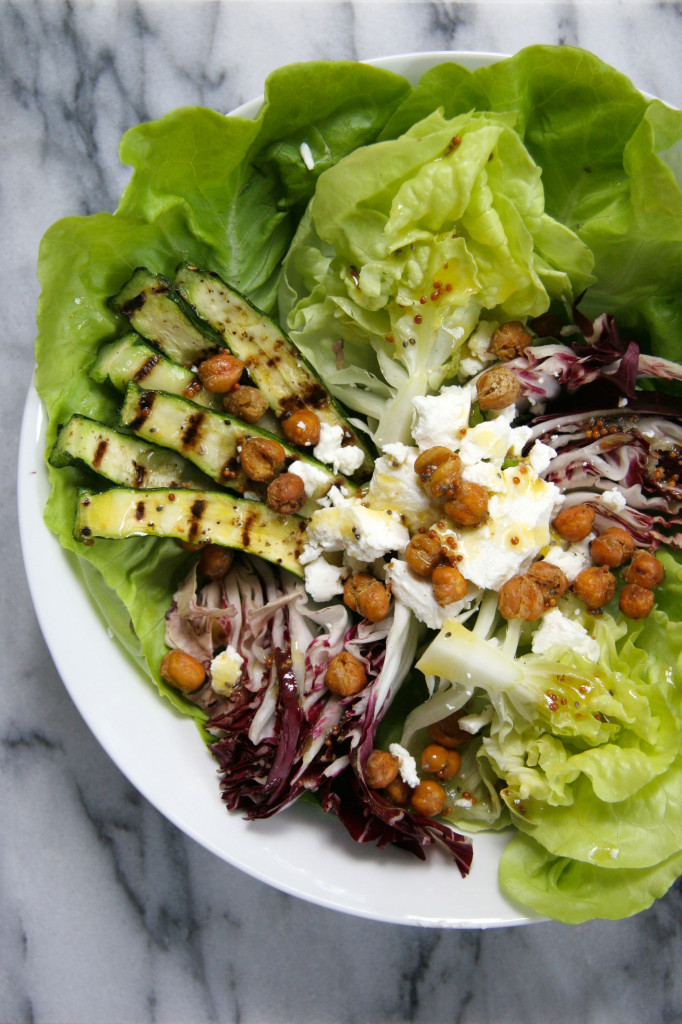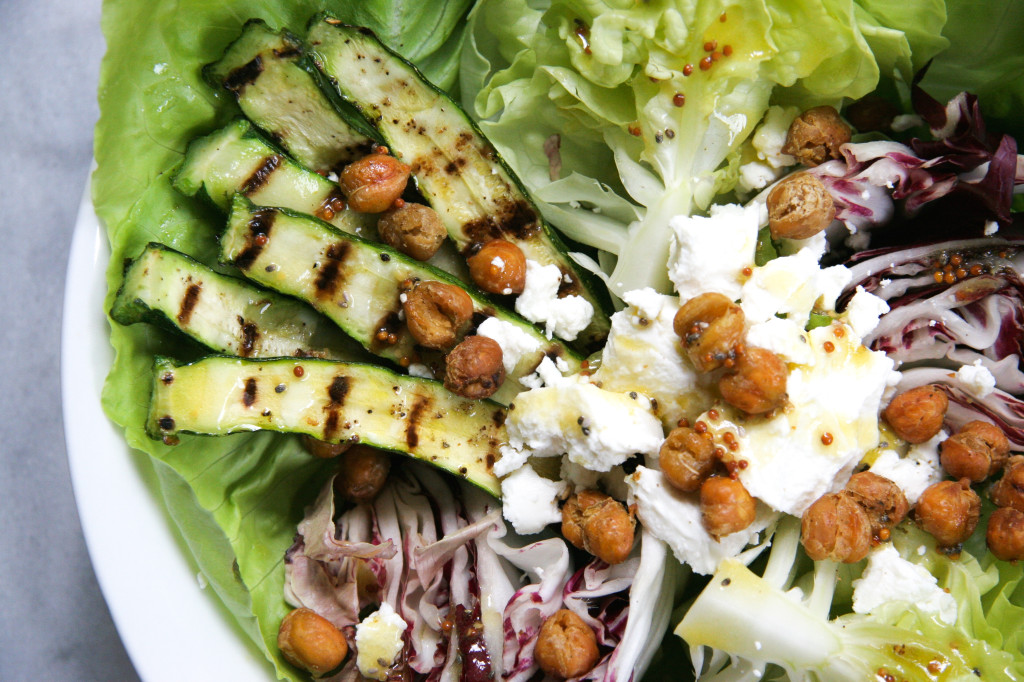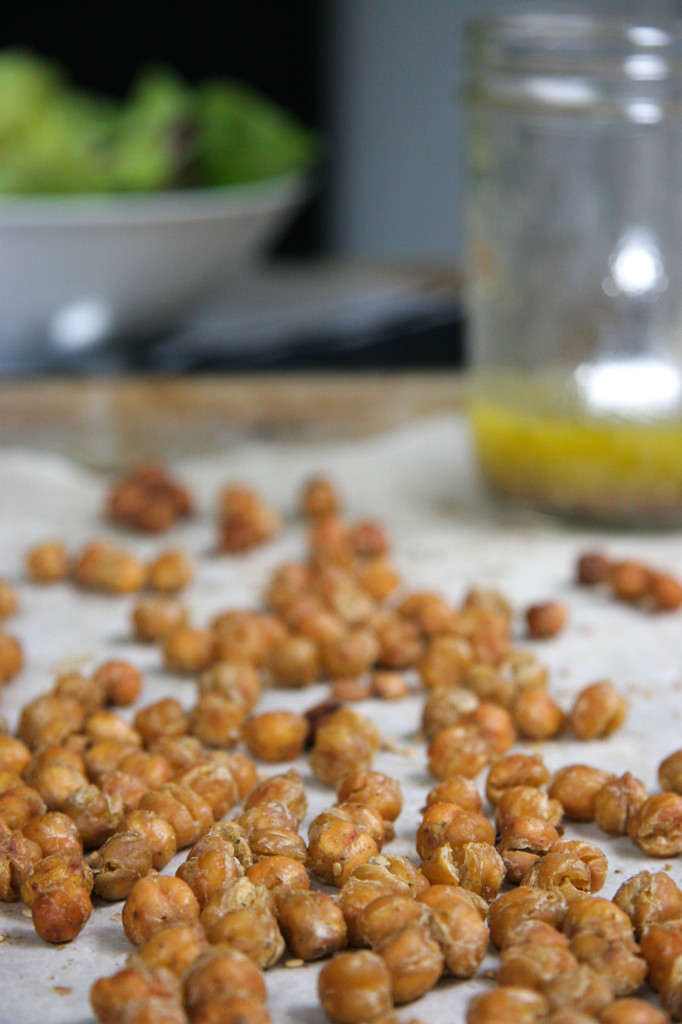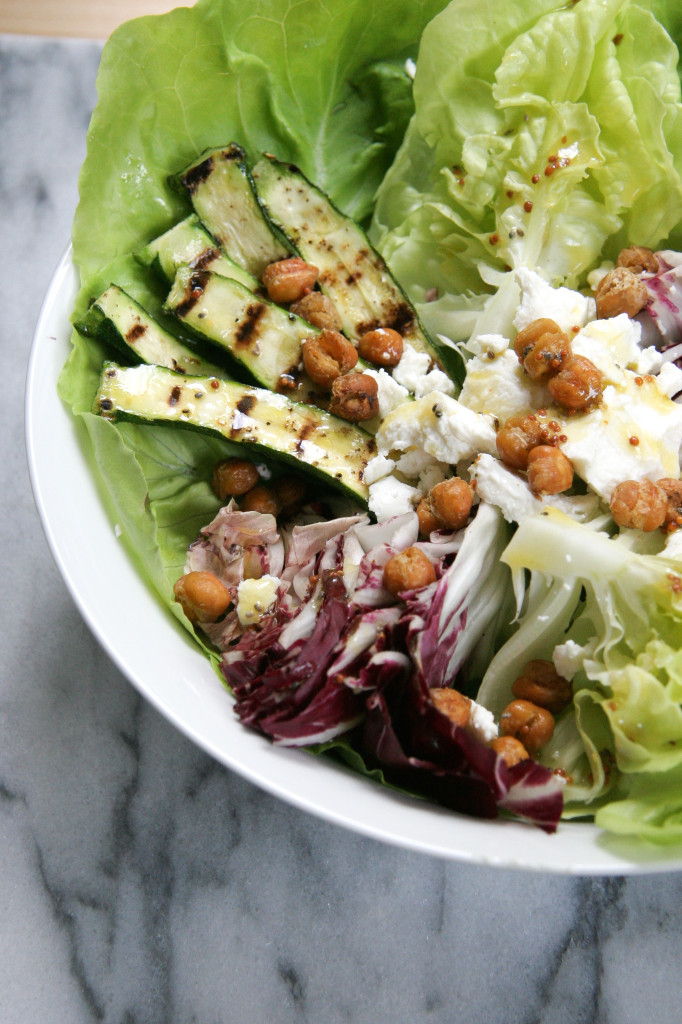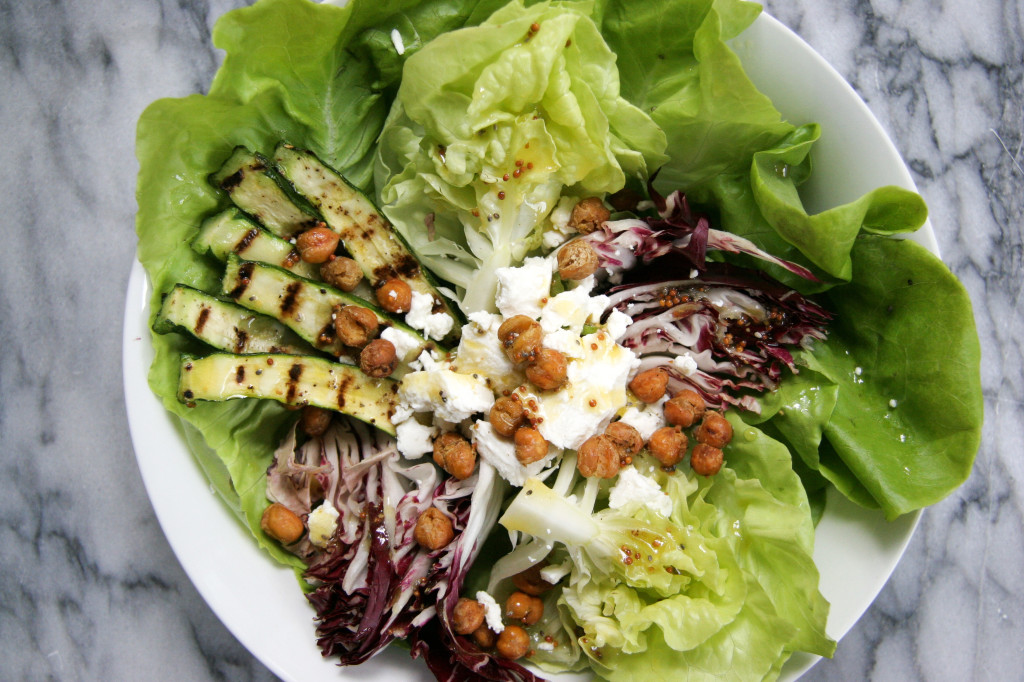 Bibb Lettuce Salad
w/ grilled zucchini, goat cheese, and crispy chickpeas
makes  4 servings
[one_half padding="0 10px 0 20px"]
for the dressing:
2 Tb lemon juice
1 Tb grainy mustard
1 tsp honey
1/4 tsp salt
1/2 tsp chia seeds
4 Tb good quality olive oil
for the chickpeas:
15 oz can chickpeas
1 1/2 Tb olive oil
1/2 tsp Maldon salt
1 tsp za'atar, optional
for the zucchini:
12 baby zucchinis or 2 regular zucchinis
1 1/2 Tb olive oil
salt & fresh pepper
for the salads:
2 heads bibb lettuce, leaves torn or quarter the core and tear open for wedges
1 head radicchio, core removed and chopped or sliced into 1/8ths
1 cup goat cheese
[/one_half]
[one_half_last padding="0 20px 0 10px"]
For the dressing:
Mix all ingredients in a mason jar until combined. Or whisk together in a bowl until emulsified. Set in fridge until ready to use.
For the chickpeas:
1. Pre-heat oven to 375˚F and line a baking sheet with parchment paper.
2. Drain the chickpeas and rinse them well under cool water.
3. Dry them very very well with a paper towel! This will help them crisp up!
4. In a bowl, add the chickpeas, olive oil, salt, and za'atar (optional). Toss to coat.
5. Turn the chickpeas out onto the baking sheet and spread them evenly.
6. Bake for 40-45 minutes. SHAKE THEM AROUND every 15 minutes or so.
7. Let cool completely on the baking sheet.
For the zucchini:
1. Heat a grill or grill pan to medium-high heat.
2. Slice the baby zucchini in half lengthwise. If you're using regular zucchini, slice them diagonally into 1/4″ thick slices.
3. Drizzle with olive oil and season with salt and pepper on both sides.
4. Grill for 3-4 minutes on each side.
For the salad:
1. Rinse and dry the butter lettuce and radicchio. Make sure it's completely dry so the dressing sticks to the beautiful leaves.
2. Place the butter lettuce and the radicchio in a large bowl, or separate serving bowls.
3. Plate the grilled zucchini.
4. Crumble the goat cheese over top.
5. Throw on the crispy chickpeas!
6. Spoon the dressing all over the salad just before eating. Don't over do it!
Enjoy!
[/one_half_last]