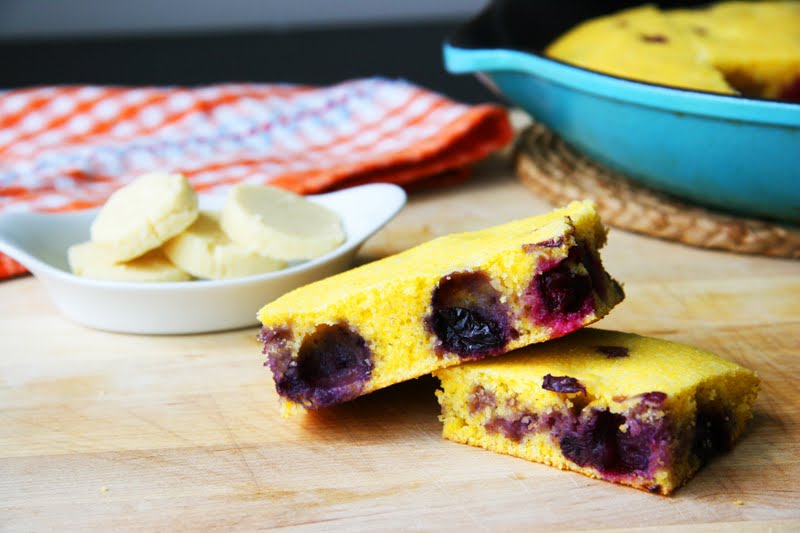 Blueberry Cornbread with Maple Butter
Confession: I am a movie dork. I have an issue with watching the same films over and over again. I mean, like 30-plus times. If all movies in the world were lost, I could reenact a good chunk of them from memory – scripts, shots, scores, effects, edits, etc. Sadly, none of these movies are of the world's great films.
If you looked at my iTunes movie list, you wouldn't think I majored in Film & Television at NYU Tisch – I have a very strange taste in movies. And, by strange, I mean that by just looking at this list, you wouldn't be able to tell if it belonged to a geeky guy, a love sick teenage girl, or an 8-year-old boy.
In the geeky guy version you would find Constantine, Angels & Demons, The Matrix, Iron Man, The Usual Suspects, Deja Vu, Men in Black, Ocean's Thirteen, King Arthur, Zodiac, 300, and I, Robot. I know, the only one I'm proud of is The Usual Suspects.
Love sick teenage girl: 27 Dresses, 3 of the 4 Twilight Saga films (the 4th hasn't come out in theaters yet, obvi), Baz Luhrmann's Romeo + Juliet, Casanova, Pearl Harbor, Armageddon, The Guardian, Annapolis, and, newly added, Black Swan. Whoa, full of cheese.
8-year-old boy: All Harry Potter films (7 and counting), Ratatouille, all Pirates of the Caribbean films (3 and counting), The Golden Compass, Alice in Wonderland, and Stardust.
I am now embarrassed. Why did I think this was a good idea? You probably think less of me now. How 'bout that Blueberry Cornbread?
Cornbread is good, but when you drop some blueberries into the batter, it becomes great. Just a nice little twist on a classic. I also decided that some sweet butter would work great with this. And, since I'm in Canada, maple syrup butter.
In culinary school, compound butters were always used to finish dishes. So French. I can't even tell you how much butter we went through. Compound butter is just basically salted or unsalted butter that is mixed with another flavor – Herbs, spices, nuts, even types of seafood can be used to flavor these butters. In this case, I've used Canadian maple to make a sweet flavored butter.
I still have some left and I'll spread it onto toast in the morning. I wish I had a chunky, fluffy, doughy cinnamon raisin NY bagel to spread it on though… sorry, just lost myself. I'm back now.
Another great brunch recipe here. I would bring this over to a friend's place as a gift. Cornbread and a nice amount of maple butta! People love butter… I love butter.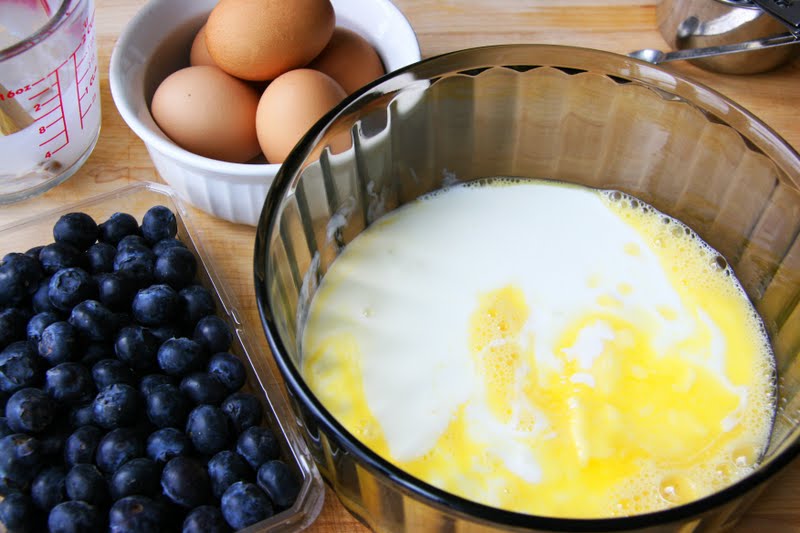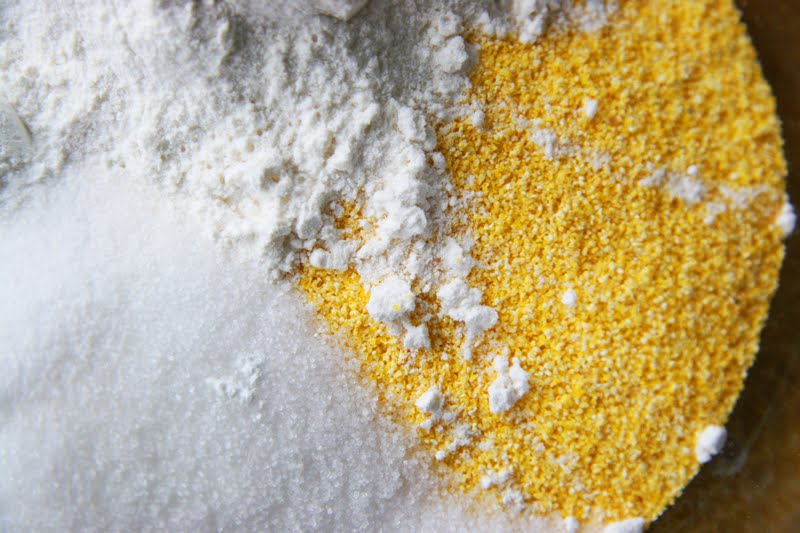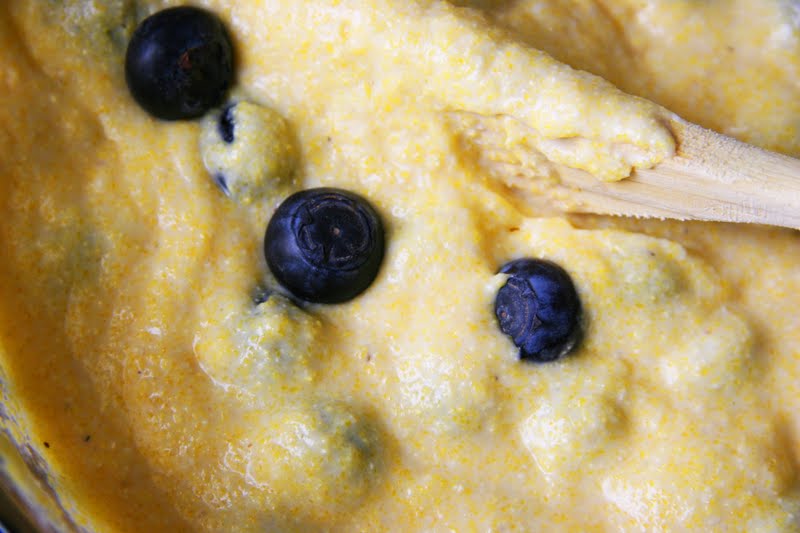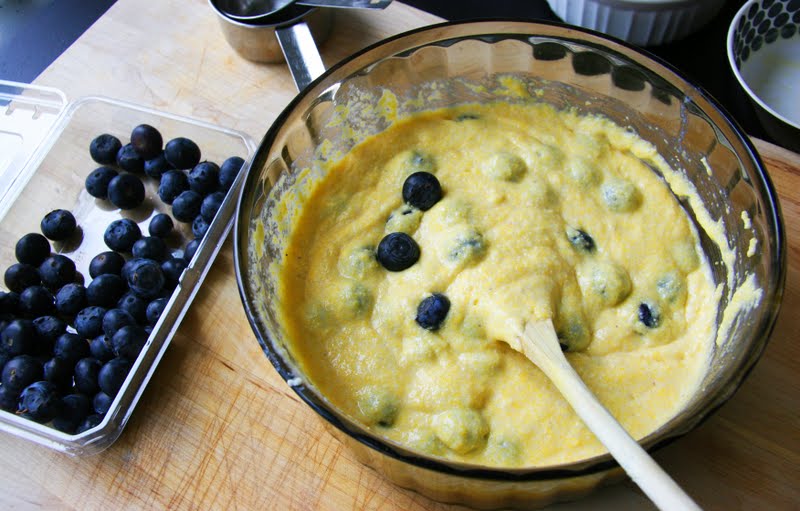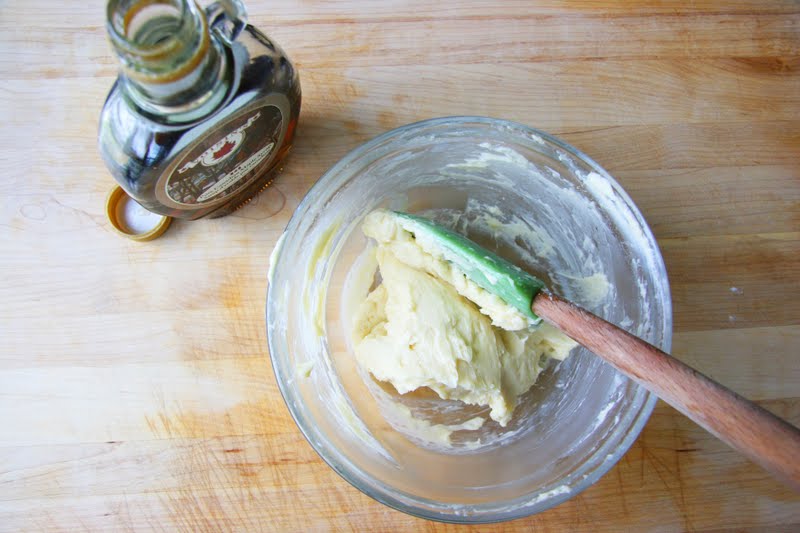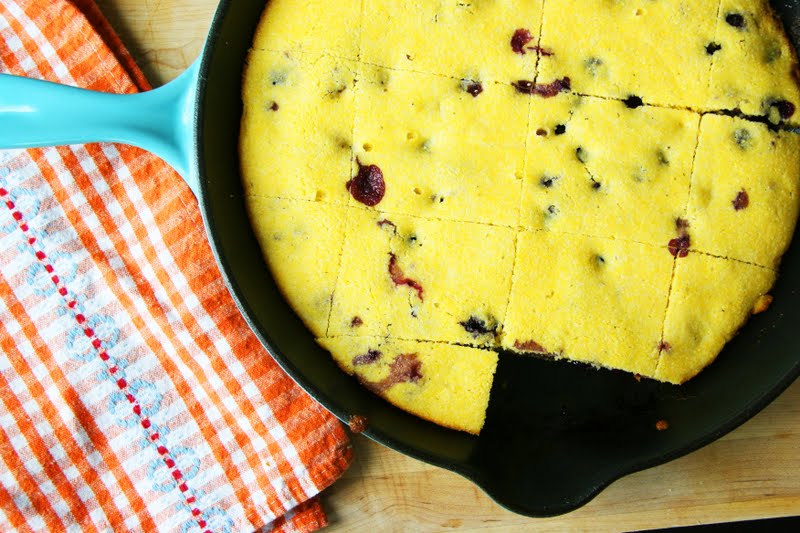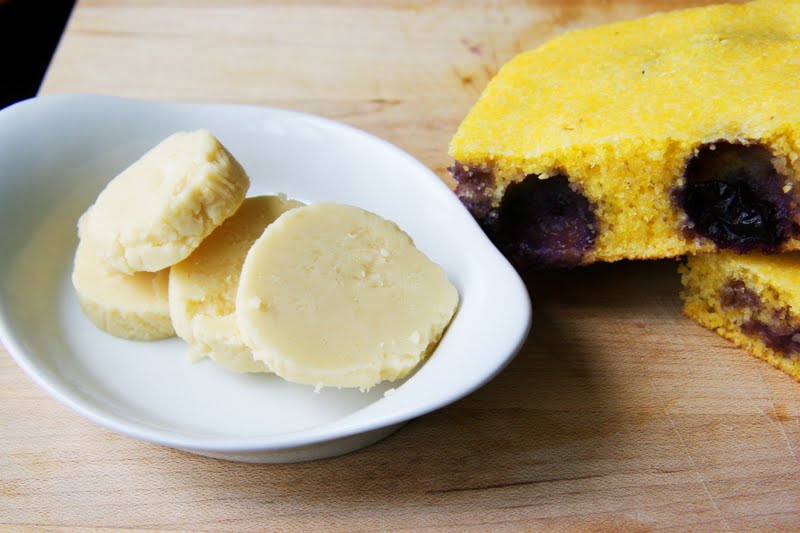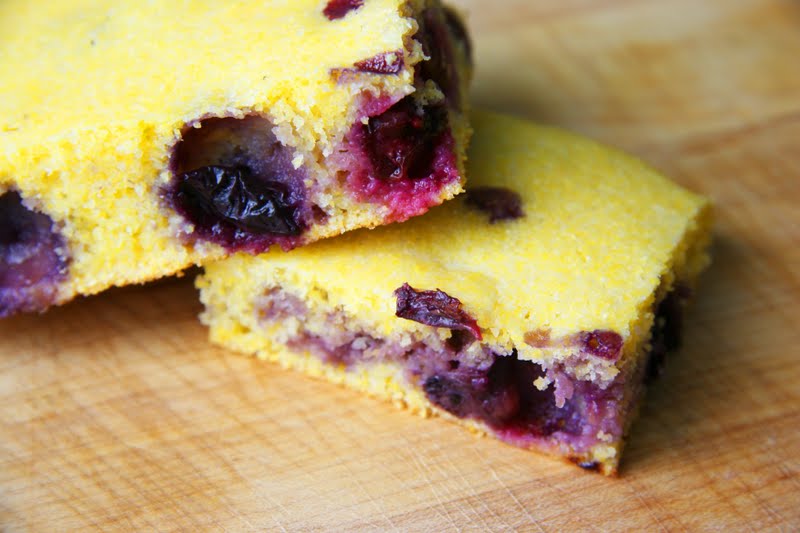 Blueberry Cornbread with Maple Butter
Makes about 12-14 pieces and 1 stick of the butter
For the cornbread:
5 TBSP unsalted butter, melted
2 large eggs
1 cup buttermilk
1 1/3 cup cornmeal, I used the coarse kind
2/3 cup all-purpose flour
1/2 cup sugar
1 1/2 tsp baking powder
1/2 tsp salt
1 1/4 cup fresh blueberries
For the maple butter:
1 stick unsalted butter, room temperature
1/3 cup good quality real maple syrup
To make the cornbread:
Preheat oven to 375 deg F. If using a pan (8″ square works well), butter the bottom and sides. Rinse blueberries. If you are using a skillet, warm the skillet in the oven as it is preheating.
In a large bowl, whisk together the butter, eggs, and buttermilk until combined. In another bowl, combine the cornmeal, flour, sugar, baking powder, and salt and mix until it looks uniform.
Mix the dry ingredients into the wet ingredients with a wooden spoon. Add in the blueberries and gently mix them into the batter.
If you are using a skillet, take it out of the oven and melt a little bit of butter and move it around all the sides.
Pour the batter into the skillet/pan and back for 25 minutes. The sides should be slightly brown and a tooth pick should come out clean when checked.
Let cook on rack for about 15 minutes.
To make the butter:
Place the softened room temperature butter and the maple in a medium bowl. Using a rubber spatula, slowly start to mix. Using the rubber spatula and the sides of the bowl, beat/mix until it is a uniform mixture. It may not seem like it will come together, but keep mixing/beating the butter and it eventually will happen.
Using plastic wrap, wrap the butter into a sausage/roll shape and cool in the fridge for at least 45 minutes.