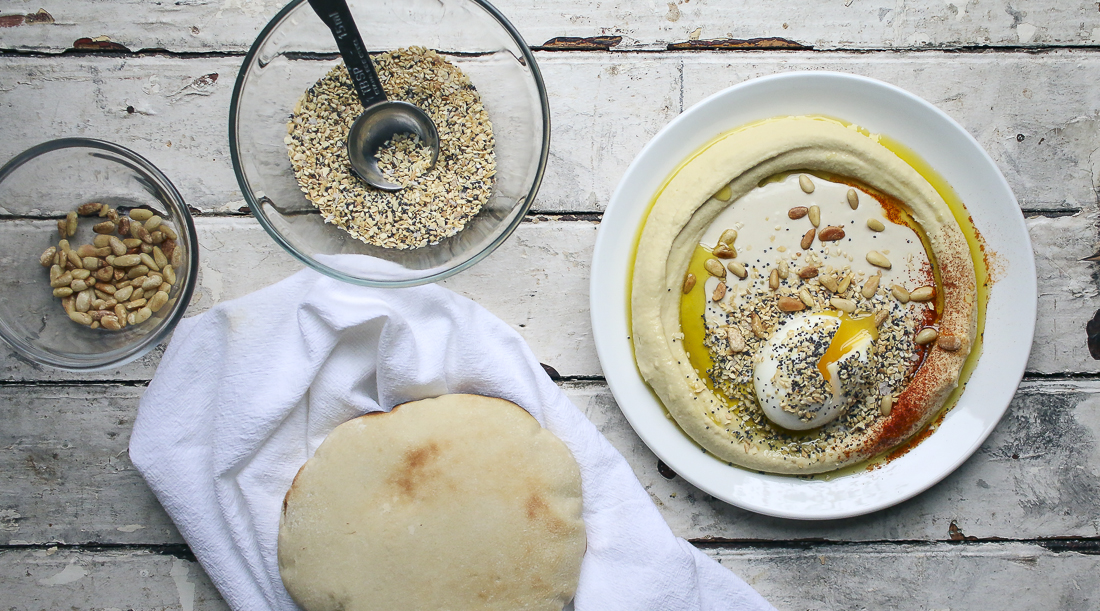 Hummus & Tahina with Soft Boiled Egg & Everything Bagel Spice
The world has gone hummus crazy! Not complaining. Since coming out with Modern Israeli Cooking
, I have gotten more questions about hummus than anything else. And the answer will always be YES, hummus is better homemade than any store bought kind… ever. Hummus shouldn't be cold and strangely tangy from preservatives. Hummus should be warm, silky, nutty and pretty much made and eaten almost immediately.
I've really gotten into experimenting with the toppings lately and have decided that there will be a Hummus Series on the blog! I will try and post at least one a month to really show off how versitile hummus can be. Some will be more classic. But most will be a little bit more out of the box; the kind of recipes that I'll send to my mom and her face will contort and she'll say, maybe a little too aggressively, "REALLY?! Ok, Dani, if you say so." Love you mom.
Here, I've made a classic hummus with a classic tahina (same as tahini) and top it with a 6 1/2 minute egg, tons of punchy everything bagel spice, and toasted pine nuts. Serve with toasty pita. OH. GOSH. Staaaaapppppp. That egg is like a smooth little baby casually laying in a pool of tahina. Yea, that's weird. But it's how I feel.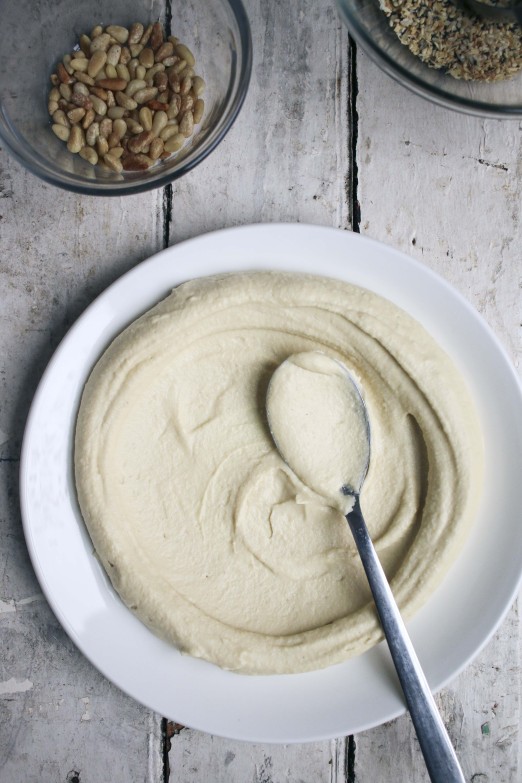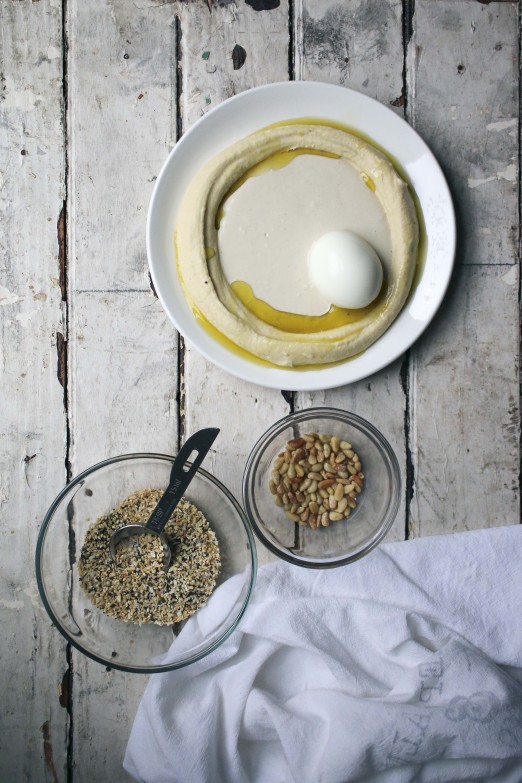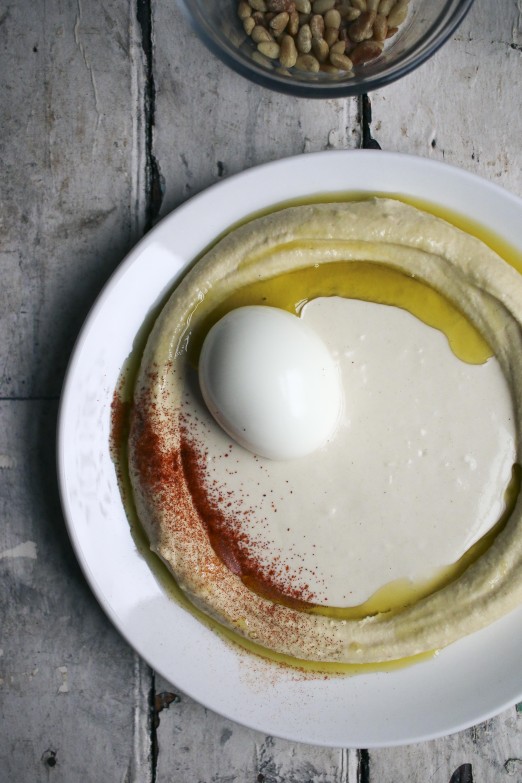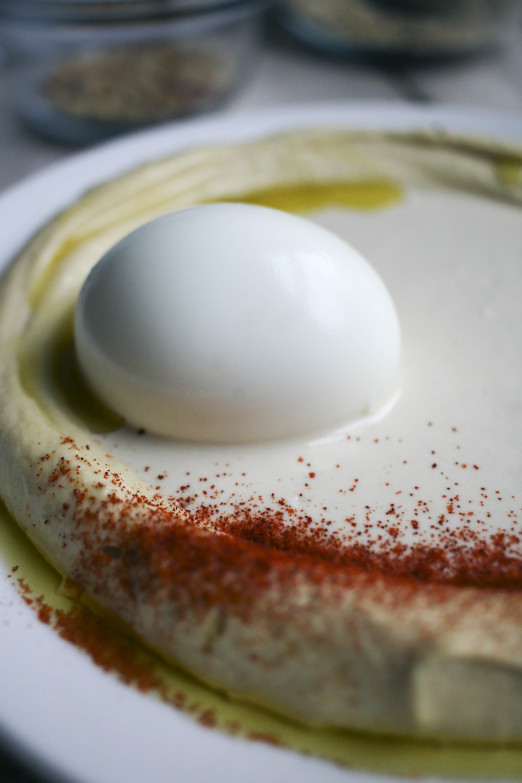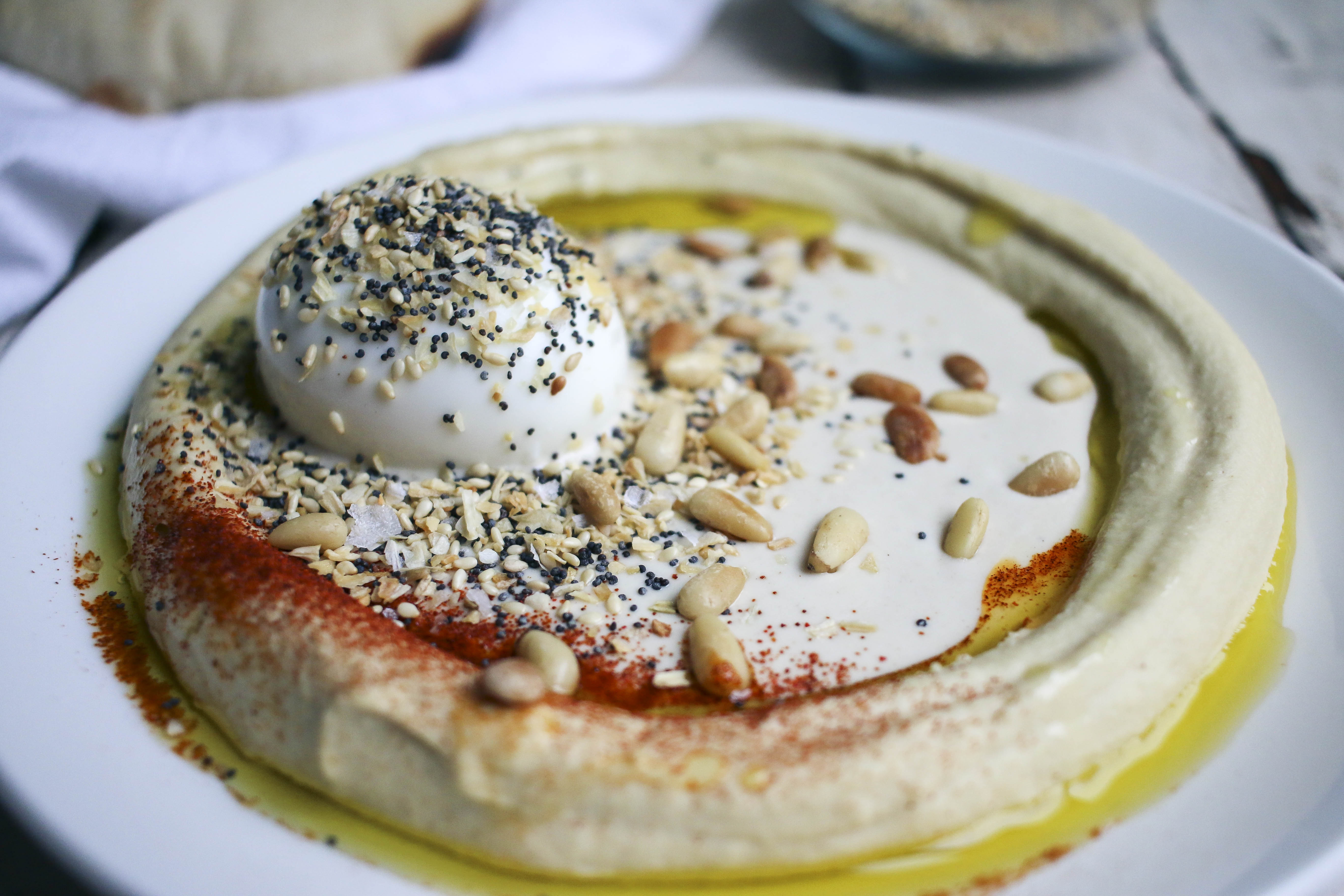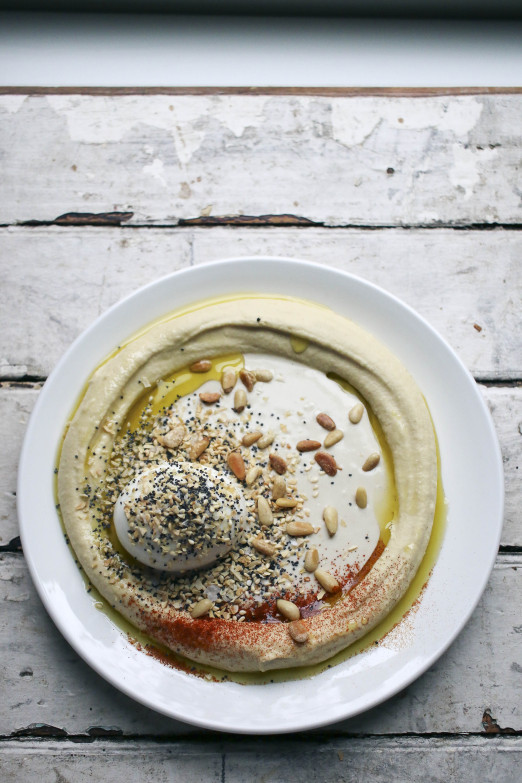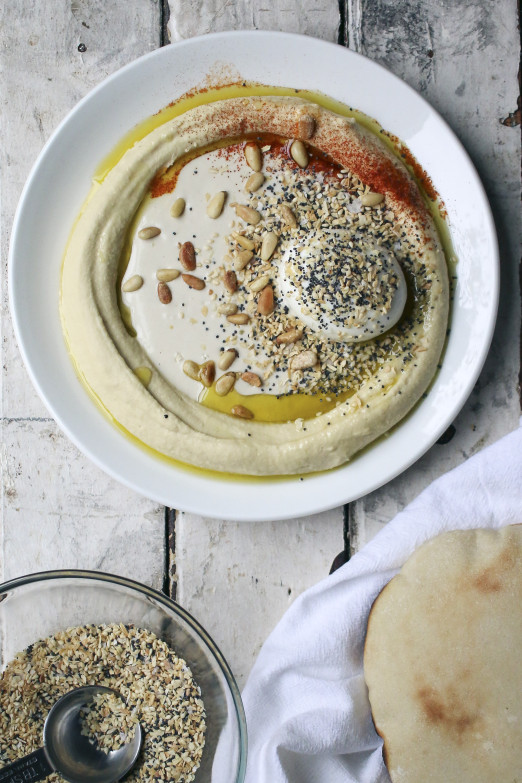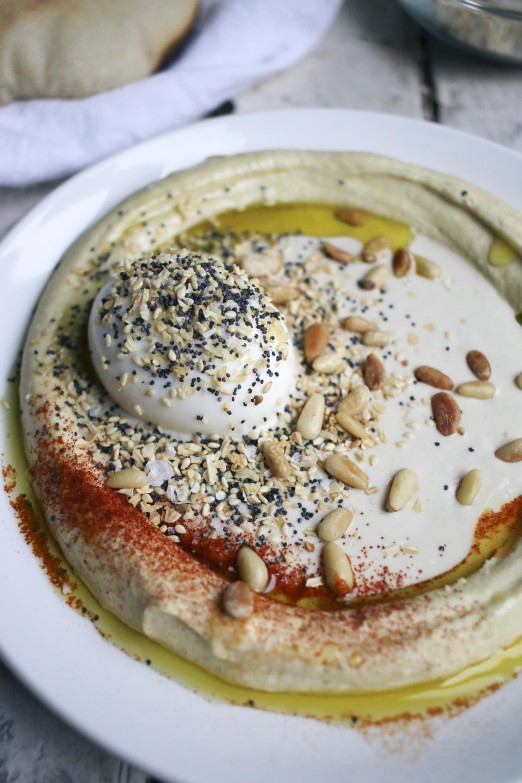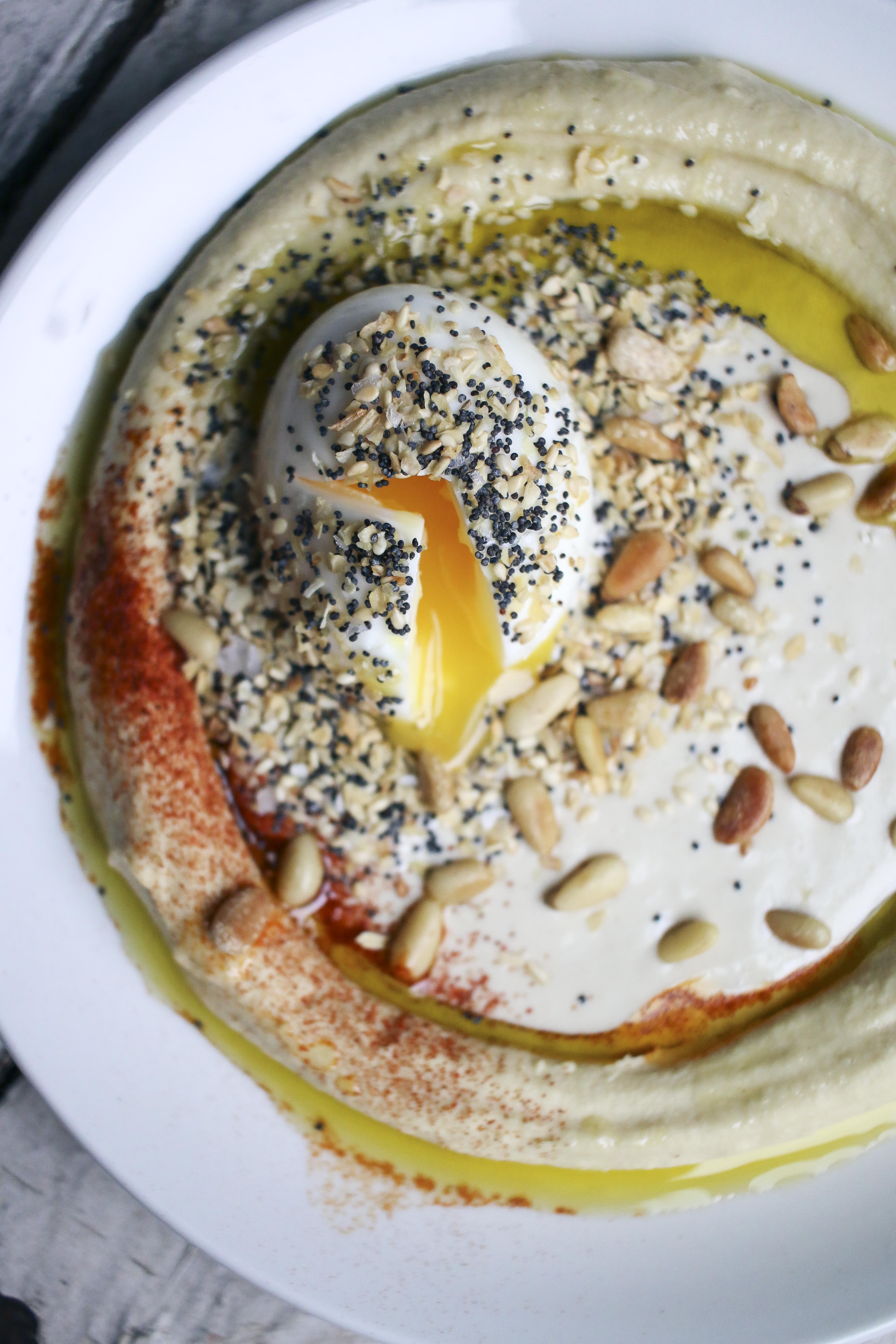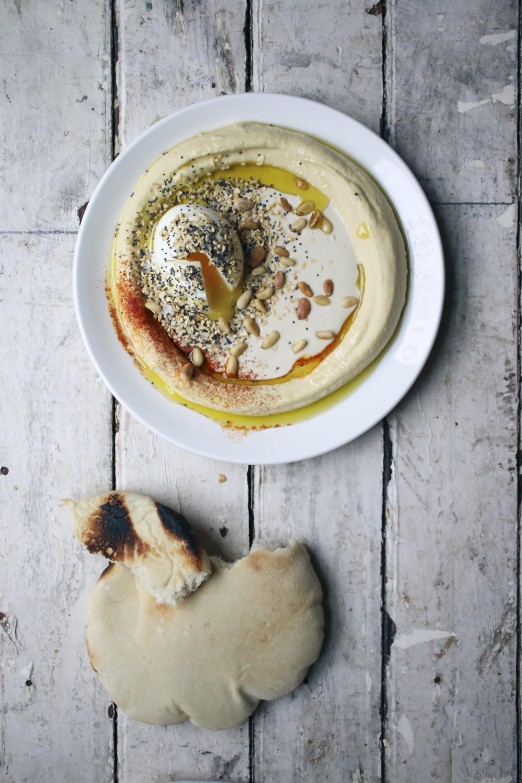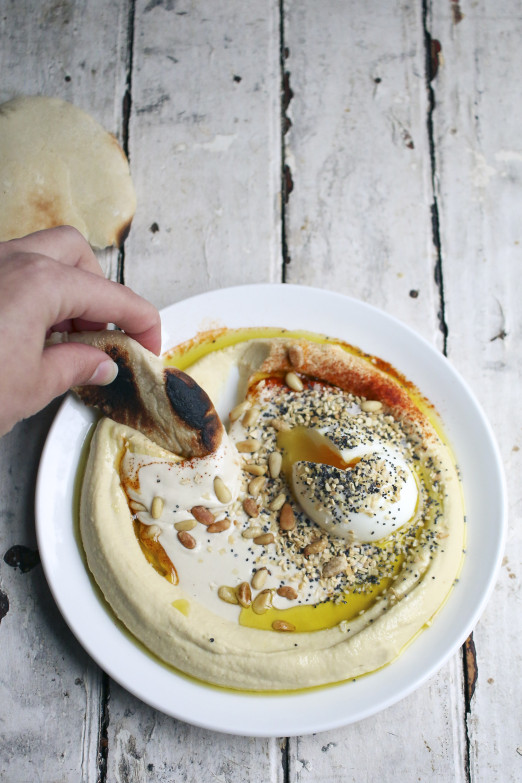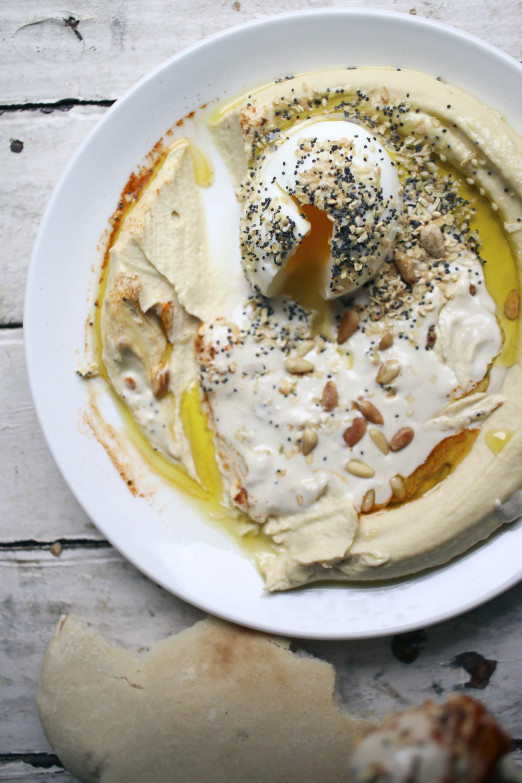 HUMMUS & TAHINA WITH SOFT BOILED EGG
…AND EVERYTHING BAGEL SPICE…
MAKES 4 SERVINGS
1 cup dried chickpeas
1 tsp baking soda
1 clove garlic
1 1/3 cup sesame paste
3 tbsp lemon juice
1/4 tsp cumin
1/2-3/4 tsp salt
1/2 cup sesame paste
1/2 cup cool water
1 clove garlic, minced very finely
1 1/2 tbsp fresh lemon juice
salt
4 large eggs
olive oil
paprika
1/3 cup toasted pine nuts
(toast in a pan over medium heat tossing constantly)
everything bagel spice (recipe here)
toasted fluffy Israeli pitas
(Toast over low heat on your gas burner for a few seconds on each side)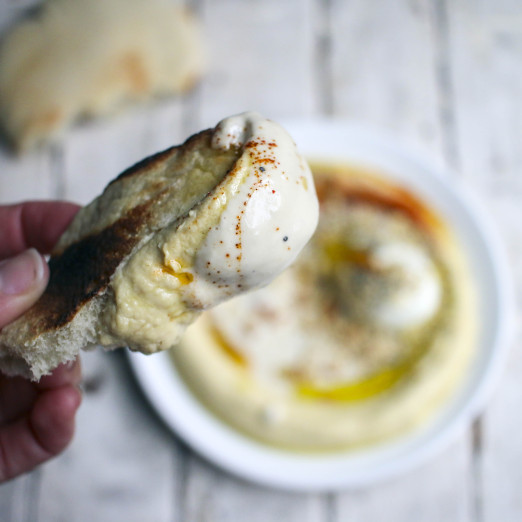 For the hummus:
Place the dried chickpeas in a
large
glass or plastic bowl and cover with at least 6 cups of cool water. Leave on the counter top for at least 12 hours or over night. Drain and change the water out at least once, no earlier than 2 hours after the soak starts. Try and change the water out at least twice though the hummus will be delicious if you forget to do so.
Place the soaked chickpeas in a large stock pot and cover with 8-10 cups of water. There should be at least 3-inches of water above the chickpeas. Add the baking soda and bring to a boil over high heat. Once it boils, it will begin to foam. You want to skim away all that foam. That's "dirty water". Boil for 2 minutes while skimming. Turn the heat down to medium-low and simmer, uncovered, for 35-45 minutes. It should be an active simmer where you can see the chickpeas moving around with the water as it simmers. There really isn't a need to stir the chickpeas while they cook. You should be able to mash the chickpeas with your fingers when they're ready. Turn the heat off and set aside to cool to room temperature.
Once cooled, drain the chickpeas SAVING AT LEAST A HALF CUP OF COOKING LIQUID! Make sure to drain the chickpeas as well as possible to be sure that you get a nice thick hummus. Place the chickpeas in a food processor. Process until a thick paste forms, about a minute of two. Add the garlic clove and process again until smooth. Add the sesame paste, lemon juice, cumin and salt and process again on high. If the hummus is too thick, slowly stream in a little of the chickpea cooking liquid to loosen it up. You may not need to add any liquid at all. Check the consistency of this hummus before adding too much liquid. It should be super smooth with the texture of soft served ice cream. Taste for seasoning and adjust with salt and lemon juice.
For the tahina: In a medium sized bowl, whisk together the sesame paste, water, garlic, lemon juice and a healthy pinch of salt. Keep on whisking, it will come together! It should be fairly runny. If you find that it is too thick, add a bit more water. Taste and adjust seasoning with salt and lemon juice.
For the soft boiled eggs: Bring a pot of water to a rolling boil. Slowly lower in the eggs and immediately set a timer for 6 1/2 minutes. Prepare an ice bath for the eggs. As soon as the timer goes off, transfer the eggs to the ice bath. Allow them to cool for at least 3 minutes before peeling. Peel carefully.
To plate: Using a large spoon, plate the hummus on each serving dish, making a well in the middle of the hummus with nice sides. Pour in some of the tahina sauce. Gently lay the eggs onto each plate. Drizzle a decent amount of olive oil around the plate. Season with a dash of paprika… for prettiness. Then garnish the egg and surrounding area with the toasted pine nuts and everything bagel spice. Enjoy!