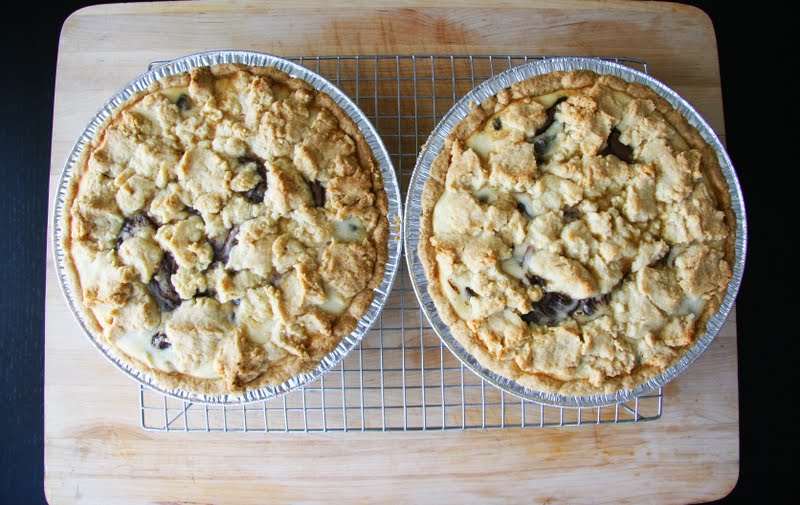 Ricotta Nutella Chocolate Cookie Pie
Ohhhhhhh my. This is just not fair. Be prepared to drool. YOU CAN NOW ORDER THIS PIE FROM OUR STORE!!!!! Moo Milk Bar!!!!!!!! This was the pie seen on Unique Sweets! It is the original version. We have changed it a bit for the shop. But they both taste AMAZING. 
You basically make Marsala sugar cookie dough, push it into a pie dish/tin, fill it with sweetened ricotta and chocolate chips, dump Nutella on the top, pour a shot of Frangelico (I used Disaronno), then cover it with more Marsala sugar cookie dough. Heaven. You may wipe your mouth now.
This recipe made two pies. I had one slice, my boyfriend had another and both of us agreed that we need to get it out of the house immediately. It's just dangerous. Warning: make this only if you have 16 mouths to feed or if you plan on eating both pies alone in one sitting.
My friend Colette has a Nutella obsession and needed to have some. So a bunch of us gathered together, warmed the pie up, and started to dig in. Friend Jason's first word was: "Mmm" (with a lot of emphasis on the first "M"). After the pie was done, we talked about Halo-Halo. Four of the seven friends in the room were Filipino.
You've been warned…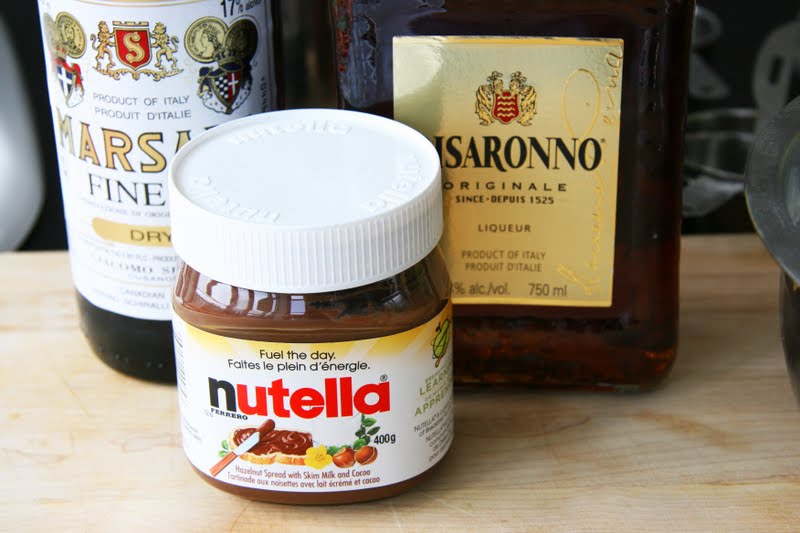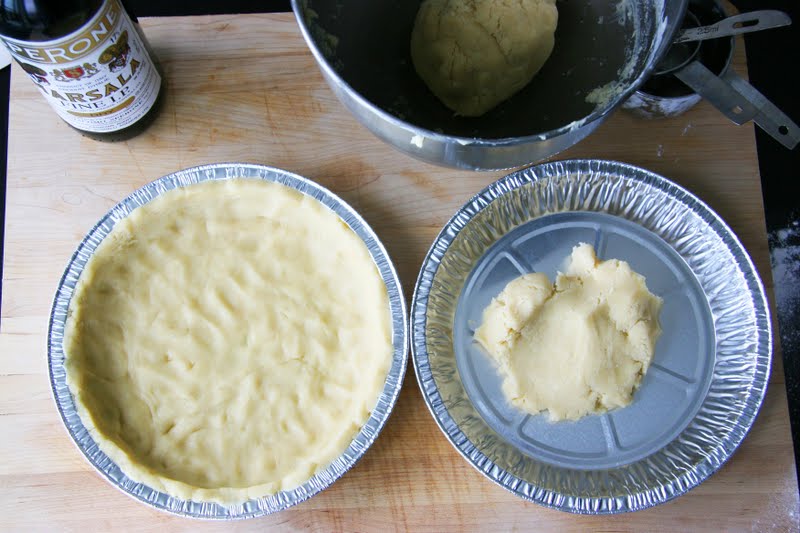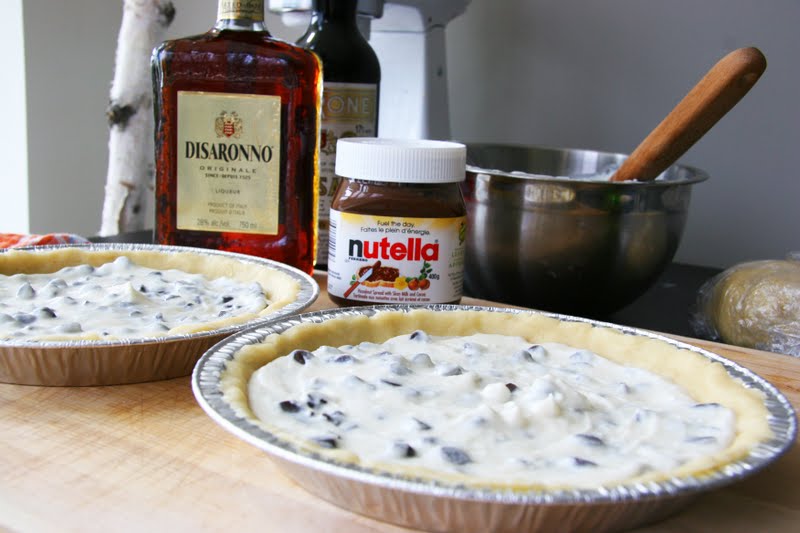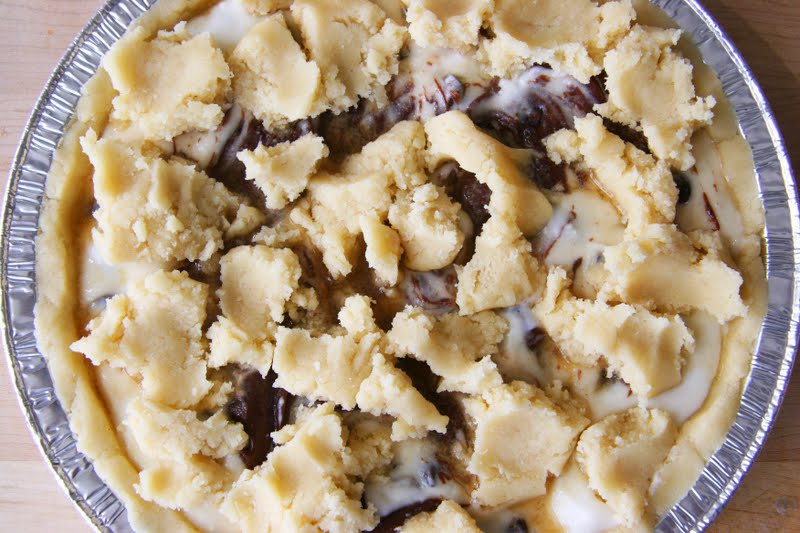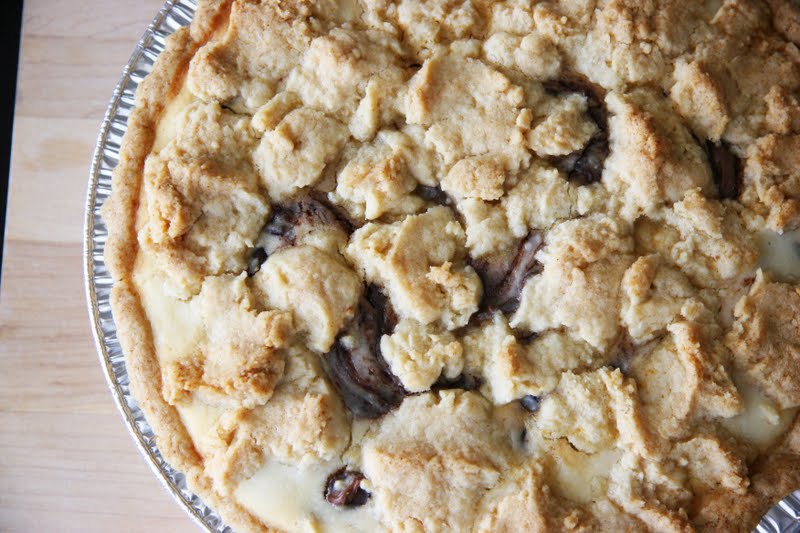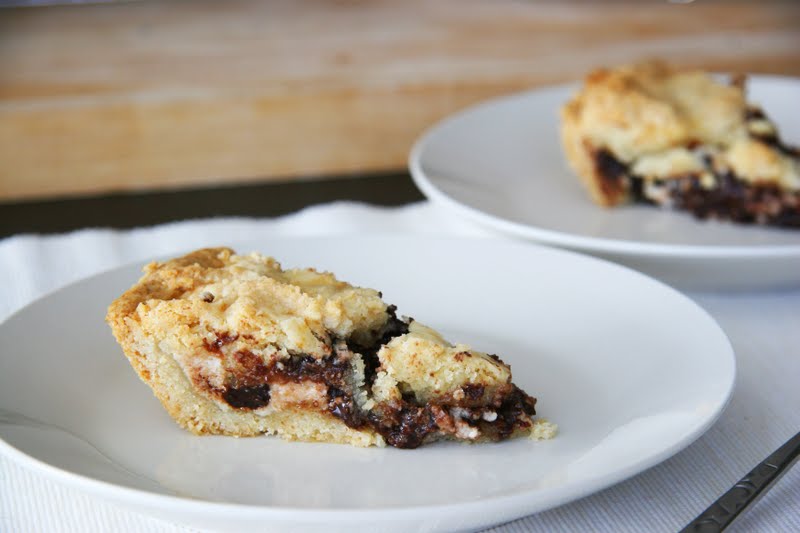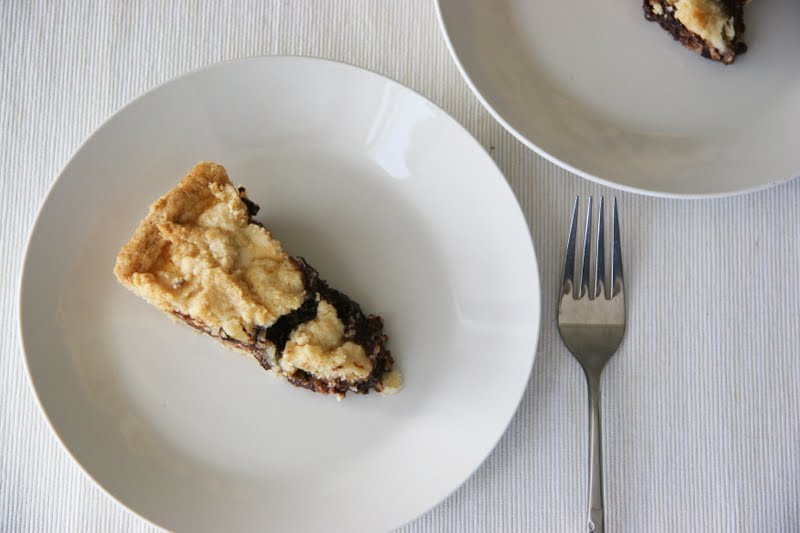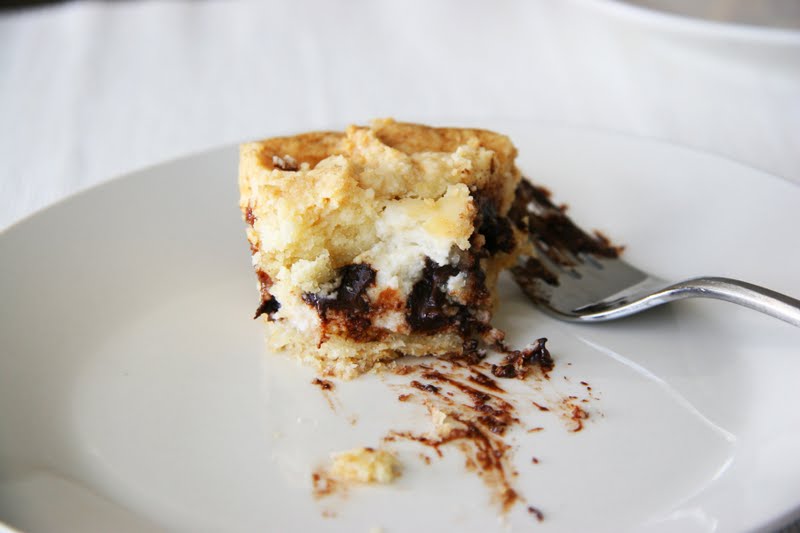 Ricotta Nutella Chocolate Cookie Pie
Makes 2 pies

For the cookie crust:
2 1/3 cups all-purpose flour
3/4 cup sugar
1 cup butter, room temp cut into pieces 
1 1/2 tsp baking powder
1 egg
1 TBSP milk
1 TBSP Marsala wine
For the filling:
14 oz container of Ricotta
3/4 cup sugar
1 cup chocolate chips
1 shot amaretto (I used Disaronno but you can also use Frangelico)
1/2 cup Nutella (I used more….shhhh)

Preheat oven to 325 deg F

For the cookie crust:
Mix all the ingredients in a stand mixer with a paddle attachment until combined. It will look like really wet sand. When you pinch it between your fingers it should hold together like a dough. While still in the bowl, press it all together with your hands until it forms a ball. 
Turn it out onto your work surface. Knead it just a couple of times to make sure its holding together well. Divide the dough into 2 parts. Set one part aside and divide the other into 2 parts again. Place each those parts into a pie tin/dish and press the dough down and up onto the sides with your hands and fingers. Make sure that it's pretty much even.

Set in the fridge to rest for 20 minutes. 

For the filling:
In a medium size mixing bowl, combine the ricotta and sugar. Mix/beat well with a rubber spatula until the mixture is smooth. Add the chocolate chips and mix. 
Divide the ricotta mixture evenly between the 2 pies. Drop dollops of the nutella onto the ricotta mixture in the pie. ( 1/4 cup for each pie, but I used a tiny bit more). Try to spread it evenly on top of the ricotta. This was a little hard to do so I kind of swirled it into the ricotta with a knife. Drizzle half a shot of the amaretto onto each pie. 

Take the remaining half of the cookie crust thats resting and break apart small pieces and lay them on top of the filling. This doesn't have to be pretty. It will look amazing after it's baked no matter what. 

Bake for 1 hour on the middle rack of the oven. Let rest at least 20-30 minutes. Enjoy this WARM (microwave it 2 days later if you have to). Serve with ice cream =).
Enjoy!!!