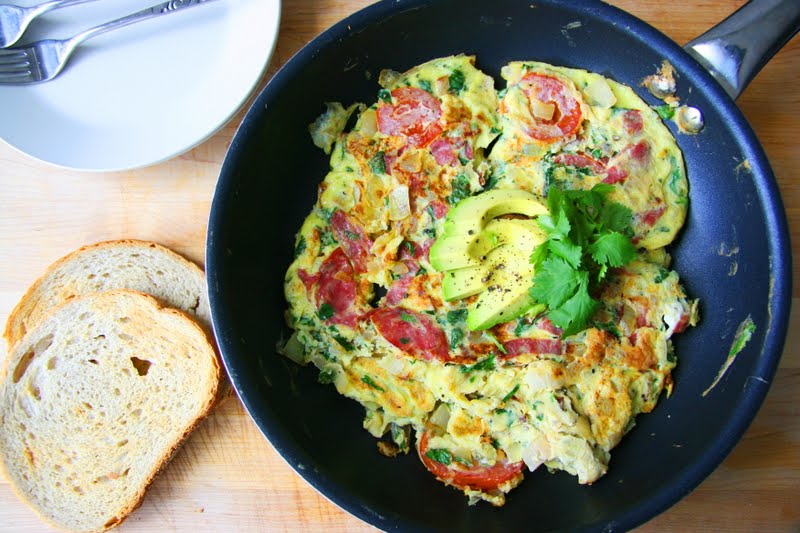 Schug and Hodgepodge Eggs
Dear Matt,
Here is my non-baking post.
I hope you enjoy.
When I'm staying at my parents' place, my dad will occasionally decide he's hungry at 11:30 pm. He'll go to the fridge and pull out anything he can get his hands on, along with a carton of eggs.
Eggs are his thing and I've picked up on it from him. The more stuff you put into eggs, the better they get. He'll either make a huge omelet, that no matter how big it is, he'll attempt to flip (and always succeeds). Or, he'll make a bunch of sunny side up eggs with so much olive oil in the pan, they're basically deep fried.
We'd stand around the island with the pan, forks, and pitas. Yes, we always have pitas in the freezer. We're Israeli. My mom would be asleep on the couch and would get up with her eyes still half closed, take a bite, then go upstairs to sleep.
The other thing we always have in the fridge is Schug. It's a hot pepper spread and can be green or a deep red. Normally, you can find it at Falafel places or Shawarma stands. That's what they are dumping on when they ask you "Spicy?" and you say "Sure."
It's a great cooking base when you want to make something spicy. Mix it with mayo and it's incredible. I even spread it right onto the bread when I'm making grilled cheese. Here, I've thrown it right into the eggs while I was whisking to give them a little kick.
This omelet recipe is also good for an egg sandwich. I just toasted some rye bread, spread mayo and Schug onto each side, threw on tons of eggs, fresh tomato slices, and avocado… boom, sangwich. Add some sliced or shredded cheese on the bad boy if you want.
Double the recipe for a big brunch. These eggs are just as good at room temp as they are hot. They're colorful and very tasty (breakfast bowl recipe with a variation of these eggs coming soon).

Schug
makes about 1 cup
3 cloves garlic, roughly chopped
3/4 cup any kind hot peppers, mild-med heat, roughly chopped with seeds
1 cup cilantro, roughly chopped
1/3 cup oil
1 tsp cumin
1 tsp salt
Place all ingredients in a food processor and pulse until everything is fine and becomes a little pasty (see fourth picture from top).
This will last for about 3 weeks in the fridge. The cilantro will turn a dark green color. That's no problem, it's still good.
Hodgepodge Eggs
Makes 4 servings
8 extra-large eggs
1 TBSP extra virgin olive oil
1 onion, diced
1/2 cup Salami/Sopressetta, sliced into strips
1 tomato, sliced
1/3 cup cilantro, chopped
1-2 tsp Schug
Salt & fresh ground black pepper
1/2 avocado, sliced for garnish, optional

Crack all the eggs into a large bowl. Add the Schug and season generously with salt and fresh ground pepper. Whisk all together until you get large bubbles in the eggs and the mixture is uniform. Add the cilantro and give the mixture another whisk.
Heat olive oil in a large non-stick pan on medium-high heat. Add the onion and the Salami/Sopressetta. Cook them, stirring often for about 3 minutes. Add the slices of tomato making sure they are touching the pan and not sitting on top of the onion mixture. Cook for about 3 minutes tossing often until the tomatoes have softened and the onions are slightly browned.
Turn the heat down to med-low. Add the egg mixture and spread the hodgepodge of ingredients so that they are spread throughout the pan/eggs. Cover the pan with a lid or with aluminum foil. Cook for about 4 minutes. At this point you want to flip the omelet. If you are terrified, like I am most times, cut through the omelet into quarters with a spatula and flip it individually. Try to squish it back together, most times it will kind of form back into one mass. If not, NO BIG DEAL! It will still taste the same. Cook for just another minute and take right off the heat.
I serve this right in the pan with a garnish of sliced avocado, freshly ground black pepper, and toasted rye bread on the side.
Optional: grab the mayo, Schug, avocado, and an additional tomato from the fridge, and serve on the side for anyone who wants to make a bomb sandwich.
Enjoy =)