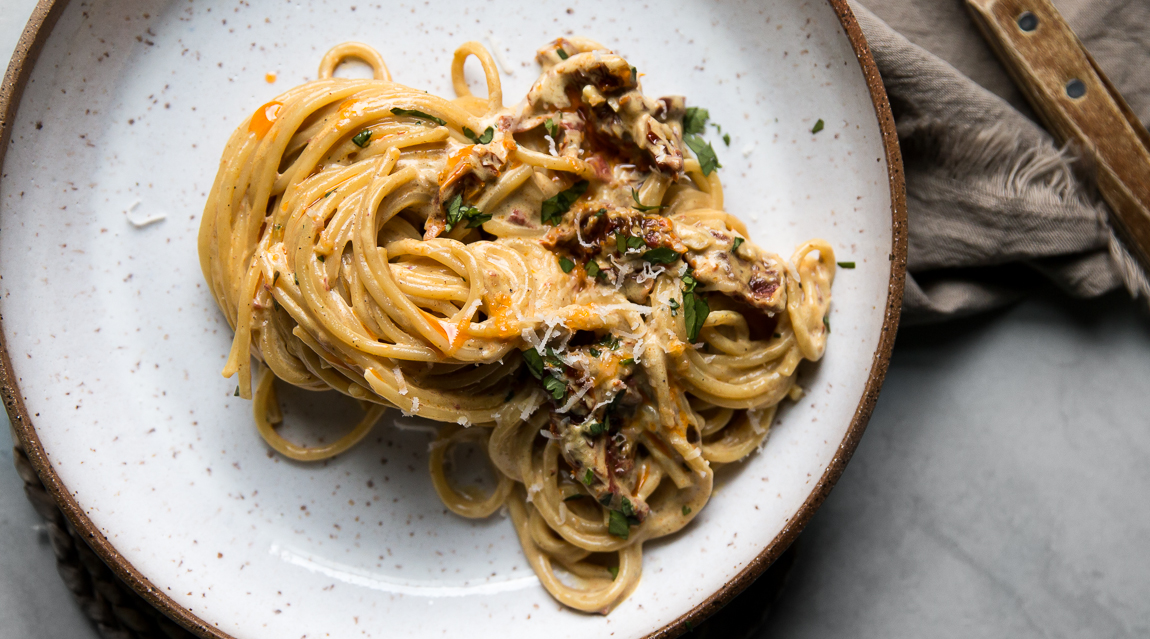 Spaghetti with Coconut Milk & Curry
Jump to Recipe
I don't know why it's happening, but after writing my second cookbook,
Food You Love But Different
, I've started to transition into creating recipes for pasta, toast, and sweets exclusively. Maybe it's because there is a pasta and a toast chapter in the book? Or maybe it's because it's easy for me to throw together? Possibly because my girl loves pasta? Oh wait, it might be those four two-pound boxes of spaghetti I got from Costco, an impulse purchase. I can't pin point it. Whatever it may be, I'm not upset about it.
I have become obsessed with searching the internet and my 5 pasta cookbooks for simple pasta recipes since "the transition". I came across this nice little tidbit in Zoe Weiner BA article: a single strand of spaghetti is called spaghetto…
and gnocco is one gnocchi…
and I will never be the same. At least I'll have the right words to use when answering my mom's daily question about how my daughter ate her dinner.
This vegetarian (and could be made vegan) spaghetti dish looks deceiving. It appears to be your basic glossed, creamy, pasta that borders a carbonara and a vodka sauce. But she aint that. She's got some hidden powers: curry powder. It's my dad's secret weapon in his tomato salads and scrambled eggs. I learned to use the spice in small amounts to add warmth and flavor to almost anything from a slaw to, well… this pasta. Not just for chicken and chickpeas.
When I buy curry powder I go for a
mild
yellow one. When you find a brand that you like, stick with it. You can make your own mix too which would be fresher for sure, but I don't mind a good store-bought one.
Instead of using heavy cream, which was my original thought when creating this recipe, I checked my pantry to see what was there and found a can of coconut milk which was next to the massive jar of sun-dried tomatoes, another Costco impulse purchase. And that's how this recipe all came together.  Take that and check out your pantry for dishes you can make with whatever is in there. Pasta dishes are the easiest to clear out that pantry which is what is on my to-do list this next week.
Thoughts and things I had while writing this post:
The oil from a jar of sun-dried tomatoes is GOLD. Going to use it to stir-fry vegetables and make a salad dressing with.
My cookie dough consumption is totally out of control and I need an intervention… but also don't, leave me be. I have eaten 2 of these cookie dough balls as I'm writing. That was lunch.
I really wanted to call this recipe Curry in a Hurry since it really is a fast recipe but also because it was the name of my favorite Indian joint in NYC (28th & Lex).
If you don't like the flavor of curry, which at this point, I don't know why you're still reading this, you can substitute with combination of turmeric and cumin instead.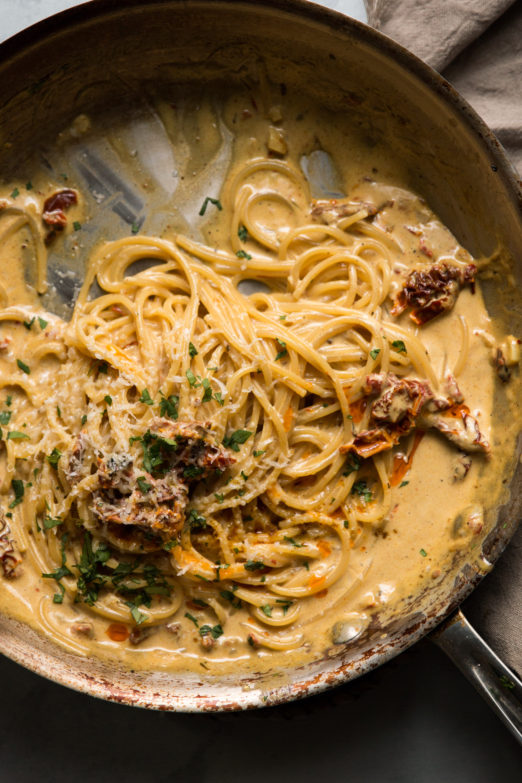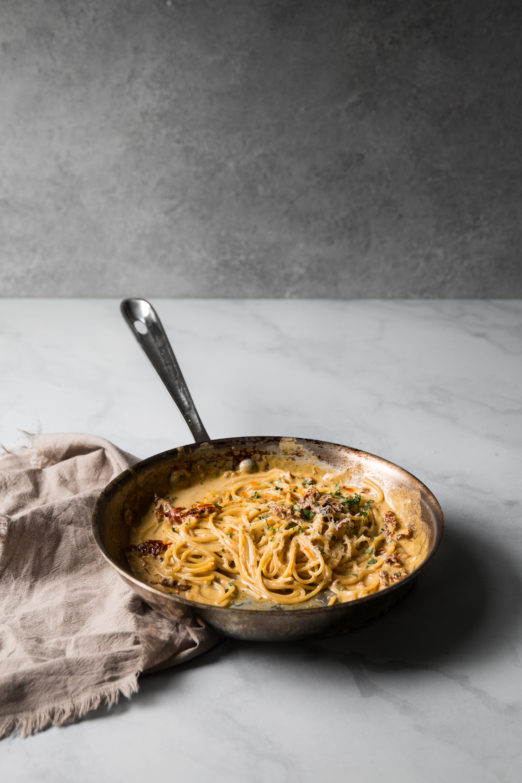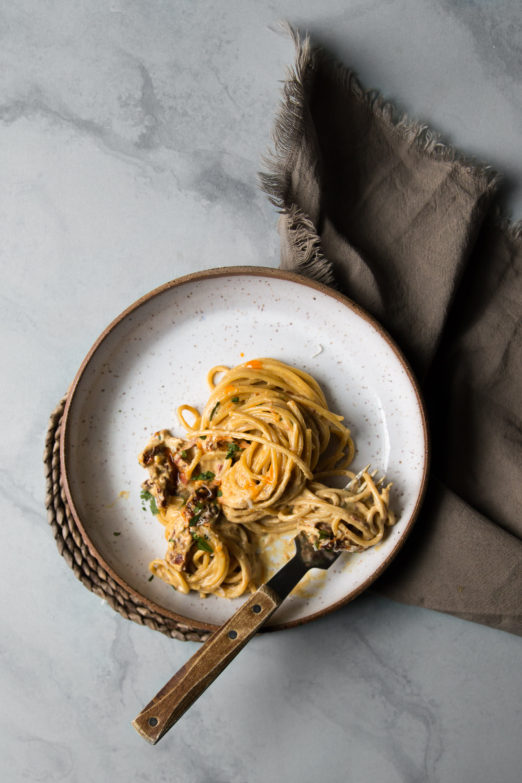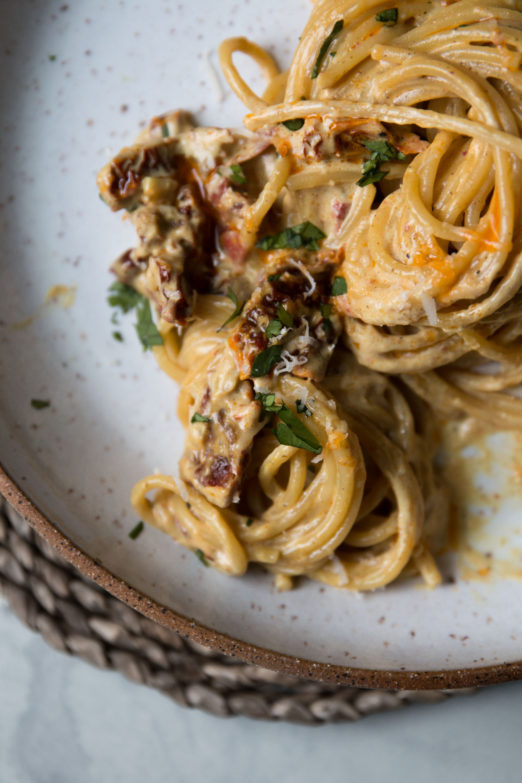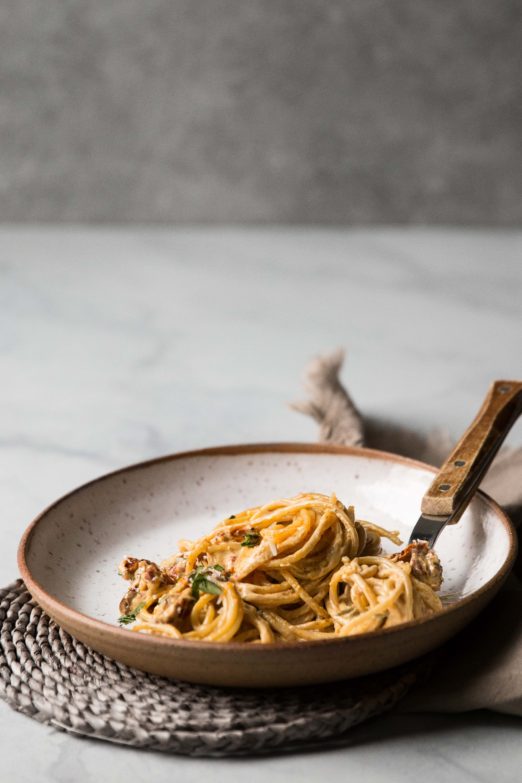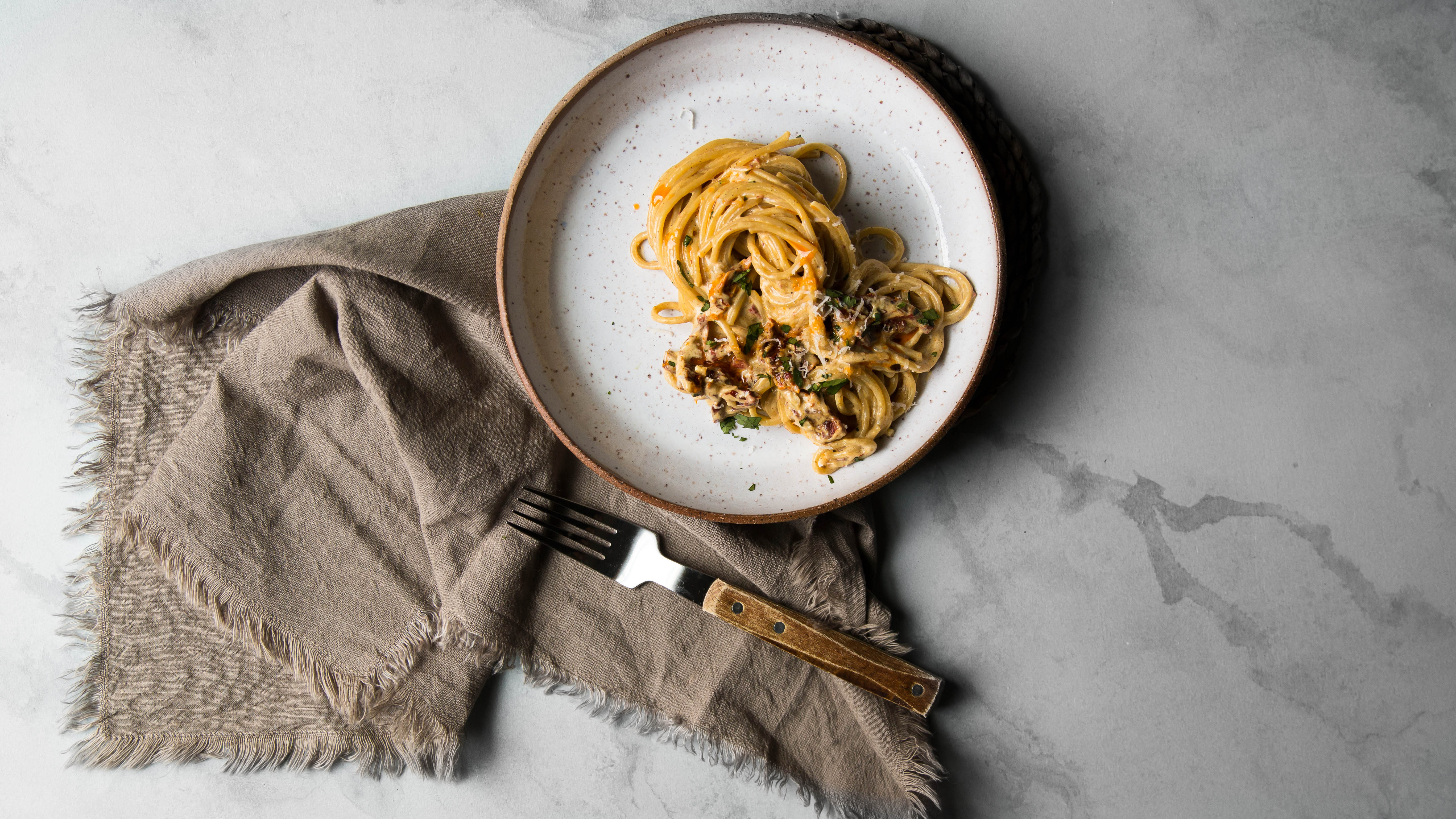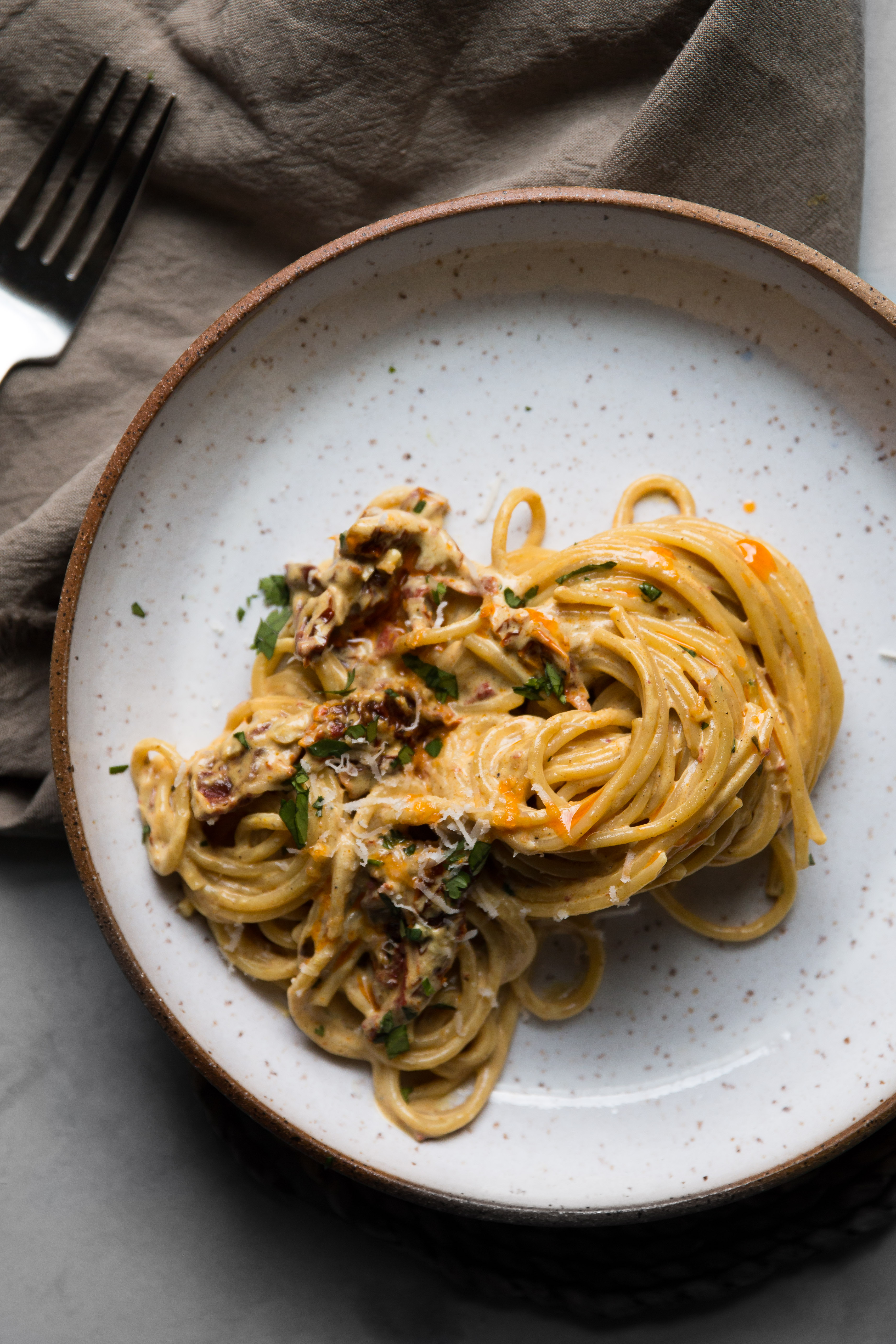 Spaghetti with Coconut Milk and Curry
Spaghetti with Coconut Milk, Curry, and Sun-dried Tomatoes. It's creamy, silky, filing, flavorful, satisfying, kid approved, 20 min situation, can-be-made vegan, pasta.
Print
Pin
Ingredients
1

lb

spaghetti

1

tbsp

oil from sun-dried tomatoes

2

cloves

garlic

, roughly chopped

1/2

cup

sun-dried tomatoes

oil squeezed out and roughly chopped

1

tsp

mild curry powder

, can double for punchier flavor

14

oz

can full fat coconut milk

1/4

cup

grated parmesan

, can be substituted with nutritional yeast

kosher salt

fresh black pepper

parmesan

, for serving

chopped cilantro

, for serving
Instructions
Bring a large pot of heavily salted water to a boil. Cook the spaghetti according to package directions for al-dente. Don't drain! Pasta will be transferred to the sauce from the pot.

Meanwhile, prepare the sauce. In a large skillet, heat the sun-dried tomato oil, garlic, and sun-dried tomatoes over medium heat. Cook until fragrant, about 1 minute.

Add the curry powder and cook for another 30 seconds.

Add the coconut milk and stir until the coconut milk begins to bubble gently.

Add grated parmesan and season with salt and pepper.

Scoop out a cup or so of pasta cooking water and then transfer the spaghetti, using tongs, from the pot to the sauce.

Add a splash or two of pasta water and toss until the sauce coats the spaghetti and is glossy. If you find that the sauce is too thick, add more pasta water and keep tossing and cooking.

Divide the spaghetti among serving plates and enjoy with more grated parmesan cheese and chopped cilantro.
Notes
This recipe can easily be made vegan by changing out the parmesan for nutritional yeast.
You can add chicken or shrimp to this dish for a protein!