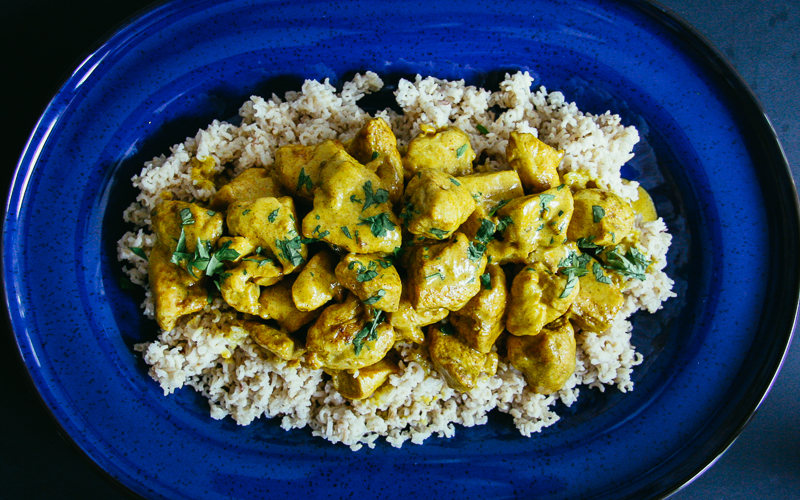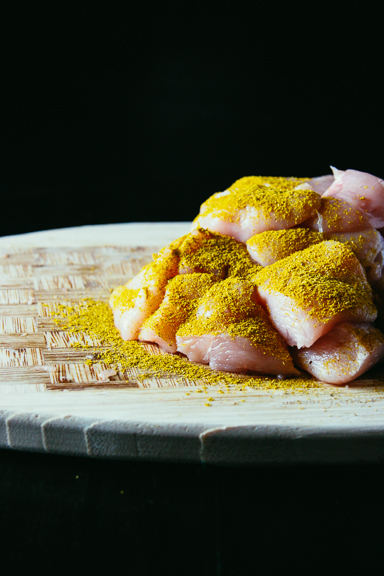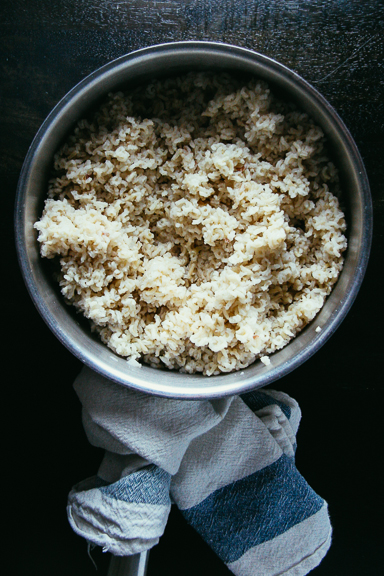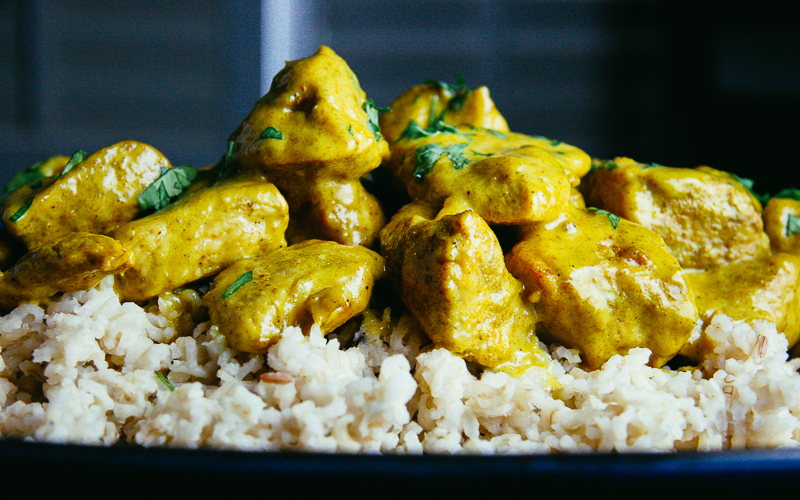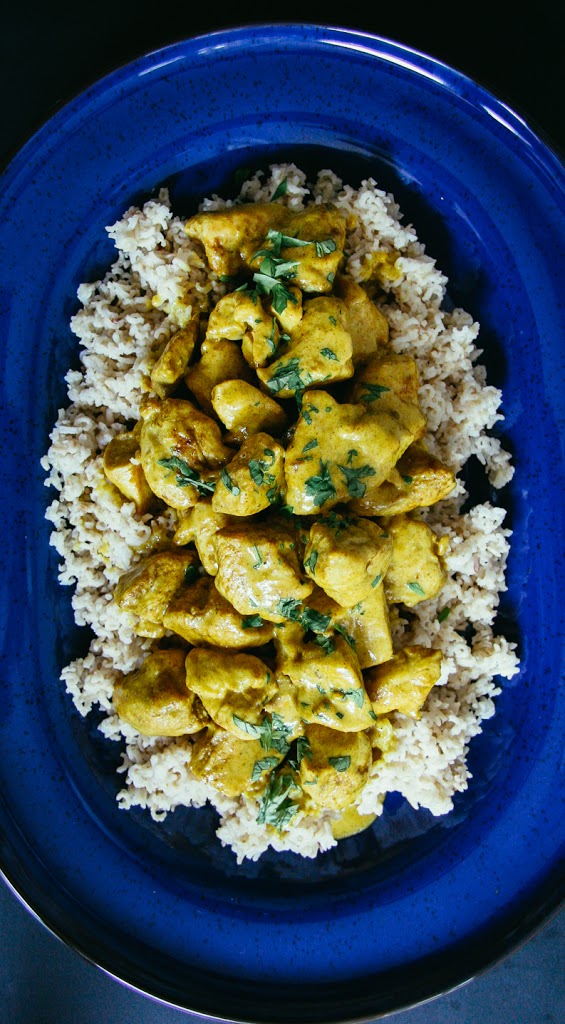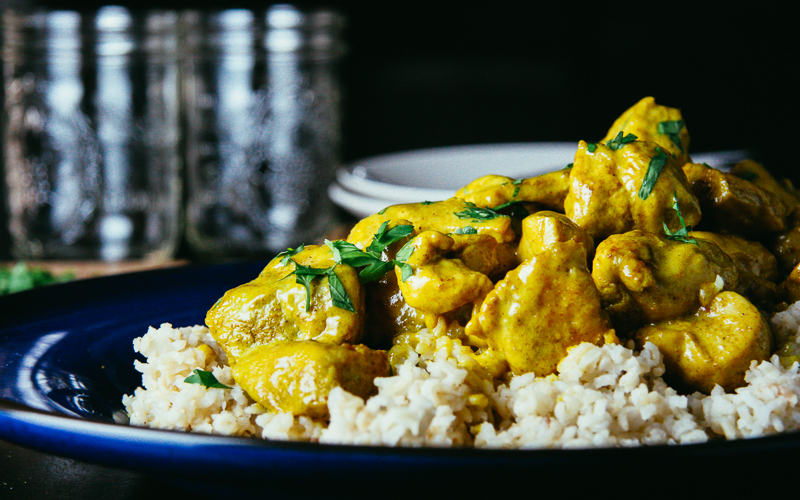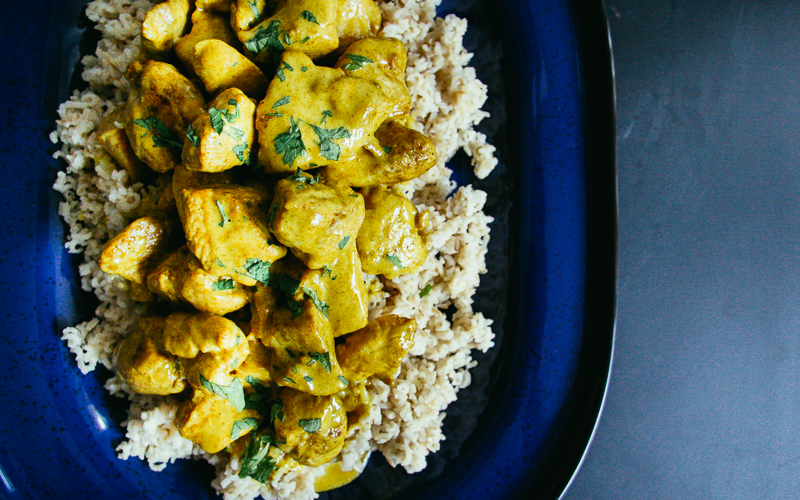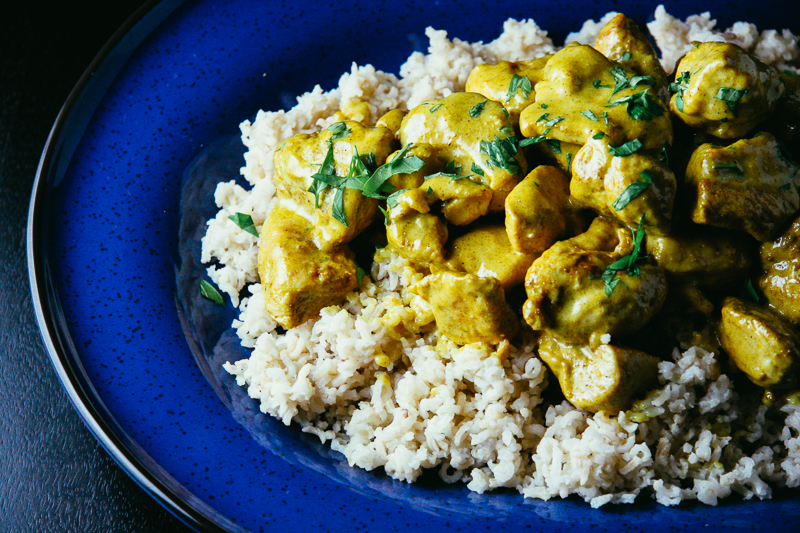 There are certain things I remember my mom making: schnitzel and rice, beef and green beans, matbucha, bolognese, batata sofrito (chicken & potatoes), chamin, etc. And then there are the things I remember my dad making: spaghetti with garlic, spicy schug eggs, steak and mushrooms, and chicken curry.
My dad is one of those cooks that opens an empty fridge at 10:30 p.m., claps his hands, and begins to make a meal from nothing. Pulling from the fridge first, then moving to the cupboard, back to the fridge, then to the spice cabinet. Never delicate tasting, he'd reach only for bold flavors. His staples: garlic, lots… like a whole head of garlic, Fra Diavolo sauce, jarred items, spaghetti, and eggs. I specifically remember him using 
amba
. I don't really remember what he would do with it; maybe just have it on bread? In fact, as my dad cooked, he more than likely would be eating some form of bread. He'd have the squirt bottle of Hellman's in one hand, squeeze out an extremely generous amount of mayo onto a pita in the other hand, and toss it in his mouth. "Mmmm!" he'd say while shaking his head around, rubbing his hands together and turning back to whatever was sizzling on the stove while quoting 
Bill Cosby: Himself, "CHOCOLATE CAKE FOR BREAKFAST!  SHHUMMP!
" The flame under his pans would be slightly too high. I would always tell him, and he, reluctantly, would turn it down
just
a little. It was an orchestrated hurricane and he always left a mess behind. A creative at work; gotta let things land where they may. These meals were often eaten while standing at the kitchen island, family style. They were always incredibly flavorful, simply amazing, and never the same.
This curry though… some of his best work. It's one of the only things I remember him making more than once. I've recently asked him for the recipe. I'm still shocked at how simple and foolproof it is to make.
I can confidently say: this is one of my favorite dishes in the world.
Dad's Chicken Curry
makes 4 servings
For the chicken:
4 boneless, skinless chicken breasts, cut into 1″ cubes
4 Tbsp yellow curry powder
1 tsp salt
1 Tbsp vegetable oil
1 1/2 cups heavy cream – I didn't say this dish was waist friendly. Don't you dare substitute this for anything.
Cilantro for garnish, optional
For the rice:
2 cups Basmati rice, I use brown basmati
4 cups water
2 Tbsp chicken consume powder or 1 bouillon cube
1/4 tsp salt
1/2 tsp pepper
Make the rice:
Rinse the rice just once to remove a bit of the starchiness. Place the rice, water, consume powder (or bouillon cube), salt and pepper in a medium, heavy bottom pot with lid over high heat. Once the water boils, cover, turn the heat down to low and simmer for 25 minutes. Turn the heat off and set aside. Don't lift the lid!
For the chicken:
In a bowl, toss the chicken with the curry powder and salt until well coated. Wash hands immediately so they don't stain yellow!
Heat the oil in a large pan over medium-high heat. Add the chicken and sauté for 7-8 minutes until all sides of the chicken are browned. Add the cream. Turn the heat down to medium-low and simmer for 13-15 minutes. The sauce will turn a deep yellow and thicken beautifully.
Plate the rice, top with chicken, and pour the sauce over top. Garnish with a bit of chopped cilantro.
Enjoy!