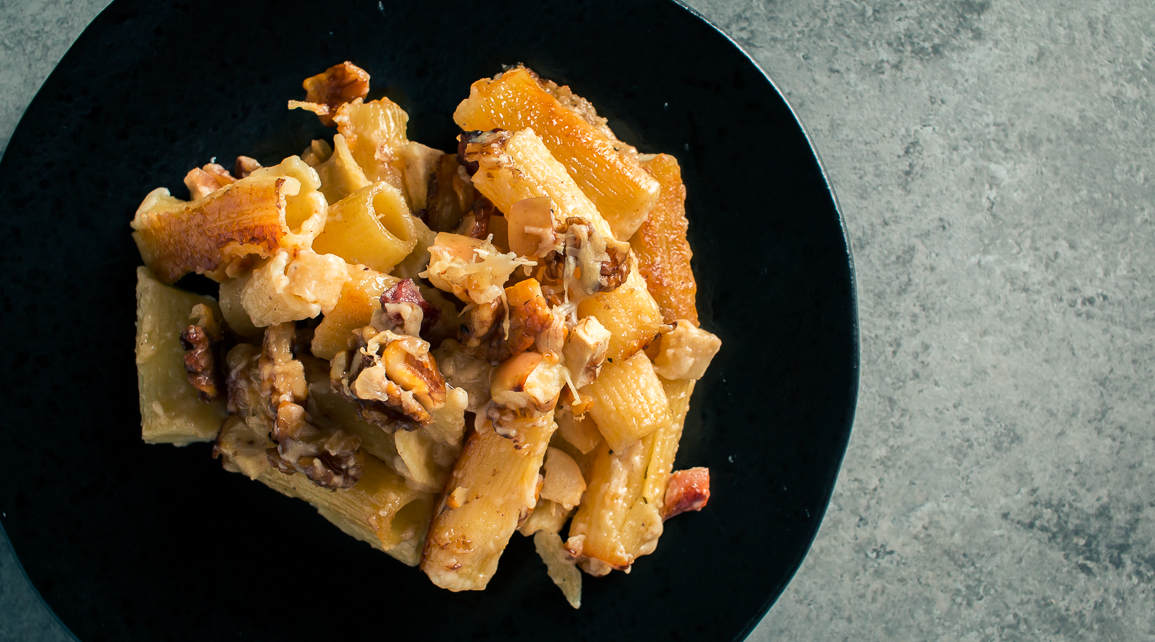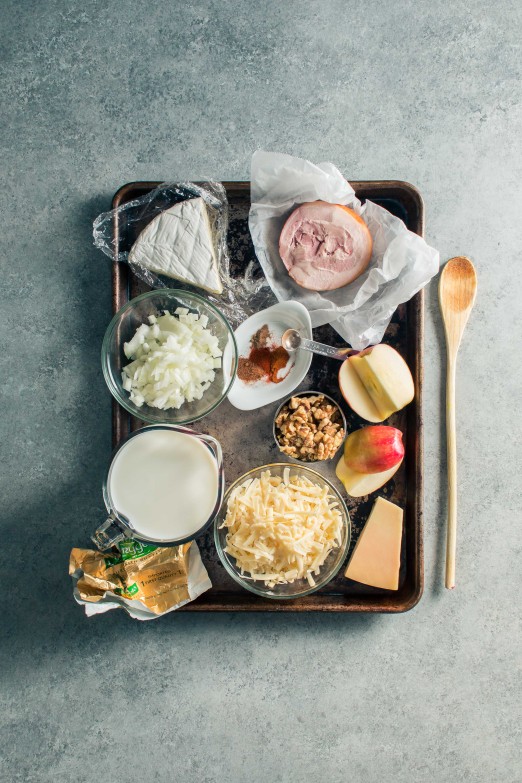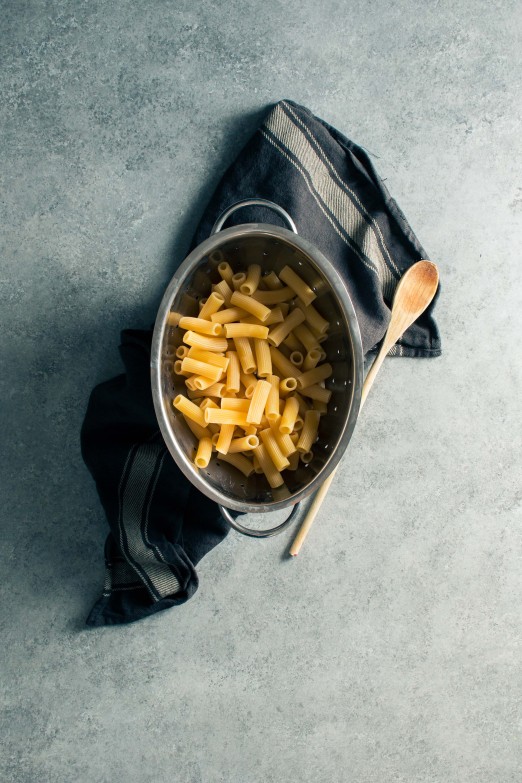 I have a huge soft spot for Kraft® Macaroni & Cheese. Yes, the dirty hooker of the mac & cheese world. I'm not ashamed. I easily go through a box by myself. Not sure why they started putting the "lighter" version instructions on there. Pffftttt, as if. I go straight KD with lots of black pepper because I'm a pepper addict. I've seen some put ketchup or maple syrup on it but I'm more of a purist I guess. If it's not Kraft, it's totally homemade, from scratch, expensive french cheese, mac & cheese in this house. No in between… though I don't even know what in between would look like.
Even though it's still in the 80's here in the A, I'm in fall mode. Pulled out the (light) sweaters, cute booties, brimmed hats, and the apples. YAS, all the apples queen. Every year I make sweet apple dishes but when I saw this recipe in Molly Yeh's new cookbook (!!!!!) Molly on the Range, this year became the year of savory apple dishes. Expect to find all the incredible recipes you find on her blog in this book but better. Is that even possible? Yes. YOU. MUST. GET. THIS. COOKBOOK. Look at how damn cute her face is too. Molly is extremely talented, witty, and just all around a cool gal. Her recipes are innovative and inspiring. This is a cookbook that you will actually open and cook dishes from. I can promise you that.
This mac & cheese is ultimate fall. It's warm and gooey, smokey and sweet, just all the things at once. The unexpected apple in every bite brings out such a great burst of flavor that contrasts the pieces of salty, smokey pancetta. I mean, it's genius. I'd even go as far as saying that this needs to be on your Thanksgiving table. I'm absolutely already thinking about Thanksgiving. My favorite holiday, ever. But for now, I'm cozying up with a bowl of this mac & cheese, sweating my ass off in front of the fireplace (because it's 84˚F today), watching The Hunger Games yet again, wishing it would cool the hell down out there already.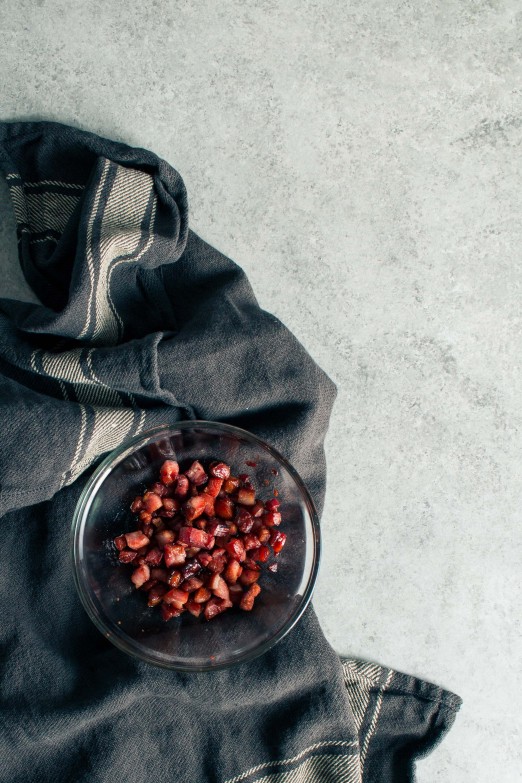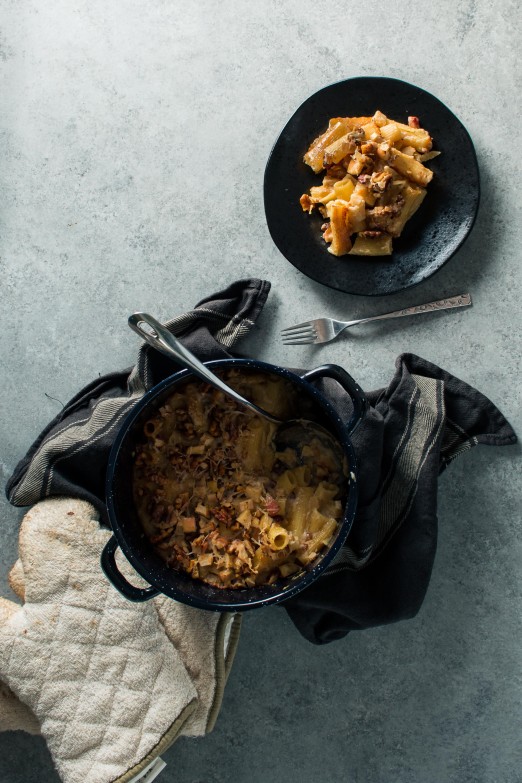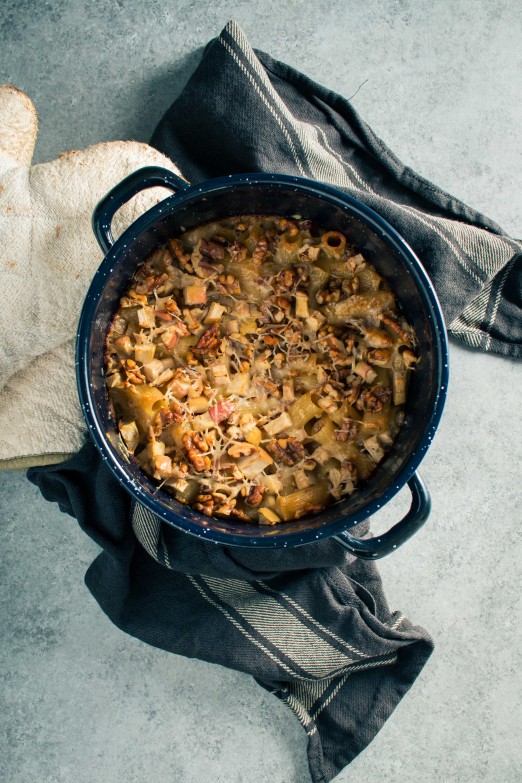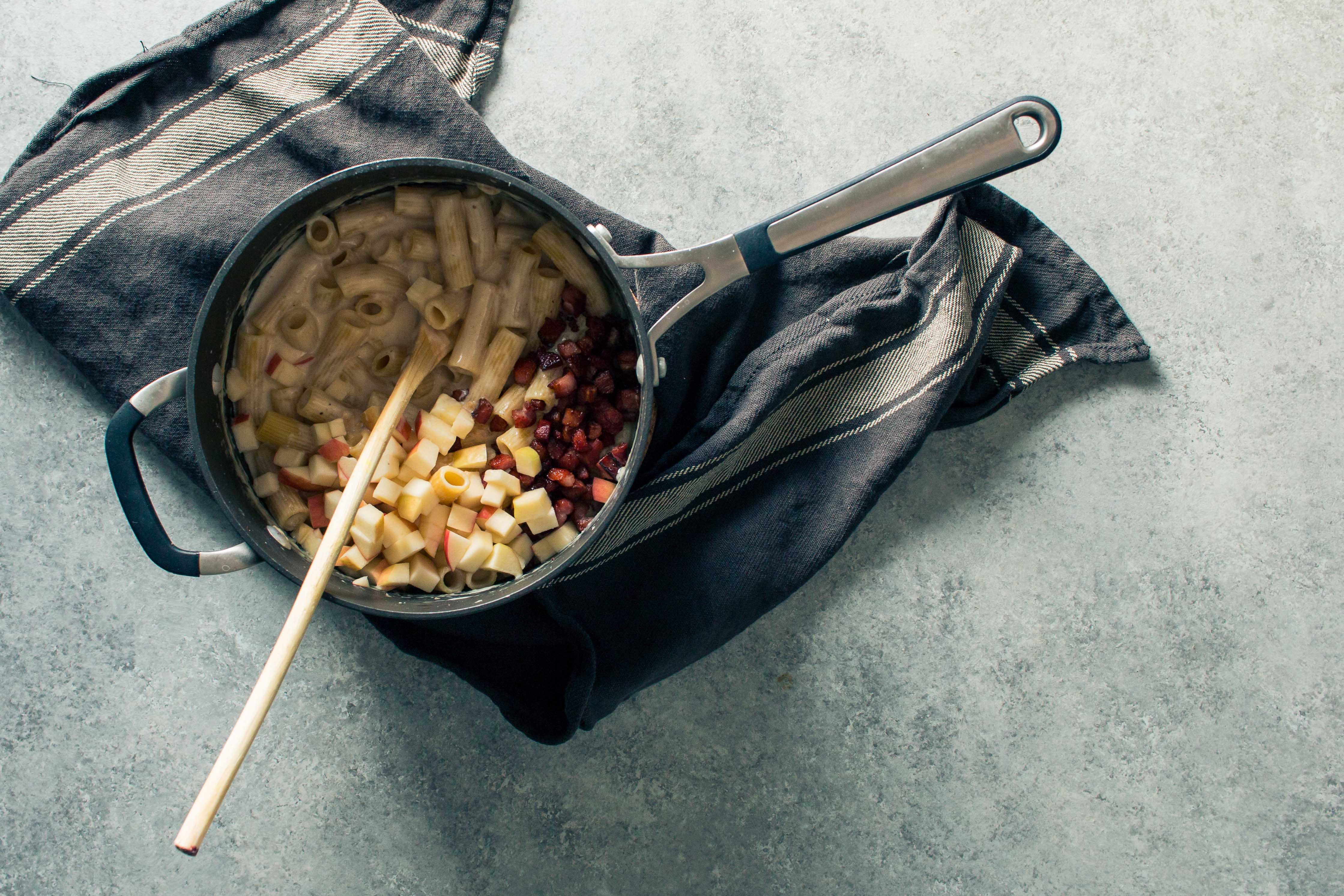 WALNUT BRIE MAC & CHEESE
WITH APPLES & PANCETTA
MAKES 4-6 SERVINGS
THE THINGS
8 ounces pipe rigate or medium shells
3 tablespoons unsalted butter
½ small onion, finely chopped
kosher salt
¼ teaspoon sweet paprika
¼ teaspoon cayenne pepper
¼ teaspoon ground nutmeg
⅛ teaspoon ground allspice
black pepper
¼ cup flour
3 cups whole milk
¼ pound Brie cheese, rind removed and finely chopped
¼ pound Gruyère cheese, shredded
3 ounces pancetta, cooked and chopped into ½-inch pieces
1 large Granny Smith apple, chopped into ½-inch pieces (I used Gala bc it's what I had around)
½ cup walnuts, toasted and coarsely chopped
3 tablespoons shredded Parmesan cheese

THE WAY
Preheat the oven to 375ºF. Grease an 8 x 8-inch baking dish.
Cook the pasta according to the package directions, reducing the cooking time by 1 minute. Drain and set aside.
In a large saucepan, melt the butter over medium heat. Add the onion and a pinch of salt. Cook, stirring, until the onion is soft and translucent, 5 to 7 minutes. Stir in the paprika, cayenne, nutmeg, allspice, and a few turns of pepper and cook for 2 minutes more. Increase the heat to medium-high and add the flour, whisking until combined, then cook for 1 minute. Add half the milk, whisking continuously until thickened, about 5 minutes, and then repeat with the other half of the milk. Add the Brie, Gruyère, and pancetta and stir until the cheese is melted. Remove from the heat and add the pasta. Set aside about one-quarter of the apple and stir the remaining into the pasta mixture.
Pour the mixture into the baking dish and top it with the walnuts, Parmesan, and reserved chopped apple. Bake until the top is browned, about 25 minutes. Cool for
5 minutes and enjoy!