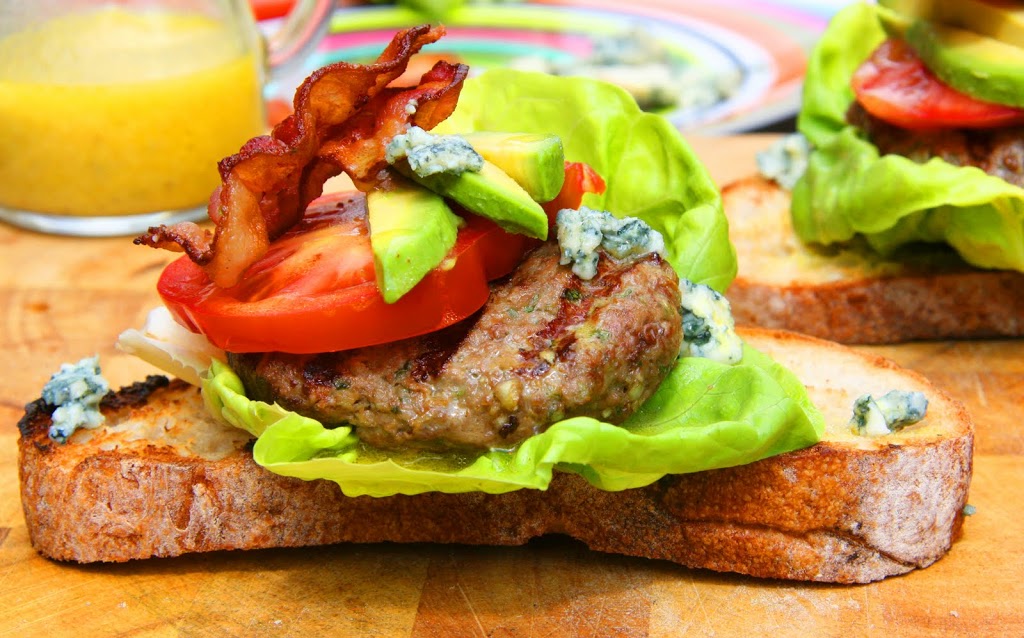 Ahh… 78 degrees outside today in the New York/New Jersey area. Came back here to visit my family and was excited to find out that the weather was going to be gorgeous. I automatically planned to turn on the grill.
Buuuurgerrrrr. That's all I wanted off that grill. I am about to toot my own horn; I'm good at burgers and sandwiches – very good actually. I'm also super good with my salads… Super good. That sounds funny, but I'm using it anyway.
So, why not mash the two together? Salad burger… Cobb Burger! Excellent. Originally, I wanted to make a Surf and Turf Burger, but after talking it through with a friend, we decide that it may be a bit too… eclectic for a first burger post. Surf and Turf Burger: coming soon.

I use this burger mix for almost all the burgers I make. The onions, garlic, and cilantro add a ton of flavor. It also keeps the meat moist. If you don't like cilantro, parsley works well too. And if you don't like either, well, you can leave it out, but then we can't be friends.


Use a nice crusty bread for this and throw it on the grill to toast it. It's more of a fork-and-knife burger that way. It's different than a pick-it-up-and-eat-it burger, but obvi, it's just as tasty. It's just as good in a soft bun. My brother, Yoni, helped me out today and this hollow bread happened. Half a loaf. It was sourdough, and apparently, it was good.
When making burgers – especially for a big group – make sure you have all your "add-ons" ready to go. It's also nice to have it on a large platter and let people assemble their own burgers. That way, you don't have to take orders. "I don't want blue cheese on mine!" "I don't want tomatoes!" blah, blah, blah. Make it yourself! But obviously present it as, "I've made a gorgeous platter of add-ons. Feel free to create your own burger." Still make your "add-ons" platter even if you're planning on assembling them yourself. This way, you aren't scrambling to cut tomatoes and clean lettuce while your beautiful hot burgers are going cold. Always be prepared.
Remember to FIAH (fire) up your grill early so that it has time to heat up. If you're not planning on grilling these burgers, or you live in a tiny studio apartment in the LES, a grill pan or a regular pan will work just as well. Don't be sad.
I'm going back outside. Enjoy the weather if you live in this area. And if you don't, spring/summer is on it's way. Hang in there! For now, enjoy the recipe and pics, and, be jealous.


Cobb Burger
Makes 4 servings

For Burger Mix:
1 lb ground sirloin beef (or regular ground beef is fine as well)
1/2 onion, cut into 4 large pieces
1 clove garlic
1/4 cup cilantro
1 1/2 tsp Worcestershire sauce
Salt and freshly ground pepper
For the Dressing:
1 lemon, juiced
1 1/2 TBSP dijon mustard
1/3 cup extra-virgin olive oil
Salt and freshly ground pepper
For Assembly:
4 thick slices crusty bread such as sourdough
4 large Boston lettuce leaves
4 slices tomato
1 avocado, cut into slices
4 pieces of bacon, cooked in a pan and set on a paper towel to crisp
1/3 cup blue cheese, crumbled

To make burger meat mix:
Put the onion, garlic and cilantro into a food processor and pulse until very fine. Add to a bowl along with the ground beef, Worcestershire sauce, and season generously with salt and pepper. Mix together well and let rest.
To make the dressing:
Add lemon juice and mustard to a large bowl and whisk together. Slowly drizzle in the olive oil while mixing. Season with salt and pepper. 
Oil your grill and grill off the burgers and slices of bread. Cook burgers to your preferred temperature. I always like mine medium or medium-rare which takes about 5 minutes a side.

Arrangement:
Start with a slice of bread, then the lettuce, burger, tomato, avocado, bacon and blue cheese crumbles in that order. Drizzle with the dressing and enjoy =)