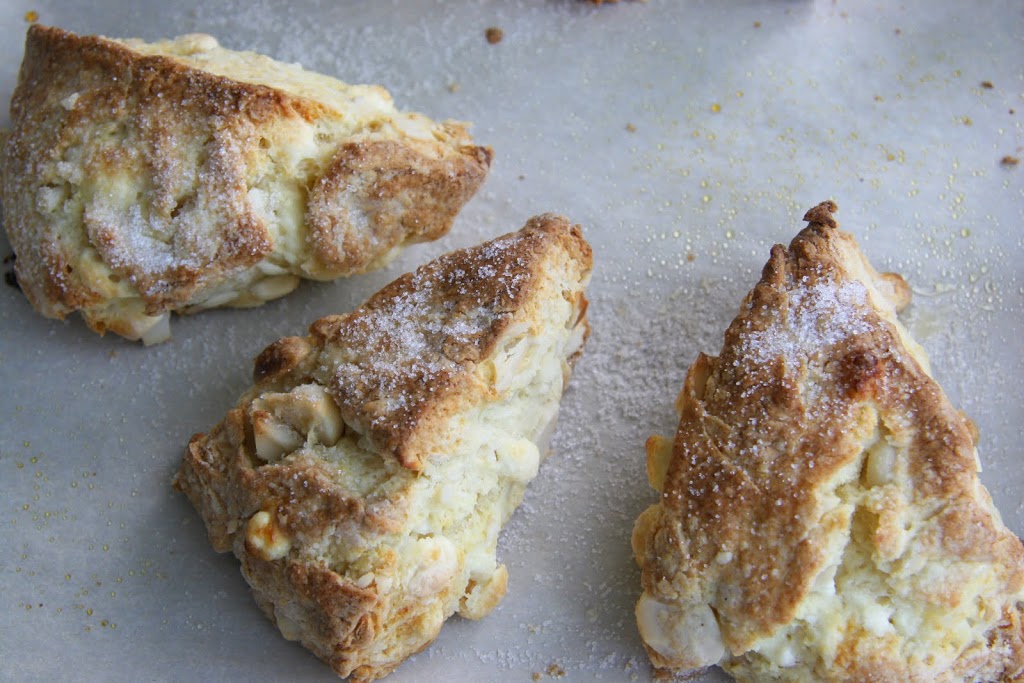 White Chocolate Macadamia Scones
I know! I know! It's been two weeks since my last post. I apologize! I've been busy making cakes. Tough life, right? So to continue my baking month, I've decided to make scones.
A couple of my friends have been requesting brunch recipes and I feel like these scones would be a great addition to any brunch table. One of my favorite cookies is white chocolate macadamia nut – the Mrs. Fields kind that come individually wrapped. 7 seconds in the microwave. Boom. Perfect "just baked" cookie taste.
So, why not a scone? I drool over the Starbucks ones that stare me down as I order. "I'll have a venti 5 shot iced Americano please… and a blueberry scone… just one of those days, ya know?" For some reason I always feel the need to explain to the barista why I'm indulging.

This recipe, like a lot of my others, is very versatile. You can substitute the nuts and chocolate for pretty much anything. You can use chopped pecans and dark chocolate chips. Mmm. That's a good variation. Or, even some lemon zest and blueberries. Ohh, another good one. 


Get some good quality chocolate chips. I use Callebaut couverture chocolates. Couverture chocolate is higher in cocoa butter content which makes it smoother and creamier. It's a high quality chocolate, and yes, it's a bit more expensive. Lindt chocolate is also great. Just do me a favor and don't use those candy chocolate wafers. You know, the ones that come in different colors. And if you do, please don't tell me.
I swear, my diet begins tomorrow. Happy baking!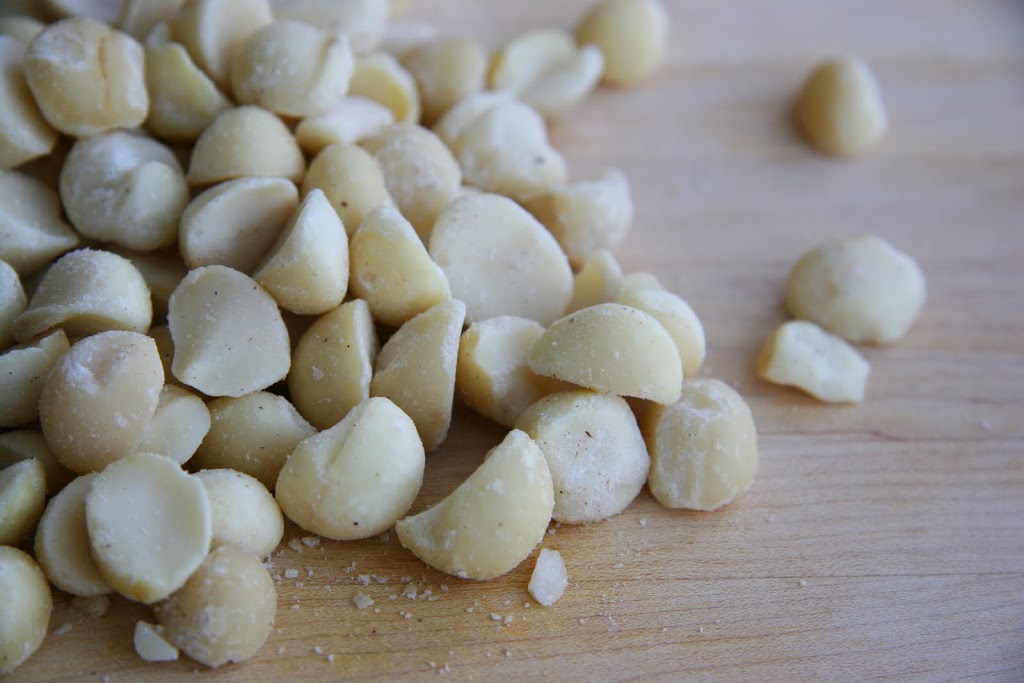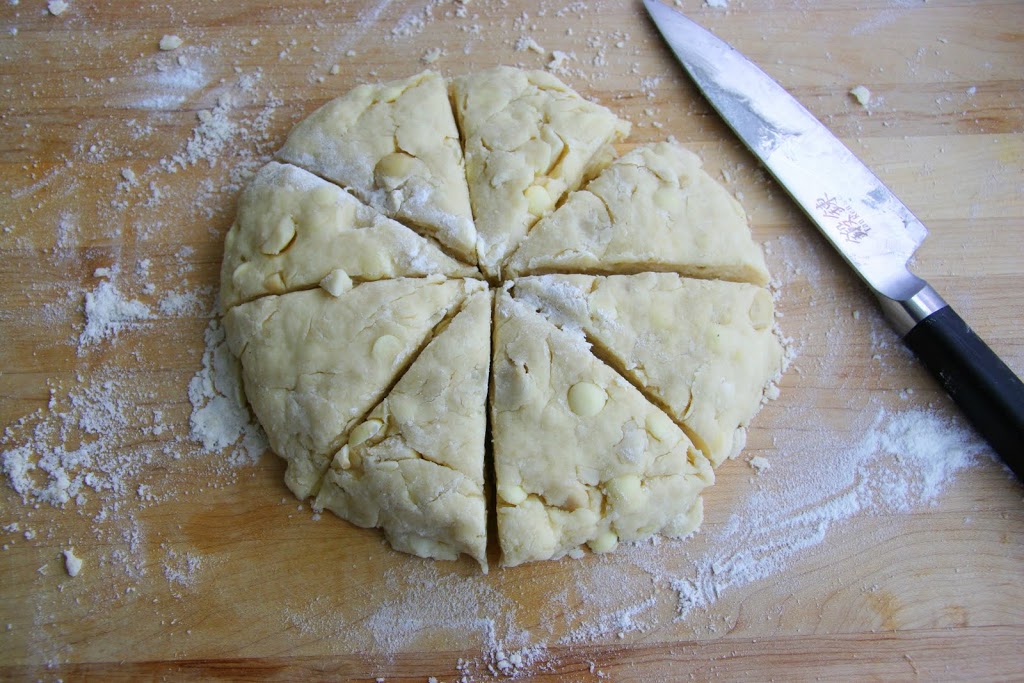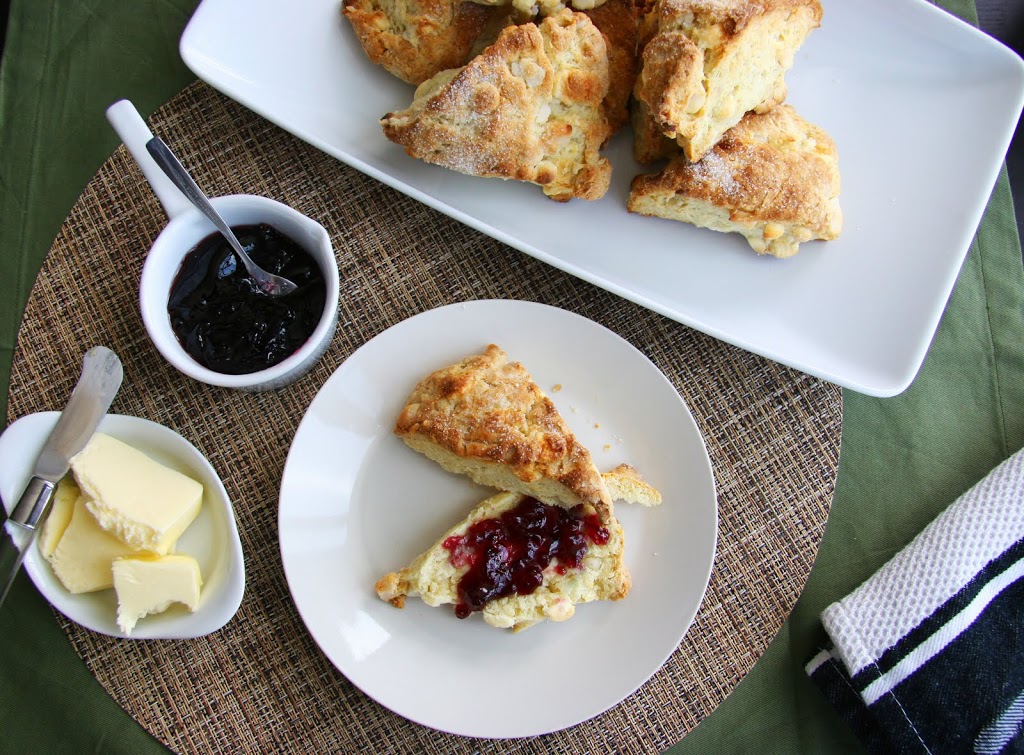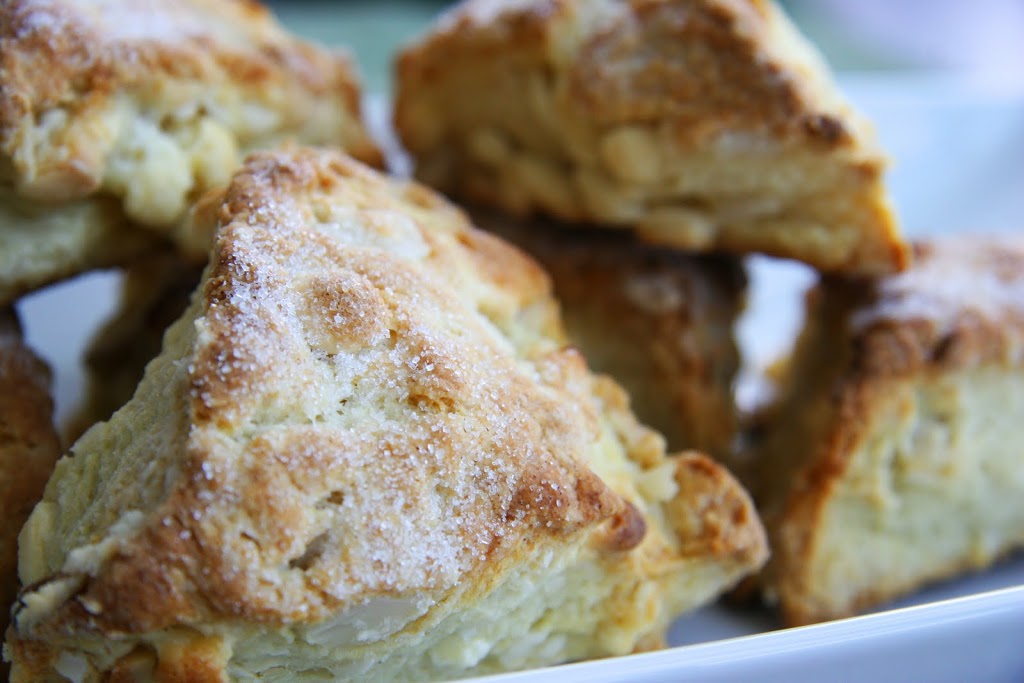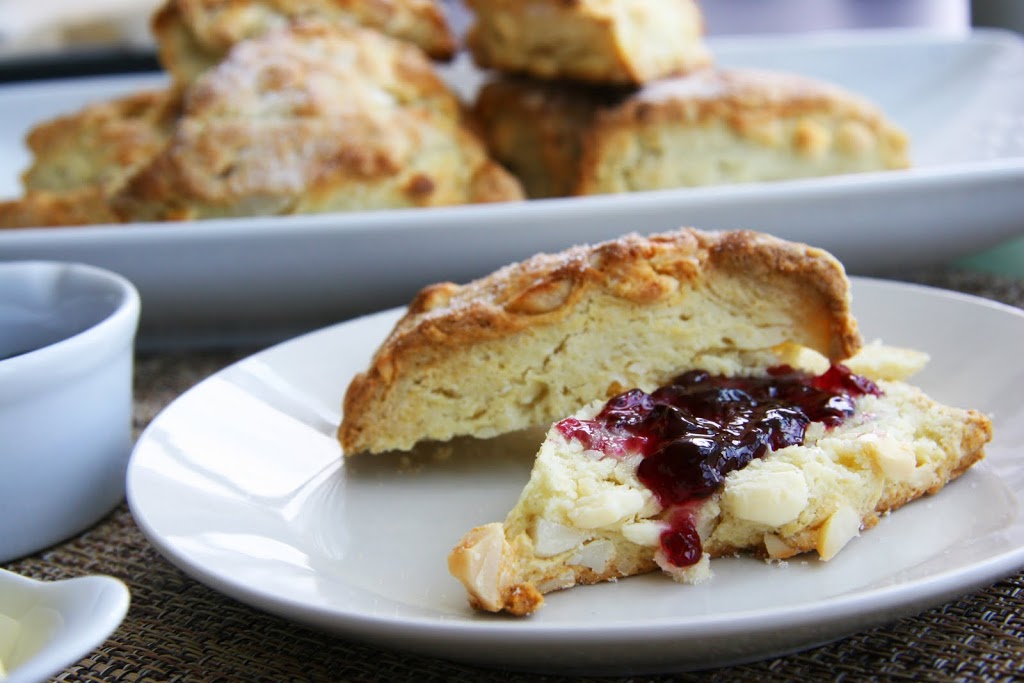 White Chocolate Macadamia Scones
Makes 8 scones

1 1/2 cups all-purpose flour, plus more for dusting surface
3 TBSP granulated sugar
2 tsp baking powder
1 tsp baking soda
1/2 tsp salt
6 TBSP COLD unsalted butter, cut into small pieces
1/3 cup buttermilk, cold
1 large egg yolk
1/2 tsp vanilla extract
1/2 cup macadamia nuts, chopped
1/3 cup good quality white chocolate chips

For garnishing with sugar:
1/3 cup boiling water
3 TBSP granulated sugar, plus more for sprinkling on top
Position rack in the top third of the oven and preheat to 425 deg F. Line a baking sheet with parchment paper. Prepare the syrup for sugar garnish by mixing the 3 TBSP sugar into the 1/3 cup of boiling water and set aside.

Sift first 5 ingredients into a large bowl. Give it a good mix so that the flour mixture is uniform. Add the cold butter and mix together with your hands until the mixture looks like coarse sand or coarse meal. I find that if you rub the flour and butter between your hands it works a lot faster. 

In another bowl, whisk together the buttermilk, egg yolk and vanilla. Pour into flour/butter mixture and mix until it comes together. I know, it's sticky. Add in the nuts and chocolate chips and give it a good knead in the bowl.

Dust your working surface with flour and turn the dough out of the bowl. Knead it a couple of times. Pat down and flatten it out into a disk about 1″ thick. Cut into 8 slices and place on lined baking sheet. Brush the tops of the scones with the sugar syrup and sprinkle sugar over the top of them. This will make them sparkle. 

Bake for 13-14 minutes until golden brown on top.