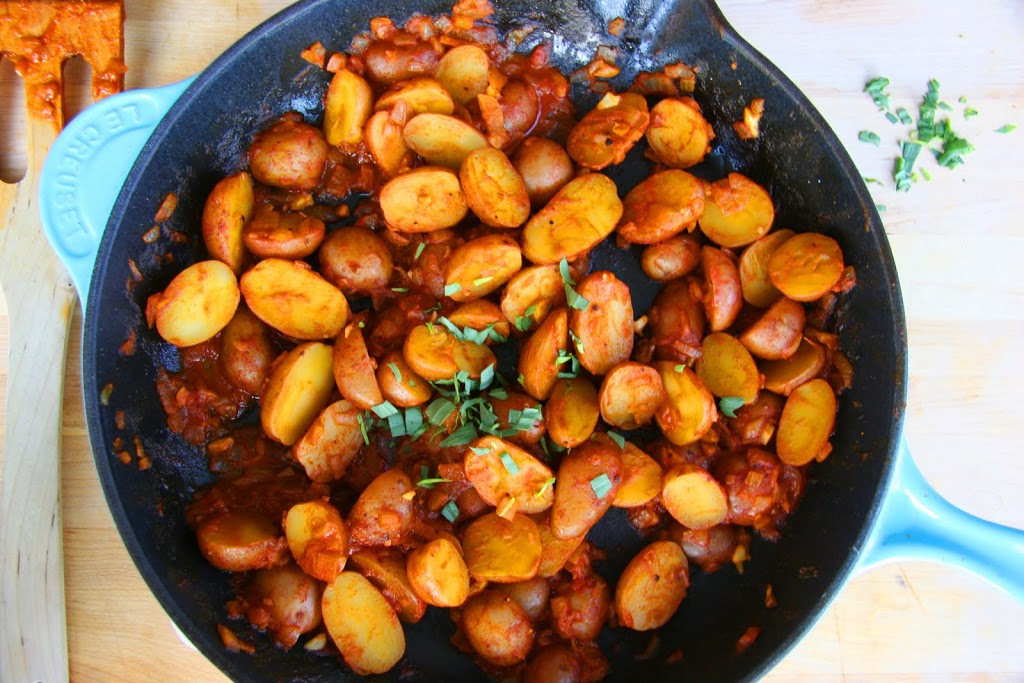 Pan Roasted Baby Potatoes
I have been trying to make French Macaroons since last week. It's frustrating. I can't get it right. I'm attempting it again tonight and since I don't want to feel like a total failure, I've made my no-fuss pan roasted baby potatoes. These guys taste great no matter what.
My boyfriend loves potatoes. These are his favorite. He says they taste like home, though I don't believe his mom makes these. She actually asked me for the recipe once at a family gathering. I was so proud of myself. It just feels great when your boyfriend's mother/mother-in-law asks YOU for something. Ladies, you can understand me.
This recipe is excellent for any time, accompanying any dish. I'll make it for barbecues to bring over to friends' places and everyone goes wild for it. I bring it in the cast iron skillet to show off a little bit. 
You can even make it for a brunch. Mash it up and crumble some cooked bacon over the top… boom, a great brunch hash. I would even go as far as to throw a fried egg on top. Mmm! It's an on going joke with my pops. We would throw an egg on top of everything.
Schnitzel on toasted olive bread, with avocado, spicy mayo… and an egg on top. (Sounds so good right??) My dad and I would open a restaurant dedicated to eggs alone. Everyone would come. In the meantime, enjoy this potato recipe.


Pan Roasted Baby Potatoes
1 1/2 lb baby potatoes, (red, fingerling, etc), washed and cut in half or into quarters depending on their size
3 cloves garlic, chopped very small or minced
1 medium onion, medium chop
1 TBSP smoked paprika, not hot
Salt and freshly ground black pepper
Green herb, whatever you have on hand, chopped for garnish
In a small sauce pot, heat the chicken stock with the garlic on med-low heat until just lightly simmering.
Heat the olive oil in large cast iron skillet or large pan over med-high heat. Add onions and season with salt and pepper. Cook for 3 minutes until the onions begin to soften. Add the paprika and cumin. Continue to cook for 2 minutes to let the flavor from the spices develop. Add the tomato paste, mix well and cook for another 2 minutes.
Add the stock and garlic to the onion mixture and mix well until incorporated. Add the potatoes making sure they cover the bottom of the pan in one layer. The stock should almost cover the potatoes completely. Turn the heat up to high until boiling then reduce heat to low and cover tightly. I use aluminum foil with my cast iron.
Cook on low for 15 minutes covered. Uncover, turn the heat up to med-high and boil off any excess liquid until it becomes more pasty. This could take any where between 5-10 minutes. The potatoes should be fork tender.
Garnish with your favorite chopped green herb and enjoy.