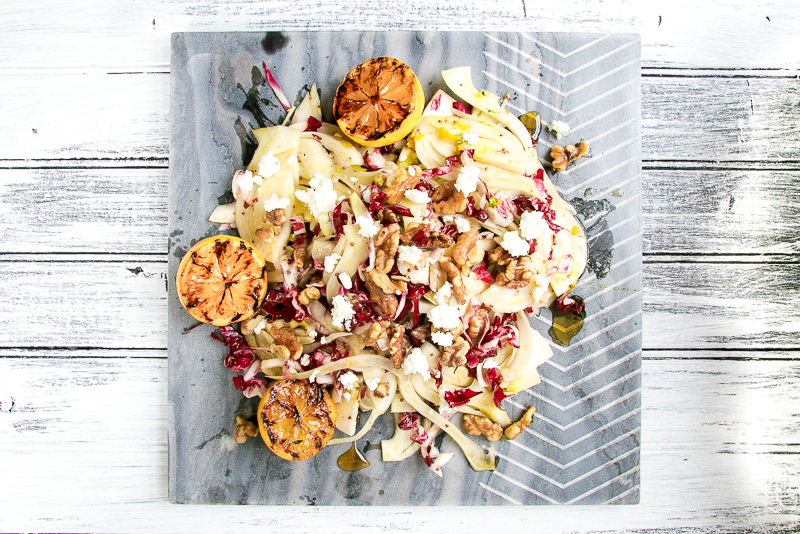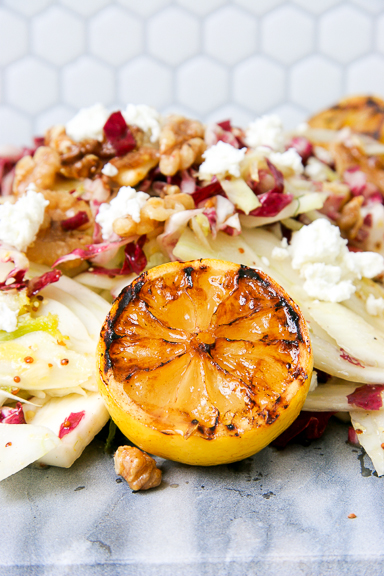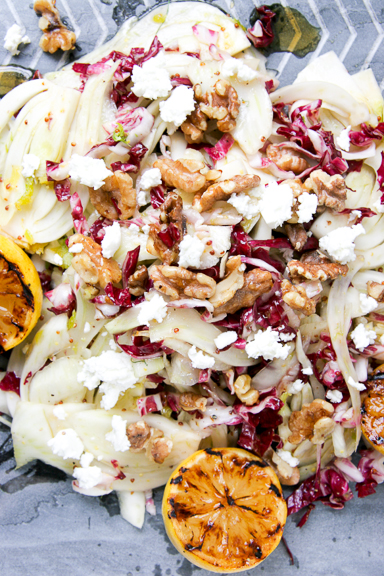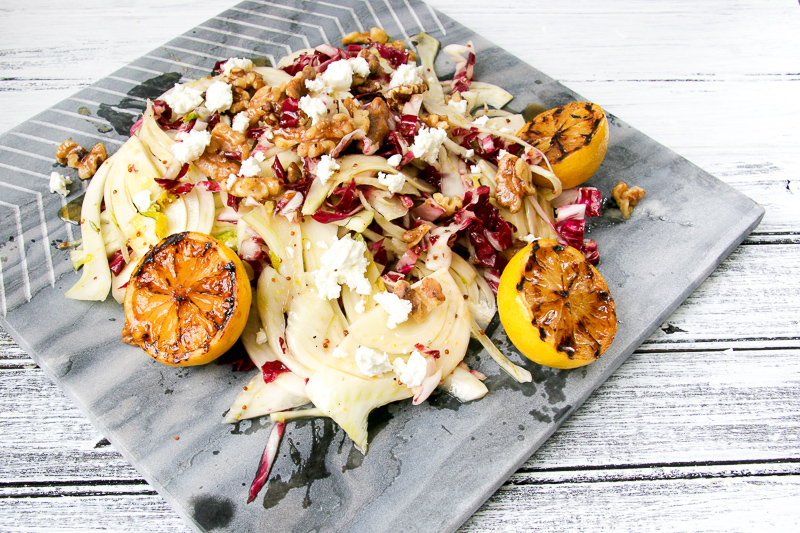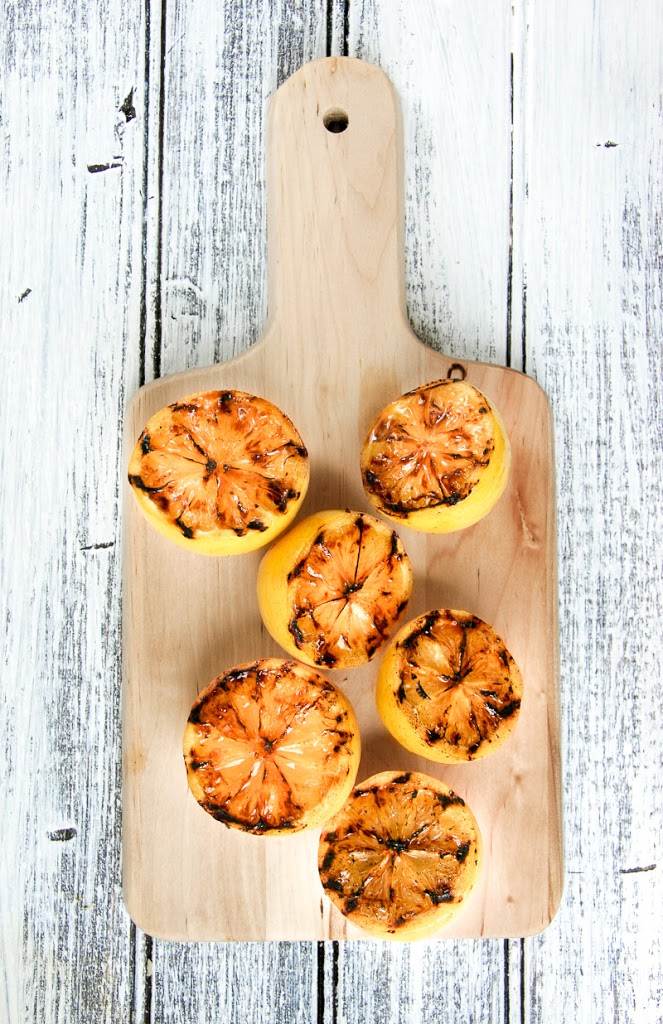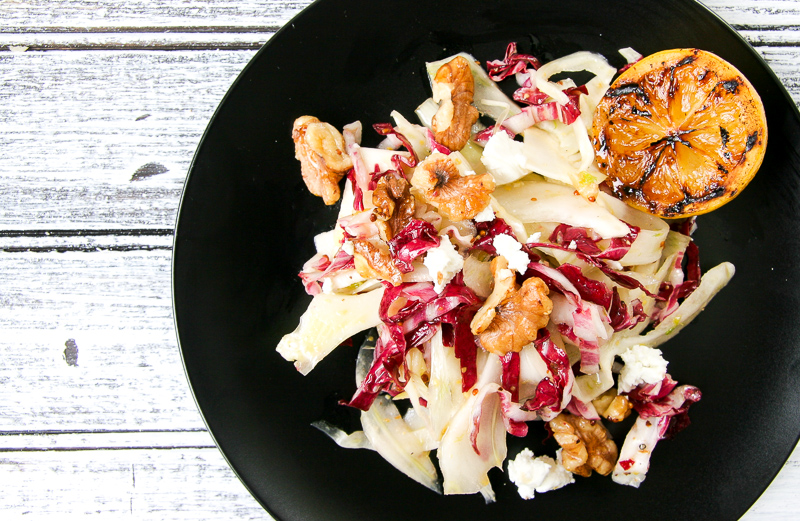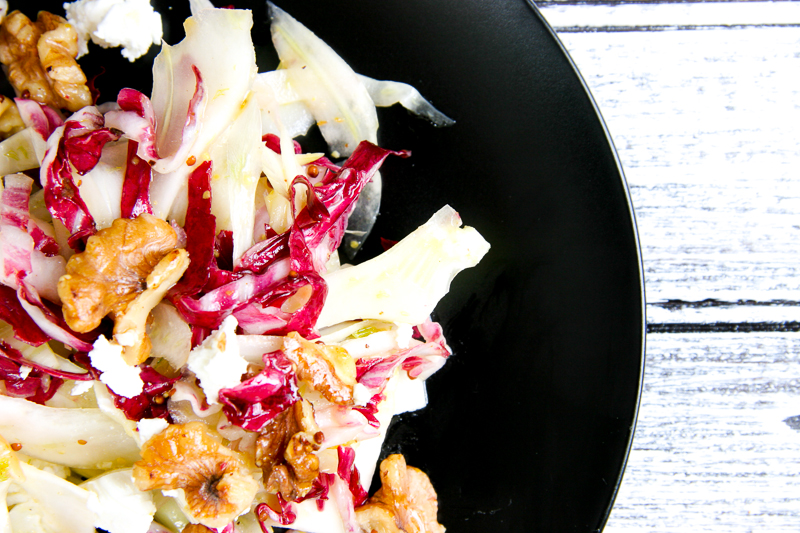 Every season has an end. Spring is here. Finally. Shorts, t-shirts,
AHS Coven style hats
, less bronzer, and asparagus. Yeah!!! Well, if you live in the south, you're ready for at least four of those. Sorry, Toronto.
I, for one, do not mind that we are parting with our winter vegetables. This recipe is my farewell to fennel.
Just in case the salad wasn't bitter enough, I added radicchio and walnuts. That's sarcasm if you didn't catch it. The honey and goat cheese balance the bitterness nicely. Grilling the lemons brings out their natural sugars to sweeten the vinaigrette. Grilling citrus is so in right now.
While making this salad, please point your knife out and yell, "RADICCHIO" as if you are
casting a charm to fend off a Boggart
.  Harry Potter joke. Only do this if you are alone in the kitchen please.
You:
    a) Don't want to stab anyone.
b) Shouldn't let anyone know you're THAT much of a Harry Potter fan.
c) Don't want the Boggart to take the shape of
that ghost girl from The Ring
.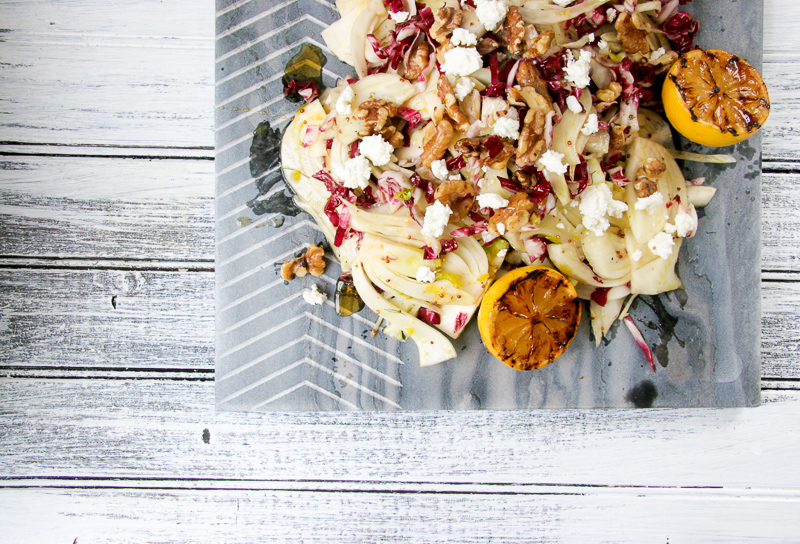 Fennel & Radicchio Salad with Grilled Lemon Vinaigrette
6 small servings
3 lemons, halved
olive oil
4 Tbsp grilled lemon juice (about a lemon and a half)
1 Tbsp grainy mustard
3 Tbsp extra virgin olive oil
2 pinches salt
5 cracks fresh pepper
2 heads fennel, tops removed and sliced thinly
1/2 head radicchio, chopped
1/2 cup walnuts
1/4 cup goat cheese
2-3 Tbsp honey, I used buckwheat honey
For the grilled lemons:
Heat a grill pan, or your bbq, on high heat. It should be smoking hot. Drizzle a bit of olive oil on the cut side of the lemon halves. Place them cut side down on the very hot grill. Sear for 4 minutes total. Give the lemons a quarter turn 2 minutes in for nice cross hatch grill marks. So professional.
For the vinaigrette:
Combine all ingredients in a Mason jar and shake. Or in a small bowl and whisk.
For the salad:
In a large bowl, toss the fennel with 1/2 of the vinaigrette. Let it sit while toasting the walnuts.
In a small pan, heat the walnuts over medium-high heat. Toss around so that they don't burn. When you smell them and they are a bit toasted, throw them into the bowl with the fennel.
Add the radicchio and the remainder of the vinaigrette to the bowl and toss. Plate the salad, or leave it in the bowl if you are serving it in there. Crumble the goat cheese over top and drizzle with the honey. Garnish with the remaining lemon halves.
Enjoy.
DANI'S NOTES:
This salad, after it sits, becomes a sort of nice slaw. So don't throw out the left overs!
Add grilled shrimp to make it more of a salad meal.
I use buckwheat honey because it's deeper in flavor. I love it a lot. Especially in a bourbon sour.
Own a grill pan.