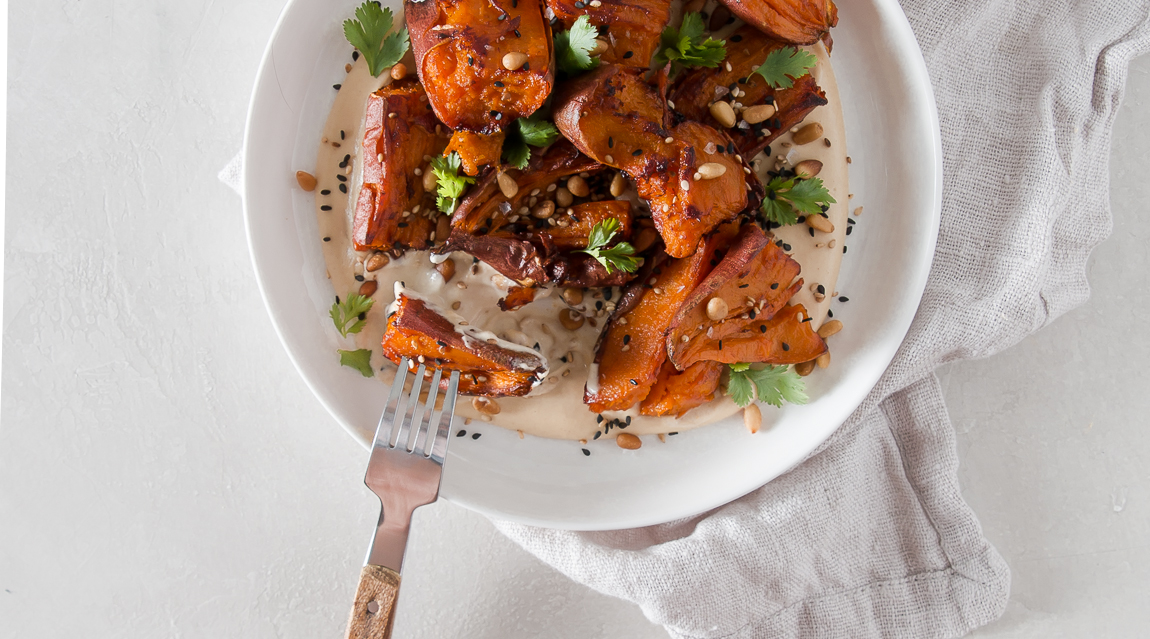 Yams with Whipped Miso Tahini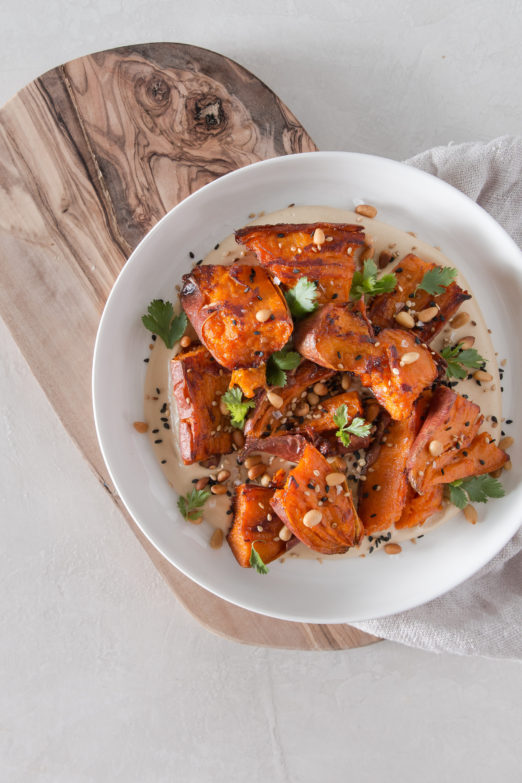 I'm having a sweet potato craving. Recently I bumped into my
Sweet Potato & Garlic Confit Hummus
recipe, and embarrassingly enough, I had to clean up my drool from off my desk. Something about that recipe, which is wonderful, felt like it was missing though. Then it hit me… texture; just a bit of crunch. Now the easy way to add crunch to any roasted vegetable is to top it with  seeds and nuts. That wasn't enough for me. I thought that giving the potato a bit more treatment was appropriate to take it to another level.
I've been using my Vermicular Musui–Kamado for a few months now and have fallen deeper and deeper in love with it with each use. The Musui, the enameled cast iron pot, and its precision seal really allows the pot to retain moisture and flavor which is perfect for steam-roasting, unlike your slow cooker. Somehow, the yams come out tasting more yam-y and super sweet.
Now for the coolest part; after steam-roasting the yams to perfection, I quickly clean the pot and place it back in the Kamado, the three dimensional induction heating system, then fry…
YES, FRY
small pieces of torn yam. I don't know of any piece of kitchen equipment out there that can reach a high enough temperature to fry and sear like this does but also maintain a very low and consistent heat that acts like a sous vide. It's a beautiful machine.
Instead of hummus, an easy whipped miso tahini takes its place. Whipping the tahini gives it a velvety, thick texture that almost resembles hummus. It's spreadable and dip-able with a deep nutty flavor. I went with red instead of white miso because it's more complex and goes with the tahini really well. But use what you have on hand since it's only a tablespoons worth of miso.
This is a perfect dish that works as a side, appetizer, or even a main dish. I'm always searching for something that feels substantial enough to serve as a vegan dinner and this definitely fits the bill.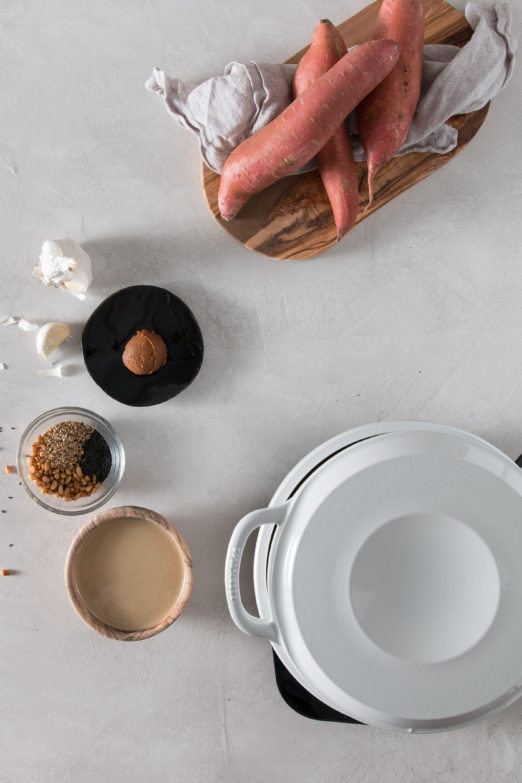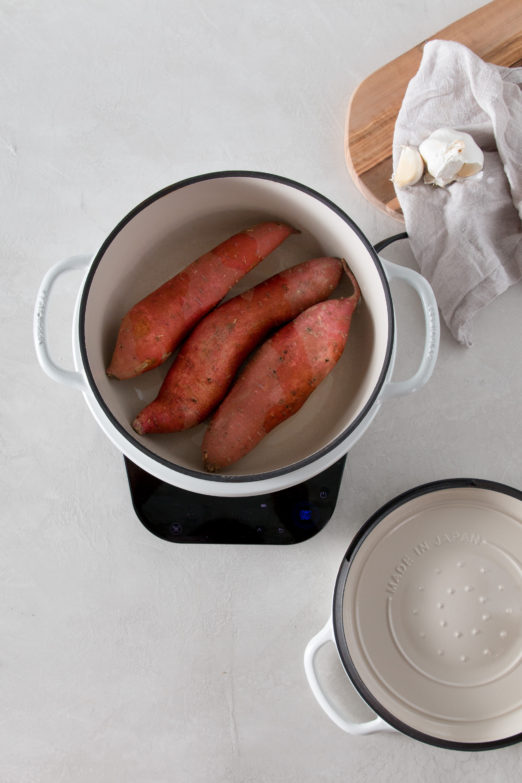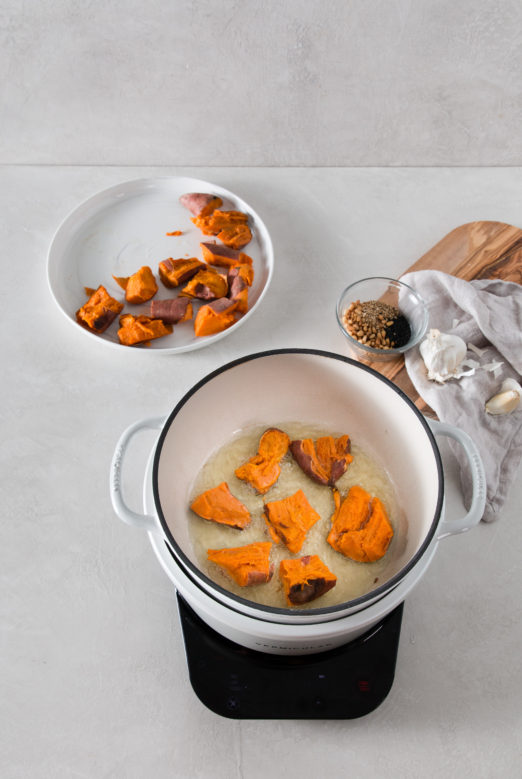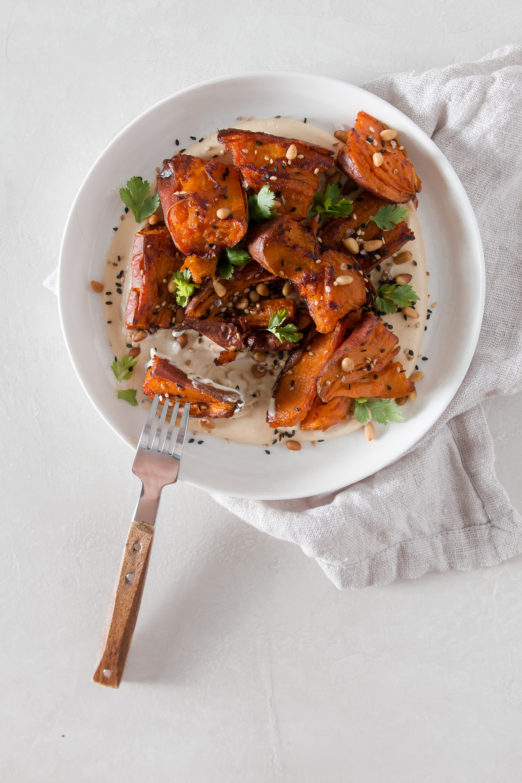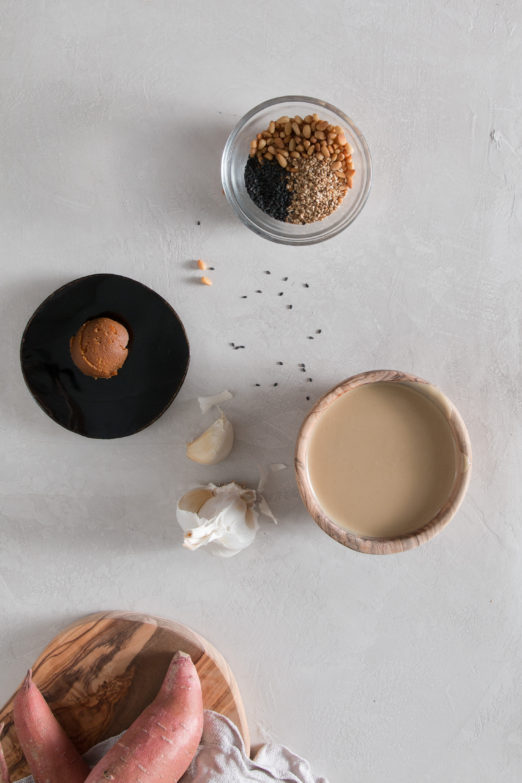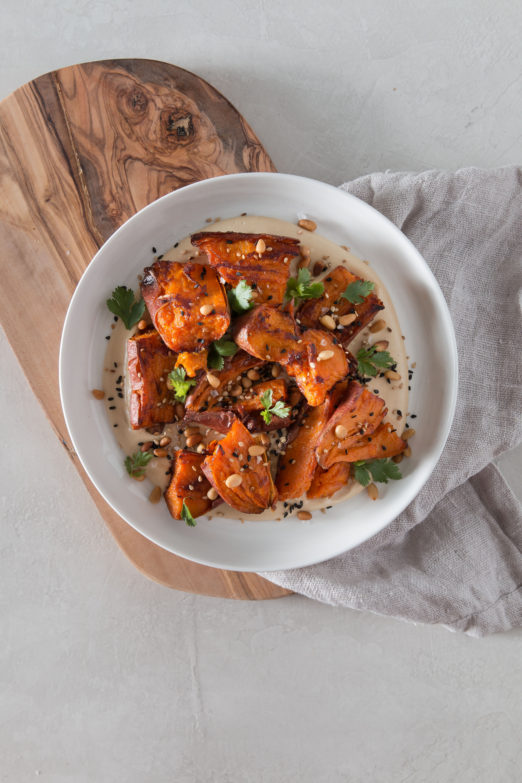 YAMS WITH WHIPPED MISO TAHINI
THE THINGS
2-3 small yams, scrubbed well of any dirt
½ cup tahini
1 clove garlic
1½ tbsp lemon juice
1 tbsp red miso
Kosher salt
½ cup cool water
Grapeseed oil or other neutral oil, for frying
¼ cup toasted pine nuts
1 ½ tbsp toasted sesame seeds
½ tbsp black sesame seeds
Flakey sea salt
Cilantro leaves, garnish

THE WAY
Lay the yams in the pot and add 1-2 tbsp of water to prevent scorching. Cover and steam-roast [LOW] heat for 45-55 minutes, until fork tender. This will depend on the size of the yams.
Remove the yams from the pot and allow to cool.
Meanwhile, make the whipped miso tahini by placing the tahini, garlic, lemon juice, red miso, and a pinch or two of salt in the bowl of a food processor. Blend on high for 3-4 minutes until smooth and thick. With the motor running on low, very slowly drizzle in ½ cup of cool water. The mixture will first seize and then smooth out. After all the water is incorporated, turn the food processor to high and allow to whip for another 30 seconds. Taste and adjust seasoning.
Tear the yams, along with the skins, into 2"-3" pieces creating irregular shapes. This will ensure you get lots of crispy edges after you fry them.
Heat ½" of grapeseed oil in the pot over [MED] until the oil is hot and you get the [GRILL OK] sign. Fry the torn yams in batches, taking care not to overcrowd the pot until crispy and golden, 1-2 minutes on each side.
Plate the whipped tahini on each serving dish by spreading it around with the back of a spoon. Top with fried yams. Sprinkle each dish with lots of pine nuts and sesame seeds. Finish with a flakey sea salt and garnish with cilantro leaves.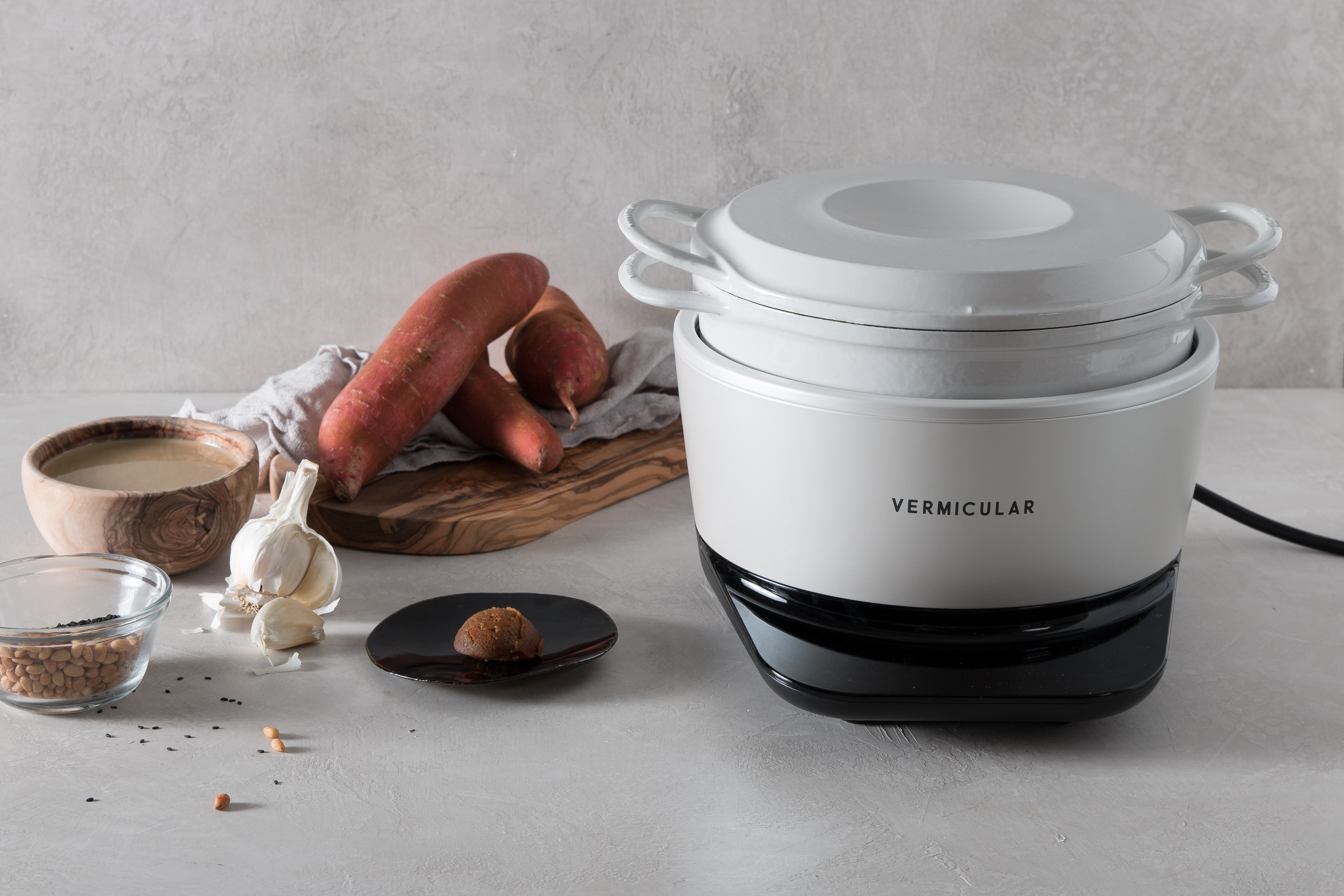 This post was sponsored by Vermicular.