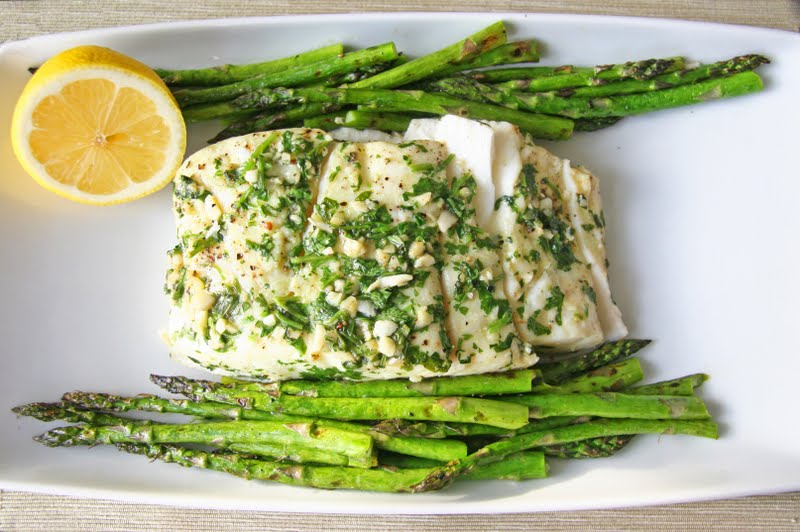 Garlic & Cilantro Grilled Halibut w/ Asparagus
It's September… I love and hate this month. I hate knowing that we are at the end of summer – no more hot weather, no more grilling, no more mid-week outings, no more jean shorts, and most depressing, no more tans. It's all so sad. Summer moves so quickly.
It's also the beginning of fall! Great clothes, your hair doesn't frizz, apples are in season, Halloween is on its way, pies!, football finger food, and I get to wear my leather jacket. 
This labor day weekend my husband and I took a trip with our good friends to Chicago. The city is beautiful. If New York and Toronto had a baby, it would be Chicago.
We ate, toured the city, ate, went to the North Coast Music Festival, drank, ate, shopped, ate, drank, napped, ate, drank, and then ate. It was excellent. But needless to say, I think I gained about 5 pounds in 4 days.
We ate at Andrew Zimmerman's Sepia which was an interesting experience. Loved the Caesar Salad with the garlic flan and parmesan fritters. We also found this Italian gem next to the hotel called Quartino. Dirt cheap wine by the liter, amazing atmosphere, and tasty family style dishes prepared really well.
Now that I think about it, we were the last people to leave the restaurants at every place we had dinner. We like to chat a lot… and drink. Never really made it out at night since we were just so content after dinners.
Since we got back, it's significantly cooler here in Toronto. I need to get all the grilling done before I won't want to stand outside. There's a fabulous fishmonger in my area called Hooked with the freshest fish I have ever come across. They know their ish about fish. Also try their pickled goods. Trust me. 
Halibut is an easy fish to grill since it's meaty and firm. When it's fresh, it's got an amazing sweet flavor and really doesn't need much seasoning to heighten said flavor. A very healthy fish and by far my favorite. Grill some before you turn your grill off for the season!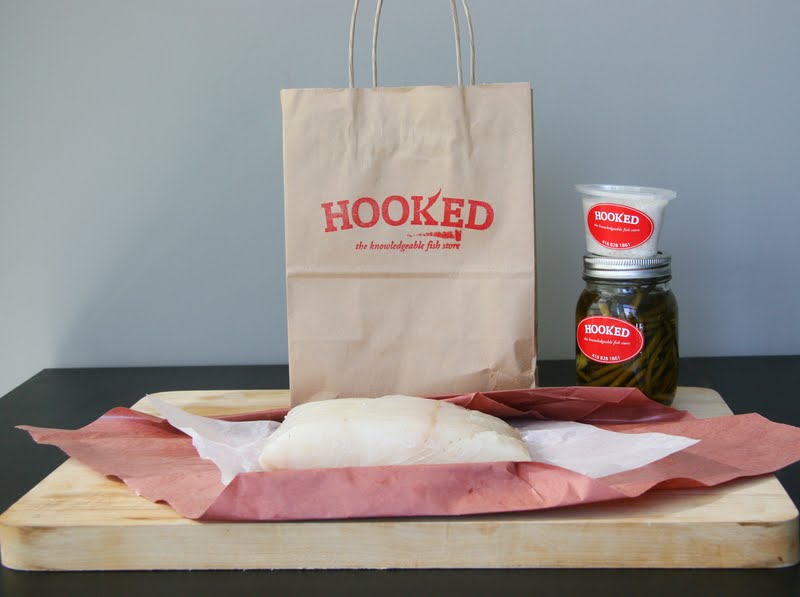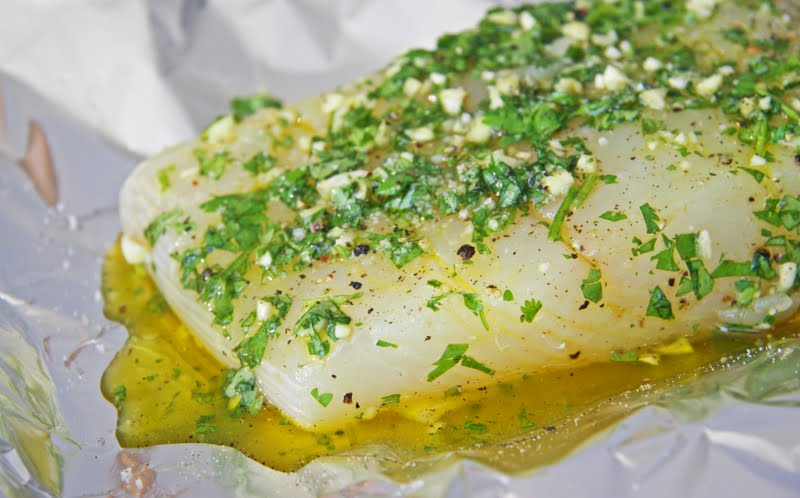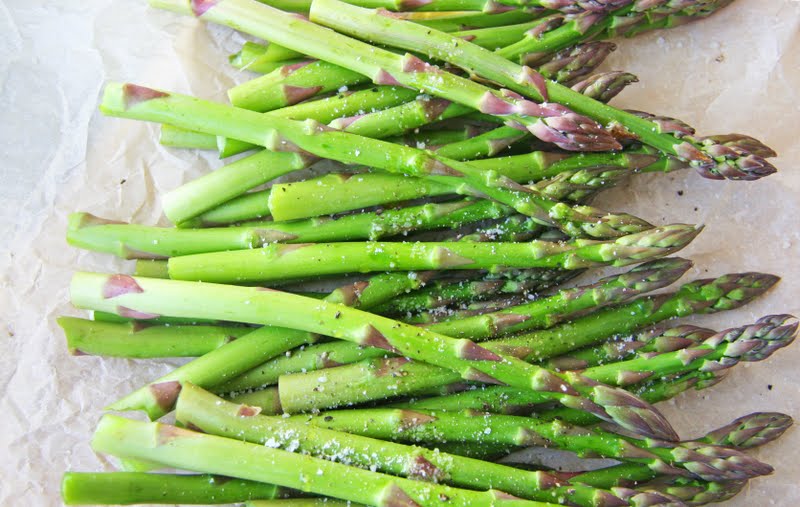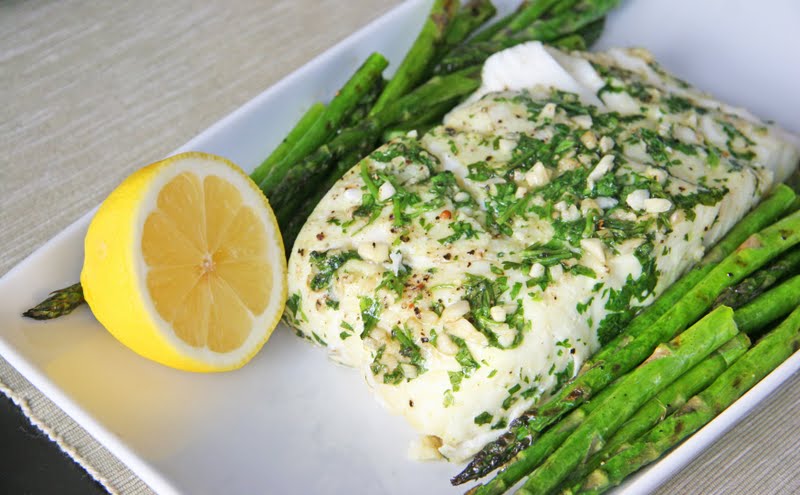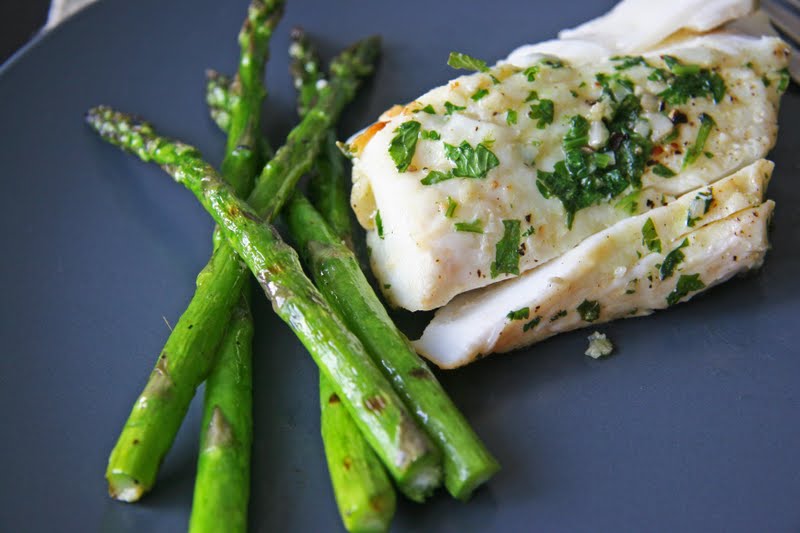 Garlic & Cilantro Grilled Halibut w/ Asparagus
Makes about 4 servings

For the fish:
2 lb center cut Halibut steak (one piece) deboned with the skin on 
1/2 cup extra virgin olive oil
1/2 cup cilantro, chopped
4-5 cloves garlic, chopped finely
Salt and freshly ground black pepper
For the asparagus:
1 bunch asparagus, woody ends broken off
1 TBSP extra virgin olive oil
Salt (larger kosher salt is best) and freshly ground black pepper
1/2 lemon for serving

In a large ziplock bag, add the olive oil, cilantro, garlic and lots of salt and pepper. Shake the contents in the bag a little to mix it up. Add the halibut steak, close the bag and move the oil around so that the fish is completely covered in the good stuff. Let sit in the fridge for 2 hours.

Heat the grill to medium-low heat or pre-heat your oven to 350˚F. 

Toss the asparagus with the olive oil, salt and pepper in a medium bowl. 
Wrap the fish in a foil "boat". This is how:

Lay a large piece of foil down on a cutting board or sheet pan. Pour some of the oil from the zip lock bag down on the middle of the foil where you will lay the fish. Take the fish out of the bag and lay it on the foil skin side down. Pour a little bit of the oil on top of the fish. Grab some of the garlic and cilantro out of the oil and cover the top of the fish. Season with a little bit more salt and pepper. You want to envelope the fish inside of the foil so it steams while it cooks. This is how it should look: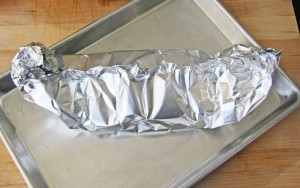 Place boat on grill in the area with the least direct heat or place in the pre-heated oven. Close lid and let cook for 12 minutes without disturbing. Place the asparagus on the grill – it should take no longer than 5-7 minutes. Turn once during cooking. Remove from grill and squeeze a bit of lemon on the asparagus. 

After the 12 minutes, open the foil a bit. The fish should look opaque. If you try to pull the meat apart with a fork it should flake away from itself easily. This means the fish is cooked. If you can't flake it apart, seal the foil closed and continue to cook for another 3-4 minutes. 

Serve as a whole piece with the asparagus and lemon wedge on the side. Enjoy =)