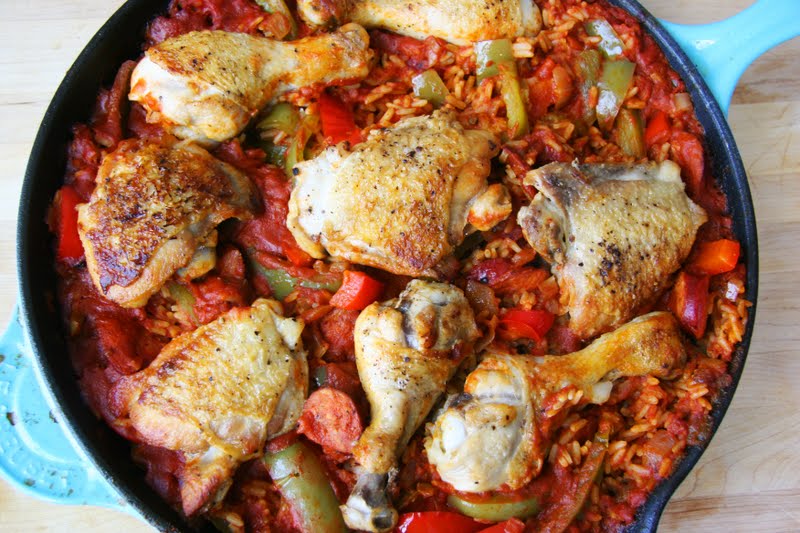 Jambalaya with Chicken and Chorizo
I have a 8kg bag of rice. Thats about 17 1/2 pounds. Almost a year ago, my boyfriend Tas decided to have a house warming party the night before his whole family comes over to see his new place… in the early afternoon. Needless to say, the place was a disaster the next morning.
It took us about 3 hours to clean it up. Then I needed to run to the grocery store to grab things to make food for about 15 adults and children. I figured everyone loves chicken and rice. Yes, that's a great idea.
Got home, unpacked the groceries, then realized that I forgot to get rice. I know, I know! I'm making chicken and RICE. I was hung over! So my wonderful boyfriend went out to get some rice while I started to prep/cook.
He came back with this enormous bag of rice. He said it was the only one that they had. The little Asian convenient store down the street doesn't do small apparently. So now I have tons and tons of rice.
I actually don't hate it. Because rice goes with everything, it's easy to get creative with the preparation. Today, it's my version of Jambalaya!


You like the plate? Tas's (my boyfriend) mother's plate. It's gotta be from the 70's. Not giving this one back.
My mom makes a really fast oven chicken and rice dish and this inspired me to take it a little further. Only later did I realize that I was actually just making a simple version of a Jambalaya.
By the way, has anyone ever seen the show Road Grill with Matt Dunigan on Food Network? It may just be a Canadian thing. But this guy is terrible. It's like a long infomercial that isn't selling a specific product. He's got a bunch of people hanging around him while he cooks and they clap and cheer when he slices up some bacon for potato skins. "Who likes sour cream? Lets hear it!" "Ooohh!!!" Horrible.

Apologizes, I digress. Just needed to share. Back to Jambalaya! This really is a simple recipe. Double it for a big crowd. It's just loaded with flavor.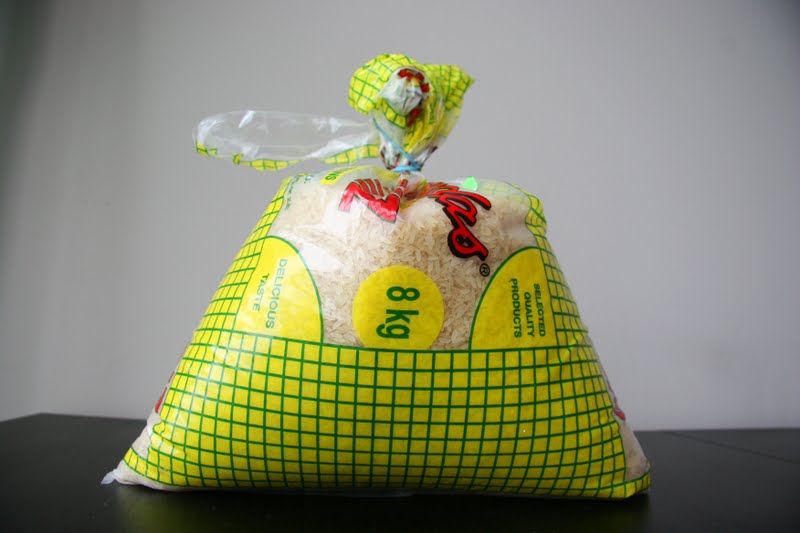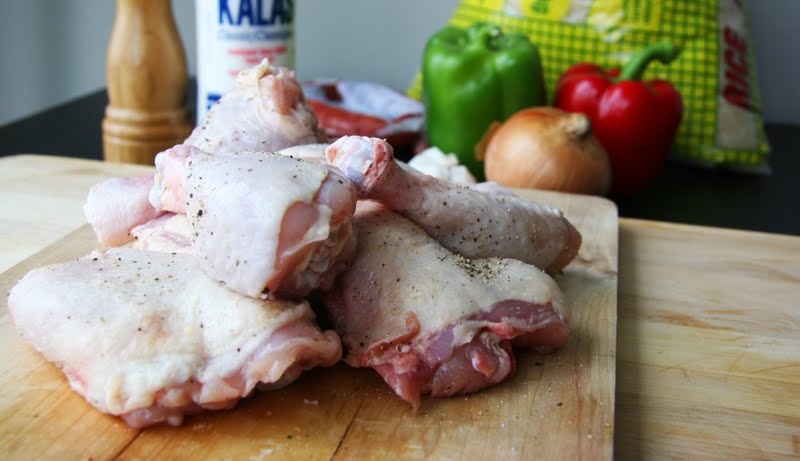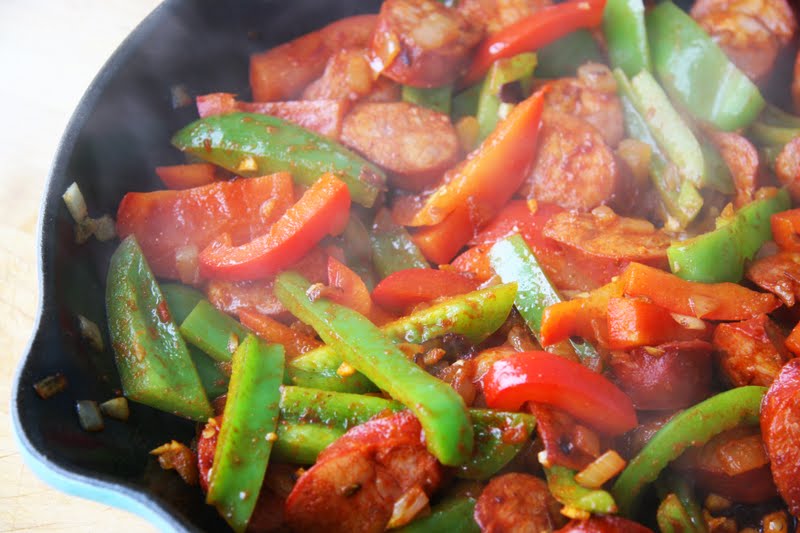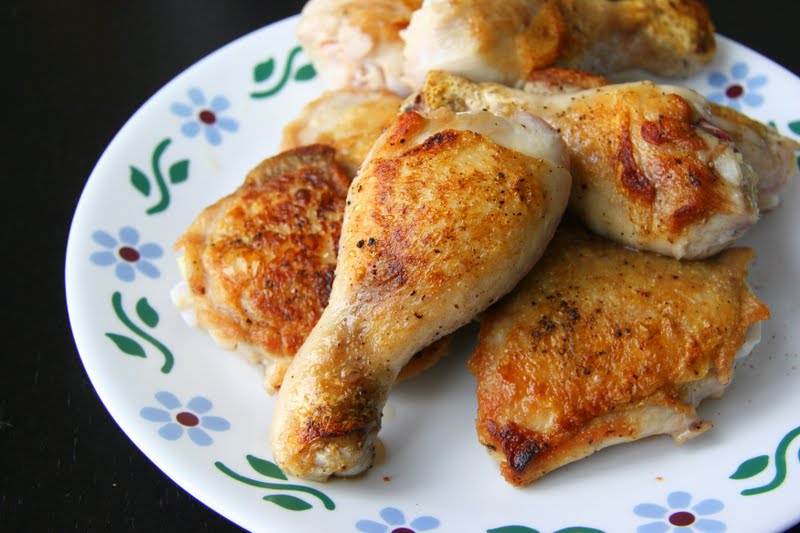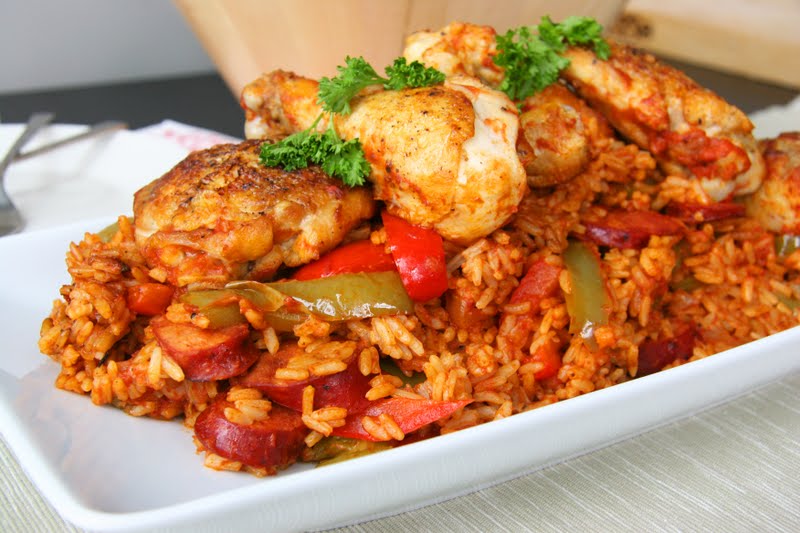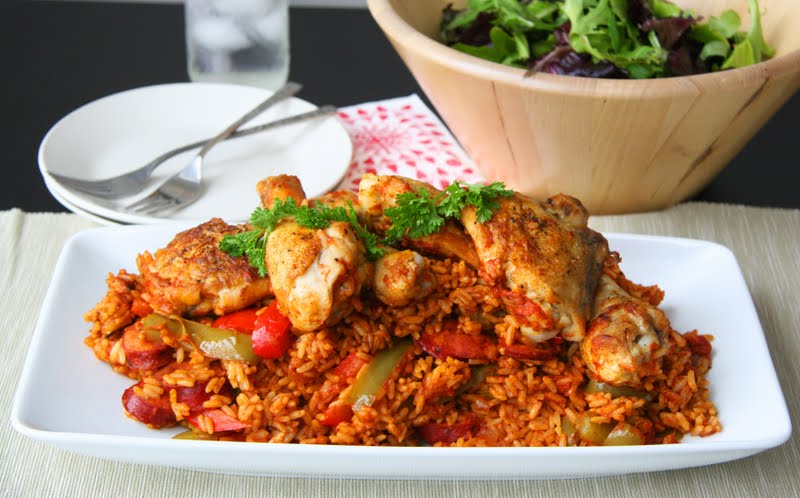 Jambalaya with Chicken and Chorizo
Makes 4-6 servings
8 pieces bone-in, skin on chicken (I used 4 drumsticks and 4 thighs)
1 1/2 TBSP extra virgin olive oil
1 250g Spanish chorizo sausage, sliced (about 2 cups)
1 large onion, diced
1 large green bell pepper, cut into strips
1 large red bell pepper, cut into strips
3 cloves garlic, smashed and chopped finely 
1 TBSP smoked paprika
1/2 tsp cumin
1 cup canned crushed tomatos
1 1/2 cups white rice 
2 1/2 cups chicken stock
Salt and freshly ground black pepper

Pre-heat oven to 300 deg F. Generously season the chicken with salt and freshly ground black pepper.
Heat oil in a large skillet or pan. Once hot, add the chicken and brown on all sides. About 4 minutes on each side. This is better to do in two batches. Reserve browned chicken on a plate. Make sure not to burn the bits in the pan.
Add the onions and chorizo to the pan. Toss in the oil and scrape up the bits from the bottom of the pan. Saute for about 2 minutes. Add the peppers and garlic. Saute for another 2 minutes. Add the paprika and the cumin and let the oils develop from the spices, about 3 more minutes. Add the crushed tomatoes and mix will. Add the rice and combine well. 
Add the chicken stock, season with salt and pepper, and bring to a boil. Add the chicken pieces on top, cover with aluminum foil and place in oven. Bake for 25 minutes. Remove from oven, LEAVE COVERED for another 10 minutes. 
If you see that the skillet is too full, empty the rice mixture into a casserole dish. Then add the chicken stock to the skillet , boil and add to the casserole dish. Mix well and then add the chicken on top. Continue as above. 
Enjoy =)