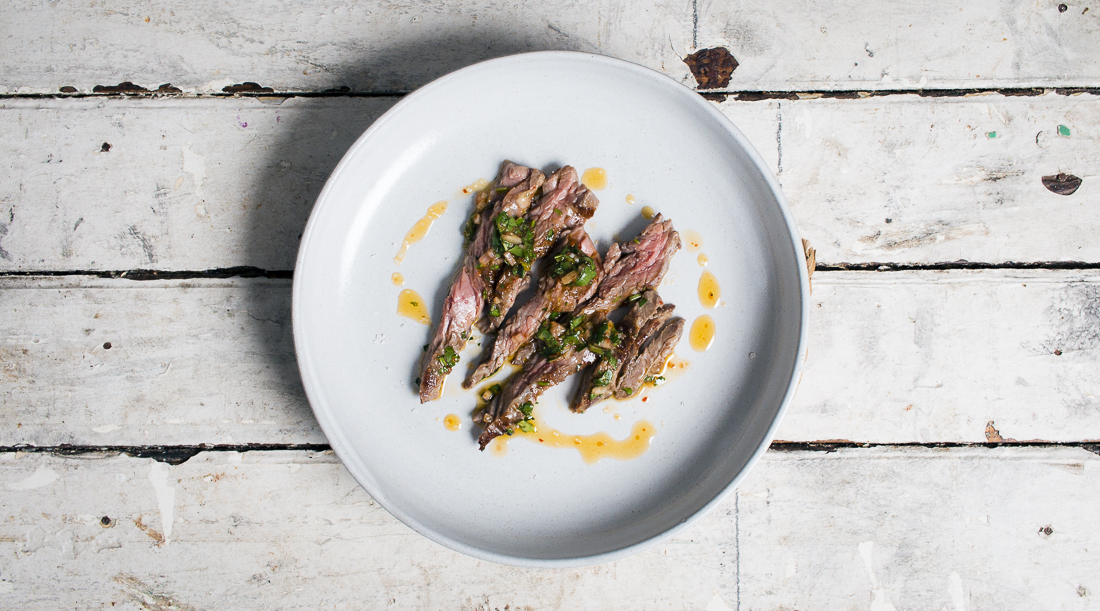 Harissa Chimichurri Skirt Steak
As I was throwing dinner together I realized that this is a damn good recipe. So I shot a few photos before this baby got cold. I cook my steaks sous vide. It's life changing. This skirt steak "cooked" for 6 hours and was fork tender. I'm not joking. I love the fatty and flavor packed tough cuts of beef. Cooking them sous vide allows me to keep the doneness (medium-rare) that I like, but cooks these pieces long enough to break down a lot of that connective tissue that makes them so chewy.  My jaw barely did any work. Imagine a steak taco… you take your first bite and your teeth can't cut through the meat so the whole piece of beef comes sliding out and you're left with a guac filled tortilla. Boooooooooooooooooooo. I was easily able to bite pieces of the strips of steak. No knife required. Life. Changing. It's basically fool proof too. (Que "set it and forget it!")
Oh yea, there's a sick harissa chimichurri sauce. It's basically a spicy chermoula. Seriously, if I had tortillas last night I would have taco-fied this. You should.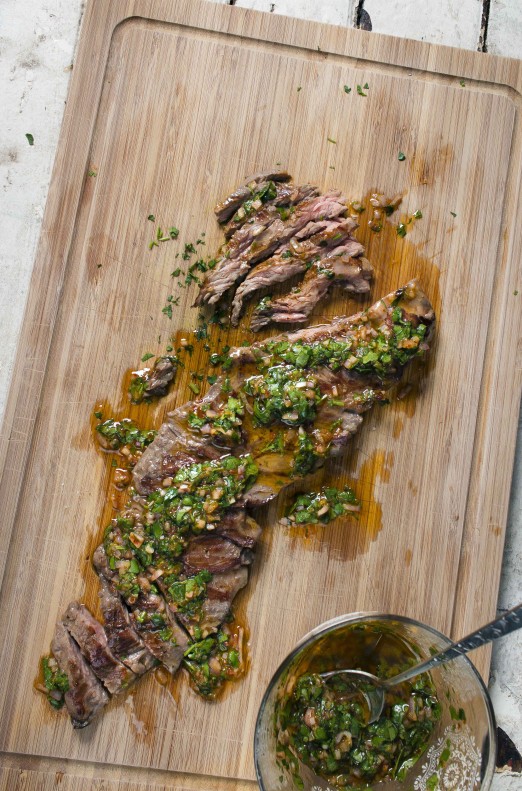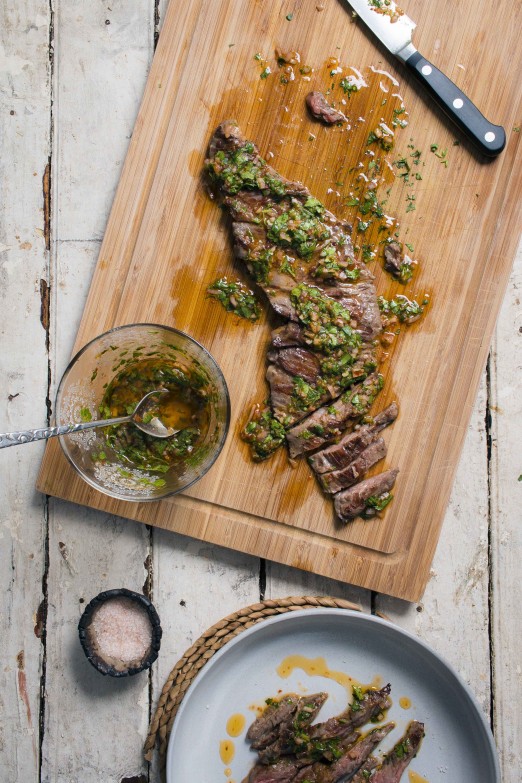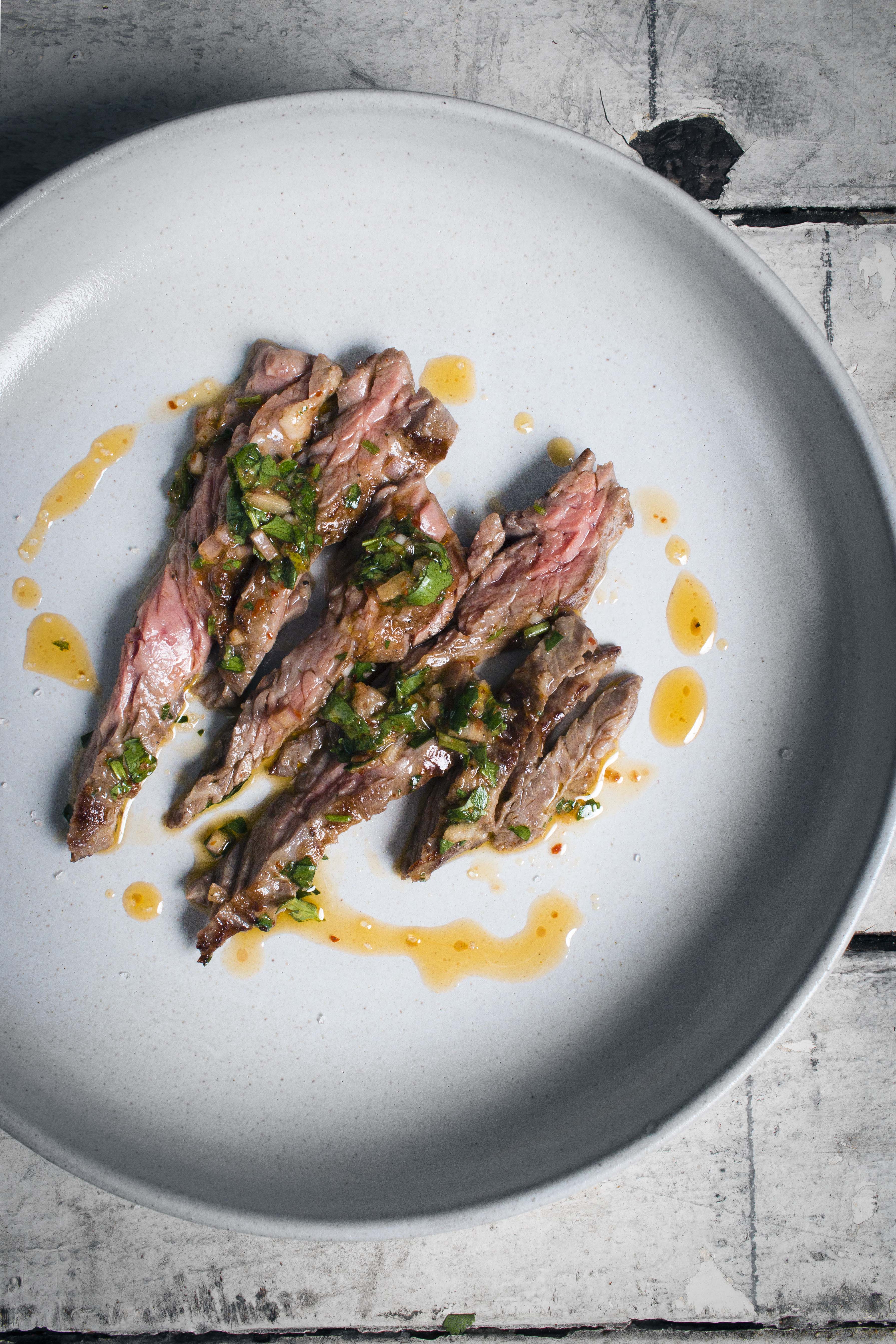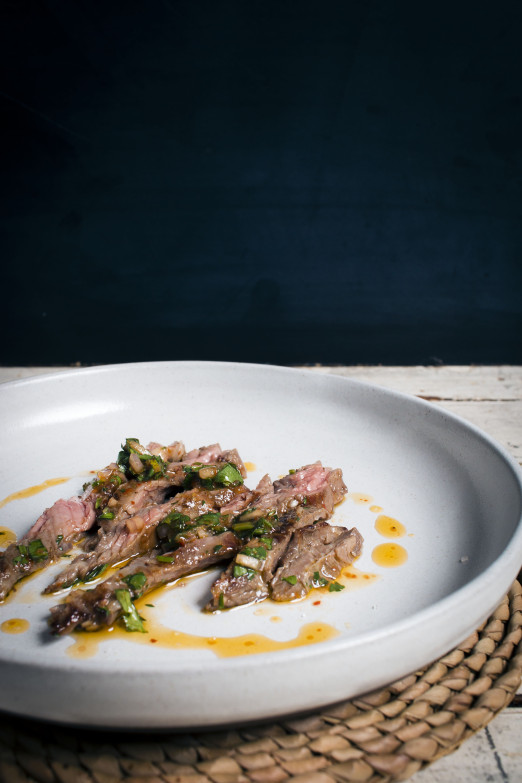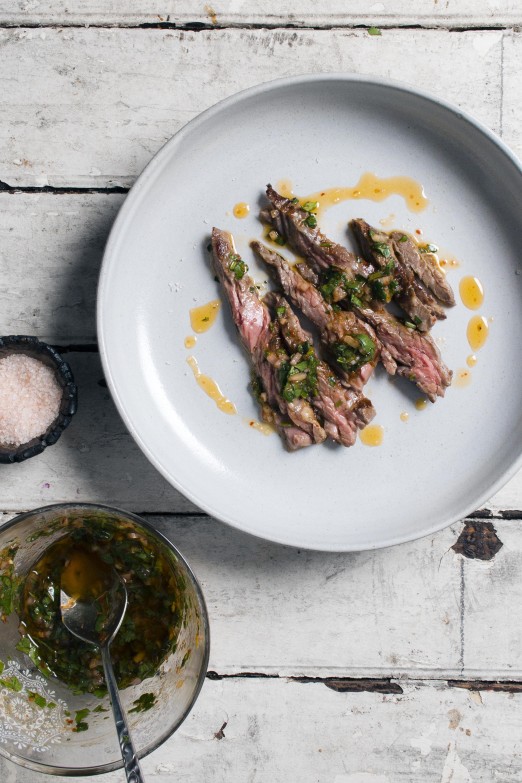 HARISSA CHIMICHURRI ON SKIRT STEAK
MAKES 4 SERVINGS
THE THINGS
FOR THE HARISSA CHIMICHURRI
1/4 cup chopped cilantro
1/4 cup chopped parsley
1 clove garlic, grated
1/2 shallot, minced finely
1 – 2 tbsp harissa
, depends on how spicy you like it
zest from 1/2 lemon
2 1/2 tbsp fresh lemon juice
1/3 cup extra virgin olive oil
1/4 tsp salt
few cracks of fresh black pepper
 
2 lb of skirt or hanger steaks
salt and black pepper
olive oil
THE WAY
Combine all chimichurri ingredients together in a bowl and set aside. Double the harissa chimichurri recipe if you want TONS of churri.
Season the steaks generously with salt and pepper.
SOUS VIDE: Pre-heat water bath to 55˚C (130˚F) Place the seasoned steaks in zip-lock bags (1 per bag) and drizzle a fair amount of olive oil into the bags. Slowly submerge the bags into the water bath to allow the air to escape out the top. Clip the bags to the pot or container. Cook for 5-8 hours. The steaks will be medium-rare. Lightly pink. Remove the steaks and pat dry. Heat a grill or grill pan on high heat until smoking hot. Sear the steaks on each side for 20-30 seconds to get a nice crust but not to cook them any further.
NON SOUS VIDE: Heat a grill or grill pan over medium-high heat. For medium-rare, sear the steaks on each side for 3-4 minutes. Allow the steak to rest for 2 minutes before slicing.
Slice the steaks and cover with lots of harissa chimichurri. Enjoy!