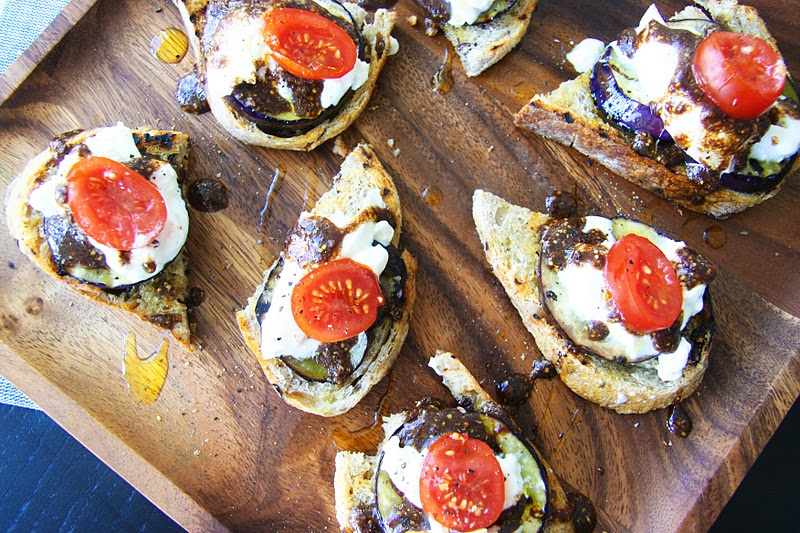 Burrata and Eggplant Crostini
Have you ever had burrata? Imagine shreds of fresh mozzarella soaked in cream and then wrapped in fresh mozzarella. "Heaven" – that's the only word that can be used to describe it.
Burrata seems to be the new fad at wine and tapas bars even though it's been around since the early 1900's. Italians know how to eat. If I were to be reborn, I'd want to be either Italian or Spanish. I'd also end up being about 500 pounds.
It looks just like fresh mozzarella at first glance, but as soon as you cut into it… It's as if you've opened a treasure chest. If I could only live inside a big ball of burrata.
Burrata's a great alternative for a cheese board. If you are able to get your hands on some (fresh, of course), just grab a baguette, some good olive oil, and serve to a group. I'm so tired of the smorgasbord board of cheese.
One of my husband's (it's still weird to say husband) favorite things is eggplant. No matter how I make it, he loves it. I assume it's because he grew up eating his mother's moussaka. I've got to learn how to make that.
In this recipe, I used my grill pan to get those pretty lines. If you haven't put away your grill, then definitely grill them! And if you have neither a grill or a grill pan, then you can just use a regular pan. Either way it tastes amazing.
I could eat bread with burrata, extra-virgin olive oil, balsamic, and some pepper for the rest of my life and be a very happy woman, but since I knew my husband was going to come home from work looking for a snack, I thought that eggplant would be a personal touch.
This olive vinaigrette recipe is also great for salads. I almost always make my own salad dressing – it tastes better and you know exactly how much oil is going into it. You can personalize a dressing easier than looking through the wall of dressings at the grocery store – there are a million of them. Then you buy one, try it, hate it, and it sits in your fridge for all eternity.
Make this for your next party or get together, or snack. It's worth it just to get some burrata. Mmmm.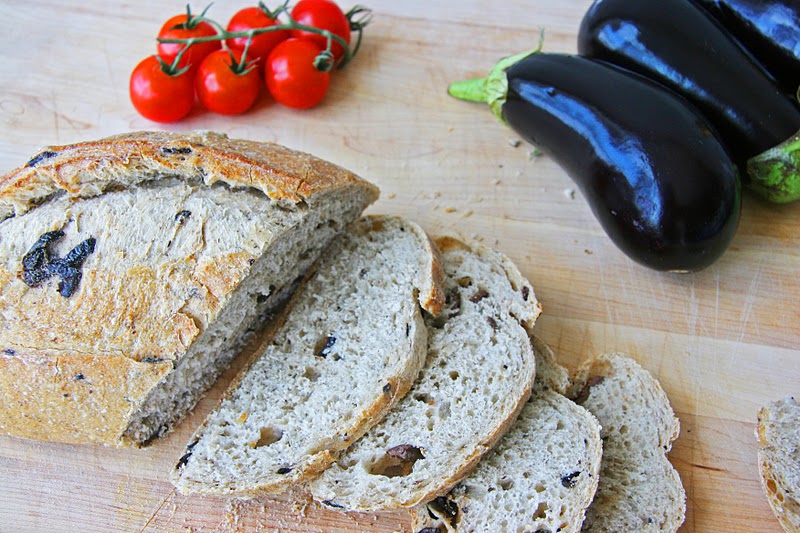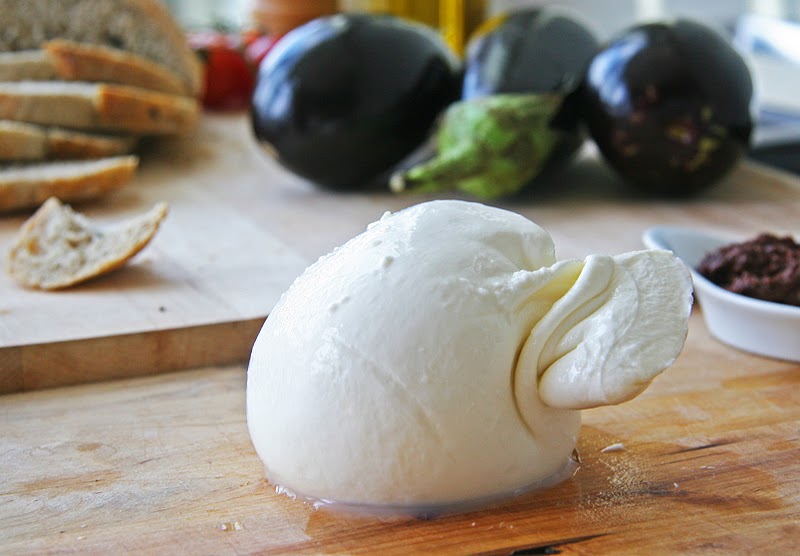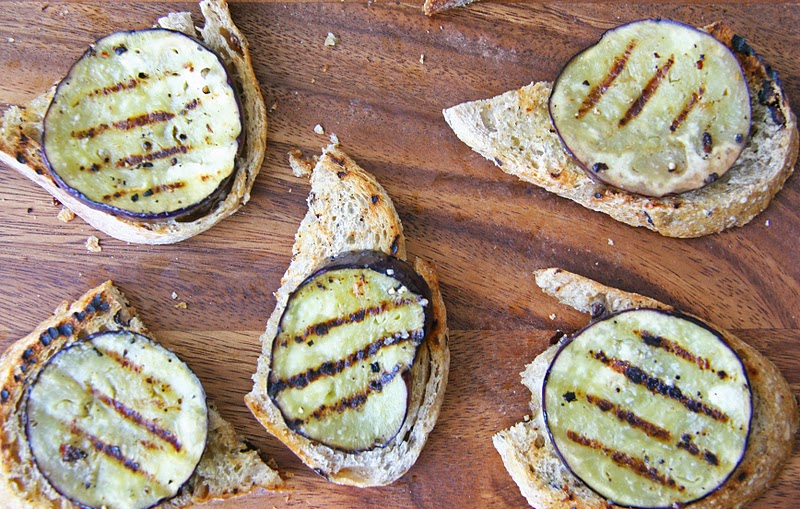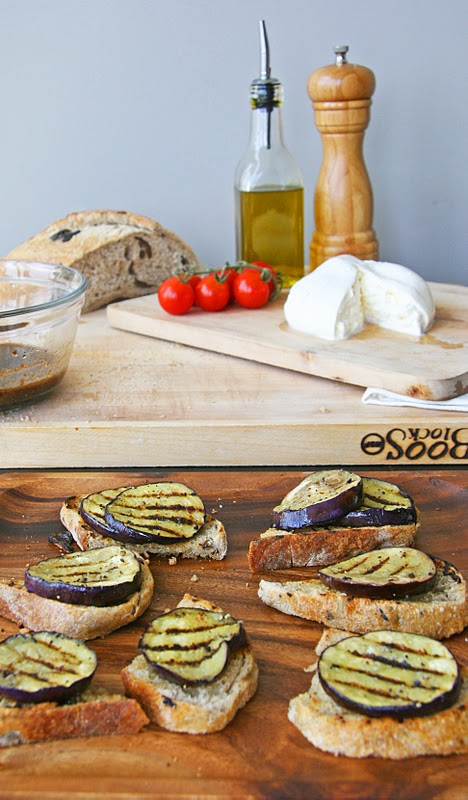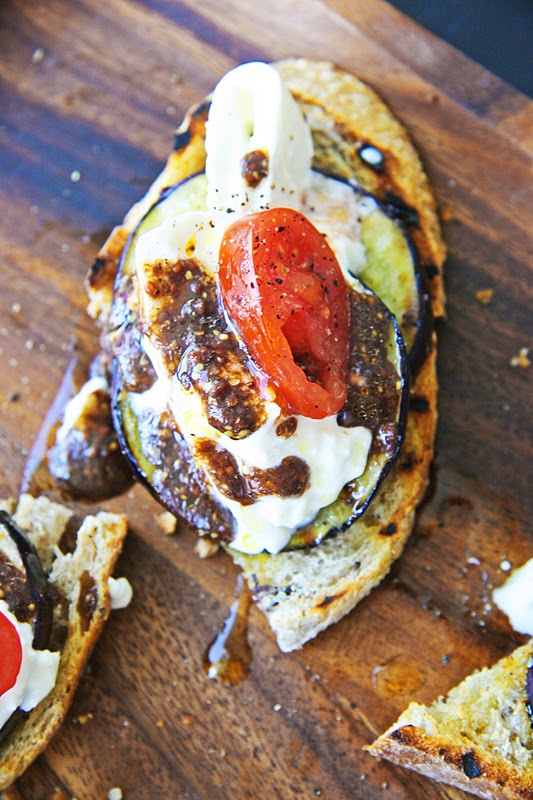 Burrata and Eggplant Crostini
Makes between 16-18 crostini

For the Olive Vinaigrette
2 TBSP grainy mustard
1-2 TBSP tampanade
1/3 cup balsamic vinegar
2/3 cup extra-virgin olive oil
Salt and fresh ground black pepper to taste

Place mustard, tampanade, and vinegar in a small bowl and whisk together until combined. Slowly drizzle in the olive oil while whisking until it emulsifies. Season with salt and pepper to taste. If you have a mason jar you can just put all the ingredients in the jar and shake it till it comes together.

For the Crostini:
1 loaf olive bread, sliced, then cut the larger slices cut in half
3 small or 1 large eggplant, 1/2″ slices
1 container burrata, the fresher the better
7-8 cherry tomatoes, sliced thinly
Extra-virgin olive oil
Salt and fresh ground black pepper

Heat a grill pan on med-high heat. Drizzle the olive oil on the bread and season well with salt and pepper. Grill off each piece of bread on both sides until its golden brown. You can also use the broiler in your oven if you do not care for the grill marks on your bread. Set aside.

Drizzle the eggplant slices with olive oil and season with salt and pepper on both sides. Grill off the eggplant until cooked through. Lay the grilled eggplant on top of each crostini.

Slice the burrata. I know.. it's everywhere. Just use your hands and top each piece of eggplant with some burrata. Drizzle with the vinaigrette generously. Top with a slice of cherry tomato. Season with salt and pepper. If you are like me (or Jamie Oliver), drizzle the whole thing with some more olive oil.

Serve and enjoy. =)