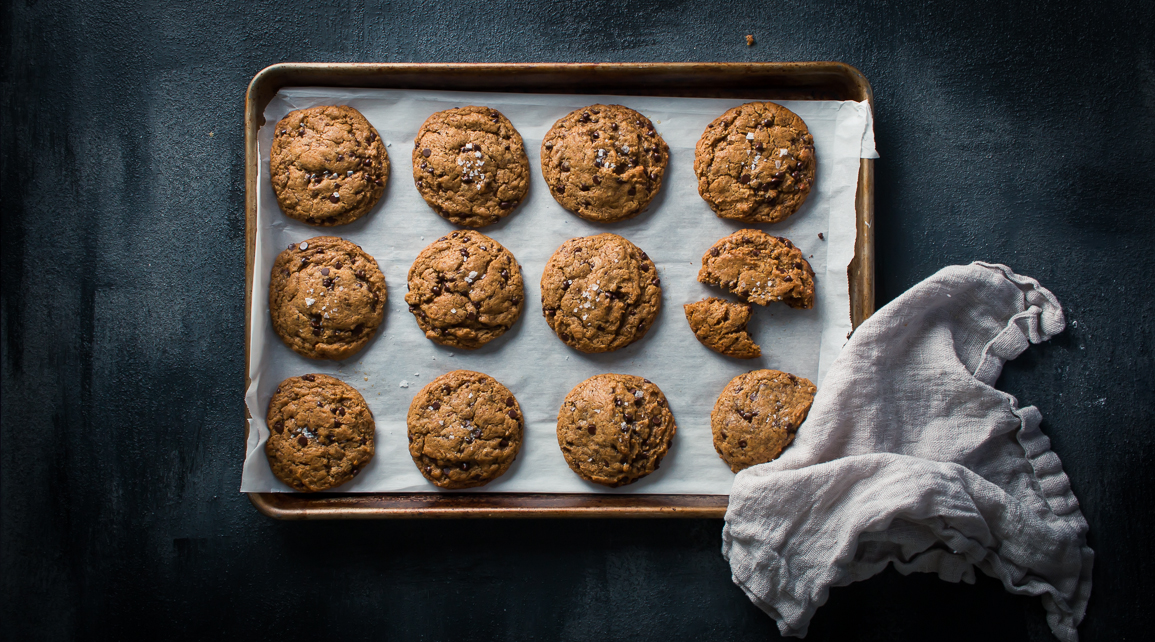 Salted Tahini Chocolate Chip Cookies + Cake in a Crate GIVEAWAY!!!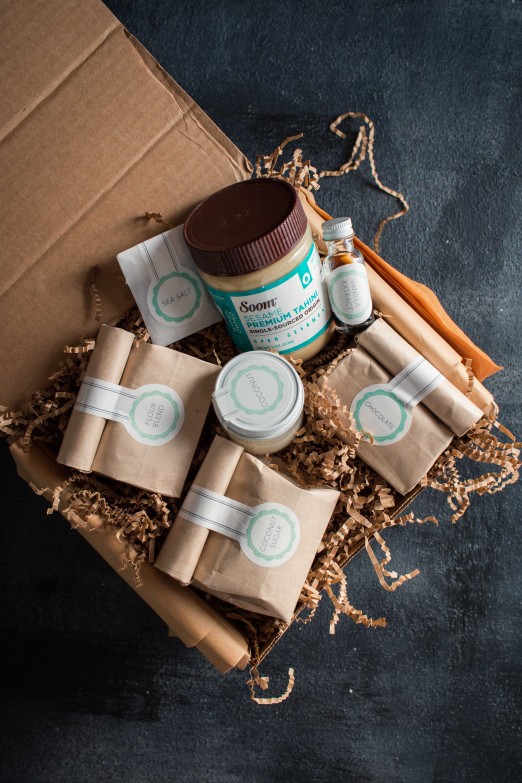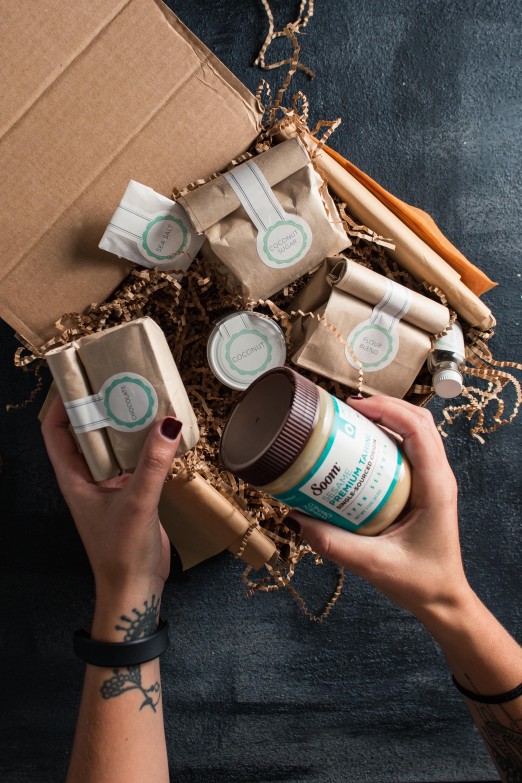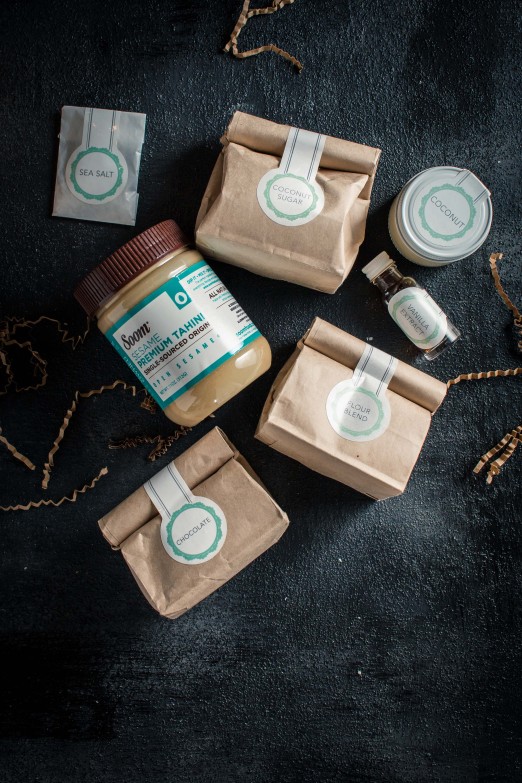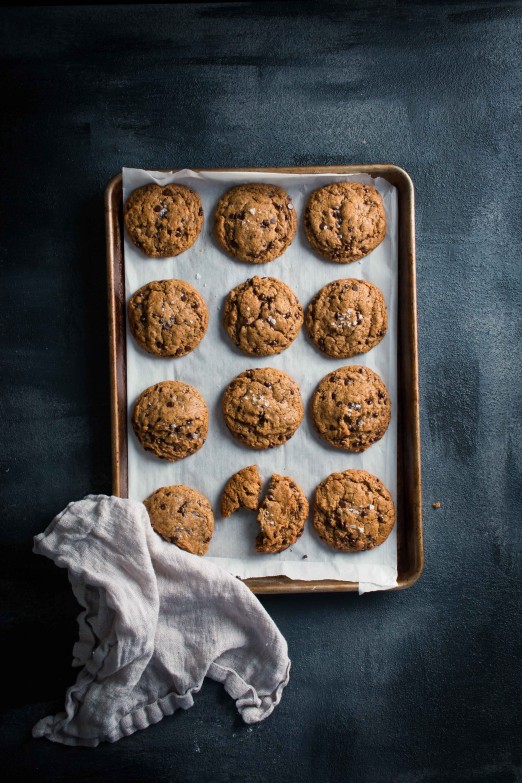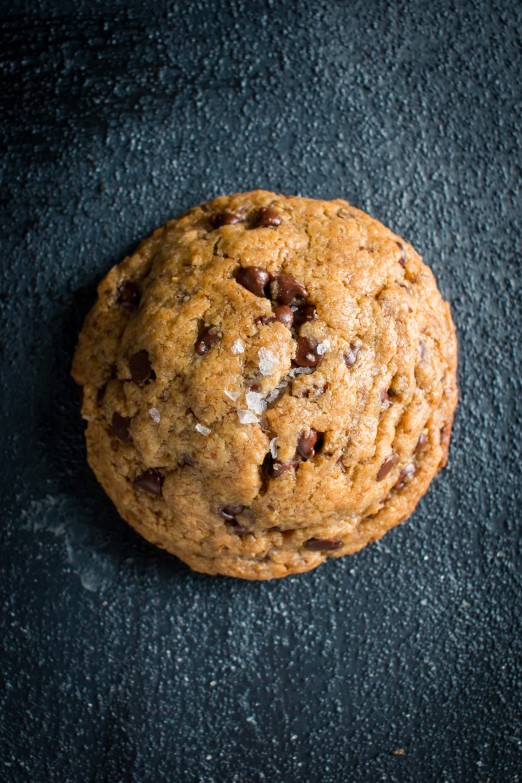 Friends, it's finally here. You can now order a pre-measured kit to make these pillowy, doughy, nutty, Tahini Chocolate Chip Cookies from Cake in a Crate! Life is damn good. Wait for it… they are gluten free, refined sugar free, and vegan. Mind. Just. Blown. Now, trust me when i say, you'd have noooooooo idea that that was the case. I tested this theory on some friends. They were clueless. If you know me, you would know that I owned a milk & cookie shop in Toronto called Moo Milk Bar. So I pride myself in knowing my cookies (tooting my own horn). This cookie is da bomb. Yes, I just used a phrase from the early nineties*.
You absolutely cannot mess this up since everything is measured for you. This is one of the easiest recipes for cookies too – mix the wet ingredients, mix the dry ingredients, then mix them together. Fool proof. I even gave this kit to my dog to make and the cookies turned out incredibly well**.  Cake in a Crate only works with the best quality of ingredients. This was a three way partnership between myself, Cake in a Crate, and Soom which makes insanely good tahini. Loved working with these guys!!!!
I know it's a teeeeensy bit early to mention this but this kit is awesome as a gift for the holidays. Cookies = holidays = duhhhhhhhhhhhhh. Company gift exchange for $25 and under? BOOM. No one would be upset with this one.
This recipe will yield a soft, chewy cookie with a ton of chocolate chips. Using tahini and mashed banana will keep them incredibly soft without the use of any butter. Soom makes an unbelievable tahini for these cookies using only single-sourced Ethiopian White Humera sesame seeds. Freezing the scooped cookie dough will help them keep their shape. You can even transfer the frozen dough balls to a zip-top bag and bake them off one at a time for a midnight treat! Adding the pinch of Maldon salt enhances all the flavors and makes them look super fancy too.
* The 90's are coming back. I've seen so many of those wavy plastic black chocker things.
** I don't have a dog nor would I let it make cookies. But imagine…
ALSO DOING A GIVEAWAY!! ENTER TO WIN A FREE KIT!! The form is down below at the end of the post! DON'T BE SHY! YOU HAVE NOTHING TO LOSE AND ALL YOUR TAHINI COOKIE DREAMS TO GAIN!! The contest will close on October 23rd at 10 PM!!!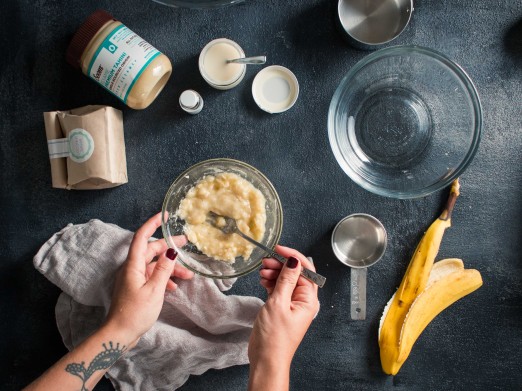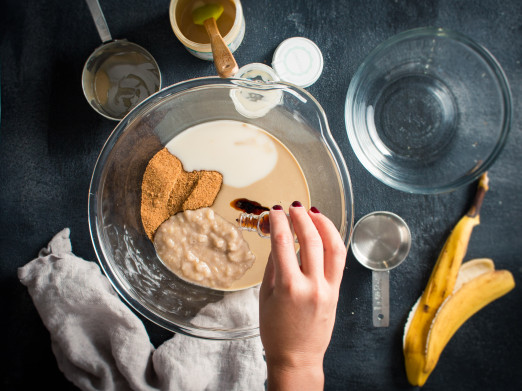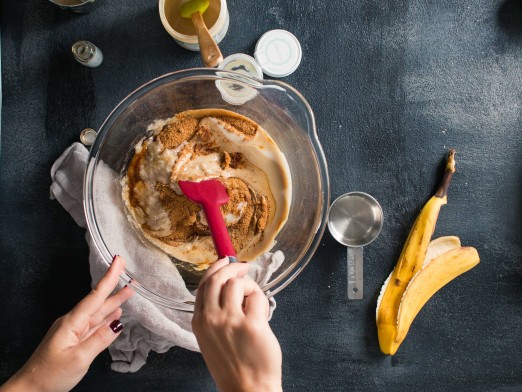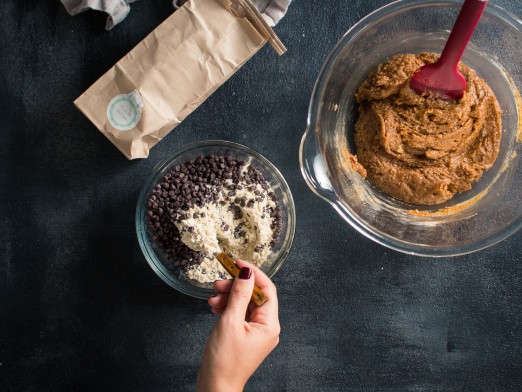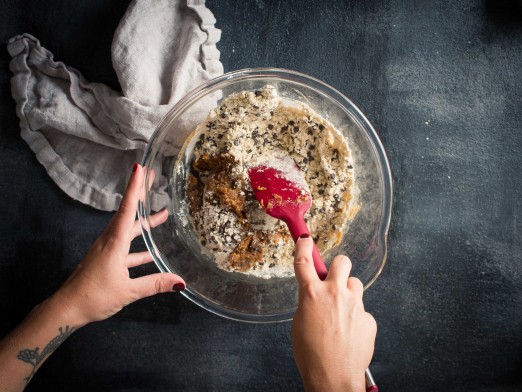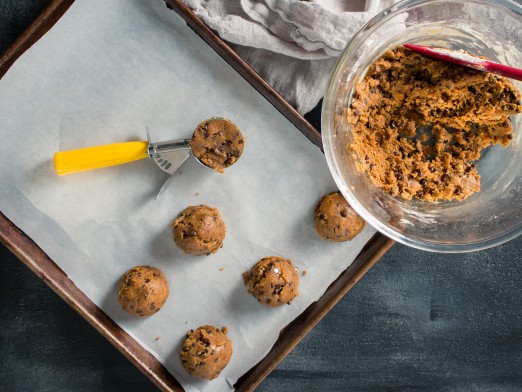 In personal news:
I'm on a great cookbook shopping kick. I picked up two really funny cookbooks which I find pretty refreshing. PornBurger is a cookbook about exactly what you would expect. There are so many puns in this book (eg Harrisa Tomei burger…. lol). Another super funny cookbook: A Super Upsetting Cookbook About Sandwiches. The little inserts and comments from the publisher are hysterical. I really love it. Haven't cooked anything yet but will keep you updated.
My poor plant garden has been taken over with weeds. It happened so fast, like when Maleficent grew those crazy thorny bushes to stop Prince Phillip from getting to Aurora in Sleeping Beauty. Ugh, I love the way the horse's gallop sounds. My tomato plant has totally fallen over but continues to grow tomatoes in a last effort for my attention. A cry for help. I don't think I have it in me. Until next spring!