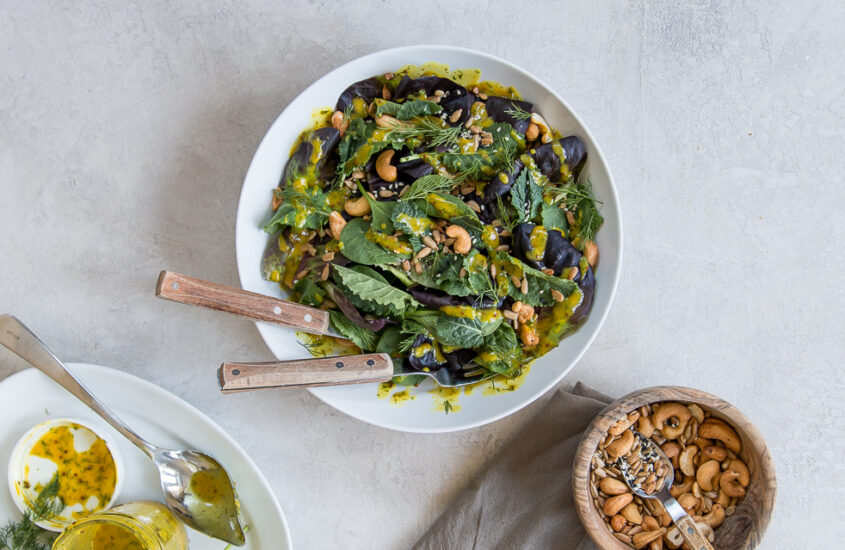 Ok, but seriously. This is actually the best side salad ever. Crunchy, tangy, spiced, balanced… literally the last salad dressing recipe you'll ever need. Elevate that side salad.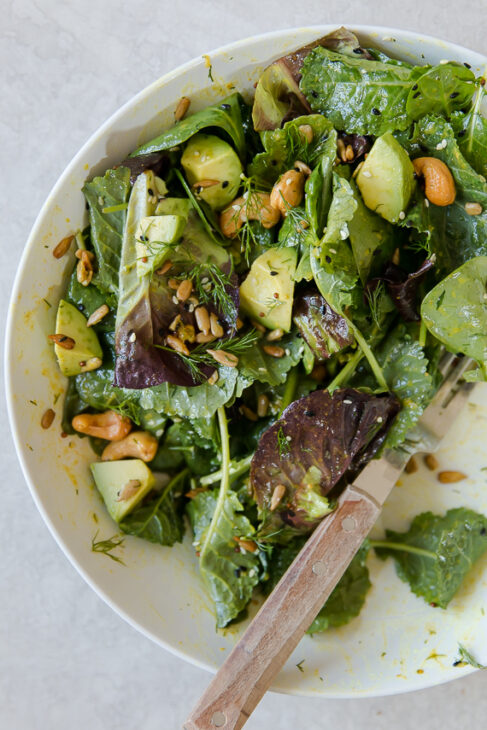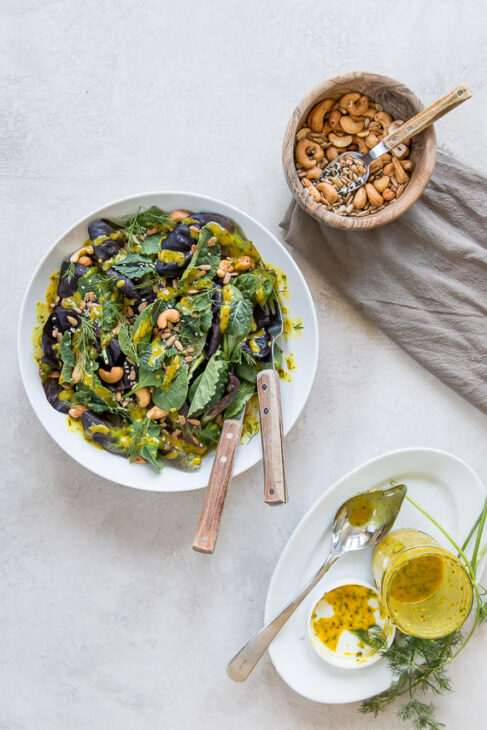 I hate to admit this but I've become increasingly lazy with my salads lately. I am either grabbing handfuls of greens and throwing some oil and vinegar on there or I'm buying those "just assemble" type bagged salads.
This salad was inspired by a night that I just did not want at all to eat the same old salad again. I made what I like to call "the last salad dressing recipe you'll ever need". It's perfectly balanced with a little curry powder kick, a sharp tang from both lemon juice and apple cider vinegar, and maple syrup rounds out the flavors. Not to mention 2 kinds of mustards and TONS of dill. I know it sounds (and looks) like a lot of ingredients, but this dressing really comes together fast. It will take you longer to read through the recipe than it will to actually make it.
I was struggling to find a name for this recipe. I came up with things like, "Super Side Salad", "The Side Chick that's better than the Main", "Curry Crunch Avocado Salad", "THE dressing", "'What should we bring?' Salad"… I have more but I will spare you.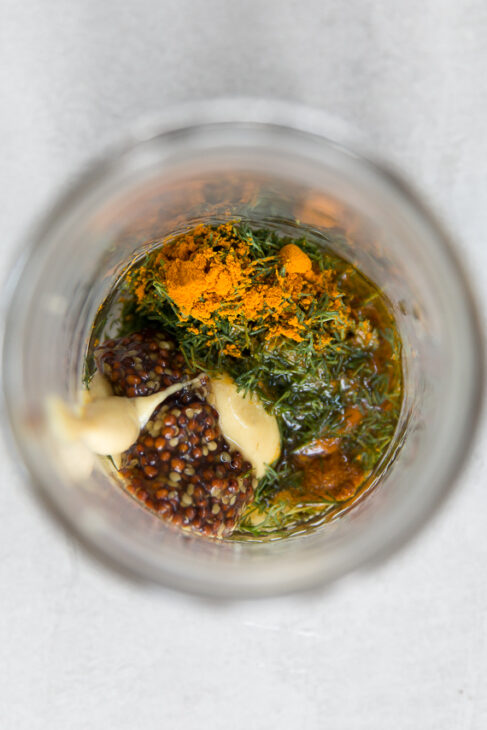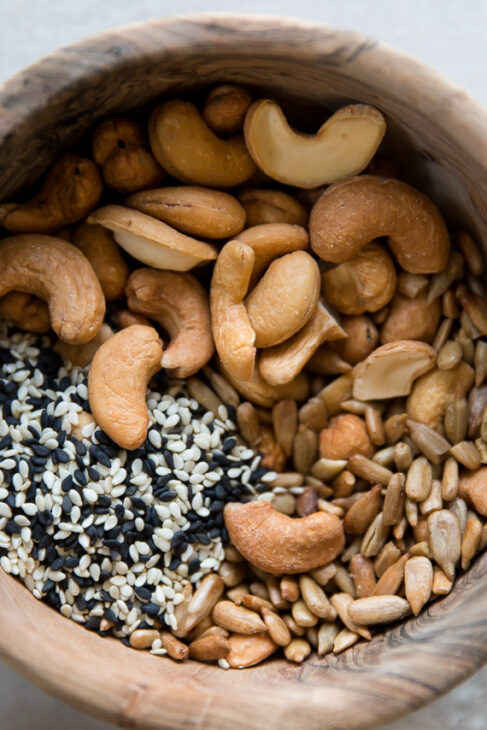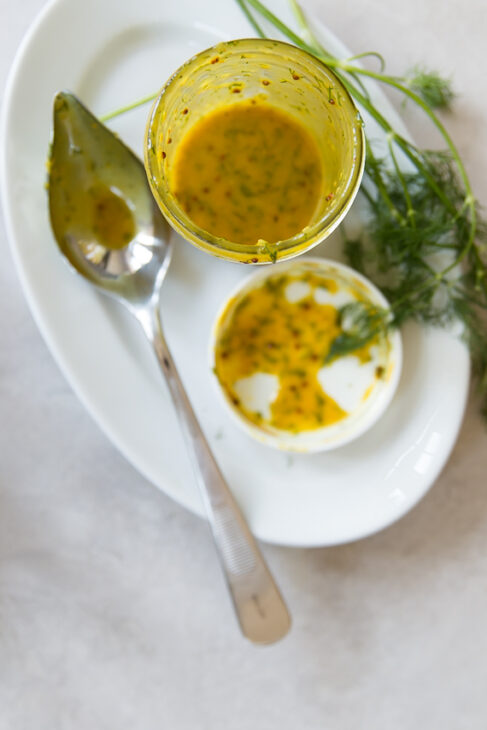 About THE dressing ingredients:
Grated Garlic: Please, please, please, be sure to use a microplane to grate your garlic. The last thing we want is to bite into a small garlic piece here. When you grate it with a microplane it just melts right into the dressing. If you have older garlic, you can use 1/2 clove since it will be sharper and spicier.
Olive oil & Grapeseed oil: I use 2 kinds of oil here because I like the flavor of olive oil but don't want it to overpower the dressing. Adding a bit of a neutral oil helps bring the dressing together without too much of that EVOO flavor.
Lemon Juice & Apple Cider Vinegar: Say it with me now, "two acids are better than one." I just always have lemons on hand and have a crazy collection of vinegars I rarely use. You can substitute AC Vinegar with some white balsamic or even red wine vinegar.
Dill: Super important here. It brings a freshness to the dressing. I also just really, really love dill.
Dijon & Grainy Mustard: There is no salad dressing I make without mustard. The dijon helps emulsify the dressing and keeps it from separating. The grainy mustards will give you those little pops of vinegary mustard seeds. Both super necessary.
Maple Syrup: This helps balance the flavors. You can also use agave but I find the flavor of the maple comes through nicely.
Curry Powder & Turmeric: These are your show stoppers. These two ingredients elevate your dressing from "everyday salad dressing" to "POW that's good". A little bit goes a long way. And if you don't already know, I have an obsession with Curry Powder.
White Pepper: I like using white pepper instead of black when making salad dressings because it's not as in your face. It has an acidic almost sour flavor that I love. If you don't have any on hand, you can totally use black pepper or just leave it out all together but this is THE thing you probably didn't know you've always needed.
About the crunch element:
I am using a combination of cashews, sunflower seeds, and black & white sesame seeds. They are all roasted and unsalted. Please use what you have! The winning combo is having both large, medium, and small crunchy bits. Any nuts and seeds you have will do; pumpkin seeds, pine nuts, nigella seeds, peanuts, slivered almonds, pistachios… anything goes really.
About the salad ingredients:
Leafy Greens: I usually will have a bag of either baby kale or a spring mix around. Just use what you got. I wouldn't even be upset if you used romaine, or dare I say it… iceberg.
Avocado: I took a survey on Instagram and asked if avocado is a must or not totally necessary. 67% of you answered that it has to be there for your bowl of greens to be named a "salad". Here's the thing… if you have the perfectly stiffer ripe avocado then I urge you to use it. But if that avocado is borderline mush, please just make guacamole. I can't stand seeing a gunky avocado mess in my salad. It just sticks to everything and to itself. Perfect avocados only. (You can just tell me I'm crazy because a perfect avocado has a lifespan of about 27 seconds and you want your salad NOW with avocado.)
Dill: The extra addition of dill to top the salad gives a fresh herby-ness that I love. You can also throw in some soft cilantro leaves.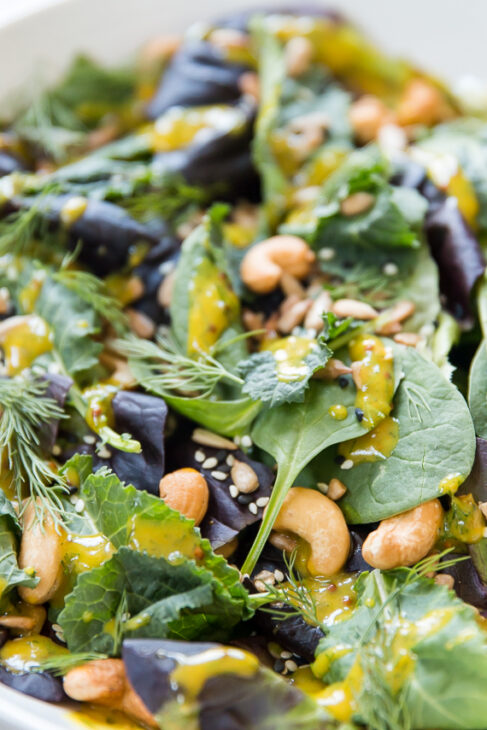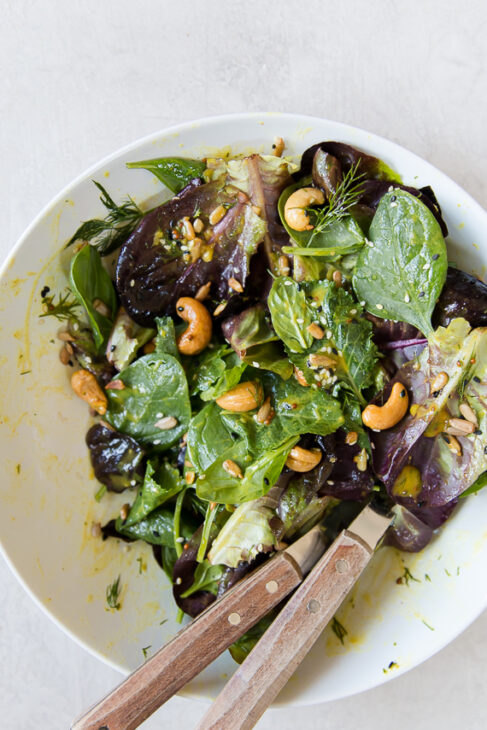 Think about some add-ins to make your side chick a main dish.
Add protein: Chicken, shrimp, steak, tofu, or salmon. Anything goes really.
Add cherry tomatoes: Slice them in half and toss them in!
Add Paneer: Sear or pan fry Paneer and add it on top.
Put an egg on it: The answer to all questions.
Try these other salad recipes too!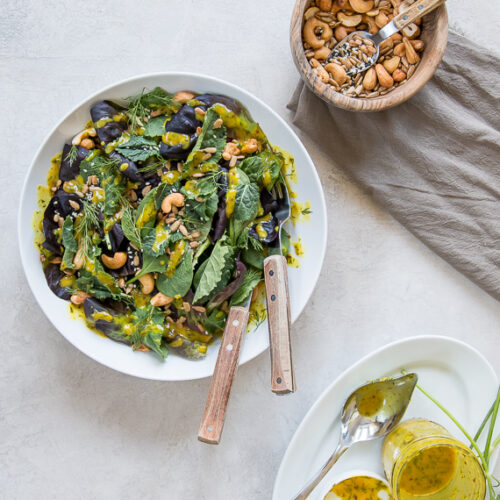 The Best Side Salad Ever
Actually the best side salad you will ever make. It's crunchy, tangy, full of flavor, and can be made ahead. Bring this to the next dinner party you join!
Print
Pin
Ingredients
THE Dressing
1

clove

garlic

grated on microplane

2

tbsp

extra virgin olive oil

1

tbsp

grapeseed oil

or other neutral flavored oil

1

tbsp

freshly chopped dill

1

tbsp

lemon juice

1 1/2

tsp

maple syrup

1

tsp

dijon mustard

1

tsp

grainy mustard

1/2

tsp

apple cider vinegar

1/4

tsp

curry powder

1/4

tsp

turmeric

1

pinch

white pepper

if you don't have it on hand, just use black pepper

Kosher salt
Crunch Mix
2/3

cup

roasted, unsalted cashews

1/3

cup

roasted, unsalted sunflower seeds

1 1/2

tbsp

sesame seeds

I used a combination of white and black, feel free to use what you have on hand. Roasted seeds are good too.
Salad Parts
5

oz

soft leafy greens

I used a mix of baby red butter lettuce, baby kale, and baby spinach

1

avocado

cut into cubes or slices

fresh dill

kosher salt
Instructions
For THE Dressing
Combine all of the ingredients in a mason jar and shake until homogenous. You can also whisk them together vigorously in a bowl if you don't have a jar on hand.
For the Crunch Mix
Combine all nuts and seeds in a small bowl and try not to just eat it.
Salad
Toss the greens, crunch mix, a pinch of salt, and as much salad dressing as you'd like in a large bowl.

Top with avocado and fresh dill and enjoy.
Notes
Dressing will keep in the fridge for a few days! Maybe even a week but it hasn't lasted that long in my fridge.
Use whatever nuts and seeds you have at home. I always prefer unsalted so that the finished salad isn't overly salted.