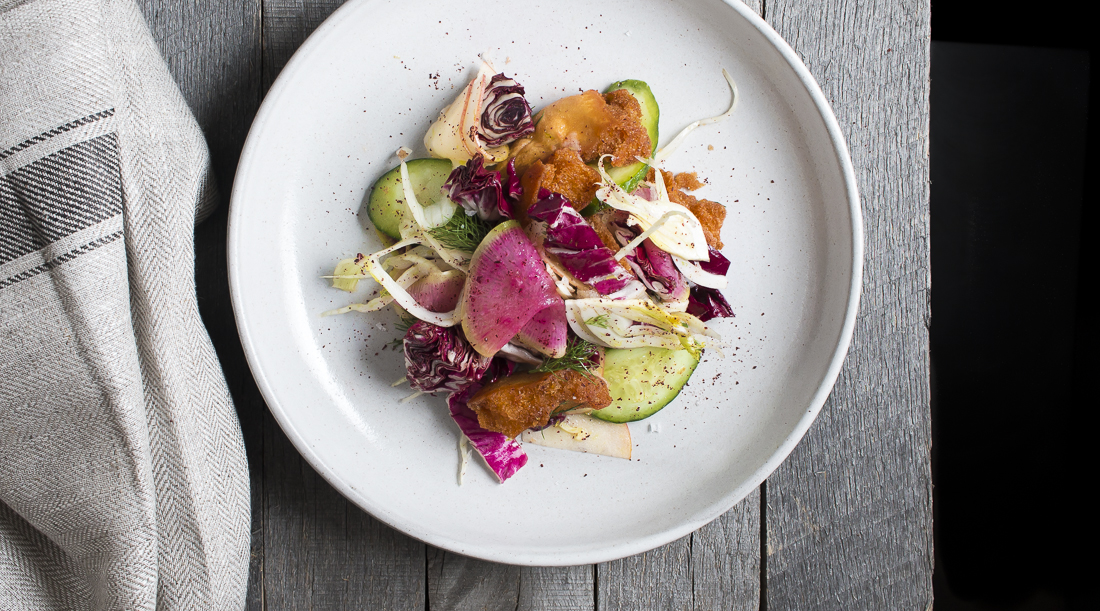 I taught my first cooking class!! Cook's Warehouse in East Cobb, Atlanta hosted me for my first Modern Israeli Cooking
Cookbook class. I had a great time and everyone there did too. It may have taken them a bit of time to understand my strange humor and general awkwardness, but after everyone got me they thought I was hilarious. How's that for tootin' my own horn. It was a great experience. Would totally do it again.
I also started a veggie/herb garden this week! I got a few wood crates, filled them with some organic composted soil from our local farmer's shop and stuck some herbs and sorrel into it! I'm totally a farmer now. I'm testing myself. Need to see if my thumb will turn from red to green before building a raised garden bed. Tas and I failed miserably while trying to plant some stuff straight into this Atlanta soil. Which is more clay than anything else. Urban farming! Yea!! Hope my neighbors don't mind that this is all happening in our front yard.
End of the season salad. Getting my fill of all those bitter fall/winter veggies to make room for what's coming in Spring. I'm calling this a fattoush because I've thrown in some fried pita and sumac
. It's nothing close to a traditional fattoush salad. My mom already gave me the business when I told her there were not tomatoes in this salad. It's very lightly dressed with a honey, lemon juice and olive oil. The honey takes the edge off the fennel, radicchio, and watermelon radish.  The apple helps add a bit of sweetness too. You don't have to fry the pita. You can also bake it… if you must. The key with a salad like this is how you cut the veggies. It's so important that you slice them thin. This allows all of the hard vegetables to soften and take in all the delicious dressing. Get yourself a mandoline
please. And watch your fingers!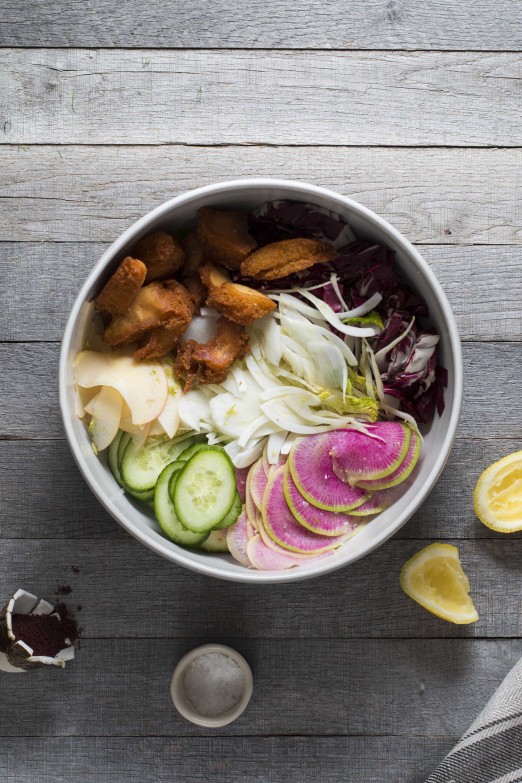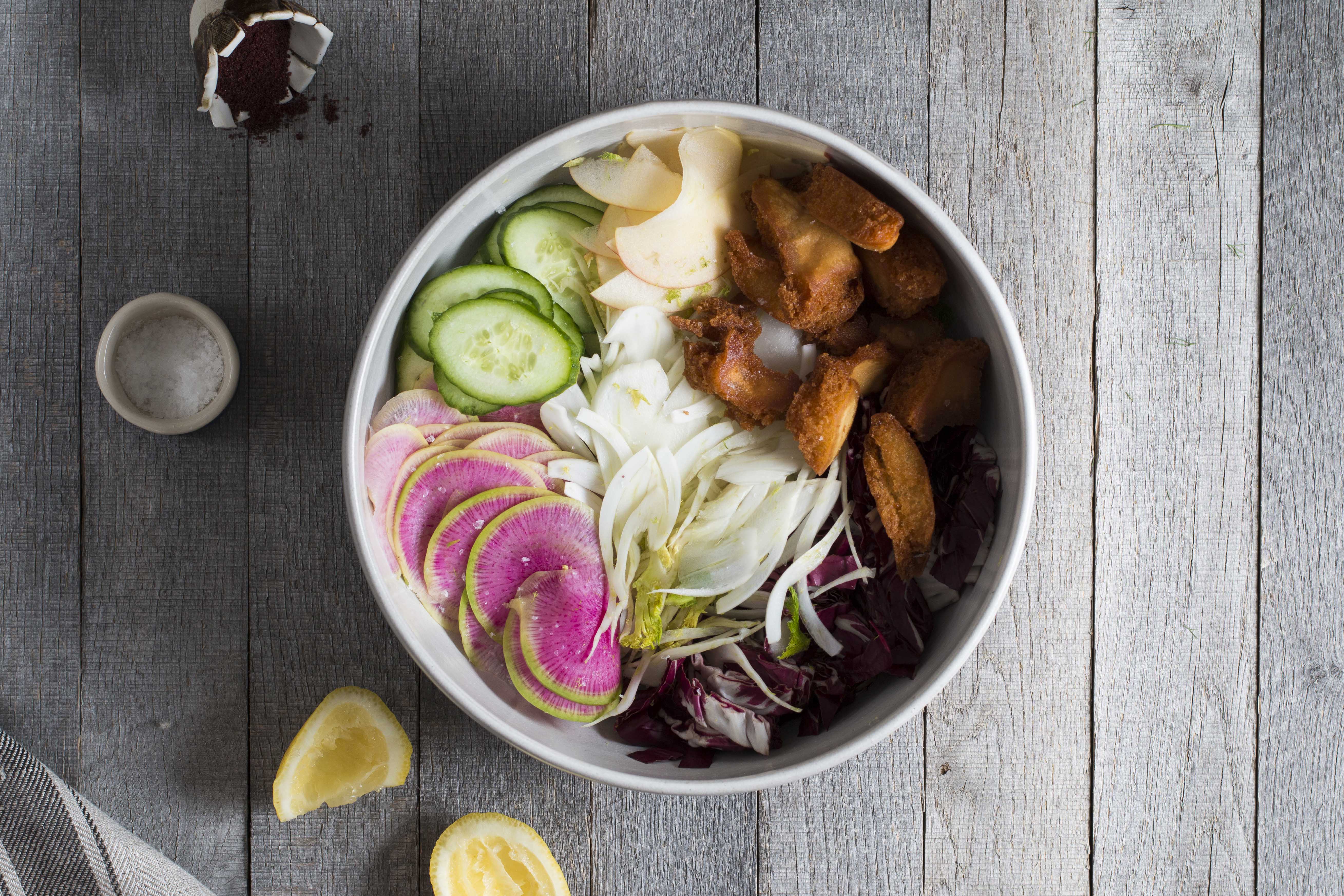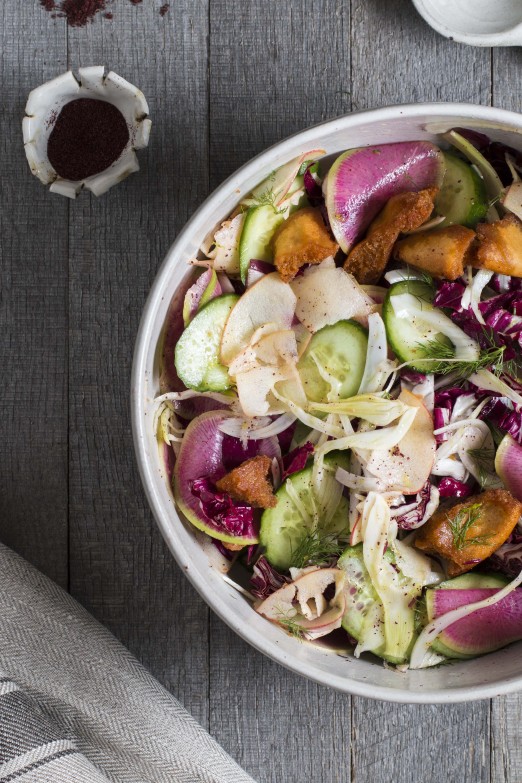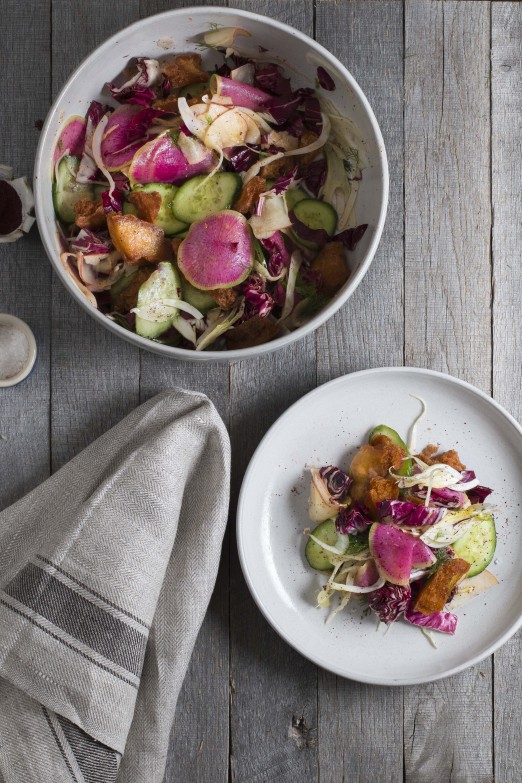 FENNEL & RADISH FATTOUSH
MAKES 4 SERVINGS
THE THINGS
DRESSING
1 ½ tbsp fresh lemon juice
2 tsp honey
2 ½ tbsp olive oil
¼ tsp salt
PITA CHIPS
1 fluffy Israeli Pita, torn into 1" pieces
oil for frying or olive oil for baking
salt
FATTOUSH
1 small fennel bulb, sliced thinly
½ head radicchio, chopped finely
1 watermelon radish, sliced thinly, regular radish is fine too
1 kibry or Persian cucumber sliced thinly
½ gala or honey crisp apple, sliced thinly
1 tsp sumac
Maldon salt
fennel fronds for garnish

THE WAY
DRESSING
Whisk all the ingredients together in a small bowl and set aside.
PITA CHIPS
FOR FRYING: Pre-heat your frying oil to 375˚F. Fry pita chips for 1 ½ – 2 minutes until golden brown and crispy. Remove from the oil and toss with a sprinkle of salt.
FOR BAKING: Pre-heat your oven to 400˚F and line a sheet pan with tin foil. Toss the torn pita with a generous amount of olive oil and a healthy sprinkle of salt. Spread the pieces onto the sheet pan in one even layer and toast in the oven for 10 minutes until golden brown and crispy.
FATTOUSH
Toss the fennel, radicchio, radish, cucumber, apple, sumac, pita chips, and dressing together in a large bowl right before serving.
Season with a touch of Maldon salt and garnish with some of the fennel fronds. Enjoy!