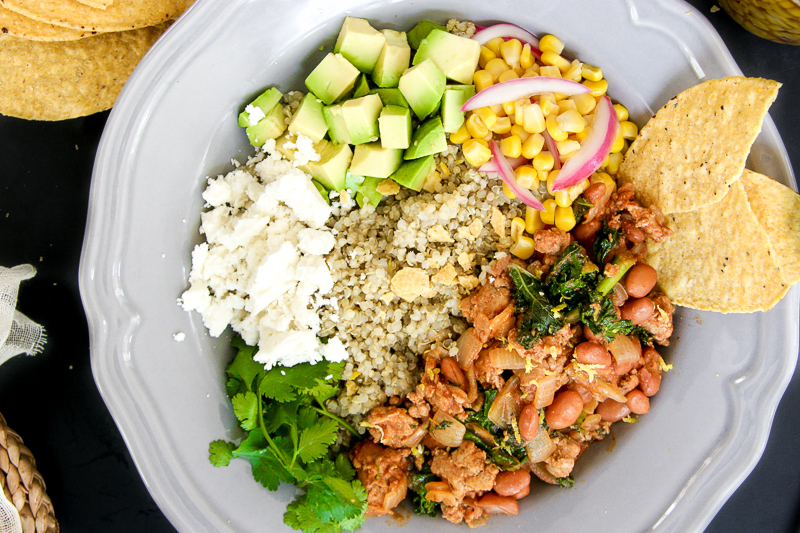 Mexican Turkey & Bean Quinoa Bowl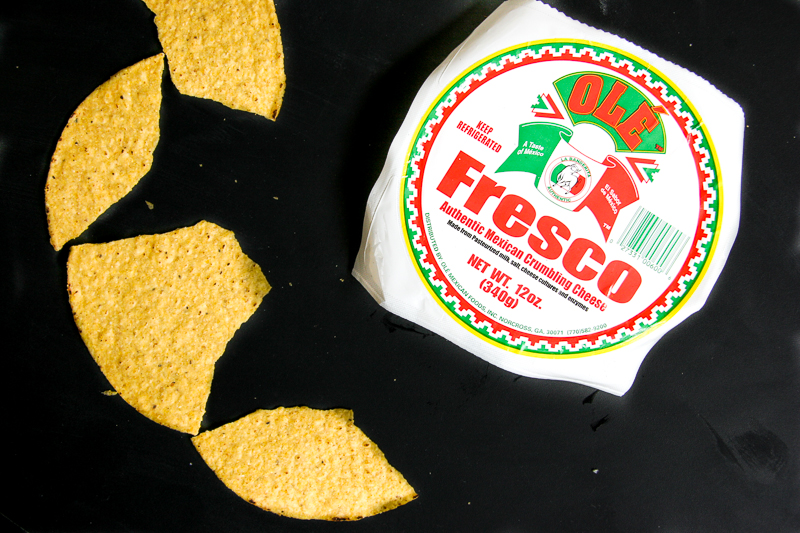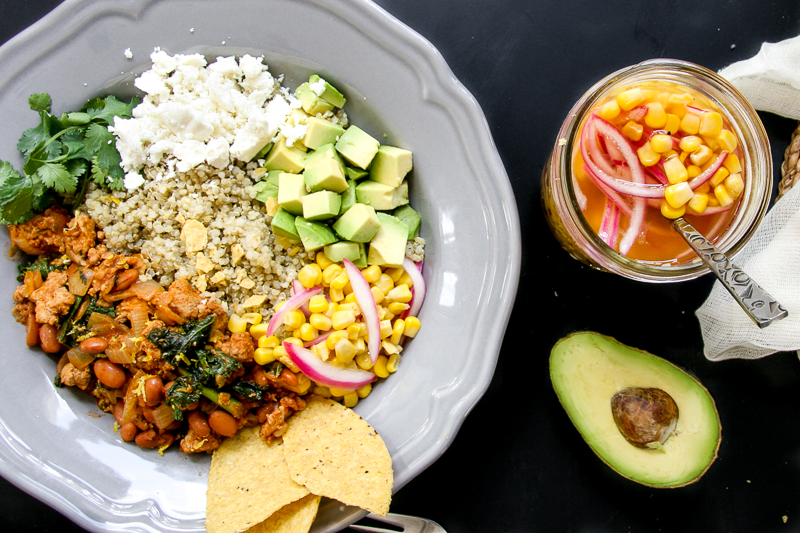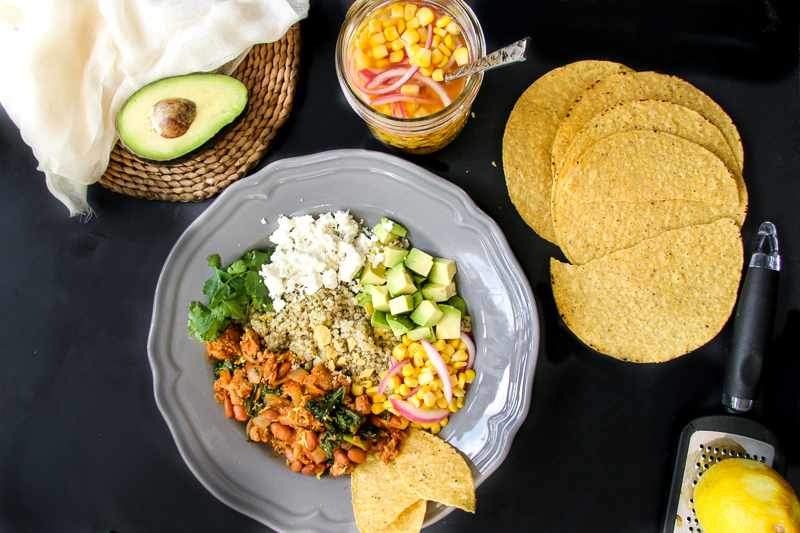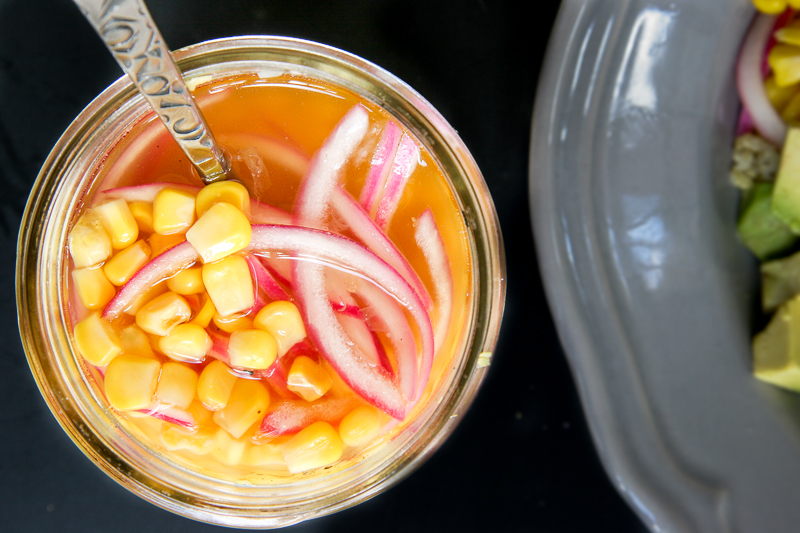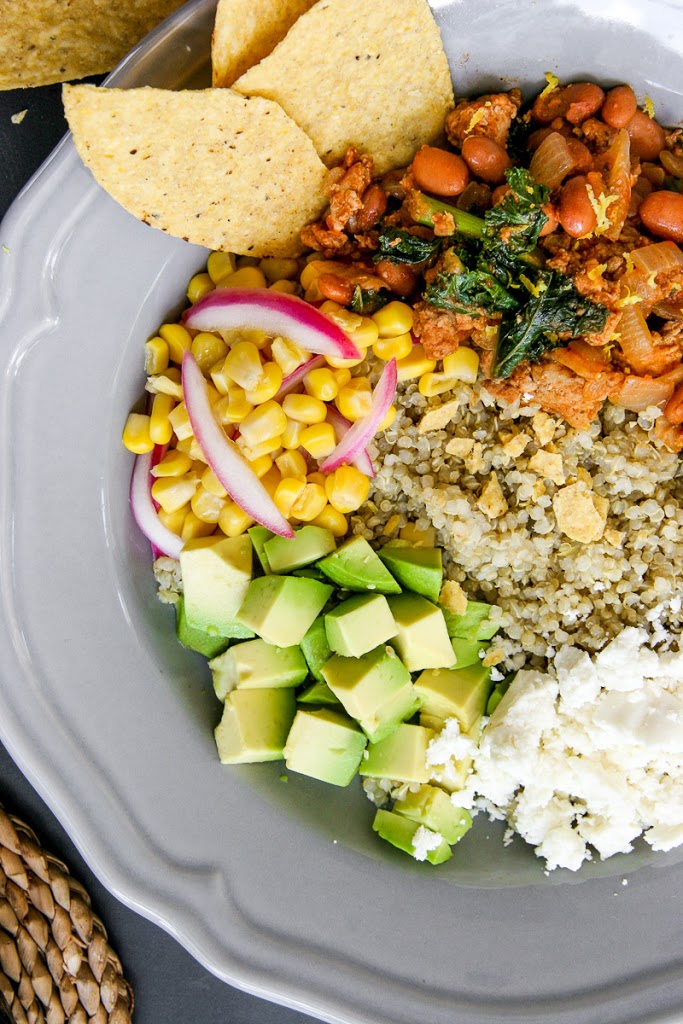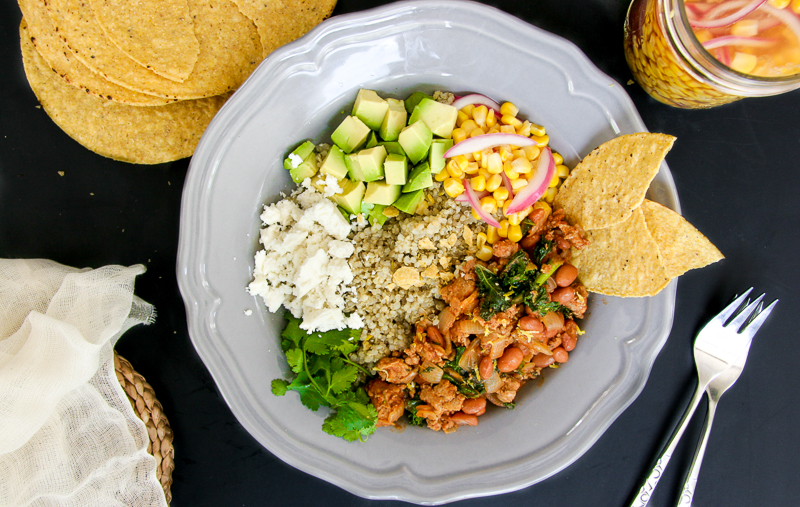 Mexican Turkey & Bean Quinoa Bowl
with quick pickled corn & onions
makes 4 bowls
For the Quick Pickled Corn & Onion:
1 can (8.5 oz) whole kernel corn
1/4 bulb red onion, sliced thinly
1 cup apple cider vinegar
1 Tbsp sugar
1 tsp kosher salt
1/2 tsp pepper
For the Turkey & Beans:
1 Tbsp olive oil
1 yellow onion, chopped
3 cloves garlic, minced
1 lb ground lean turkey
1 1/2 Tbsp paprika
1 1/2 tsp cumin
1/2 tsp dried coriander
1 Tbsp tomato paste
1 1/2 tsp salt
1 tsp pepper
dash cayenne (more if you want it spicy)
1 can (15 oz) pinto beans, drained
1/2 – 3/4 cup chicken stock
2-3 handfuls kale, ribs removed and chopped
handful (1/4 cup) cilantro, chopped
lemon zest (1/2 lemon)
splash lemon juice
For the bowls:
4 cups COOKED quinoa, follow instructions on packaging – cook in stock instead of water
1 avocado, cubed
1 cup queso fresco, crumbled
4 tostados
cilantro, garnish
For the quick pickled corn & red onion:
In a small sauce pot, bring vinegar, sugar, and salt to a boil. Fill a mason jar with the corn and red onions. You can just do this in a bowl if you don't have mason jars. Get some mason jars. When the mixture comes to a boil, pour over the corn/onions. Season with pepper and top up with a tablespoon or so of water. Let sit for 20 minutes minimum. If it lasts, this will be great in the fridge for up to 5 days.
For the turkey & beans:
In a large pan or skillet with lid, heat olive oil over medium-high heat. Add the onions and cook until translucent. About 4-5 minutes. Add the garlic then crumble the ground turkey into pan. Break it up with a wooden spoon or spatula so that it doesn't cook into large chunks.
Add the spices, salt, pepper, and tomato paste. Mix until the turkey mixture is covered and turns a beautiful deep red color. Cook for 2 minutes while mixing to release the oils in the spices. Add the beans and continue to cook for another 3 minutes.
Add the stock. Cover and turn the heat down to low. Let it simmer for 4-5 minutes until the stock reduces by half and becomes thicker. Add the kale, mix, cover, and cook until the kale is wilted. about 2 minutes. Add a splash of stock if you see that the liquid has reduced too much or if the mixture looks dry.
Turn the heat off. Add cilantro, lemon zest, and lemon juice. Mix, taste, and adjust seasoning.
Constructing the bowls: Place a cup of quinoa into each bowl. Top with the turkey/bean mixture, pickled corn and onions, crumbled queso fresco, avocado, broken tostados, and cilantro.
Enjoy.
DANI'S NOTES:
Those pickles though. Wowweeeeeee. Put it on everything. From hot dogs to salads. I constantly have a jar of it in the fridge. It also takes zero effort.
My ingredient measurements are all estimated. I cook with feeling. You should too. Continue to taste and smell your food as you go to adjust seasonings.
This is a show off lunch. Don't be afraid to bring some to work ;)
I always cook my grains or rice in stock. Or if I am being cheap, I'll just add some Osem Chicken Soup Consumme. That flavor then gets infused into the grain. World of a difference.
The turkey & bean mix is stupid good in tacos and burritos too. So is the corn. mmm.
The lemon zest and juice really freshens the dish up. So fresh and so clean.