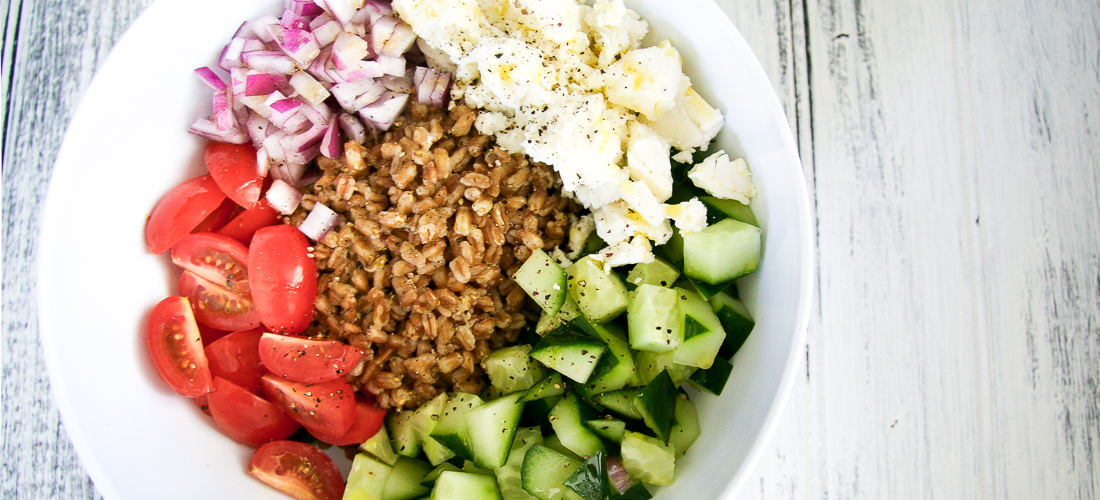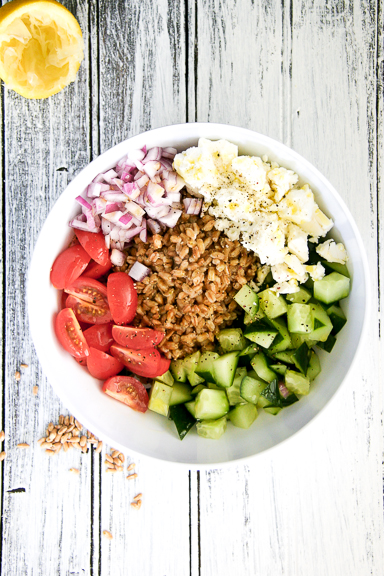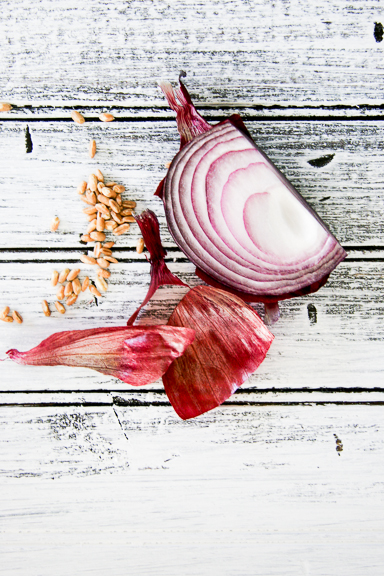 This recipe brings me home. No matter what we were eating, no matter what time of day it was, we would always have an israeli salad to accompany our food. It consisted of cucumbers, tomatoes, lemon juice, salt, pepper, and olive oil.
Normally, Israeli salads are chopped pretty small. Unlike the Greeks that would leave the tomato whole if they knew everyone around the table would be able to fit it in their mouths.
There would always be more cucumber than tomatoes. My brother would wait until we were done taking our share of the salad, before eating straight out of the bowl. He eats only the cucumbers shunning the tomatoes off to the side. If you asked him why he just didn't request a tomato-less salad, he would say,
"The tomatoes need to be in there for flavor."
More often than not, we would have some rice with our food. I love topping my rice off with the salad so the lemony dressing would soak into my rice. Ugh, so good. The farro in this recipe mimics that pleasure.
This is my version of an israeli salad. It's more of a meal this way. Grilled chicken would be primo on top of this salad. I've also been influenced by my Greek counterpart and through in some feta. Why not. Everything is better with more saltiness, obvi.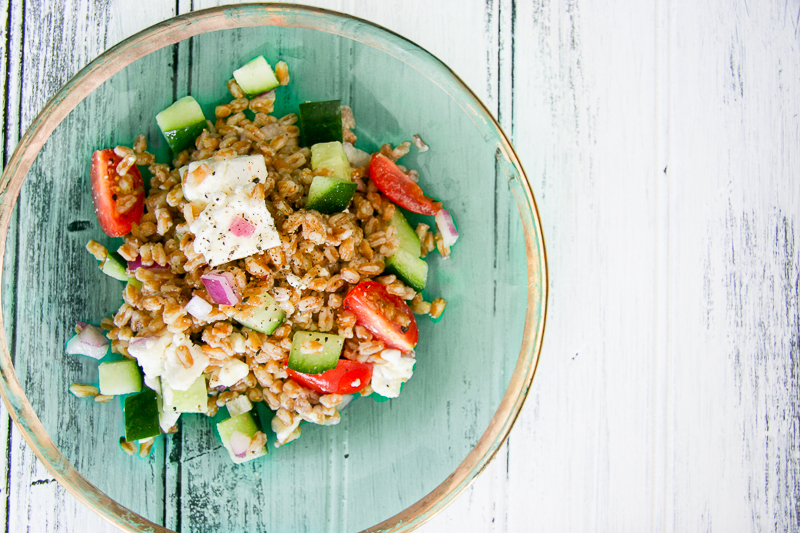 Israeli Farro Salad
makes 4 bowls
[one_third padding="5px 10px 5px 10px"]
Dressing:
1/2 cup lemon juice
1 1/4 cup good olive oil
1 tsp salt
1/2 tsp fresh pepper, my mom uses white, but I use black. Both work.
For the bowls:
4 cups COOKED farro, cooked in stock not water
2 cups chopped cucumber
2 cups grape tomatoes, sliced in half, you can use any tomato really
1 cup chopped red onion
1 cup feta cheese, crumbled
good quality olive oil
fresh pepper
[/one_third]
[two_third_last padding="5px 10px 5px 10px"]
Mix the dressing: Place all ingredients into a mason jar and shake. Or whisk them all together in a small bowl.
Prepping the farro: While the farro is still warm, add half the dressing and mix together. The dressing will soak into the warm farro.
Construct the bowls: Place the farro into each bowl. Top with the cucumber, tomatoes, red onion, and feta. Drizzle a bit of the dressing over the vegetables. Drizzle a bit of olive oil, and sprinkle some fresh pepper over the feta.
[/two_third_last]