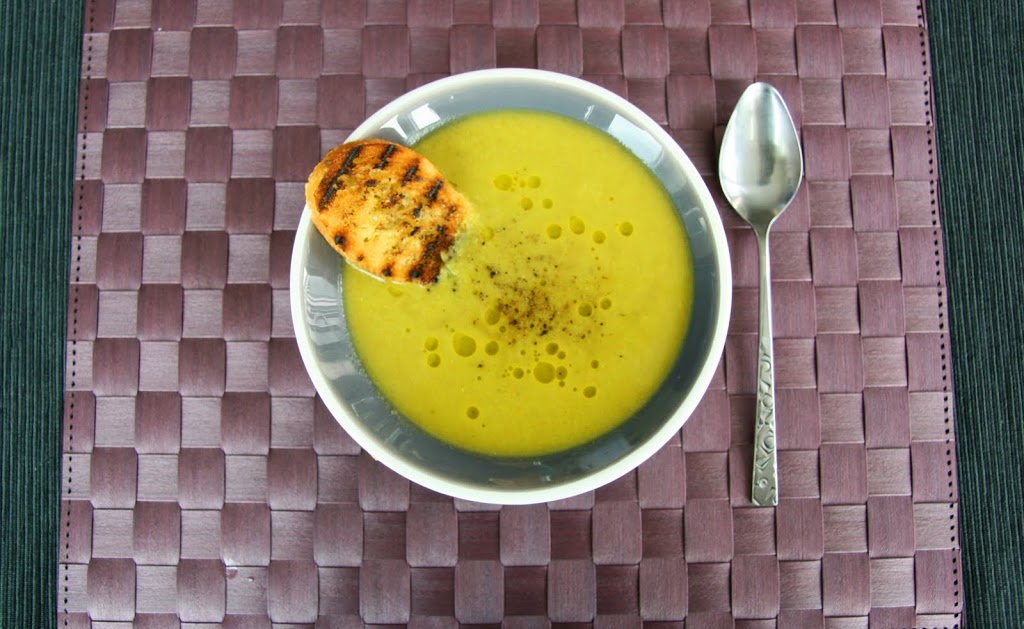 There really is nothing like a great soup. You can pull out any veggie from your fridge or freezer and make something warm and comforting.
My mom makes chicken soup at least once a week. I could be miles away and if she knows that I'm sick, she will whip some up and drive it over. Mother's soup heals all.
Cheesy cliche alert! When it's raining, I like to sit by the window, listen to the rain and have some soup. You know you like the idea.
I found some frozen peas in the freezer and some left over chorizo from when I made a Spanish shrimp and chorizo tapas (recipe will eventually make an appearance). So… SOUP! You can basically make soup out of anything. "What do I have in the fridge?… Asparagus, arugula, carrots… SOUP!" It's really easy.
Great idea from Giada De Laurentiis: throw in your left over parmesan rinds into soups. You're paying for that rind you know. Why not use it? It adds a lot of depth to the flavor. I'm not saying you should go out and buy parmesan just for the rind. But don't throw it out! Toss it into any soup – just remember to take it out. 
Go wild. Make soup.



Pea Soup
1 TBSP extra-virgin olive oil, more for serving
1/2 cup mild Spanish style chorizo, diced into small pieces
1 medium carrot, cut into small pieces
2 cloves garlic, roughly chopped
6 cups chicken or vegetable broth
2 sprigs tarragon (optional)
Heat olive oil on med-high heat in a large heavy bottom pot. Add the chorizo and saute for 2 minutes. Add the onions, carrots, celery, and garlic and cook until they are soft and the onions are slightly brown. Season well with salt and pepper. Add the chicken stock and the Parmesan rind and bring to a boil. Once boiling, add the peas and turn the heat down to low. Simmer for 10 minutes until the peas have softened.
Turn the heat off. Remove Parmesan rind. Toss in the tarragon. If you have an immersion blender, puree the soup right in the pot until smooth. If you don't, puree the soup in a blender or food processor in batches until smooth. Season with salt and pepper.
Serve immediately and drizzle a little olive oil and freshly ground pepper on top. I like to serve this with a crostini or a crouton. If you don't serve right away, the soup may separate a bit – no bigs, just give it a good stir and it will come back together.