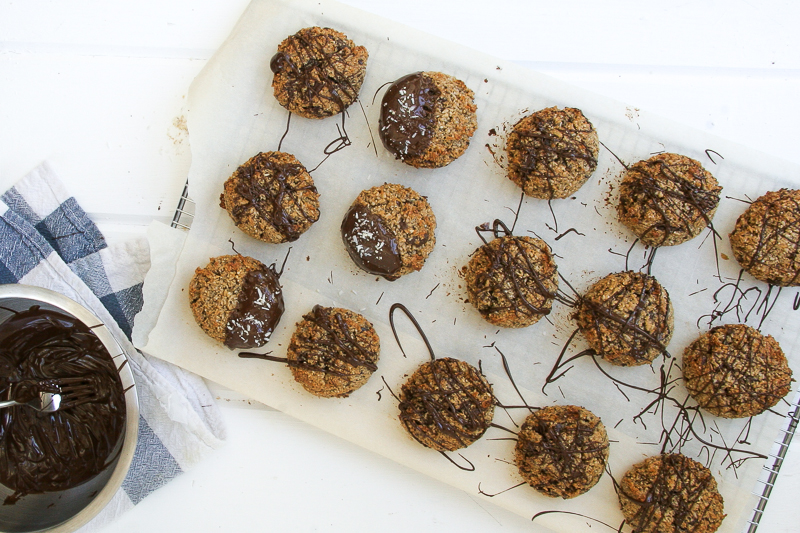 Chocolate Chip Macarookies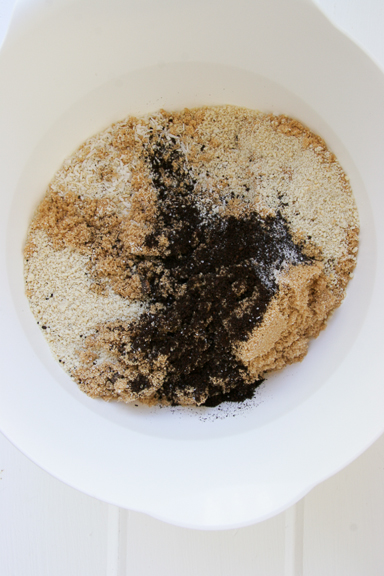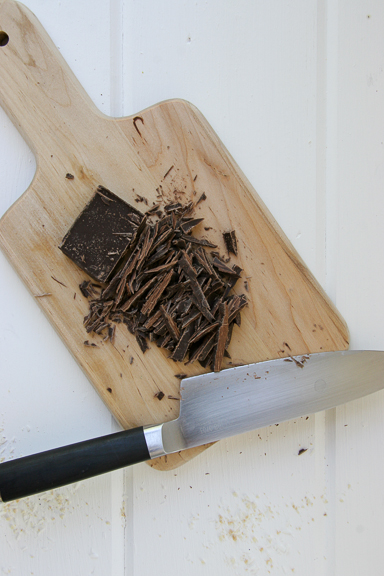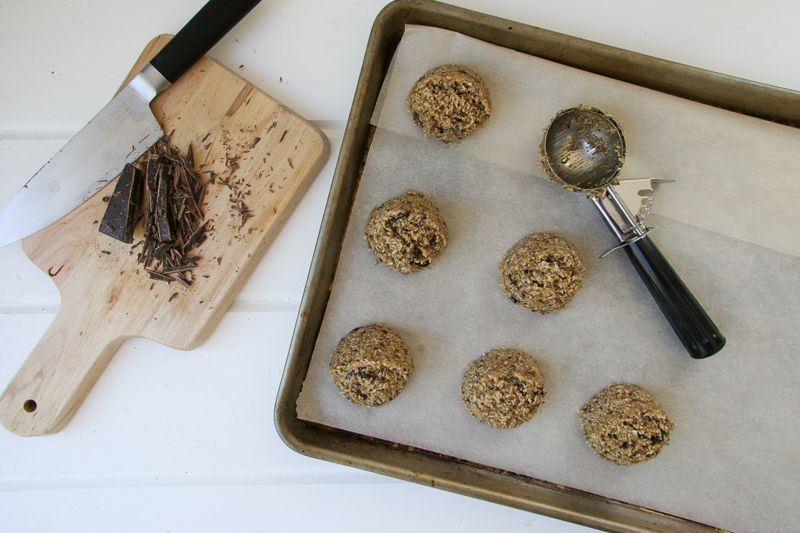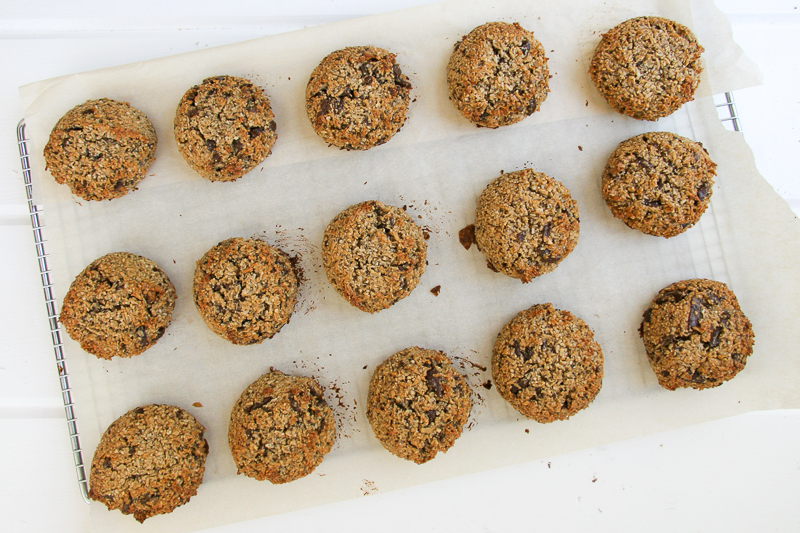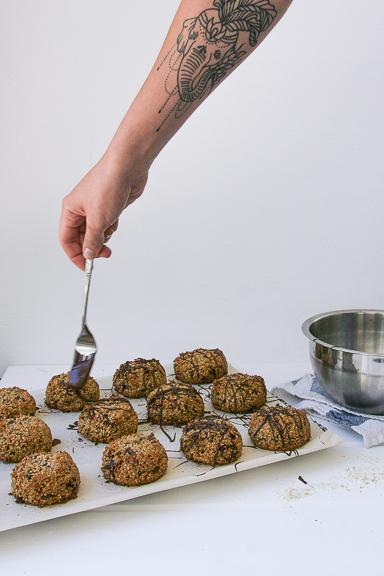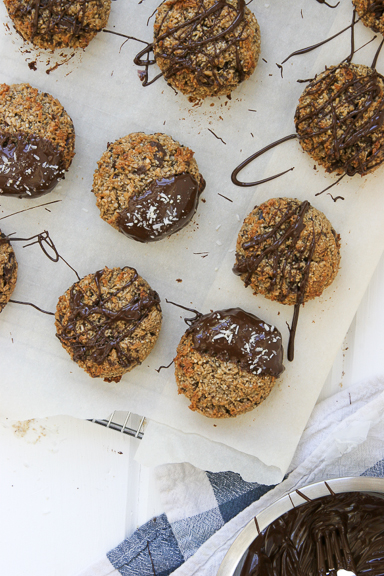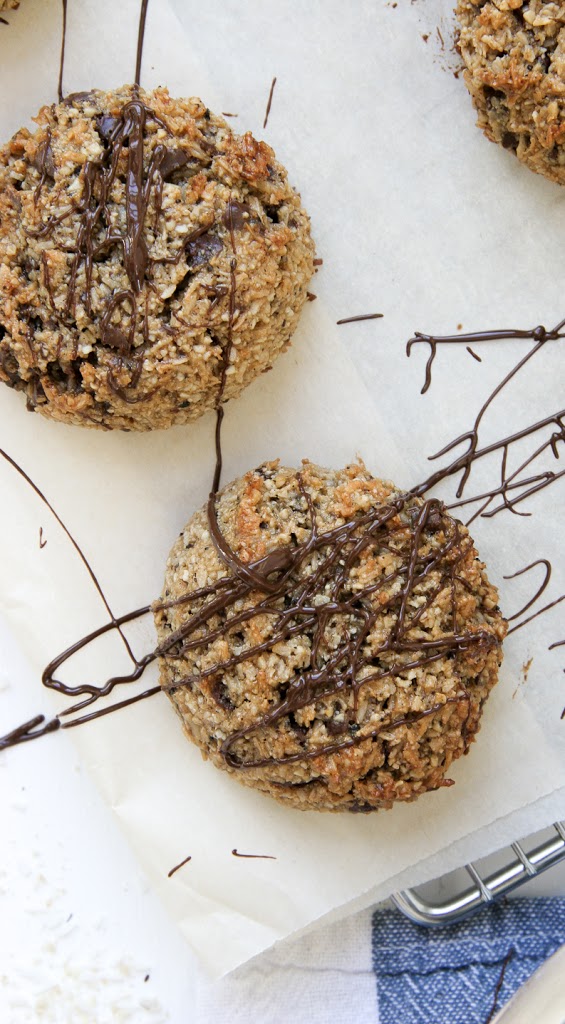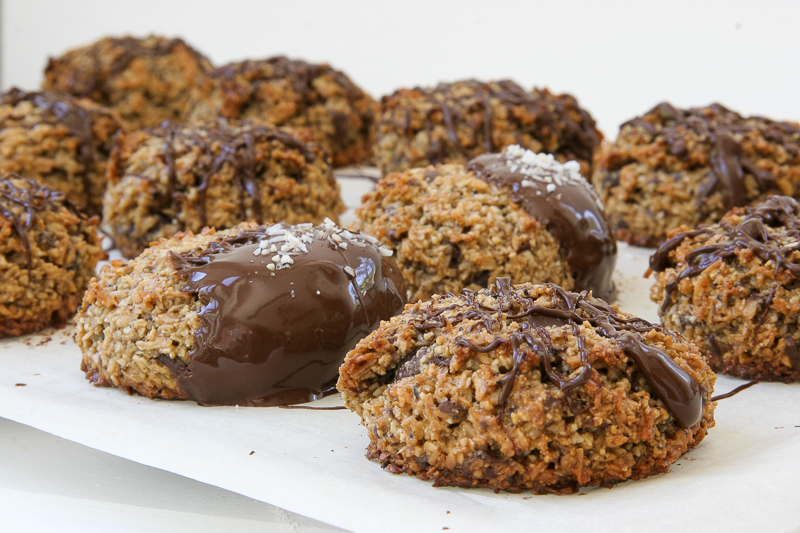 This is what happens when chocolate chip cookies meet coconut macaroons. These are gluten-free and you would never know it. This is a test for a
Moo Milk Bar
recipe.
"Do you have anything gluten free?" That is the most frequent question we get in the bakery. So we  are constantly creating and developing new flour-less recipes. We can't call any of our goodies "gluten-free" since we basically have flour in the air. We breath in flour and powdered sugar on a daily basis. But, we have some items that we do not put any gluten into and we are allowed to call them flour-less! (They're basically gluten free).
In baking, working with a scale is the way to go. It's efficient and accurate. I've given the measurements in both grams and cups/tsp/tbsp. I recommend getting yourself a scale.
Though this macarookie has no butter, it's still super soft in the middle and crispy on the outside. The cashew meal and coconut add nutty flavor. Espresso powder adds a hint of deep sophisticated flavor. And what's a cookie without chocolate chunks?
This is just an idea we're working on! Let us know what you think!!
Chocolate Chip Coffee Coconut Macarookie
makes 15 macarookies
2 cups (265g) cashew meal, or very finely ground cashews
2 1/2 cups (240g) shredded coconut, unsweetened
1 1/3 cup (201g) brown sugar
2 Tbsp (8g) Espresso powder, not instant coffee!
1/2 tsp (3g) fine salt
6 (about 205g) egg whites
1 1/2 tsp (6g) vanilla bean paste, or vanilla extract
3/4 cup (170g) shards from a dark chocolate bar
extra dark chocolate for drizzling and dipping
---
Pre-heat the oven to 350˚F and line a cookie sheet with parchment
Cut the bar of chocolate into shards. Large enough so they're chip-like but small enough to be able to mix well into the dough.
Combine all of the dry ingredients, except the chocolate, in a large bowl until homogenous. In a separate bowl, mix the egg whites and vanilla. Add the wet ingredients to the dry and mix until the dough glistens and holds together. Make sure you've mixed this well.
Add the chocolate shards and mix until just distributed throughout the dough.
Scoop out the dough onto the cookie sheet using an ice cream scoop. You can also just use your hands, but an ice cream scoop will ensure that they will all be the same size. Each ball should be about 1/4 cup.
Flatten the tops of the dough balls so they bake evenly throughout.
Bake for 20-25 minutes until the edges are golden brown. Each oven is different so check on those babies at 20 minutes! Cool on a rack.
Melt some chocolate in a double broiler. When the chocolate is nice and shiny, drizzle/dip the maracrookies! Let the chocolate harden before storing them. They will keep in an air tight container for up to 5 days.
Enjoy!
DANI'S NOTES:
EAT ONE WHILE ITS WARM. oh. my. goodness.
You'll find yourself breaking off pieces as you walk by the container. Just a warning.
I don't want to hear that you don't like coconut.