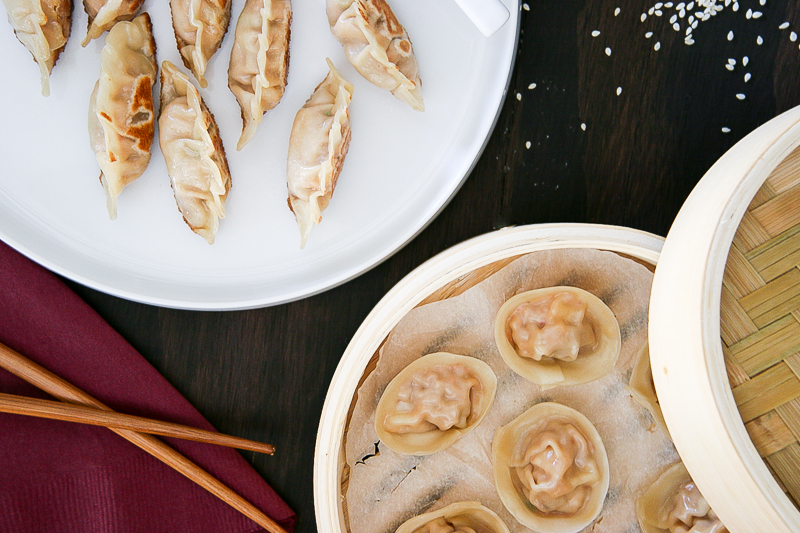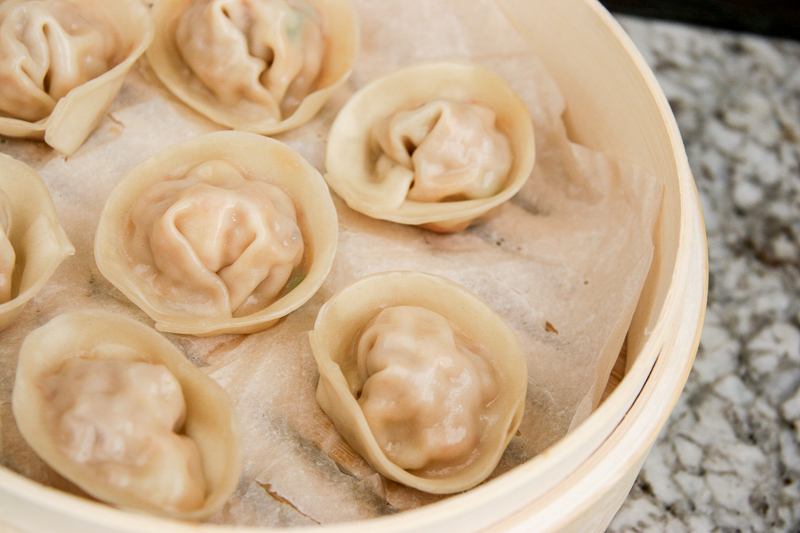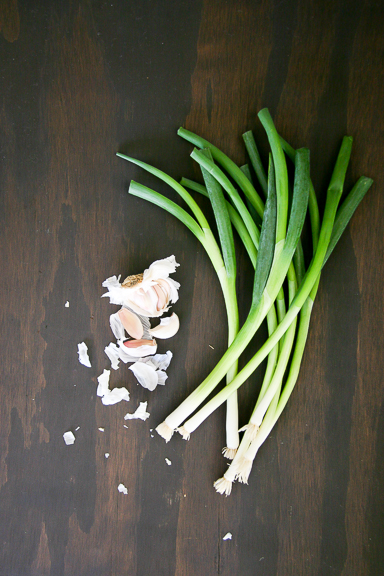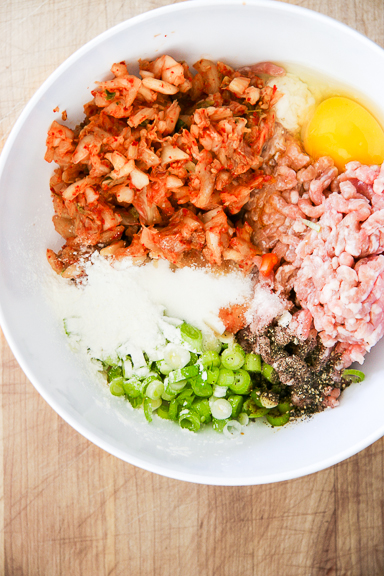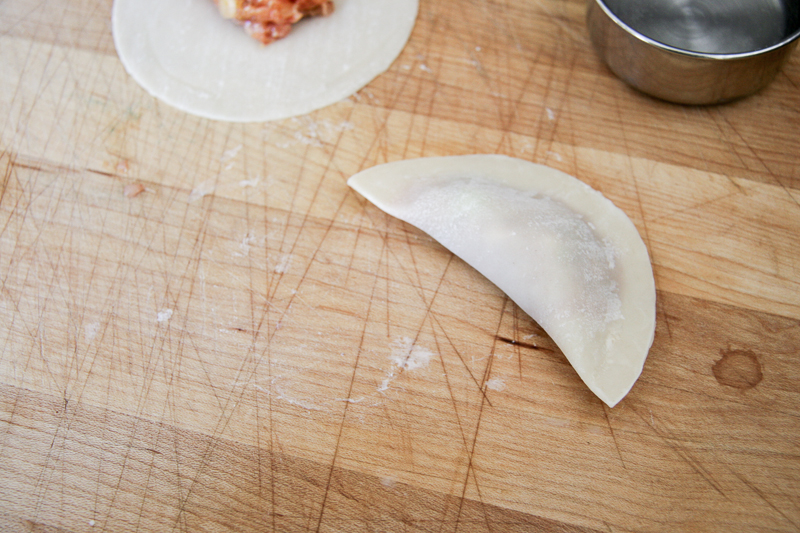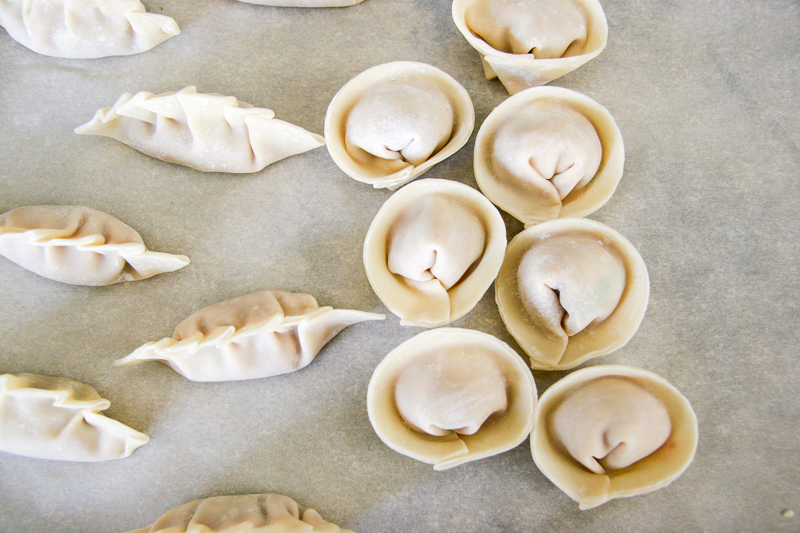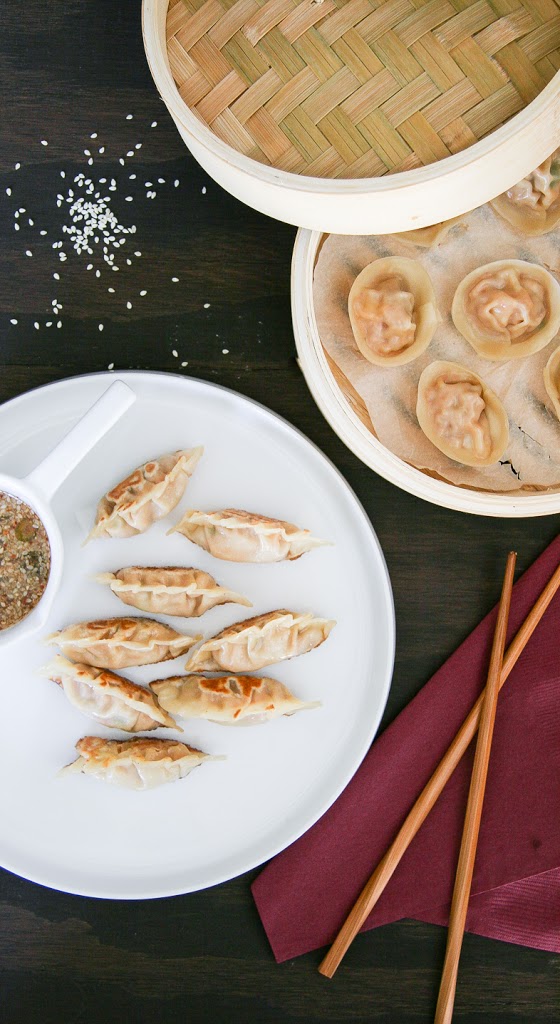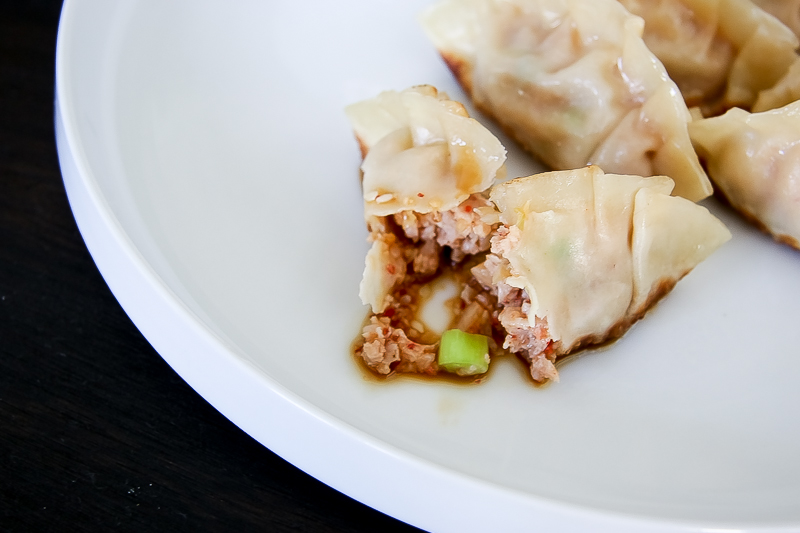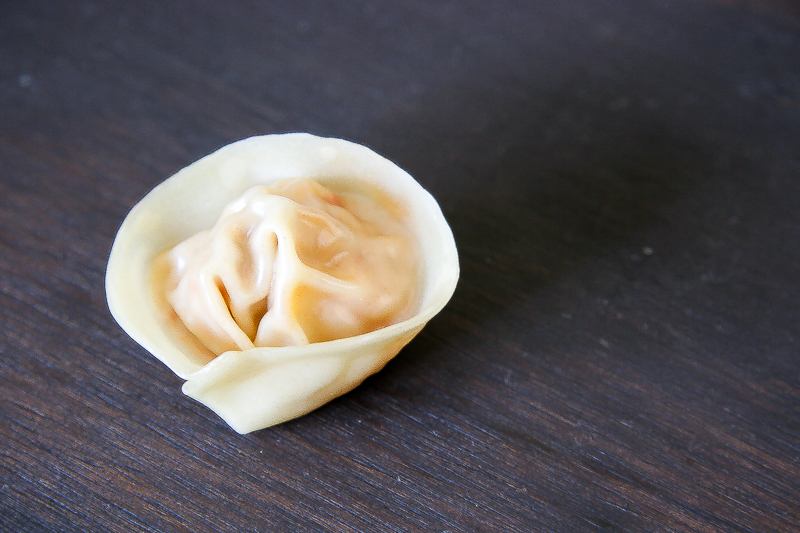 Haven't posted anything using kimchi in about a month. So I guess it's time.
Dumplings. Steamed or pan fried, dumplings are so good.
That is all.
makes 47-50 dumplings
Gyoza sauce:
1 garlic clove, minced
2 scallions, chopped
1/3 cup soy sauce
1/4 cup rice wine vinegar
2 Tbsp water
1 tsp sesame seeds
1/4 tsp 
togarashi
– Japanese mixed chili pepper powder
Dumplings:
1 package gyoza wrappers – thawed if frozen
1 lb ground pork
1 1/2 cup kimchi, chopped small
6 scalions, chopped small
2 cloves garlic, minced
1 egg, beaten
1/2 Tbsp soy sauce
2 tsp cornstarch
2 tsp sesame oil
1 tsp sugar
1/2 tsp salt
1/2 tsp fresh pepper
For the gyoza sauce:
Combine all ingredients together.
For the dumpling filling:
Squeeze as much of the liquid out of the chopped kimchi as possible. Combine all ingredients, except the gyoza wrappers
obvi
.
 Mix until homogenous.
Make the dumplings: Gyoza wrappers will dry out fairly quickly. So I recommend placing the pile of gyoza wrappers in a ziplock bag while working in batches to construct these babies.
Lay 4-6 wrappers out on your work surface. Place about a tablespoon of filling into the middle of each wrapper. Dip your finger in a little bowl of water and dampen around the edges of the wrappers. Fold them in half and seal them tightly while pushing out the air inside. The water acts like glue.
There are 2 ways you can now fold them:
Pleated: With a dampened fingers, pleat the top folded edge of the dumplings like a fan, pinching with your fingers. Seat them with the pleats up to get a flat bottom.
Hugging: There is definitely a better term for this method, but I don't know it. Bring the two pointed edges of the dumpling together at the filled part of the dumpling. Use a bit of water to stick the two points together. The dumpling edge will come up a little and they will look like little pillows hugging themselves. Real cute.
Keep the finished dumplings under a kitchen towel so they don't dry out. Repeat until all dumplings are made.
To steam: Making sure the dumplings aren't touching each other, place them in the steamer on a piece of parchment with some holes poked in it to allow the steam to get through. Steam for about 8 minutes. Make sure the filling is completely cooked before enjoying.
To pan fry: Heat a bit of oil in a pan over medium heat. Fry on each side until crispy. About 3 minutes each side. Make sure the filling is cooked before enjoying.
Eat hot! Dip in the sauce! Then drink the sauce… joke. I did though.
You can store these in a ziplock bag in the freezer! Just steam or fry them as you want! Steam from frozen for 10 minutes or so.