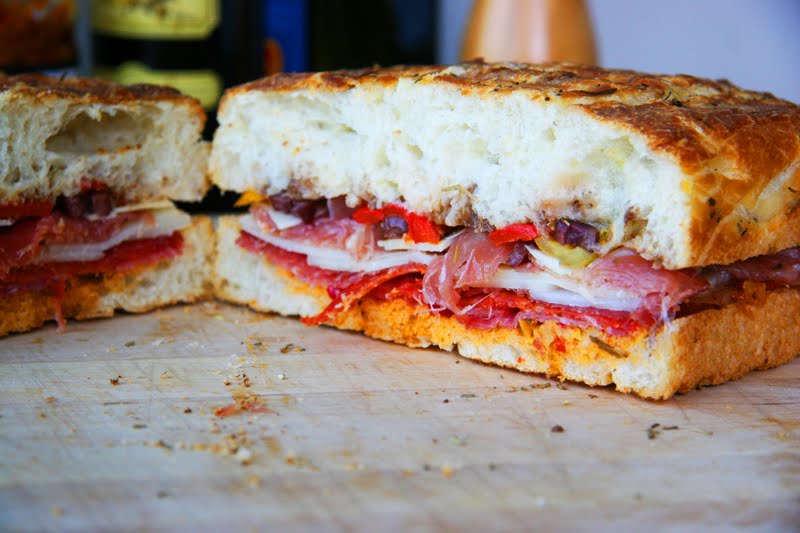 Grilled Antipasto Focaccia Sandwich
So, you had a dinner party. You started the night off with an Antipasto platter and you have a ton of left over meats, cheeses, and pickled stuff from the olive station at the grocery store. Yea, I've been there.
Along with all that stuff, I normally buy an absurd amount of bread that I'm left with the next day. I'm addicted to carbs. Trust me, I'm not complaining about left over bread.
I am also addicted to buying jarred antipasto spreads. There are tons of uses for them. Whether it's just a tapenade or a fancy expensive artichoke, red pepper and caper mix, always keep a good spread in the fridge. Apart from serving them in small dishes beside your antipasto platter, you can spread them on sandwiches, toss some with pasta, or even use it as a chicken marinade.
And, to be honest, if you aren't having a dinner party, just go to the grocery store and grab some antipasto items. This sandwich is incredible. My boyfriend and I downed the whole thing. Don't judge. It sort of reminds me of a Muffaletta sandwich I had in New Orleans a couple years ago.
Grill it! Hell, yes. Grill the hell out of it because you can, and because it's summer. I have a feeling I'll be grilling through the fall until there's snow on my balcony. My apartment is fairly small and every time I cook, the place will smell of food for at least two days. I don't mind it when I bake, but when I make salmon…
You can get creative with this sandwich. Take my recipe solely as a guideline. Change up the meats, cheeses, and spread to what tickles your fancy. If you don't happen to have hot banana peppers, you can use some of those pickled Italian vegetables. Change the provolone to fresh mozzarella! Change things up and let me know if you come up with a mind blowing combo.
I put my cast iron skillet on top of the sandwich while I grilled it to give it a good crunchy crust. That's the way sandwich bread should be – good crust and a soft chewy inside. If you don't have a cast iron skillet, just find your heaviest oven proof pan or pot. Brick wrapped in tin foil works great as well.
This sandwich is a winner. Great as an appetizer or for lunch. You know what? Next time you decide to have an antipasto platter, just make this sandwich instead. It will be remembered.

Grilled Antipasto Focaccia Sandwich
Makes 4 large or 6 small servings
Amounts DO NOT have to be exact!
1 loaf focaccia, round or square
1/4 cup (hot) antipasto spread, whatever kind you like
3 TBSP extra-virgin olive oil
3 TBSP balsamic vinegar
1 TBSP dry oregano
1 TBSP fresh ground black pepper
6-8 slices dry salami (like genoa salami)
6-8 slices dry copa
6-8 slices prosciutto
6-8 slices hot sopressata
6-8 slices provolone cheese
1/2 cup Parmigiano Reggiano, shaved or grated
2-3 whole roasted red peppers
1/4 cup hot banana peppers
1/4 cup green or black olives, pitted if not already
Pre-heat grill on high.
Open focaccia by cutting it in half horizontally. On the top half, drizzle the olive oil and vinegar, then season with oregano and black pepper. On the bottom half, spread the antipasto spread evenly.
Start layering the slices of meat evenly onto the bottom half of the focaccia. Layer the provolone on top of the meat and then layer the Parmigiano on top of that.
With your fingers, rip large pieces of the roasted red pepper and layer it on top of the cheese. Top with the hot banana peppers and the olives. Close the sandwich with the top half of the focaccia.
Turn grill down to medium-high heat. Place sandwich onto the grill and place a cast iron skillet on top of the sandwich. Close the lid on the grill. Let sear for 5-7 minutes then flip sandwich over and cover with skillet. Let sear for another 5-7 minutes until the focaccia is crusty on the outside.
Cut with serrated knife into 6 pieces. Enjoy =)