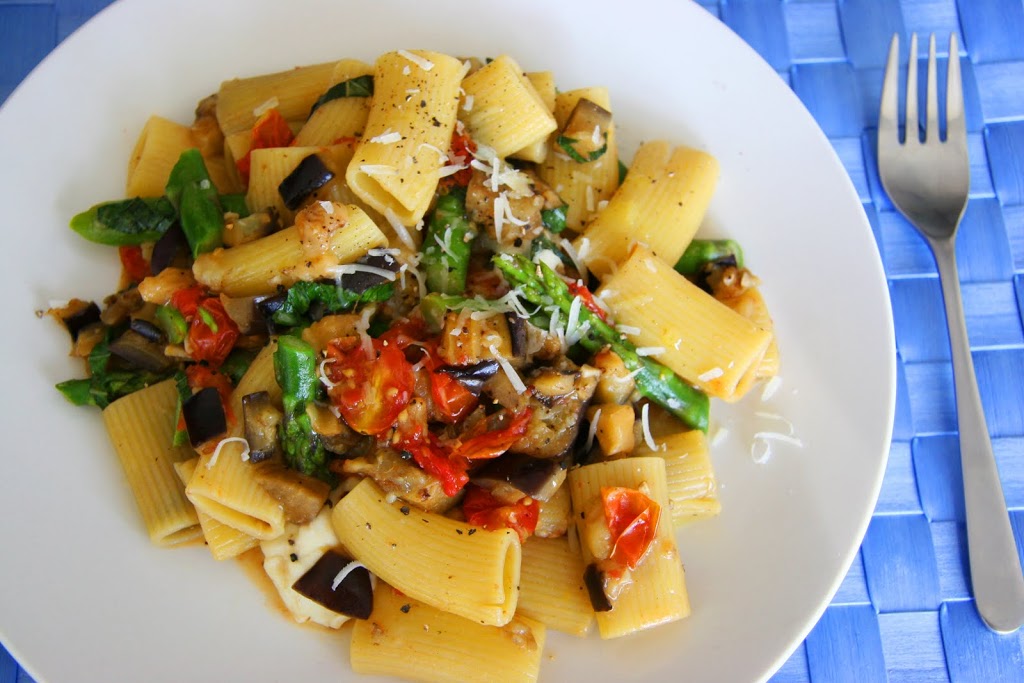 Vegetable Rigatoni w/ Fresh Buffalo Mozzarella
Spring is here! Or, is it? It snowed yesterday in Toronto. It snowed, but the sun was out at the same time. So strange. You'll see in the inconsistent light in my photos. There were some seriously ominous clouds going by and then, full sun. I hate the weather here. I'm going to celebrate spring anyway!
Better get the pasta in now before Passover. I try not to have any flour other than Matzo during the holiday – I normally last less than 12 hours. The only thing I want the morning after our Seder is a big puffy bagel, and, I DO IT.
I'm actually going to give withholding from flour a legitimate try this year. So, I'll load up on my pastas and breads before tonight. This was dinner last night, and I can't describe how much I enjoyed every single piece of rigatoni.
This is a nice spring-ish pasta. Just like the weather – spring-ish. I seem to put asparagus in everything. I go through at least two bunches of asparagus a week. I'll steam it, throw it in a salad, make it a side dish to chicken, in risotto… on and on.
I used buffalo mozzarella. It's creamier and a bit tangier than regular cow's milk mozzarella. You can normally find it in the deli section of your grocery store or at any specialty grocery store. When visiting my cousins in Israel, we would always go to a buffalo farm. I would get buffalo labane. Soooooo good. I haven't been able to find it any where else but there. When we were there once, one of the mother buffaloes was giving birth. That was… interesting. But that story is for another time – especially not when I'm trying to sell you on buffalo products.
This is a really easy pasta dish. You can throw in any vegetable that you have in the fridge and want to get rid of. Have extra broccoli? Toss it into the pasta water along with the asparagus. Just make sure those "fridge veggies" are fresh.



Vegetable Rigatoni with Buffalo Mozzarella
2 TBSP extra-virgin olive oil
1 large eggplant, cut into 1/2″ cubes
1 1/2 cups grape tomatoes, sliced in half
3 cloves garlic, small chop or minced
1 1/2 cups asparagus, cut into 1/2″ pieces
1 cup fresh buffalo mozzarella, cut into 1/2″ cubes (regular fresh mozzarella if buffalo isn't available)
Handful basil, chiffonade
Parmesan, grated, for serving
Salt and freshly ground black pepper
Bring a large pot of salted water to a boil.
Heat olive oil in a large saute pan on med-high heat. Add eggplant and season well with salt and freshly ground pepper. Saute until softened – about 5 minutes. Add in the tomatoes and cook for another 3 minutes. Add garlic in and continue to cook for another 2 minutes. Turn the heat off and set aside.
Toss the rigatoni into the boiling salted water. Cook al-dente according to the time it calls for on the box/bag. 3 minutes before they are ready, add the pieces of asparagus into the boiling water with the pasta. Reserve 1/3 cup of the cooking liquid. Strain together and return to pot.
Add the eggplant and tomato mixture into the pot with the pasta and asparagus along with the 1/3 cup of reserved cooking liquid. Turn the heat on to medium. Cook for 1-2 minutes until most of the moisture has evaporated. Season generously with salt and freshly ground pepper.
Turn the heat off and add the mozzarella and basil and mix into the pasta until the mozzarella starts to melt slightly. Serve with grated Parmesan cheese. Enjoy =)