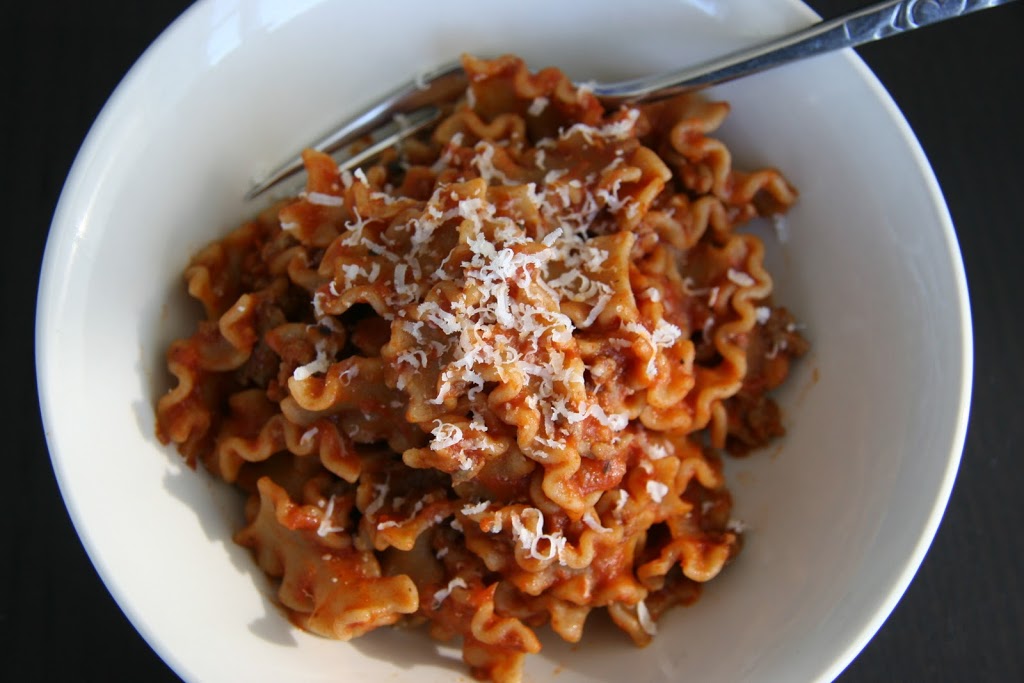 Pasta, PASTA, pastaaaaa!!! I'm a carb lover, guilty.
Saucy, thick, cheesy. I could eat it every day and be happy for the rest of my life. And the possibilites for what you could do with pasta are endless. 
Bolognese sauce is a classic and is super easy to make. 
This is gross, earmuffs… my brother called this "barf" when he was young because it resembles… well…barf. He is now almost 23 and still calls it barf.
It's cold here in Toronto and I can't stand the cold. As an Israeli, my body craves the heat of the sun. What am I doing here!? This recipe always gets me through the nasty weather.

I used whole wheat Mafalda Corta. Sounds serious, huh? It's really just a small square shaped pasta with wavy edges. You can use any type of pasta shape you want. 
Spaghetti, penne, rigatoni, fusilli, or even those racquet shaped ones. What do you even use those for specifically?
My favorite way to eat this is with Tabasco and Parm cheese grated on top. Second favorite way is throwing it in a baking dish with some slices of fresh mozzarella on top and broiling it until the cheese is melty.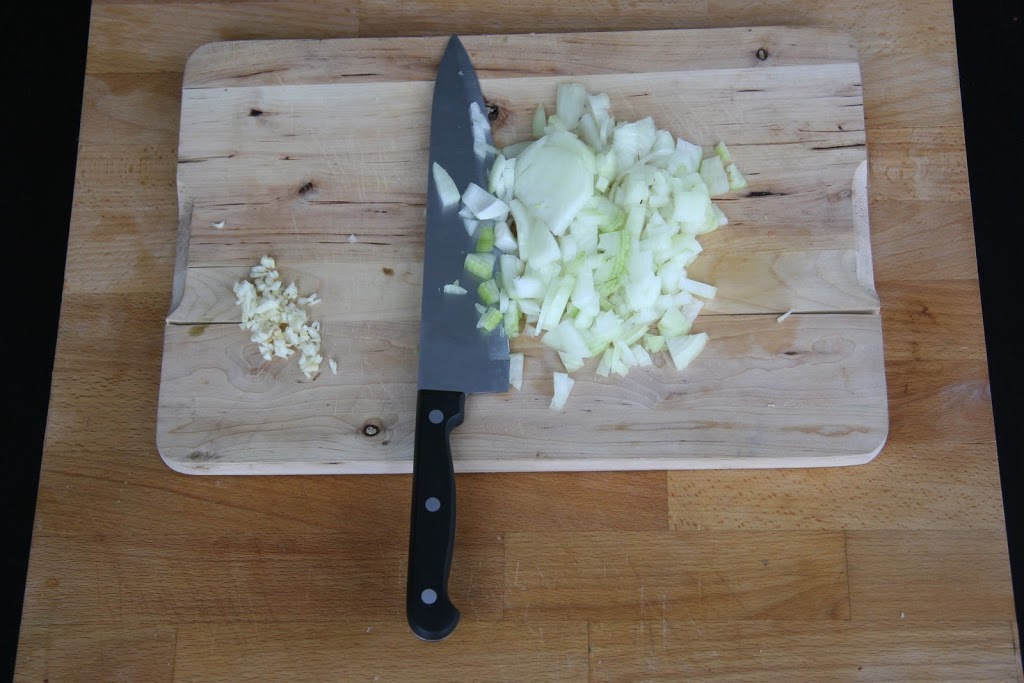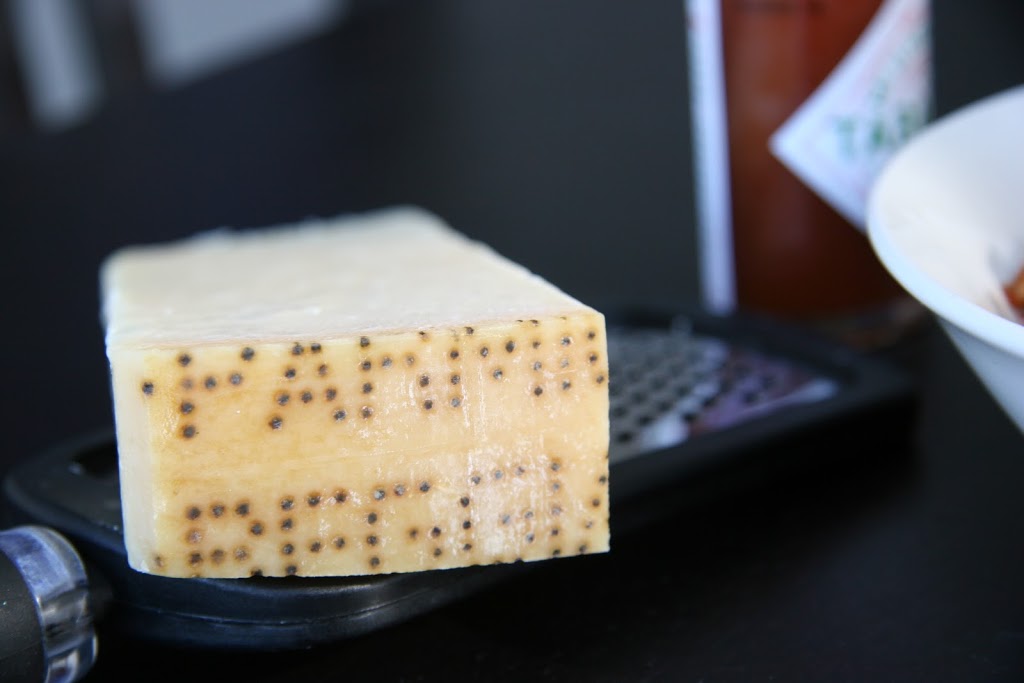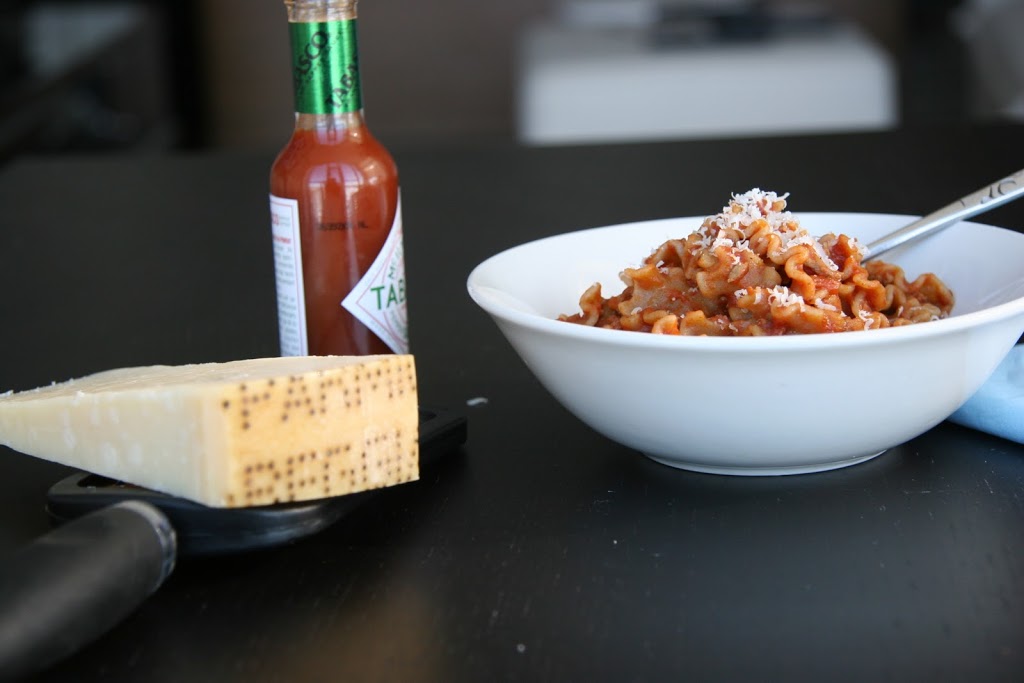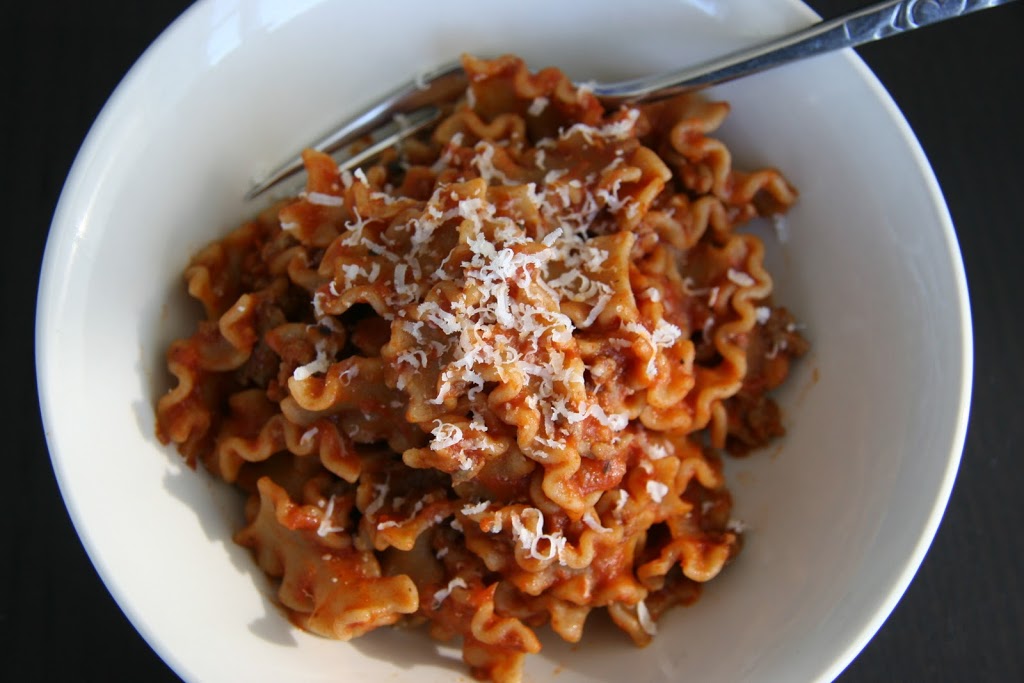 Mafalda Corta Bolognese
1 TBSP extra-virgin olive oil
1 large Yellow Onion, diced
2 garlic cloves, crushed and minced
1 1/4 TBSP Italian seasoning
1 28oz can crushed tomatoes
1 lb whole wheat Mafalda Corta (or other pasta)
Heat olive oil in a pot over Med-High heat. Add onions and soften. Then add in the garlic so it doesn't burn.
Add the ground beef and break it up in the pot with a wooden spoon. Once the beef has started to brown, add in the Italian seasoning, salt and black pepper. I taste the mixture at this point to check the seasoning.
Add the crushed tomatoes, tomato paste, water and mix well.
Bring to a light boil, then turn the heat down to low and cover. Let cook for at least 20 minutes making sure to stir every so often. That's where the love comes in!
Bring a large pot of salted water to a boil and cook the pasta until it is al dente. Return pasta to pot after straining.
Mix sauce with pasta in the pot adding some more love as you do it.

Serve immediately with Parmigiano-Reggiano and Tabasco. Duh.