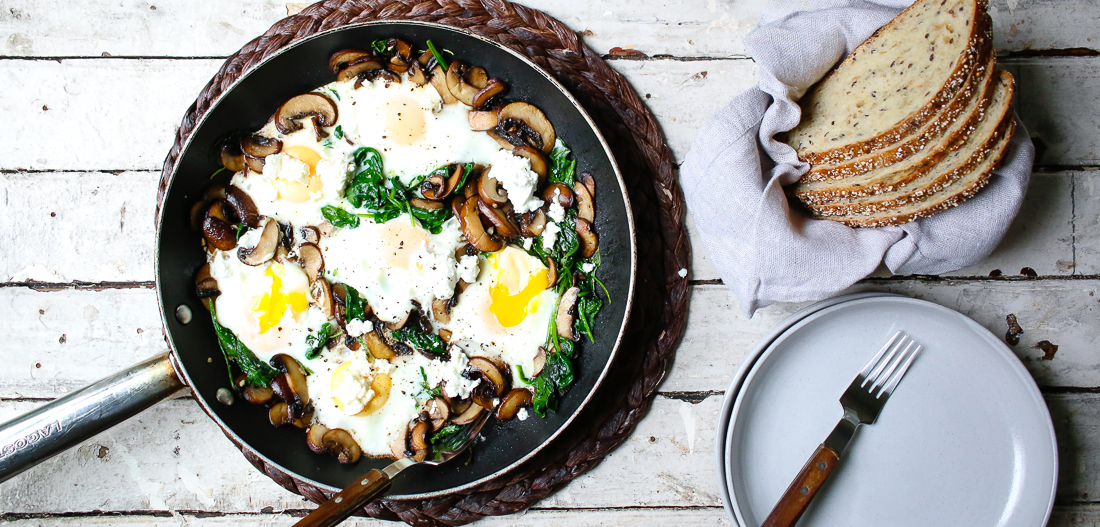 Mushroom & Spinach Breakfast Skillet

It's Saturday morning in Toronto. The first thing I think about as I open my eyes is, "Wow. I'm hung-over." Then second thing is, "I want brunch… and now." If you live in Toronto, you know that grabbing brunch can sometimes be a three-hour endeavor. It's impossible to go somewhere with more than 4 people. If you do, you know you'll be waiting. Even as a couple, an average wait time of 20-30 minutes is a norm. And after a full night of drinks, you're body does not want to wait to be nourished. Hanger kicks in.
Through my frustration, I have decided that I should be making more brunch at home. That being said, cooking with a hangover isn't always the most pleasant experience. Those are the times when I concoct my one-skillet breakfast… skillet. It's always a mish mash of what I've got laying in the fridge or pantry and some eggs.
This recipe is one of my favorites. Sautéed mushrooms and wilted garlic spinach are the perfect, and quickest, accompaniment to eggs with a runny yolk. Yes, there are a ton of other great ingredients that can be used as well. Such as potatoes, corn, beans, zucchini, chorizo… the list goes on. But this is what I just happened to have in my fridge one day and now I continue to go back to this combination. Hang over cured.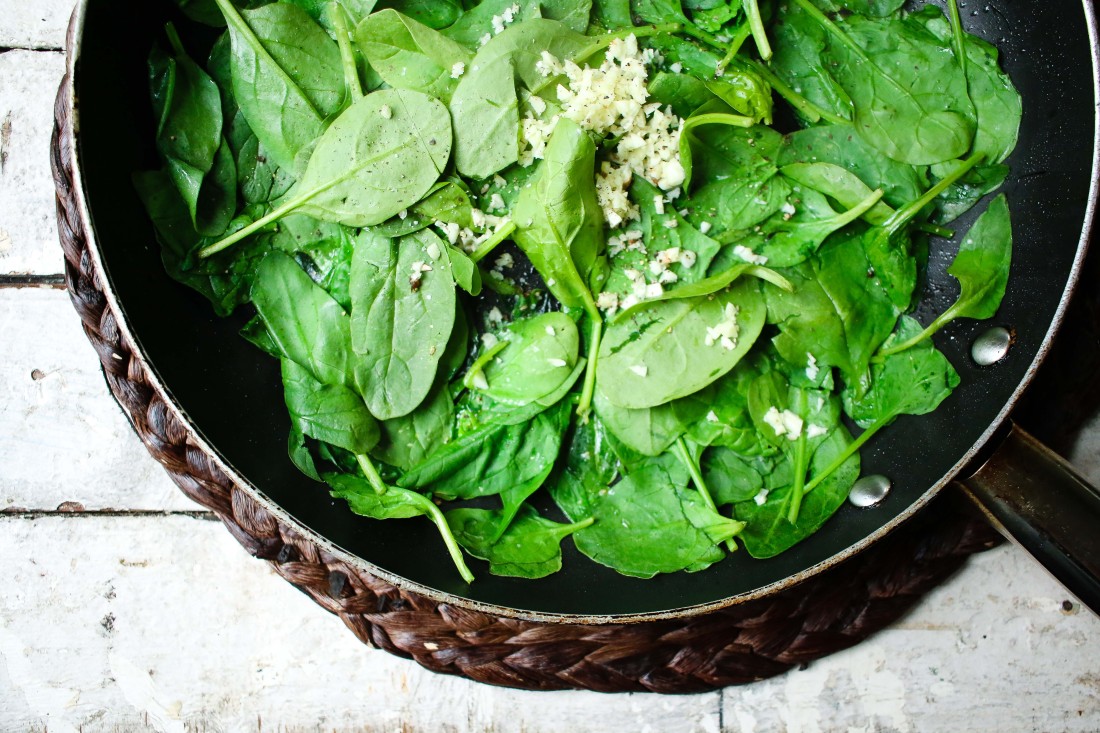 MUSHROOM & SPINACH BREAKFAST SKILLET
MAKES 4 SERVINGS
THE THINGS
350g crimini and/or baby bella mushrooms, sliced 1/3" thick
3-4 tbsp unsalted butter, divided
2-3 tbsp olive oil, divided
100g baby spinach
3 cloves garlic, minced finely
6-8 eggs
1/3 cup goat cheese, crumbled
Salt and fresh black pepper to taste
toasted sourdough grain bread, or other carbs

THE WAY
Over medium heat, melt 2 tablespoons of butter and 1 tablespoon of olive oil in a large skillet with tight fitting lid. In batches, sauté the mushrooms. Make sure not to crowd the pan so that the mushrooms crisp up evenly. Sauté for 4 minutes flipping the mushrooms half way through and season with salt and fresh black pepper to taste as you go. Add more butter and olive oil as needed for the second batch of mushrooms. Remove those from the pan as well after seasoning. Add a bit more olive oil and butter to the pan and add in the spinach and garlic. Season with salt and pepper. Sauté until the spinach is wilted, about 1 minute. Add the mushrooms back into the pan and create pockets for the eggs.
Crack an egg into each pocket and cover immediately with the lid. Let the eggs cook for 2 ½ – 3 minutes. Do not lift that lid! This ensures that the egg whites cook from the top as well as the bottom. Remove from the heat, season with salt and pepper. Crumble the goat cheese over top and serve with toasted bread.