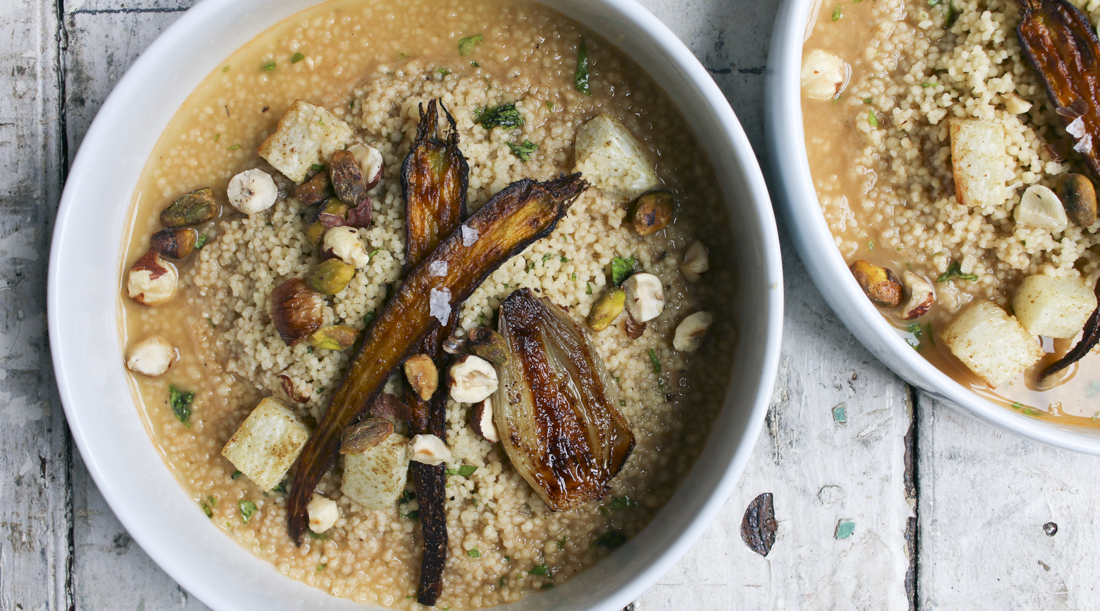 Veggie Couscous in Coconut Miso Broth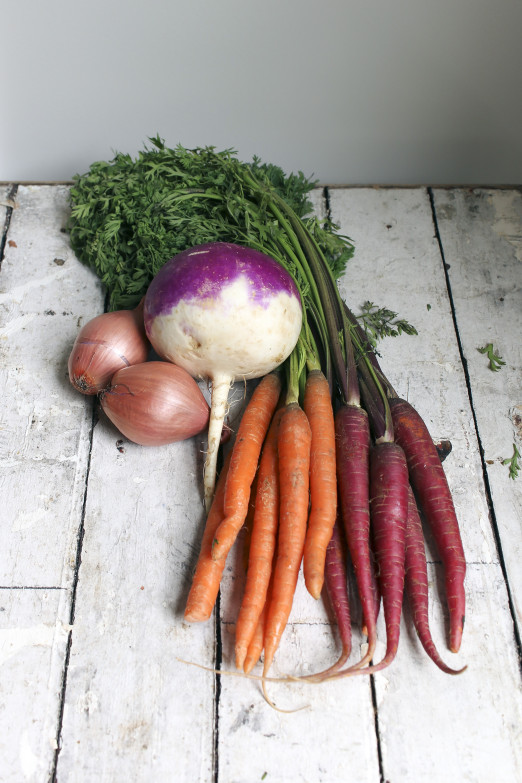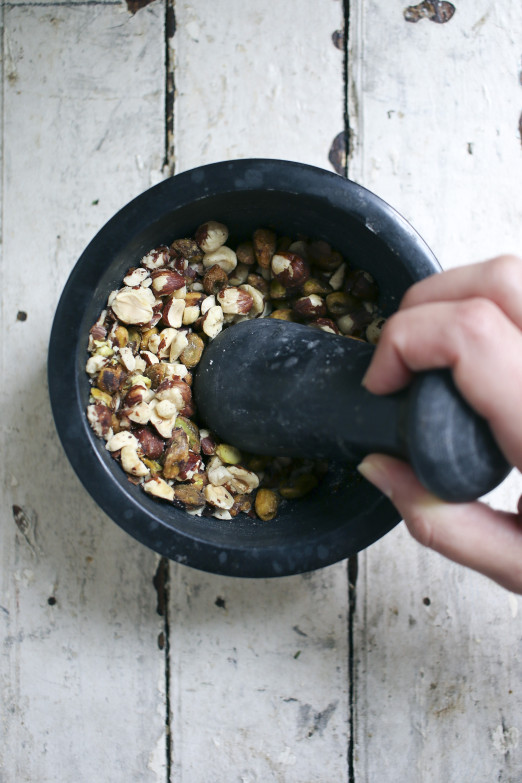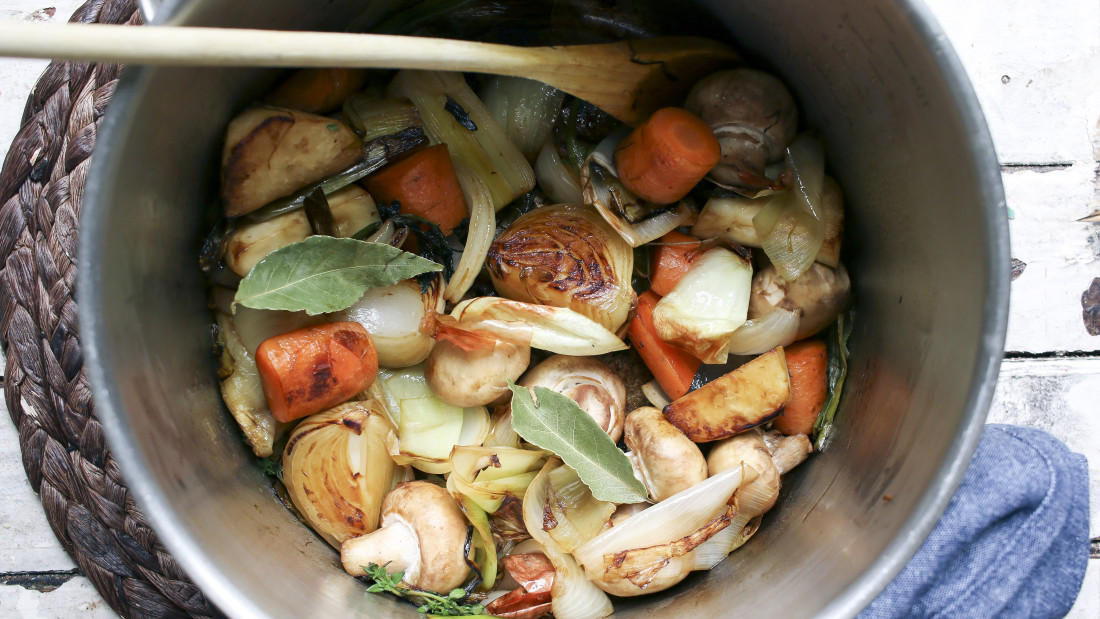 This is my favorite time of year. The weather mellows out and it's time to start thinking about warming soups, roasting vegetables, braising meats and really just taking the time to cook slowly. During the sunny months, when the last thing you want to do is spend the day indoors cooking, you find yourself grilling and throwing together salads so that time is better spent outdoors. Unless you're Francis Mallmann, then you are constantly outdoors, no matter what the weather is, cooking over open flames. He's a god.
I'm embrace the change I feel from the transition of Summer to Fall. I find myself slowing my roll in all aspects of life. I take a few moments longer to do things. For me, it's a time of the year that I allow myself to reflect more than just jump in. It probably comes from the little voice in my head telling me that winter will soon be here and you better enjoy this moment before life goes dark. Fall feels like such a short part of the year and is why I really just allow myself to enjoy it's moments.
When my mom or aunt made couscous, I never really cared for it. I thought it was boring. Just basic broth with huge chunks of mushy root vegetables on top a big mound of couscous to soak it all up. No texture. And if you happened to breathe a bit of couscous down the wrong pipe… dear lord, the coughing fit just didn't end. The way my family made it was never appealing to me. This is why I probably never ordered it at any restaurant, skipping over any menu item that had the word couscous. I made a promise to myself that I would actually give couscous a real go. I took my time to develop this recipe and boy did I change my tune by the time I sat down and took my first bite.
I start by making a deeply flavored vegetable broth. Really browning the aromatics in the pot adds color and an umami. I use this broth to cook the couscous instead of using simple boiling water. For extra love, the couscous is fluffed with salt, pepper, cilantro and a bit of olive oil.  After reducing and intensifying the vegetable broth, I flavor it with white miso and coconut milk. Such a luxury for a humble vegetable broth. The beautifully roasted cumin vegetables are laid over  top of the couscous. I toast and crush hazelnuts and pistachios for added crunch and texture to the dish. It's gorgeous and modest at the same time.
Happy Fall =)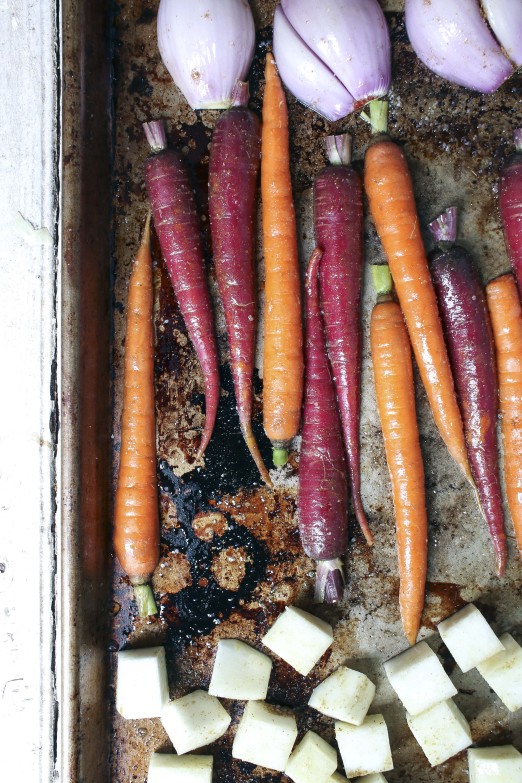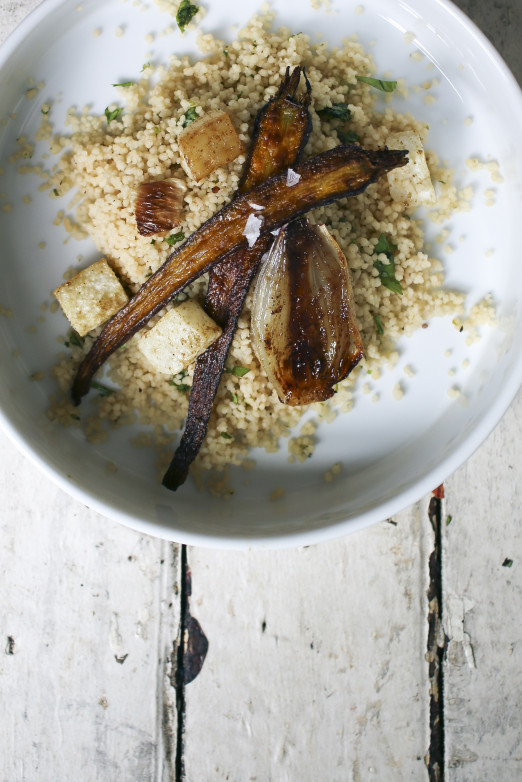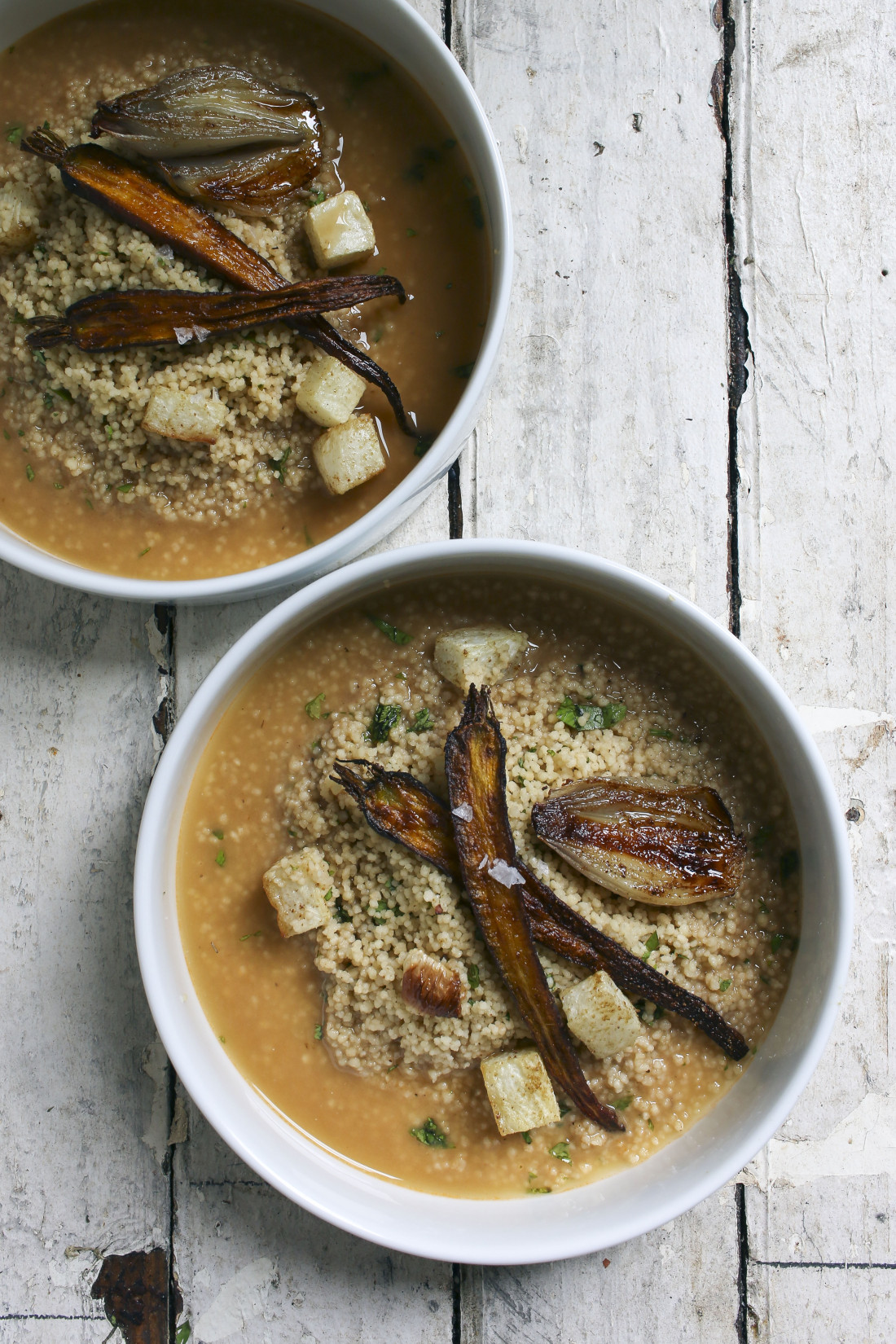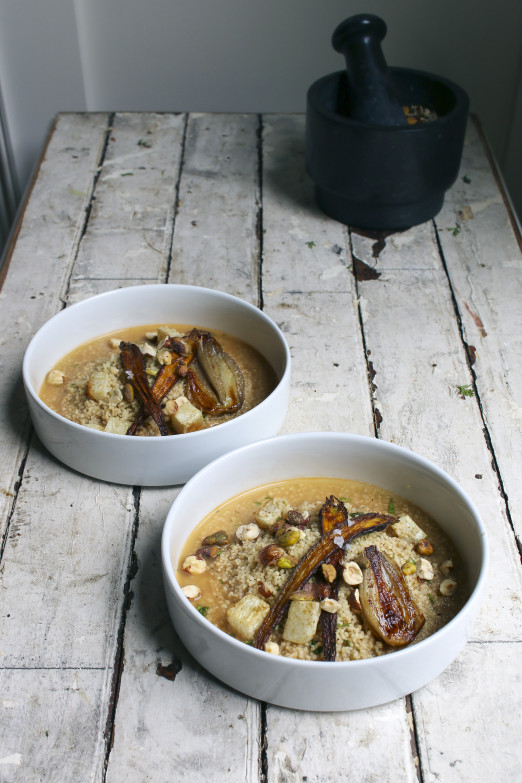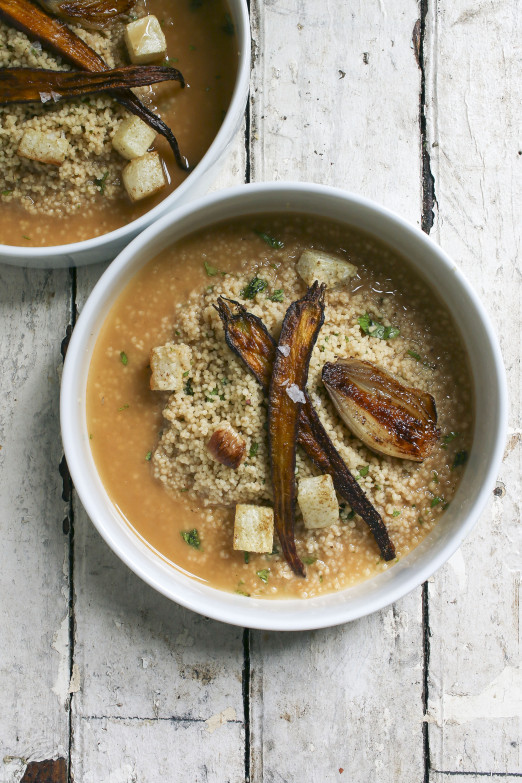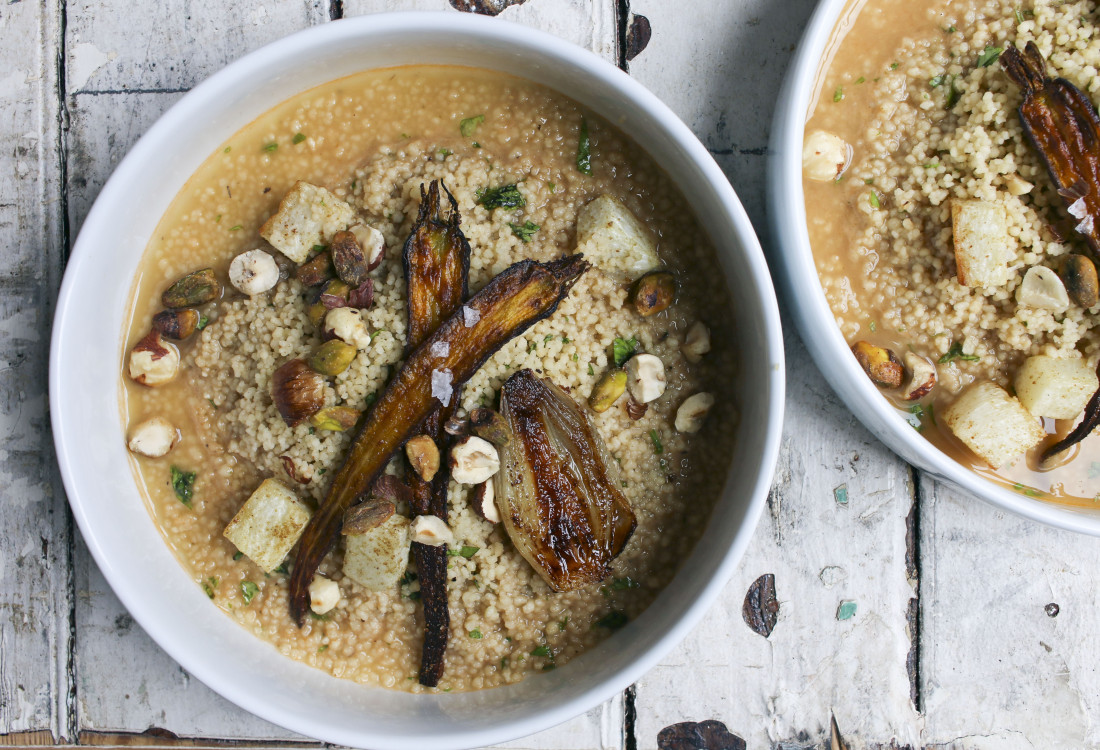 CUMIN ROASTED VEGETABLE COUSCOUS
IN COCONUT MISO BROTH
MAKES 4 SERVINGS
[one_third]
Vegetable Broth
1 1/2 tbsp canola oil
2 medium onions, quartered
1 leek, cut into 2″ pieces
2 carrots, cut into 1″ pieces
1 small celery root, peeled and cut into 1″ pieces OR 4 stalks celery
8 button mushrooms
2 cloves garlic, smashed
2 bay leaves
3 sprigs thyme
1 tbsp tomato paste
10 cups water
salt and fresh black pepper
Roasted Cumin Vegetables
1 – 2 bunches small carrots, cut in half lengthwise
2 large shallots, peel removed cut in half lengthwise
1 turnip, peeled and cut into 1″ cubes
olive oil
2 tsp cumin
kosher salt
Couscous
1 cup couscous
1 1/4 cup vegetable broth
1 tsp olive oil
1/4 tsp salt
fresh black pepper
1 1/2 tbsp chopped cilantro
Coconut Miso Broth
vegetable broth
2 tbsp white miso
1/4 cup coconut milk
salt
Garnish
2 tbsp toasted hazelnuts
2 tbsp shelled pistachios
Maldon Salt[/one_third][two_third_last]Vegetable Broth
Heat the oil over medium heat in a large pot. Add the onions, leek, carrots, and celery root. Sweat and brown the vegetables for about 15 minutes stirring occasionally. Allow these vegetables to pick up as much color as possible. This will add so much flavor. Add the mushrooms, garlic, bay leaves, thyme, and tomato paste to the pot and stir. Cook for another 3 minutes.
Pour in 1 cup of water and allow to bubble away while you scrape the bottom of the pot to release all the beautiful color. Add the remaining 9 cups of water and season with salt and pepper. Bring the stock up to a boil then turn the heat down to low. Cover the pot and simmer for 30 minutes stirring occasionally. Allow to cool and strain into another pot.
Roasted Cumin Vegetables
Pre-heat the oven to 375˚F and lightly grease a sheet pan with olive oil. Toss the carrots, shallots, and turnip with a generous amount of olive oil, cumin and kosher salt. Arrange on the sheet try in one layer. Place the carrots and shallots with the cut side down. Roast in the oven for 30-35 minutes until beautifully browned and cooked through.
Couscous
While the vegetables are roasting, place the couscous in a heat-proof bowl. Bring the strained vegetable broth to a boil then pour 1 1/4 cups of broth over the couscous. Immediately cover with plastic wrap and allow to steam for 5 minutes. The couscous should absorb all of the liquid. Remove the plastic wrap and fluff with a fork. Add in the olive oil, salt, pepper, and chopped cilantro and continue to fluff.
Coconut Miso Broth
Bring the remaining broth up to a boil over high heat and allow it to reduce by half. This will intensify the flavor of the broth. You should have about 2 1/2 cups left after reducing. Turn the heat off and whisk in the white miso. Once it has dissolved, whisk in the coconut milk and season with salt to taste.
Garnish
Place the hazelnuts and pistachios in a pestle and mortar and crush until you have a nice rough mix of the nuts. I like leaving bigger pieces. You can also chop them by hand.
Plate
Place a nice heap of couscous in the middle of each serving dish. Arrange the roasted vegetables on top. Slowly pour some of the coconut miso broth around the couscous. Top with the hazelnuts and pistachios and Maldon Salt. Enjoy![/two_third_last]