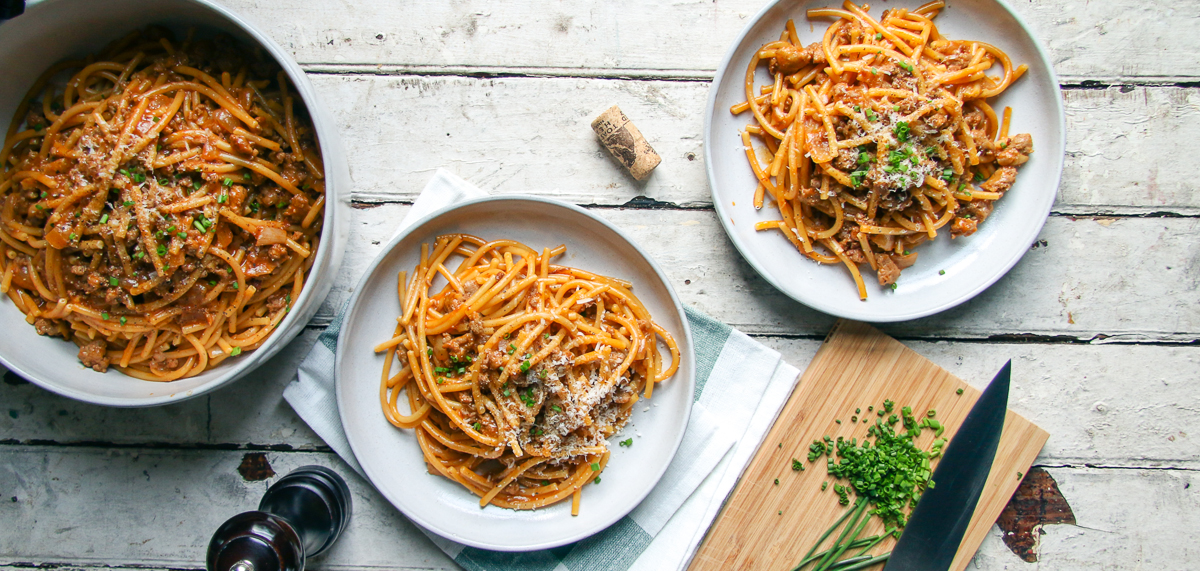 Paprika White Wine Bucatini
I'm never cooking pasta in water again. This one pot pasta is insanely luxurious and easy for a dish that basically has 6 ingredients. The pasta cooks almost like a risotto in a combination of white wine and chicken stock. It becomes creamy and develops this thick sauce. The sausage is almost redundant in this recipe because the bucatini is so "meaty". This comes together so quickly. It's perfect for a weeknight pasta meal… or a late lunch for one. Yes, I ate most all of it alone. There are no tomatoes in this sauce! It's red from the large amount of paprika that I put it. Delicious.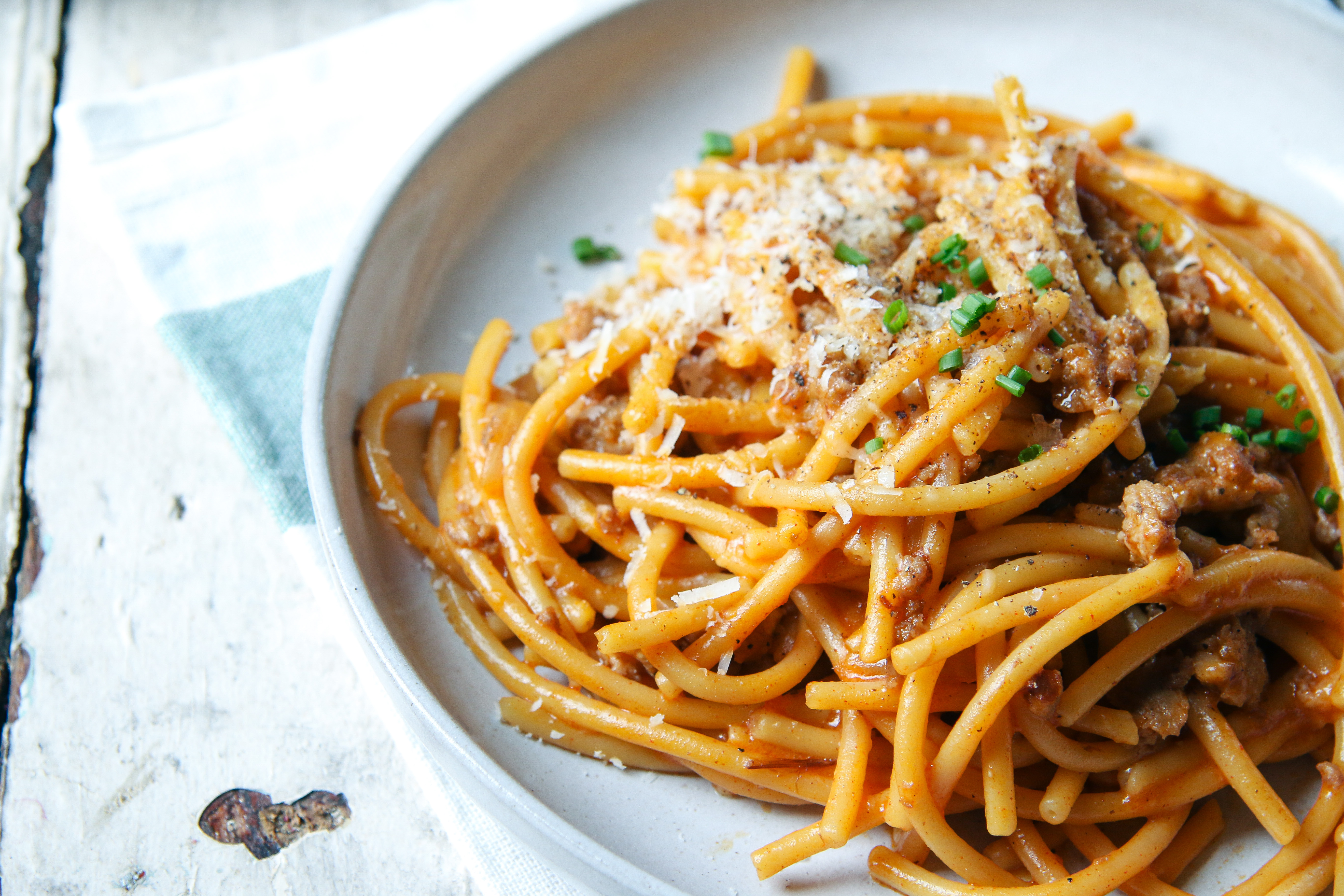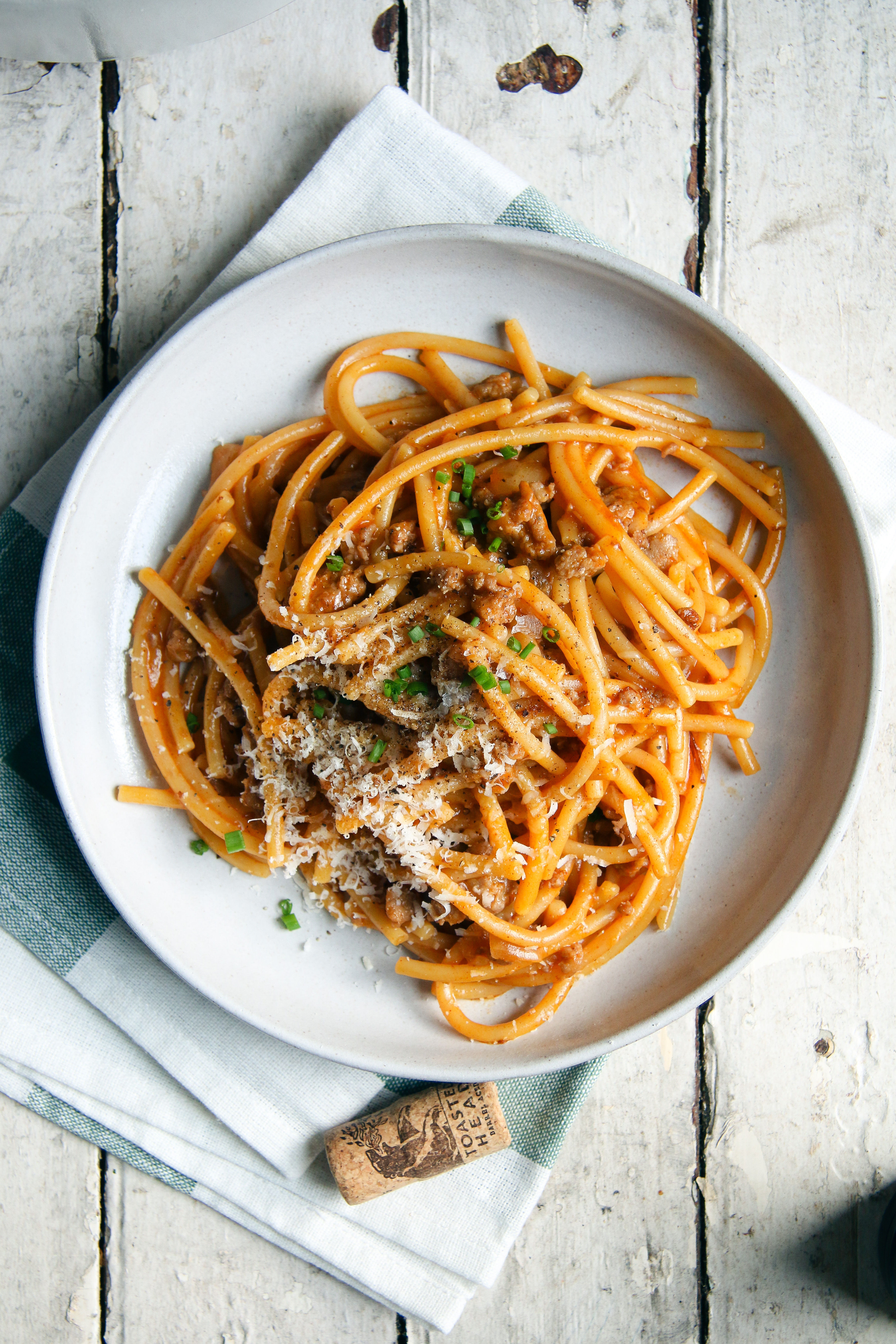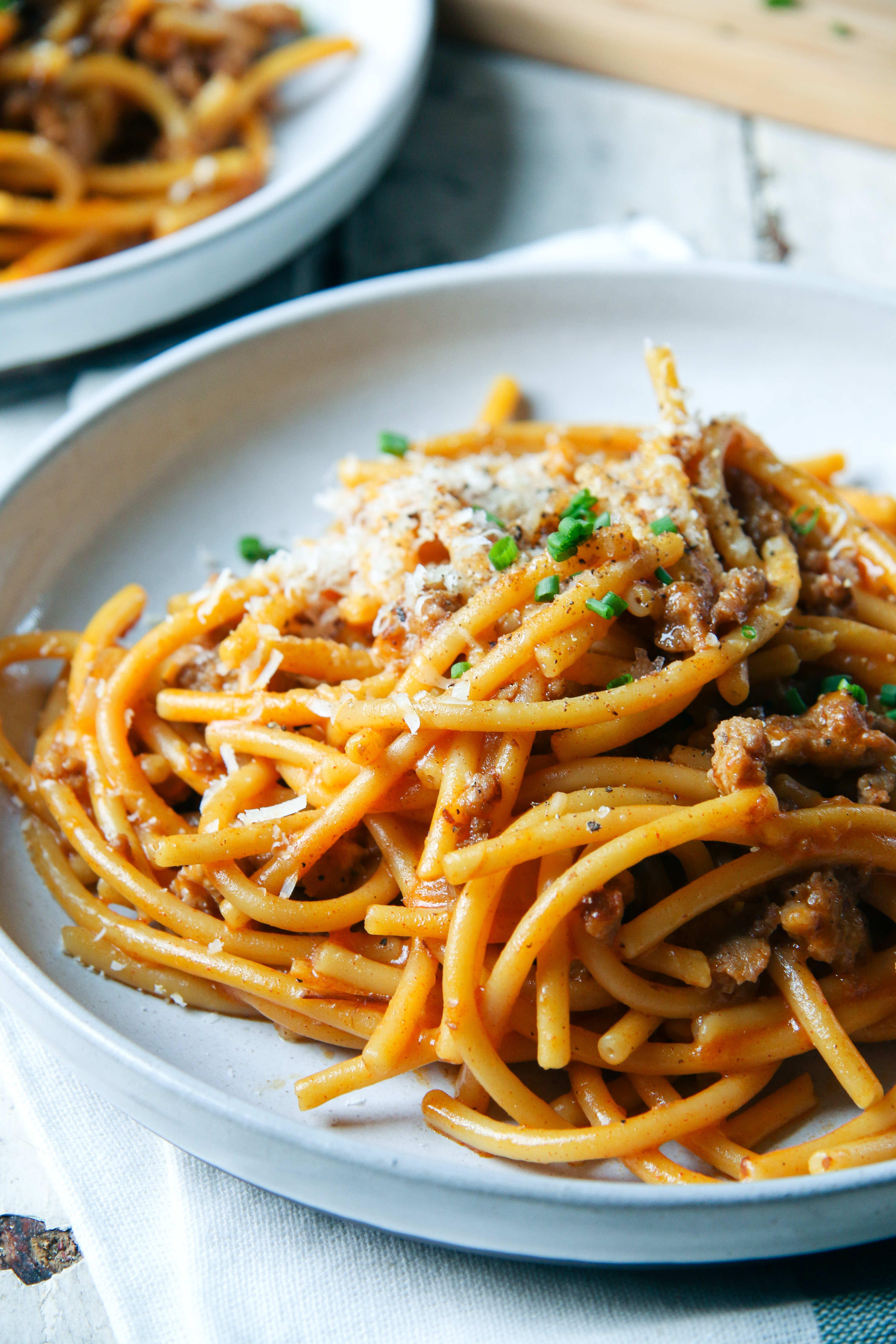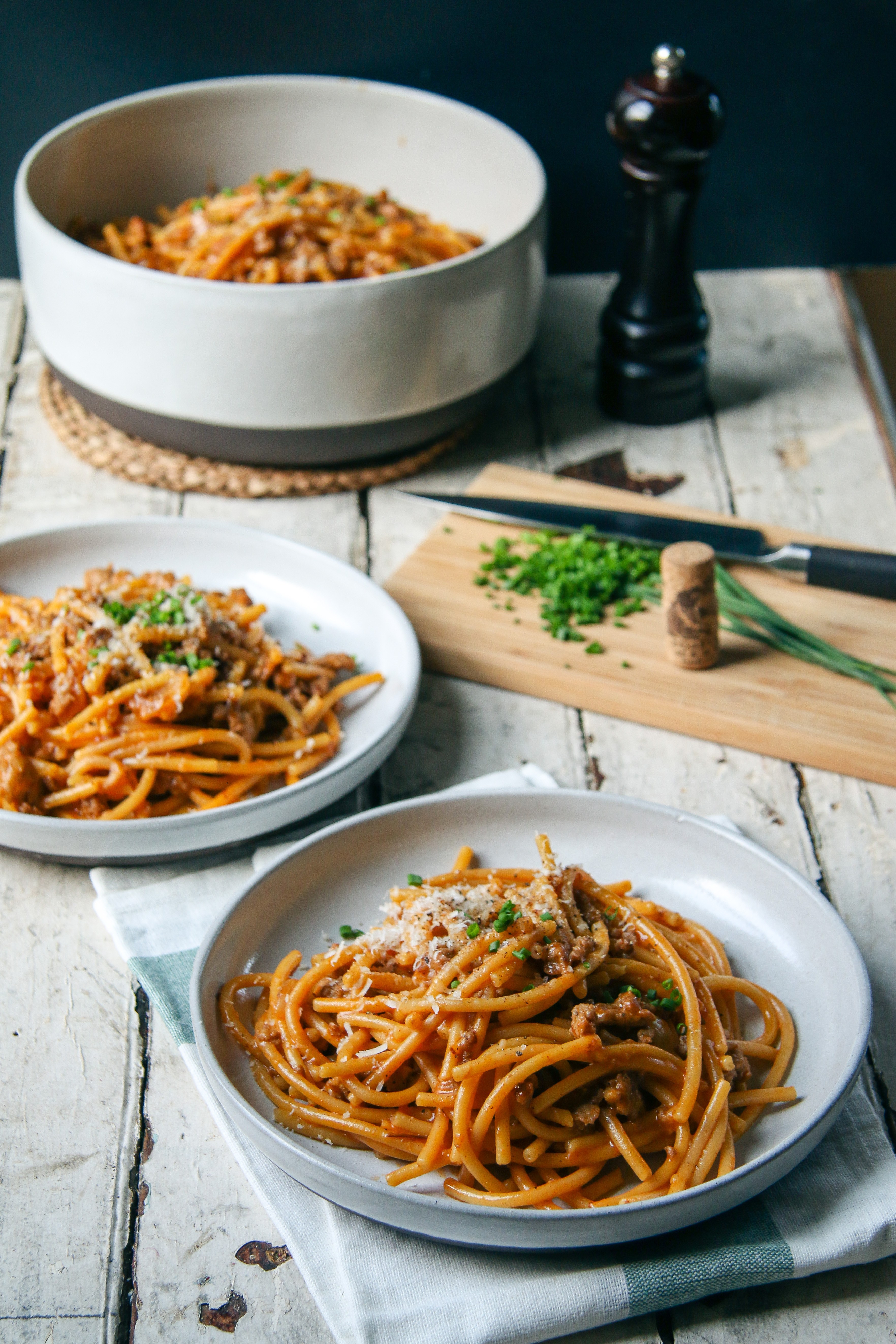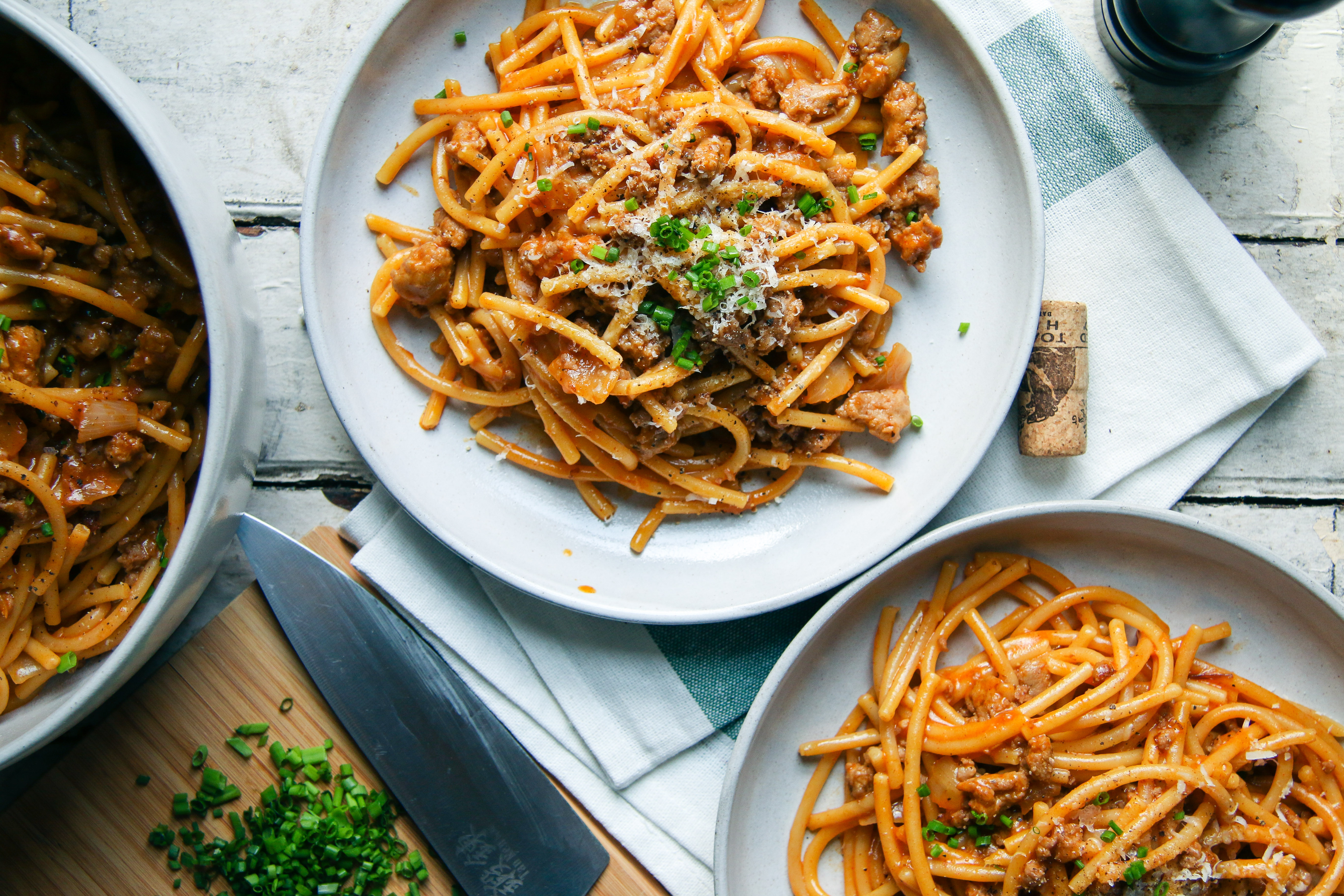 PAPRIKA WHITE WINE BUCATINI
serves 4
[one_half padding="0 20px 0 0px"]
2 tbsp olive oil
1 large onion, chopped
1 lb Italian sausages, sweet or spicy, casings removed
3 tbsp sweet paprika
1 tsp salt
2 cups white wine, like chardonnay
3-3 1/2 cups chicken or vegetable stock
1 lb bucatini, broken in half
1/4 cup grated parmesan plus more for garnish
chopped chives to garnish
fresh black pepper
[/one_half][one_half_last padding="0 0px 0 20px"]In a large, wide sauté pan with lid, heat the olive oil over medium-high heat. Add the onions and sauté until translucent and starting to brown. Add the sausage and crumble as it browns. Once the sausage is cooked through, about 4 minutes, add the paprika and salt. Sauté for 30 seconds to a minute to release the oils and flavors of the paprika.
Deglaze the pan with the white wine. Scrape the bottom of the pan as it bubbles to release the bits of flavor. Add 1 cup of the stock. Once it comes to a boil, add the bucatini and reduce the heat to medium-low. Cover the pan. Stir often making sure the bucatini doesn't stick to the bottom. Once the sauce begins to reduce and thicken, add stock one cup at a time, stirring and covering in between stirs. Continue doing this with the remaining stock until the pasta is cooked through. It will take anywhere between 16-18 minutes. This is like cooking risotto; adding liquid as needed until cooked through.
Once the bucatini is al-dente, toss in the parmesan and some black pepper. Check for seasoning and adjust with the salt. Plate and garnish with chives and parmesan. Enjoy![/one_half_last]