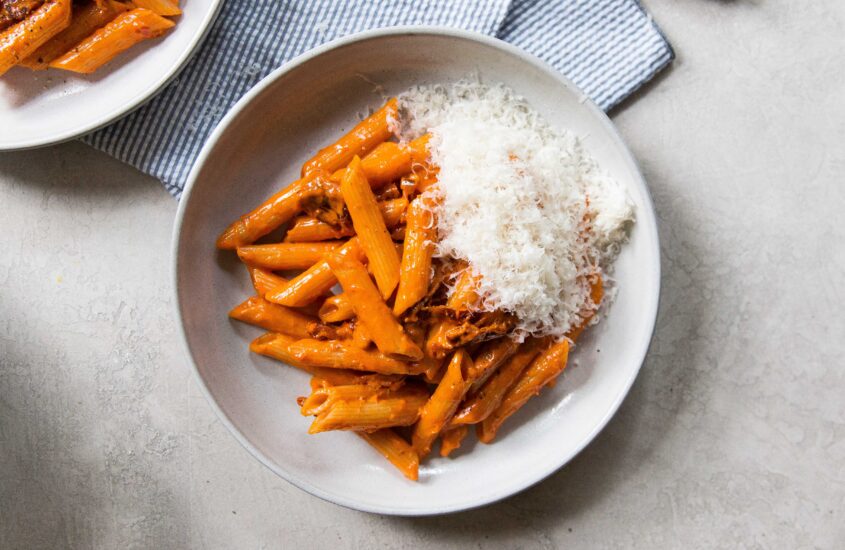 Penne alla Sun-dried Tomato Vodka
Rosy Vodka Sauce with a Sun-dried Tomato kick and a cloud of grated parmesan. Classic, but different.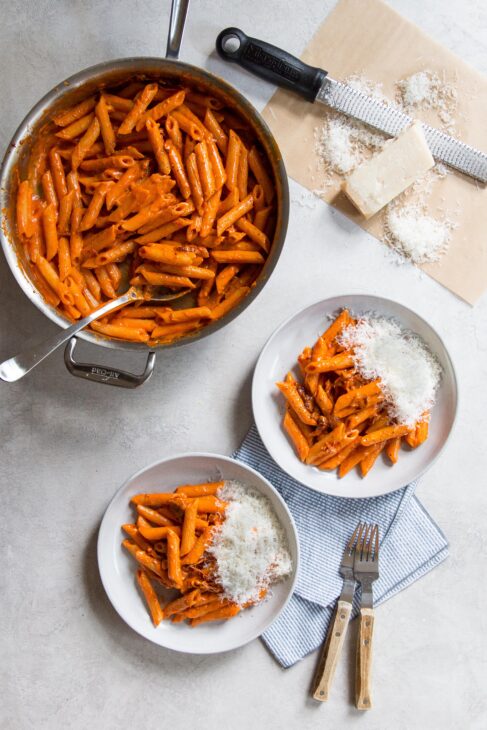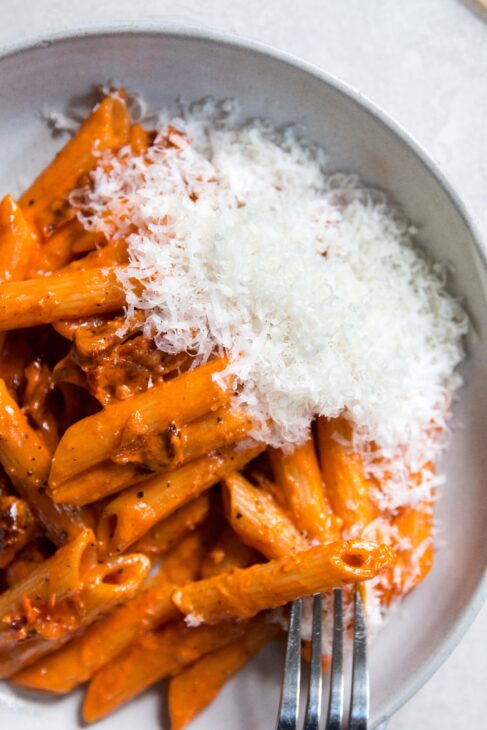 Penne alla Vodka is by far my favorite pasta/sauce combo. It's creamy, tomato-y, THICK, and gets into every nook and cranny of the penne. I got bored of the usual Vodka sauce and threw in sun-dried tomatoes for a change one day. We loved it. I'm definitely not the first to do this, and I will not be the last, but this is how I make my Penne alla Vodka with Sun-dried Tomatoes.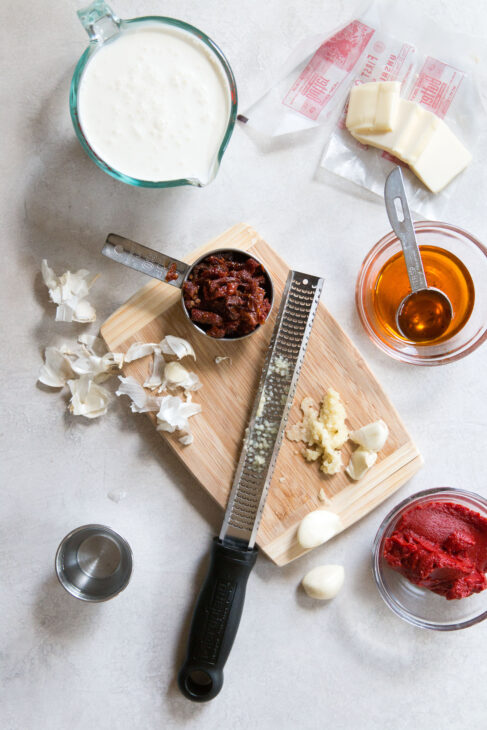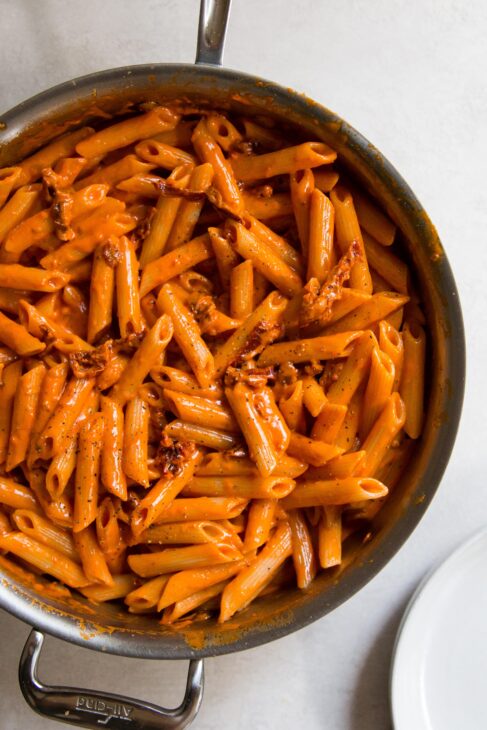 THE THINGS (Ingredients)
Oil from Sun-dried Tomatoes: I love utilizing the oil that sun-dried tomatoes come in. It would be so sad to just let that flavor go to waste. So instead of using regular olive oil to start off this dish, i just drained the oil from my sun-dried tomato jar and added it to the pan to get the party started.
Butter: Please use unsalted butter so that you can control the level of salt in the final sauce.
Garlic: I use a microplane to grate the garlic so it melts into the sauce. The microplane basically makes it into a paste. If you don't have one then you can just chop the garlic as finely as possible!
Tomato Paste: I use a double concentrated tomato paste for maximum flavor.
Vodka: It's vodka sauce… no substitutions. But if you're worried about the alcohol, it totally cooks off and it just leaves the flavor behind.
Heavy Cream: Hello creaaaaamy dreamy. Now, if you want to make this without dairy, I'd recommend using coconut milk instead. The finished pasta sauce is going to have a totally different flavor profile but it is going to be delicious. I use it in my Spaghetti with Coconut Milk & Curry recipe which has been a massive hit.
Penne: You can honestly use any tube shape pasta with ridges here. I've even been known to use spaghetti or bucatini in this recipe.
Parmigiano Reggiano: GRATE THIS ON A MICROPLANE! This is how I achieve that melt in your mouth, mountain for parm you see on the dish. You can use Grana Padano or Pecorino depending on your preference or any ol' parmesan you have in the fridge drawer.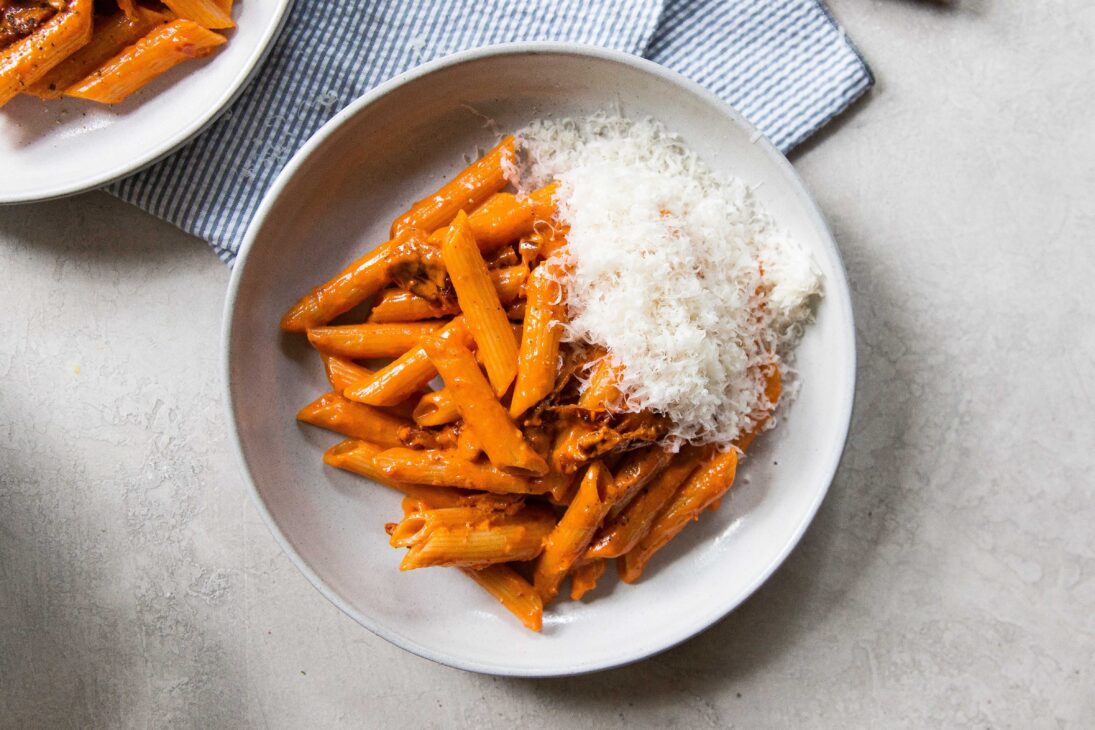 THE WAY (Inscructions)
The key is to really let the tomato paste caramelize and darken. This is when that tinny metallic flavor will disappear and a deep tomato flavor will come through. Don't rush this process.
The other key is to let your heavy cream cook down to a thick sauce too. Let this take as long as it needs! It will concentrate the flavors. You'll have pasta cooking water to thin this out if needed…
Like with any pasta sauce recipe, you should always save your pasta water before draining. It's the gold and the glue to all sauces. I save extra pasta water so that if the sauce gets too thick, I can thin it out with some. It's perfect for re-heating as well.
Some other pastas you may be interested in: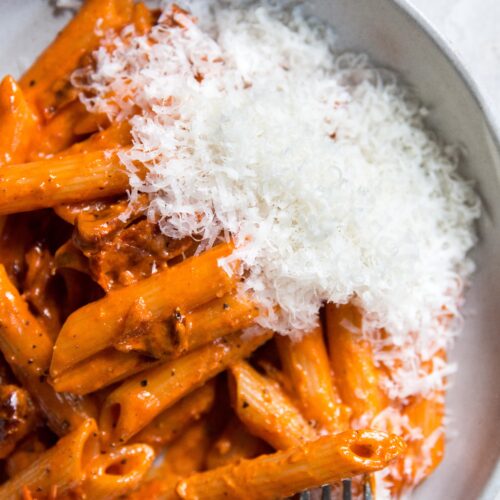 Penne alla Sun-dried Tomato Vodka
Penne alla Sun-dried Tomato Vodka recipe! A simple, quick family favorite pasta dish topped with a cloud of parmesan cheese.
Print
Pin
Ingredients
1

lb

penne

6

tbsp

oil from sun-dried tomato jar

, or olive oil

3

tbsp

unsalted butter

4

cloves

garlic

, grated finely on microplane

1/2

cup

tomato paste

, double concentrated

2/3

cup

sliced sun-dried tomatoes in oil

, I used one that had some oregano in it too

1/4

cup

vodka

2

cups

heavy cream

kosher salt

black pepper

Parmigiano Reggiano

, grated on microplane
Instructions
Heat the oil from the sun-dried tomatoes and the butter in a big sauté pan or large pot over medium heat.

Once, the butter is melted and bubbling, add the grated garlic an cook until fragrant, about 30 seconds.

Add the tomato paste and sun-dried tomatoes and whisk together.

Cook, stirring often, until the tomato paste has darkened and has caramelized, about 5 minutes.

Meanwhile, boil penne in heavily salted boiling water until cooked just before al-dente, about 2 minutes shy of box instructions. Drain and save at least 1 1/2 cups of pasta cooking water.

Deglaze the pan by adding the vodka and scraping up anything that is stuck to the pan.

Stir in the heavy cream, season with salt and fresh black pepper.

Turn the heat down to low and allow to simmer, stirring occasionally, until the sauce has thickened and has darkened a bit, about 10-15 minutes.

Add the penne and about 1/2 cup of pasta water to the pan and stir to coat.

Turn the heat back up to medium and cook, stirring constantly, until the sauce is thick and the penne is cooked through. Add more pasta water as needed if the sauce gets too thick before the pasta is ready.

Serve immediately with a mountainous cloud of grated Parmigiano and a few cracks of fresh black pepper.
Notes
SAVE YOUR PASTA WATER TO RE-HEAT THIS! This sauce gets thicker as it sits and cools, you should keep some extra pasta cooking water to thin out the sauce if it gets too think. It's fantastic for re-heating this too. 
You can use olive oil instead of the oil from the jar of sun-dried tomatoes.
I grate my garlic on a microplane to it disappears into the sauce. If you don't have one, just chop the garlic as finely as you can.
Penne is classic but any other pasta shapes work here.