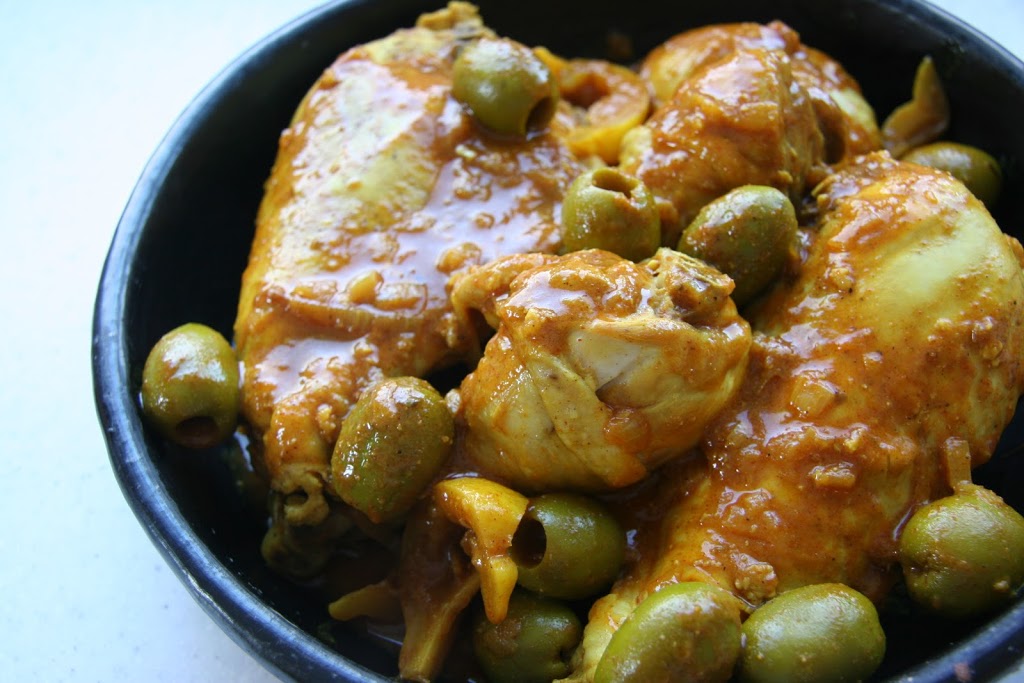 Moroccan Chicken with Lemons and Olives
Want to impress some dinner guests? Or family? Or your boyfriend/hubby? This is the way to go. Its super easy to make, but tastes and looks as if you had been slaving away for hours. This chicken is always a winner.
Spices are the key in Moroccan cooking. Lots and lots of spices, and some slow cooking (and some love).
I don't recall my grandmother making this dish, although the aroma reminded me of her kitchen. I used to sit at the little kitchen table while she cooked. The table was used for everything since there wasn't much room for a cutting board near the gas stove. It was always really dim in that kitchen; must have been because of the 20-foot ceiling fixed with one tiny white bulb. But it worked, 'cause there was light.
I'm the opposite. Now, even when all of my condo's lights are on – including the stove overhead and the lighting in the den, living room, and hallway – I still complain it's too dark.
I love lemons. If you're not a fan, I wouldn't recommend this recipe for you. It has a fairly strong lemon flavor. Not a huge lemon fan but still want to test this recipe? Don't add in the lemon juice, just the lemon slices. Traditionally, this is made with the skin off the chicken but I left the skin on the drumsticks. It gives some more flava!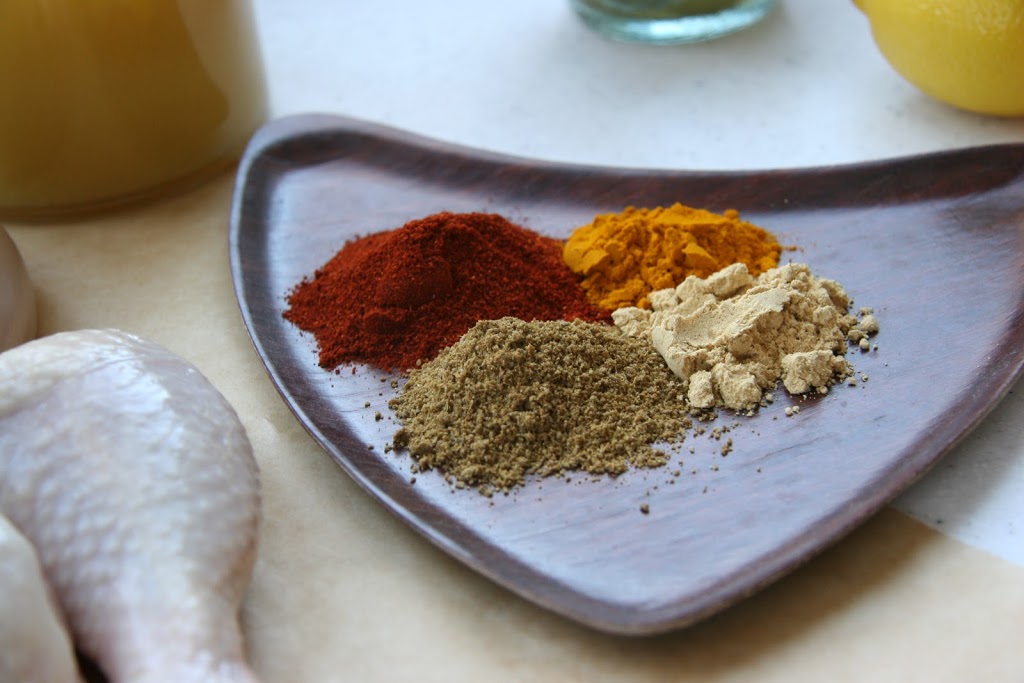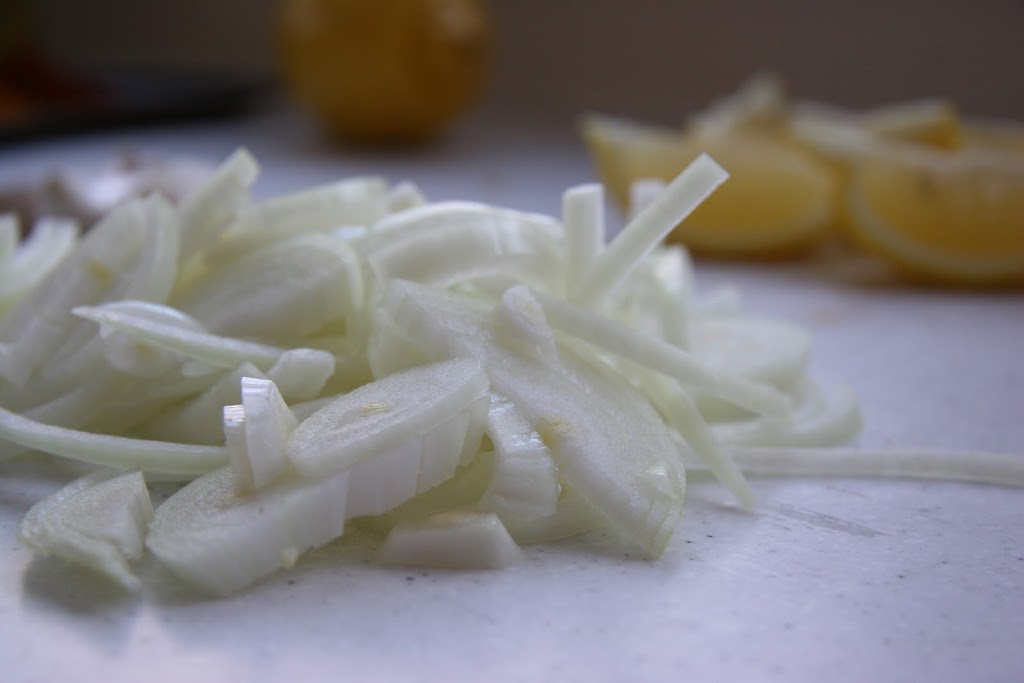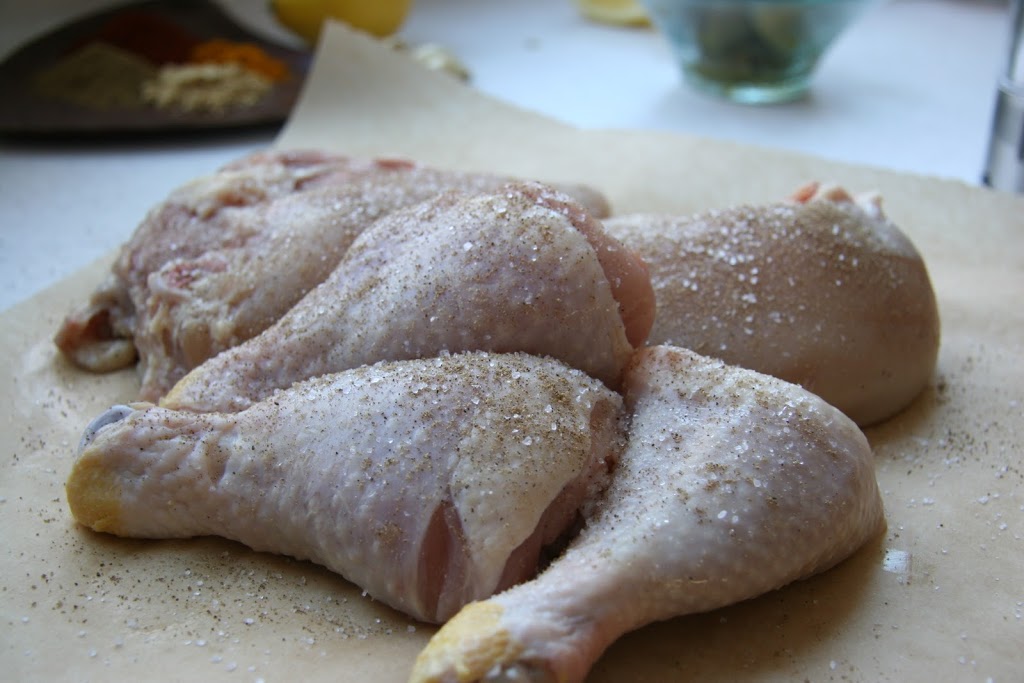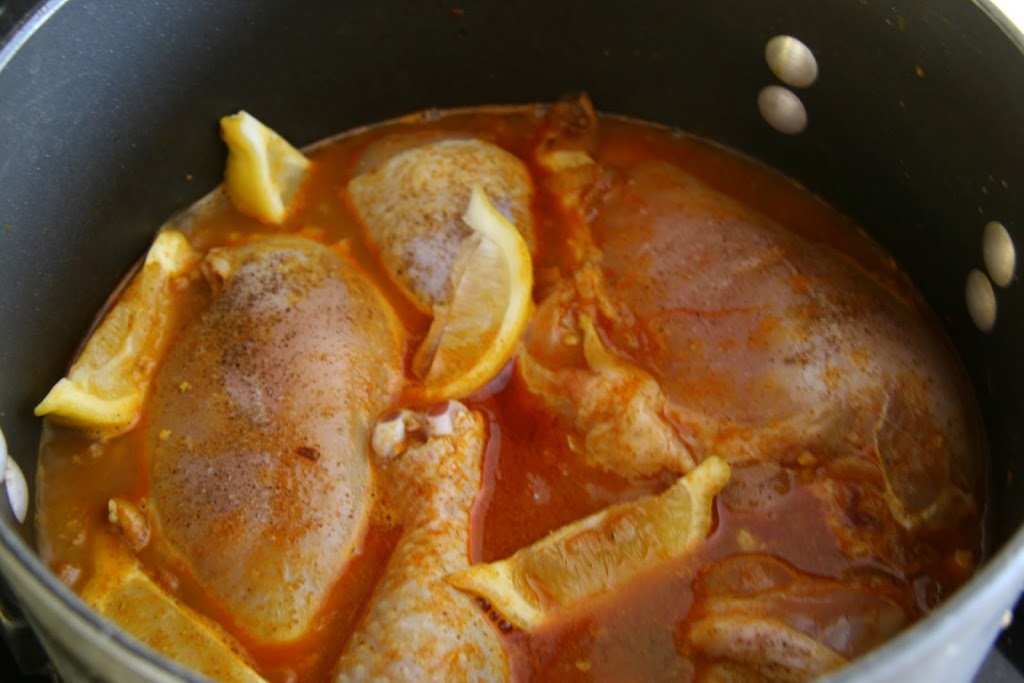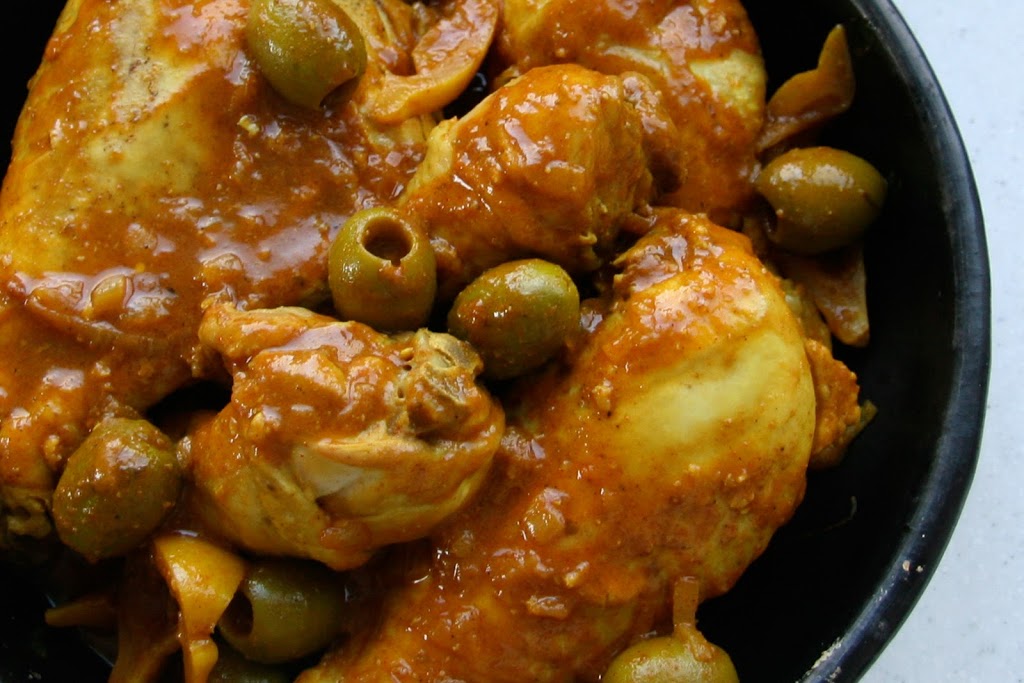 Moroccan Chicken w/ Lemons and Olives
Makes 6 Servings
2 lemons
1 TBSP olive oil
1 large onion
2 garlic cloves, minced or chopped finely
1 TBSP paprika
2 tsp cumin
1 tsp turmeric
1 tsp ground ginger
2 cups low sodium chicken broth
8 pieces chicken, bone in and skin on or off (breast, thigh, drumstick, whatever your fave pieces are)
1/2 cup green olives, pitted
Cut one of the lemons into 8 wedges and squeeze the juice out of the second lemon. Reserve on the side.
Heat large skillet or pot on med-high with olive oil. Add the onions and season with salt and pepper. Sauté them until they are slightly browned but not burned. Add the garlic and the spices and sauté them until the oils from the spices have developed.
Add the chicken broth and bring to a boil.
Season chicken pieces generously with salt and pepper and add them into the pot. Add the lemon wedges only. Cover, reduce heat to med-low and simmer for 30 minutes or until the chicken is cooked. Turn the chicken half way through the cooking process.
Transfer chicken pieces to your serving plate. Add the remaining lemon juice and olives to the pot. Turn heat up to high and reduce the sauce until nice and thick. Taste to see if it needs any more seasoning and pour sauce over the chicken.
Serve and enjoy =)
See, that was easy.