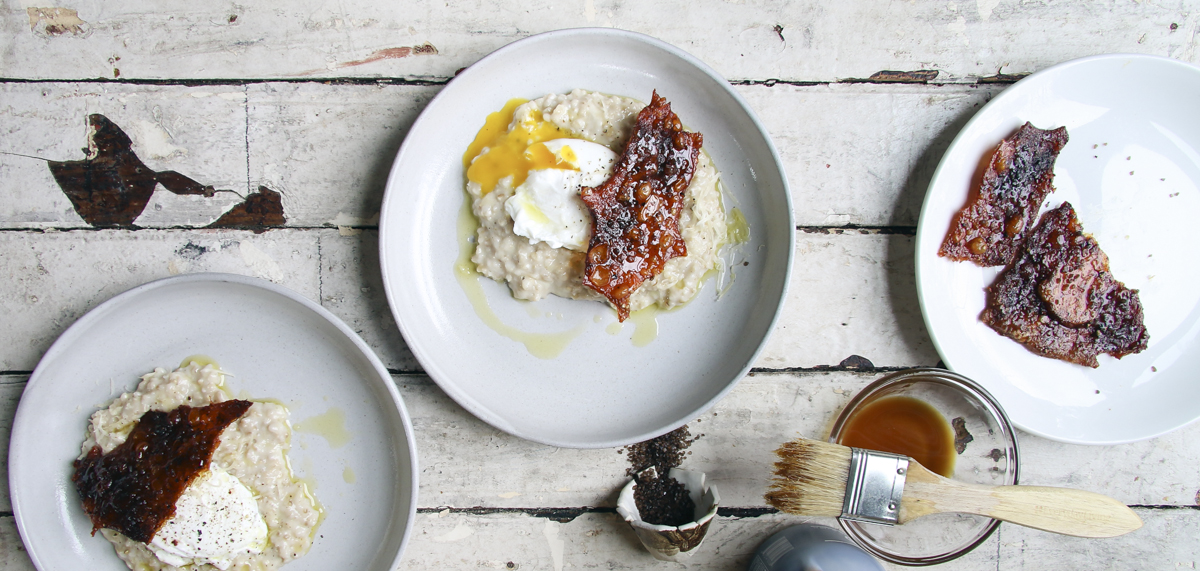 I've been thinking about his dish for a very long time and finally got the chance to make it. Worth the wait. The bacon is made from chicken skin that I slowly crisped up in the oven with a sprinkle of paprika and pepper. Once it was crisped through, I brushed it with sorghum and sprinkled it with a smoked sea salt to really give it that smoky bacon flavor. Sorghum isn't as sweet as honey and has a distinct deep flavor that is difficult to explain. The best I can do is that it's not like molasses. That sucked, sorry.  It adds just the perfect amount of sweetness to the chicken skin and helps the salt really stick to it. The inspiration for the "bacon" came from an episode of Mind of a Chef with Sean Brock and Erik Anderson (They made hot chicken). Chef Anderson also made a wonder bread cream of sorts which is also on my list of things I must try.
The oatmeal is cooked slowly with a bit of milk, sage and garlic. Later, a sharp white cheddar is mixed in. I season it heavily with salt and pepper to really hit you with the "savory oatmeal" over the head. I finish the whole dish with a drizzle of olive oil and a white balsamic vinegar to brighten the dish. I think it's perfect. I had left over oatmeal so there may be some fried (savory) oatmeal cakes on the blog soon. Right!??! Maybe genius. Maybe even a bottom layer to an eggs benny? Who knows. the possibilities are just endless.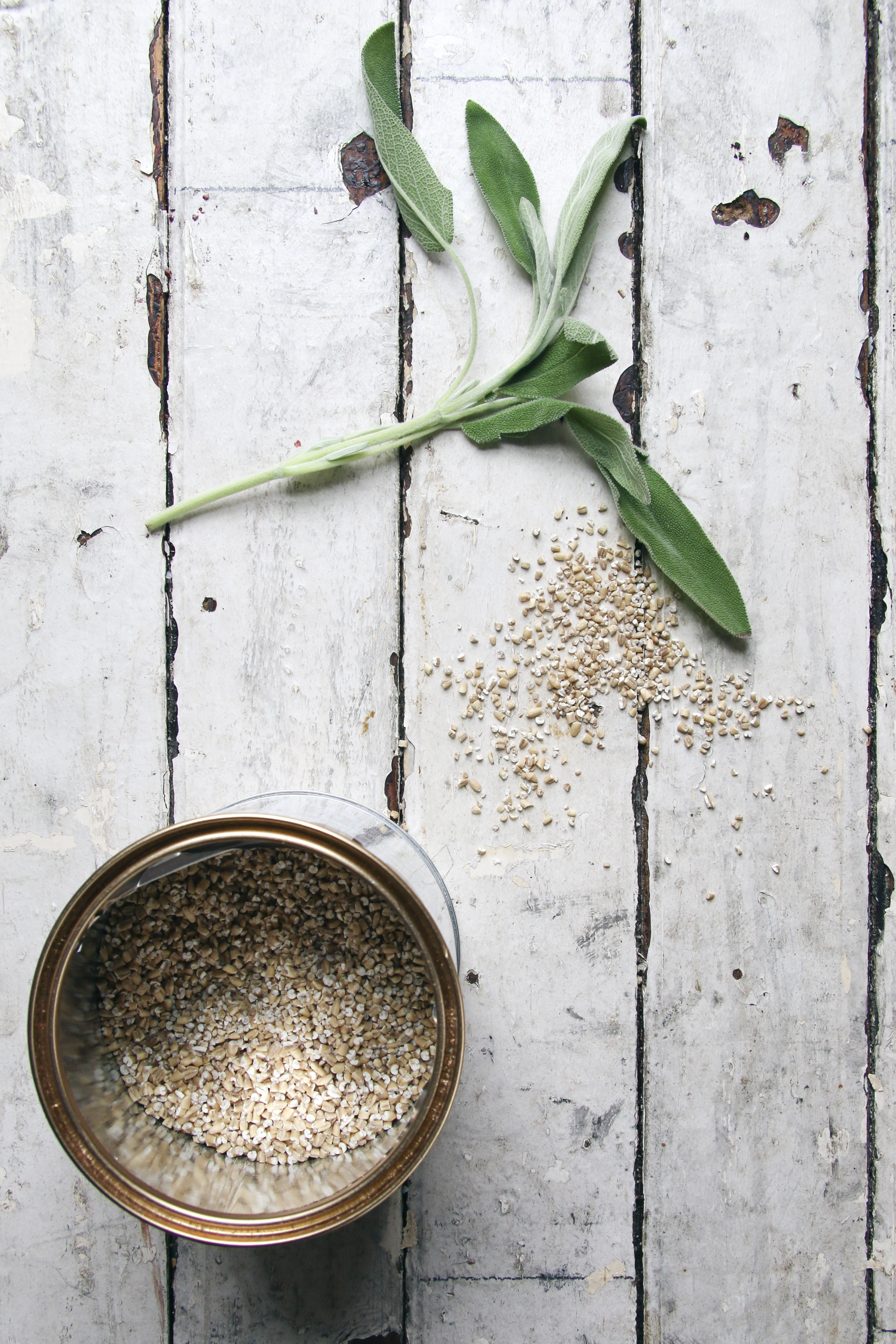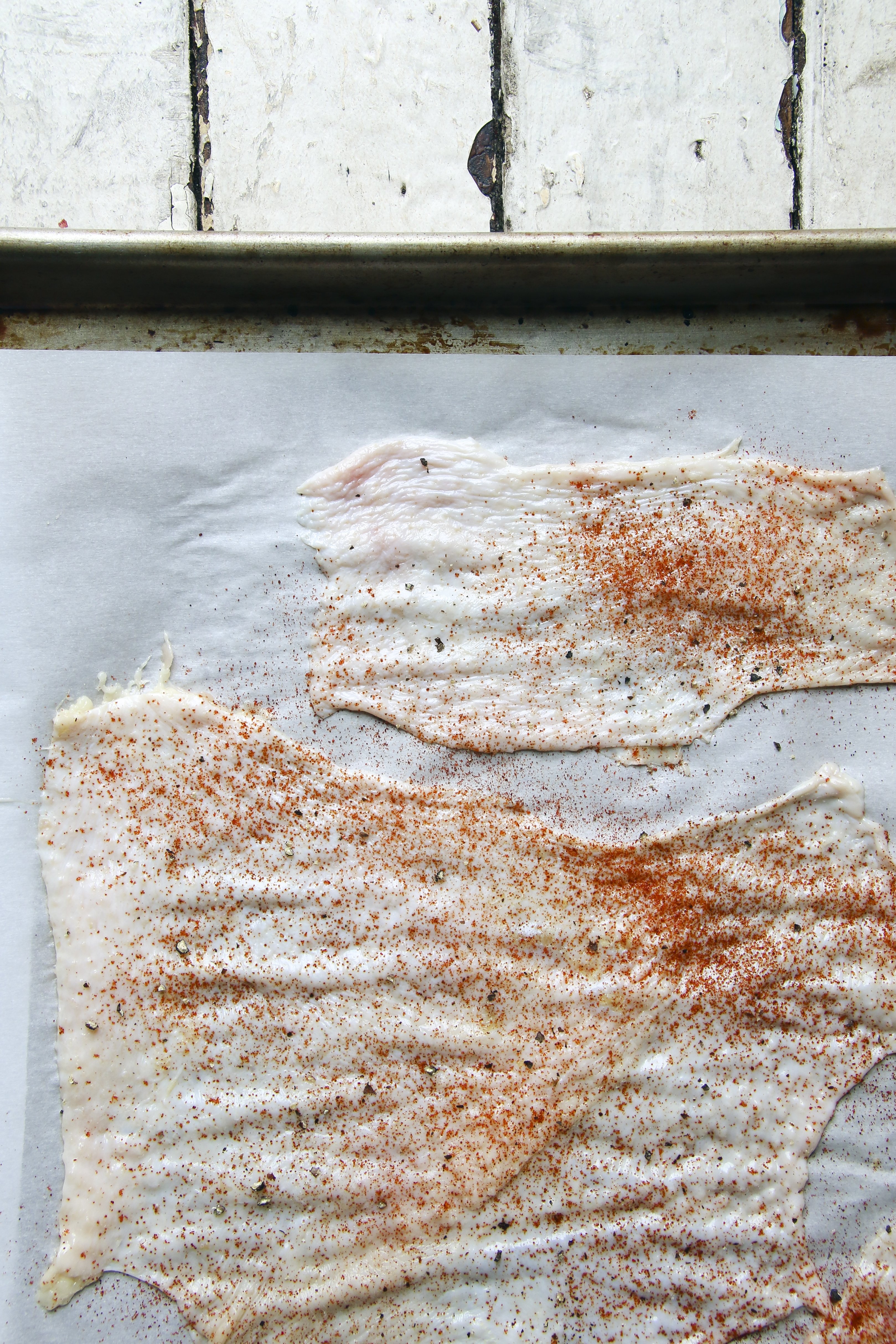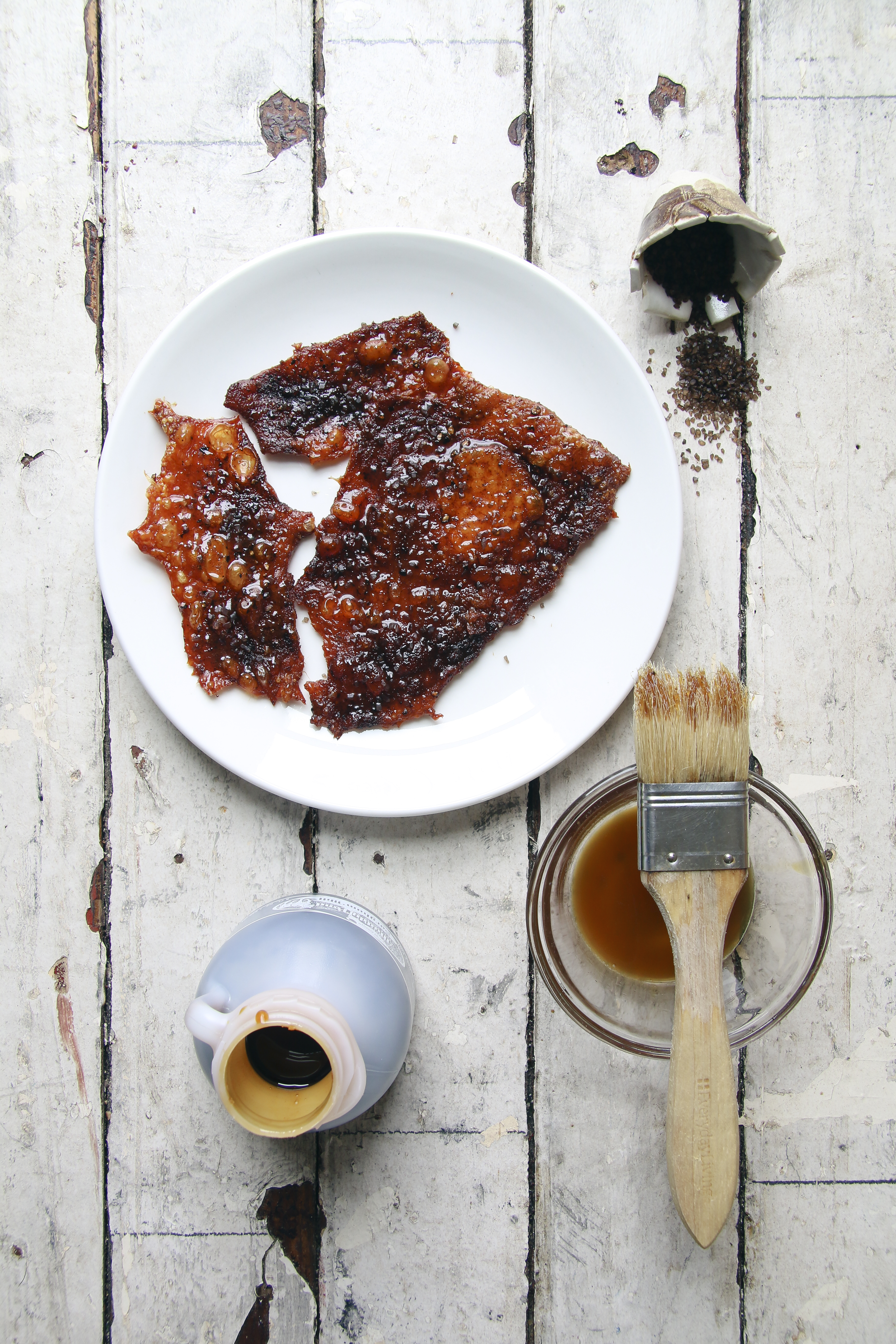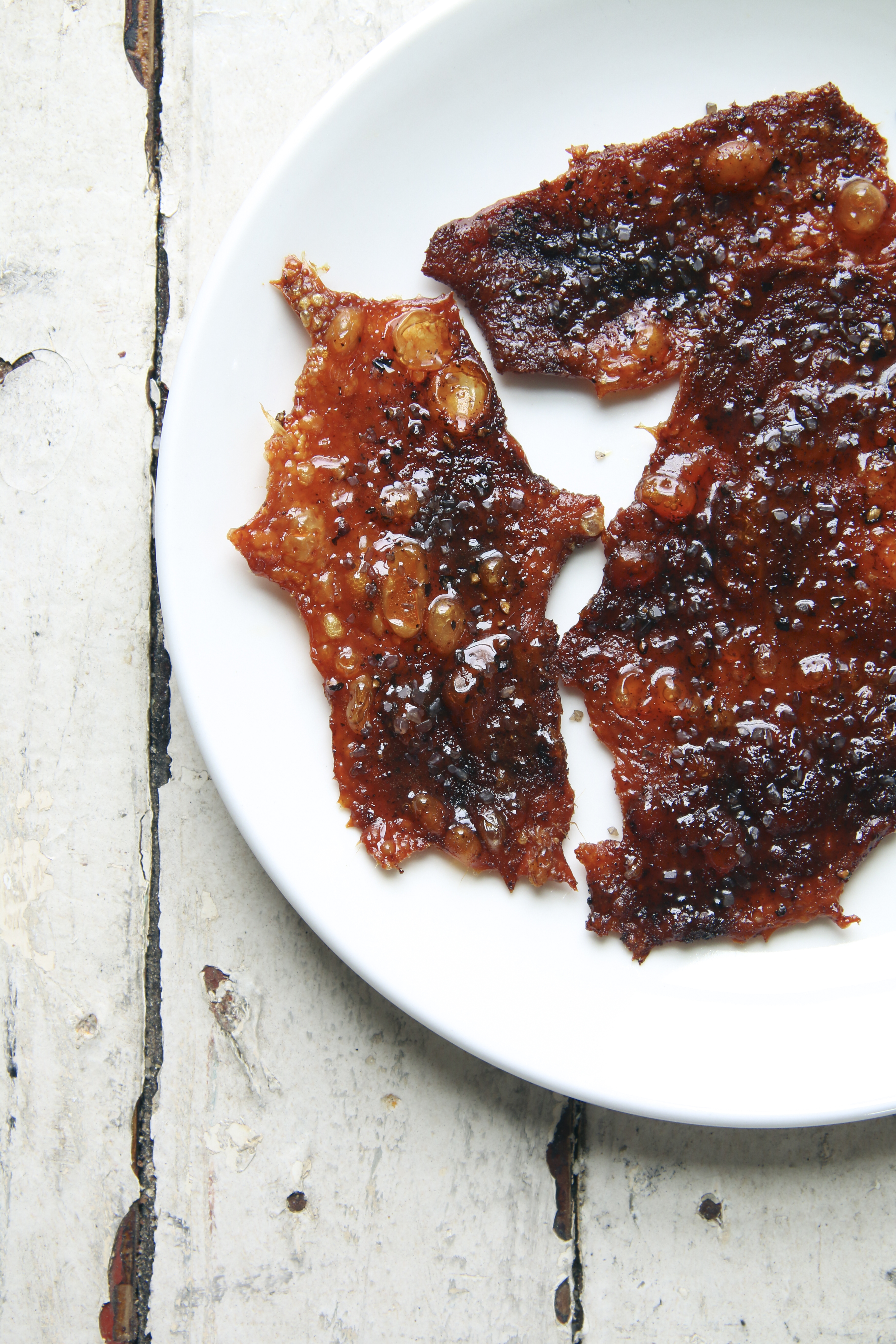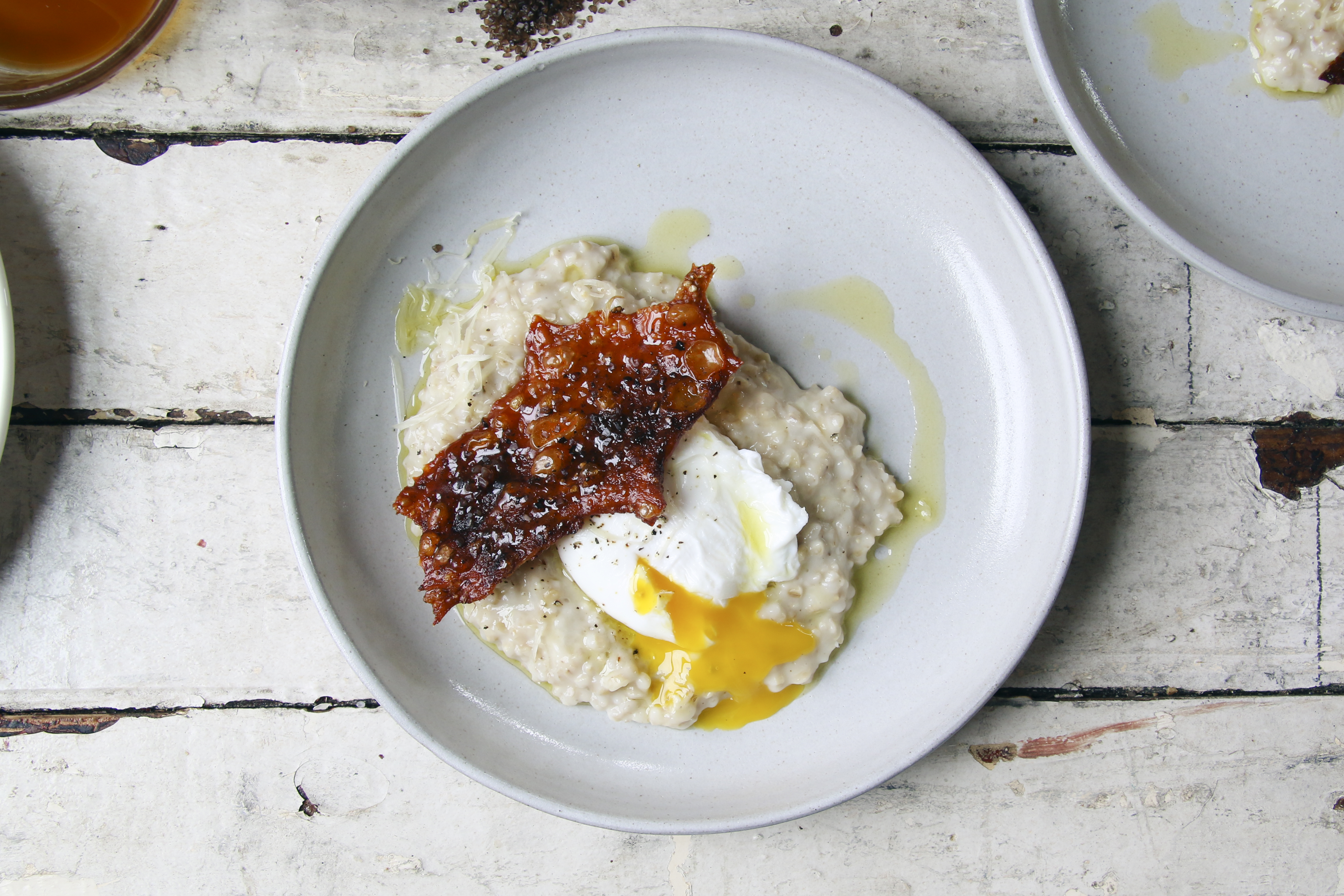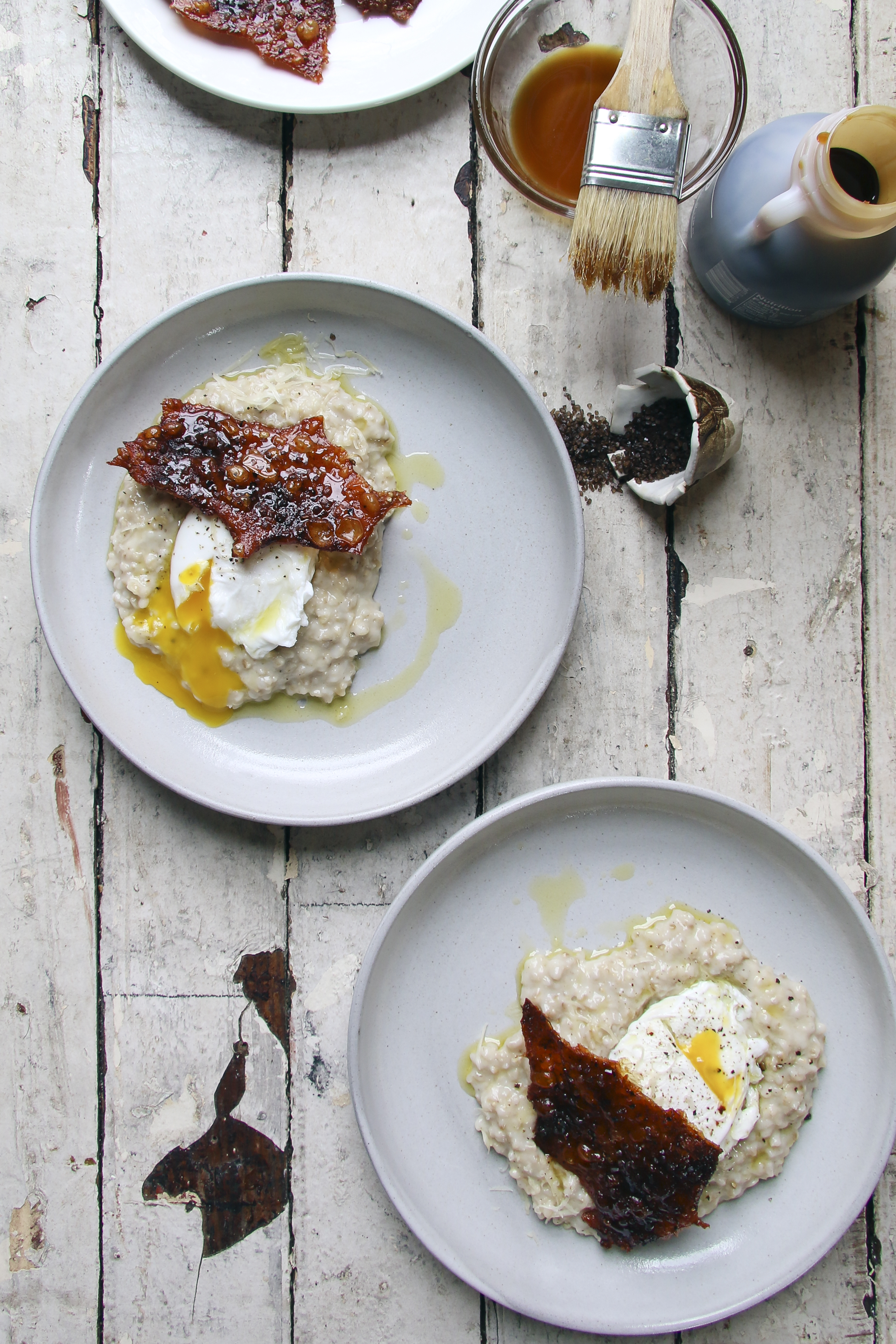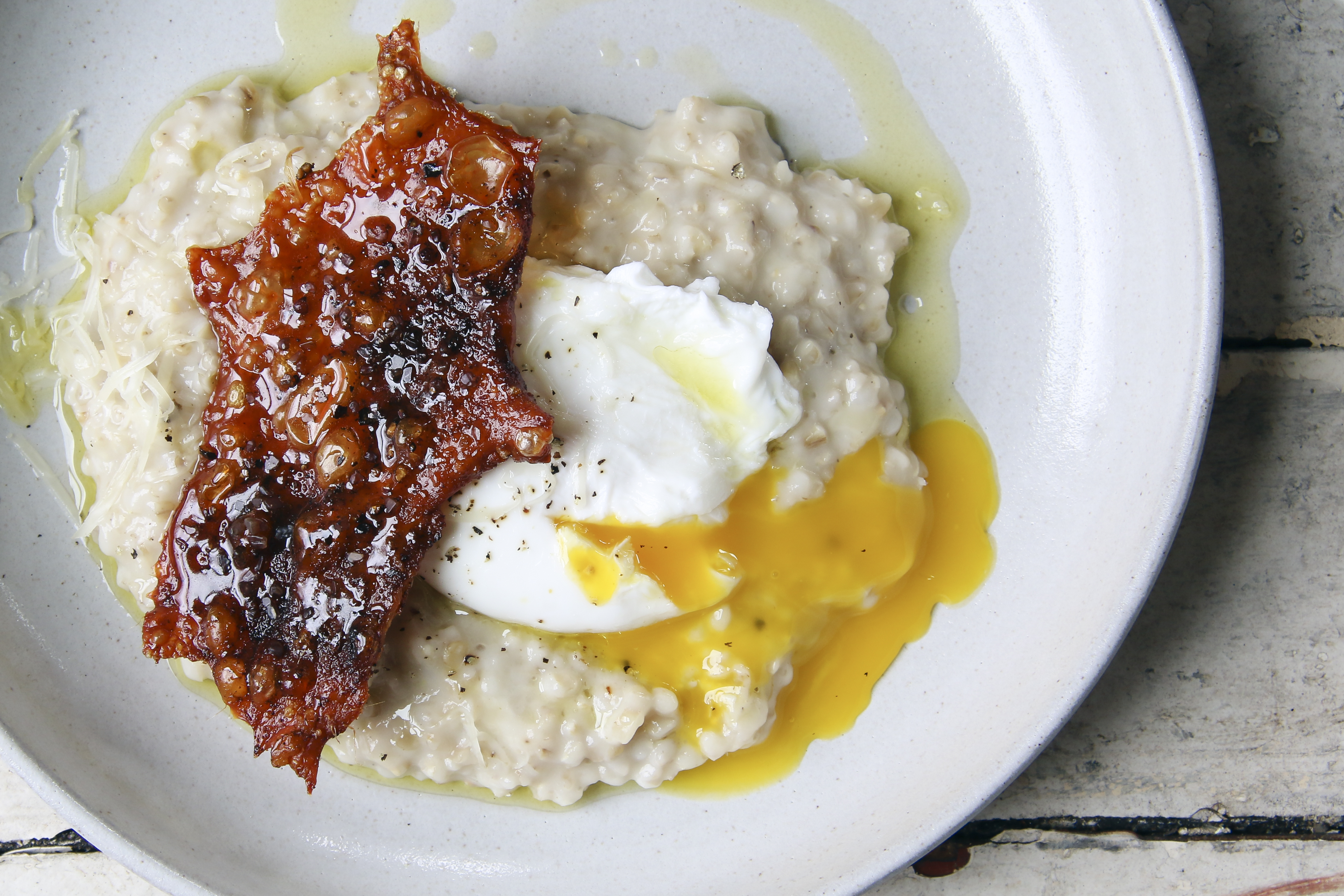 "BACON" 'N' EGGS OATMEAL
4 SERVINGS
[one_half padding="0 20px 0 0px"]4 large pieces chicken skin
paprika
fresh black pepper
sorghum
smoked sea salt

 
3 1/2 cups water
1/2 cup milk
3 sage leaves
1 clove garlic, crushed
salt and fresh black pepper
1 cup steel cut oats
 
1 cup shredded sharp white cheddar, plus more for garnish
1/2 tsp salt
1/4 tsp fresh black pepper
 
4 poached or fried eggs
olive oil
white balsamic vinegar[/one_half][one_half_last padding="0 0px 0 20px"]Pre-heat the oven to 375˚F (190˚C).
Clean the chicken skin by scraping as much fat as possible off of the inner side of the skin with a knife. Line a baking sheet with parchment paper and lay the skin onto the parchment, stretching it as flat as it will go. Season the skins with paprika and fresh black pepper. Lay another piece of parchment paper on top of the skin and top with another baking sheet. Roast in the oven until golden brown and crispy. This will take between 35-45 minutes. Rotate the pan half way through the cooking time. Once the skin is cool enough to handle, brush each piece with a light coating of sorghum and sprinkle with a generous amount of smoked sea salt.
To make the oatmeal, bring the water, milk, sage, garlic, a pinch of salt and fresh pepper to a boil in a sauce pot with tight fitting lid. Once it comes to a boil, stir in the oats, turn the heat down to low, cover and simmer for 30 minutes, stirring occasionally, until the oats are cooked through and creamy. Remove the sage and whatever large pieces of garlic you can find. Stir in the cheddar, salt and fresh black pepper. Taste and adjust the seasoning accordingly.
Plate the oatmeal on the serving dishes. Place the poached egg on top of the oatmeal and lay a piece of "bacon" on top. Drizzle the oatmeal with olive oil and white balsamic vinegar. Season with black pepper and a bit of finely shredded cheddar. Enjoy![/one_half_last]