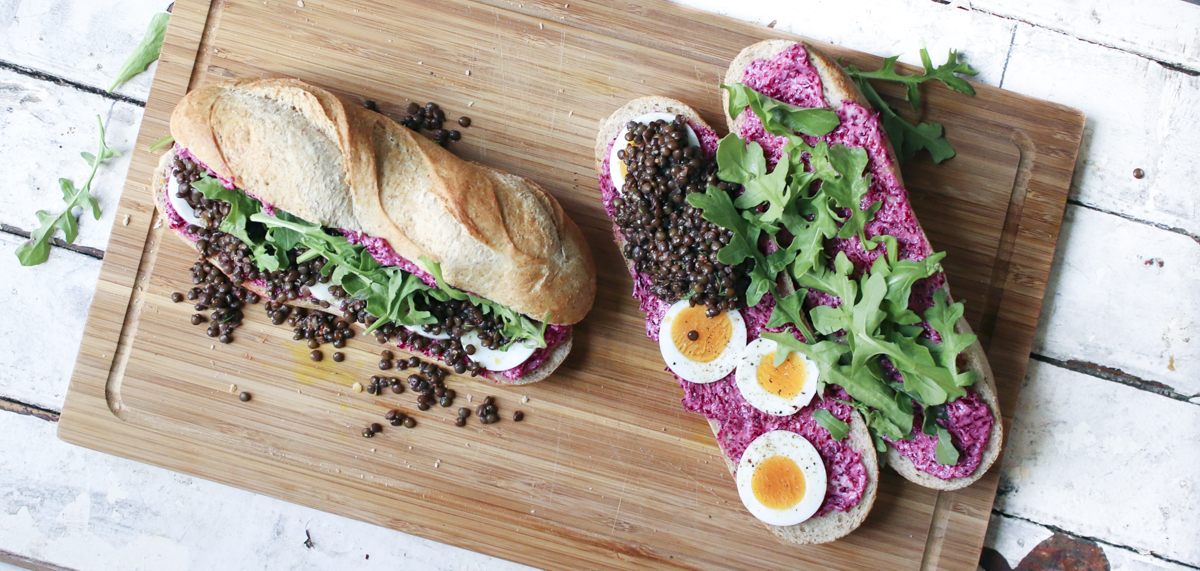 Lentil Sandwich with Pickled Beet Butter
It's officially a thing… well, I'm now making it one. Lentil salad sandwiches. At first, it was just something I was making for myself on days that I desperately needed to go grocery shopping. Now… it's a thing. My visit to Toronto this week was awesome, in case you were wondering why there was no post last week. I don't know how it became the trending topic of conversation, but I found myself constantly talking about pickled beets. Whether to make them at home, or just buy them, how you eat them, what you put them in, rounds or cubes… And interestingly enough, during my last meal in Toronto, I was served a side of magenta colored butter with my toast. My brain immediately thought, "sweet." Then my tongue said, "whhooaaa, savory." Beet butter.
So I get home and make this. Instead of just #basicbeetches, why not pickled beet butter. I like to make my own pickled beets, but if you're not into pickling things *eyeroll*, then you can use store bought pickled beets. Now, I know what you're going to think, "Holy sh*t that's a lot of butter on that baguette" …mmhmm. Deal. I went to a french culinary school. This could also be eaten as a bowl instead of a sandwich (photo at the bottom), which is how Tas likes it when he doesn't want to "carb too hard". Also, this is a great lunch to bring on a picnic.
I might still be hungover, pardon my word vomit.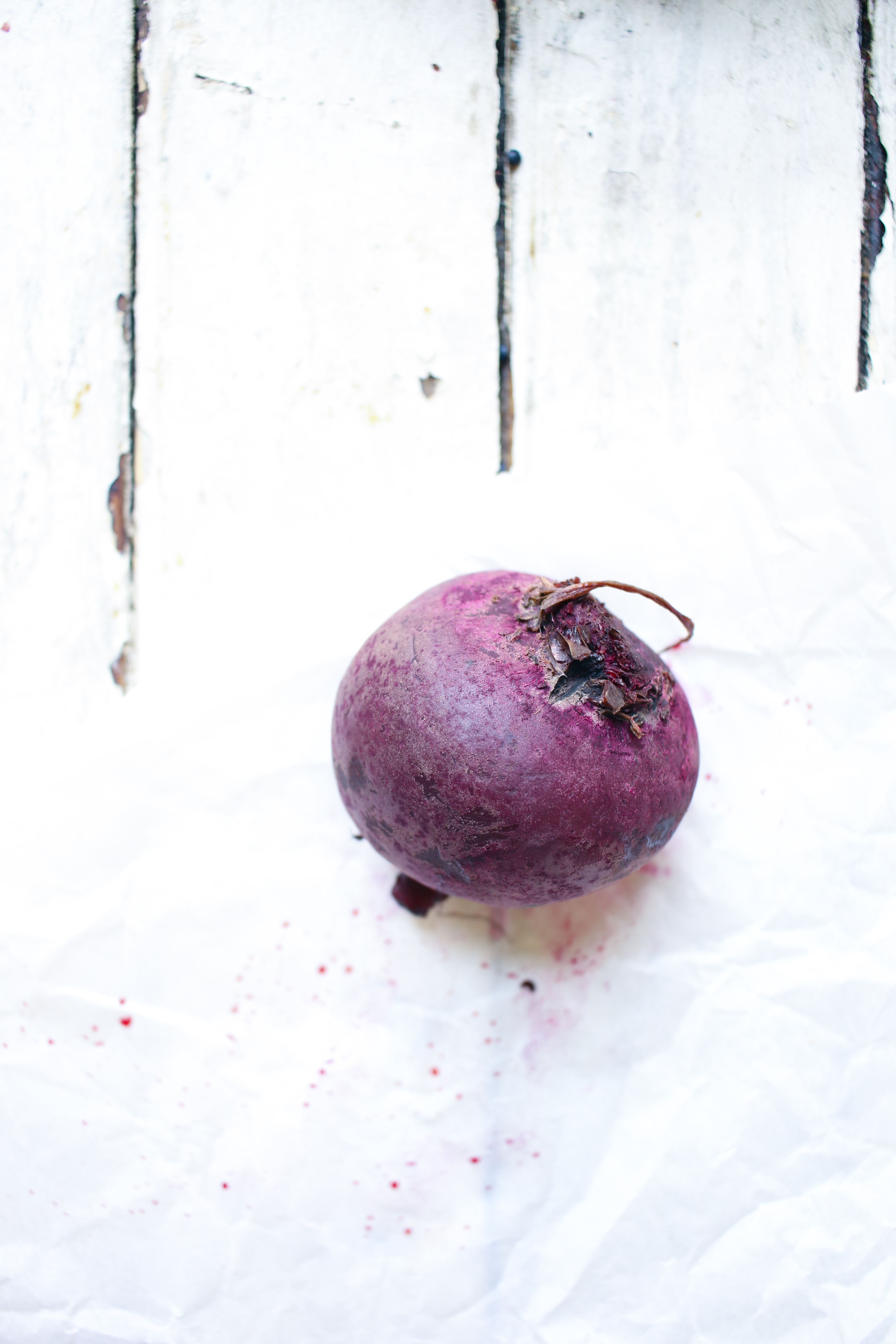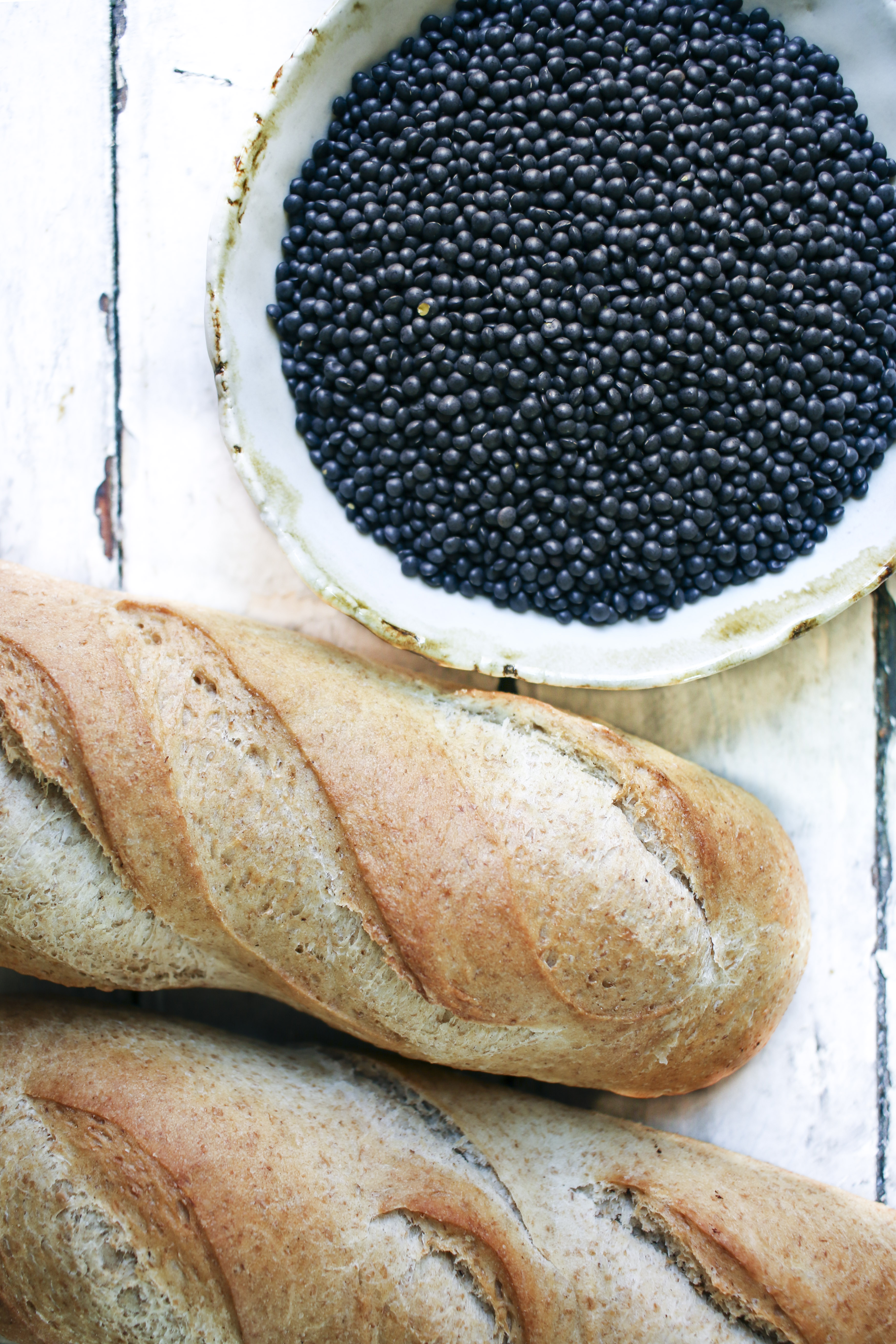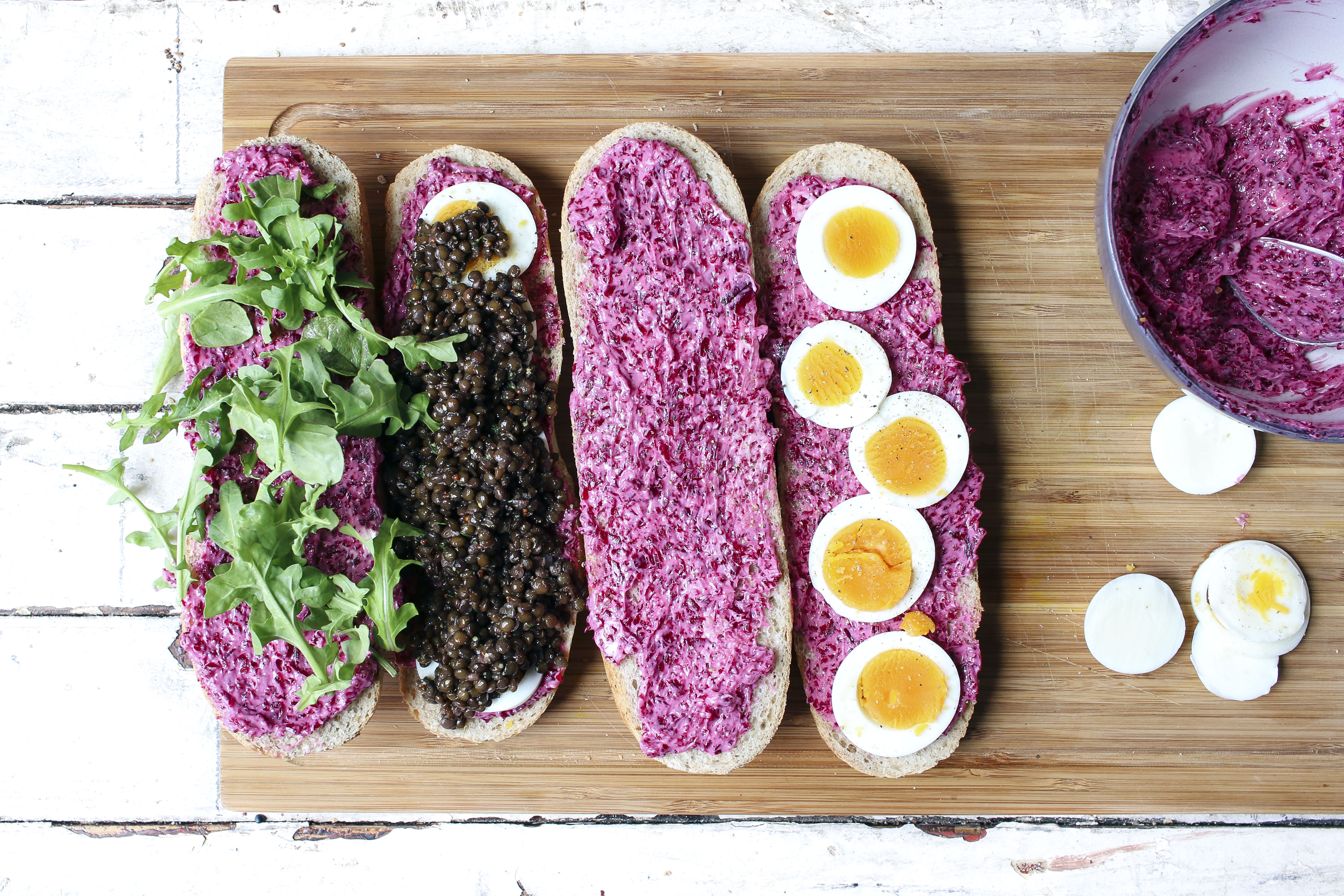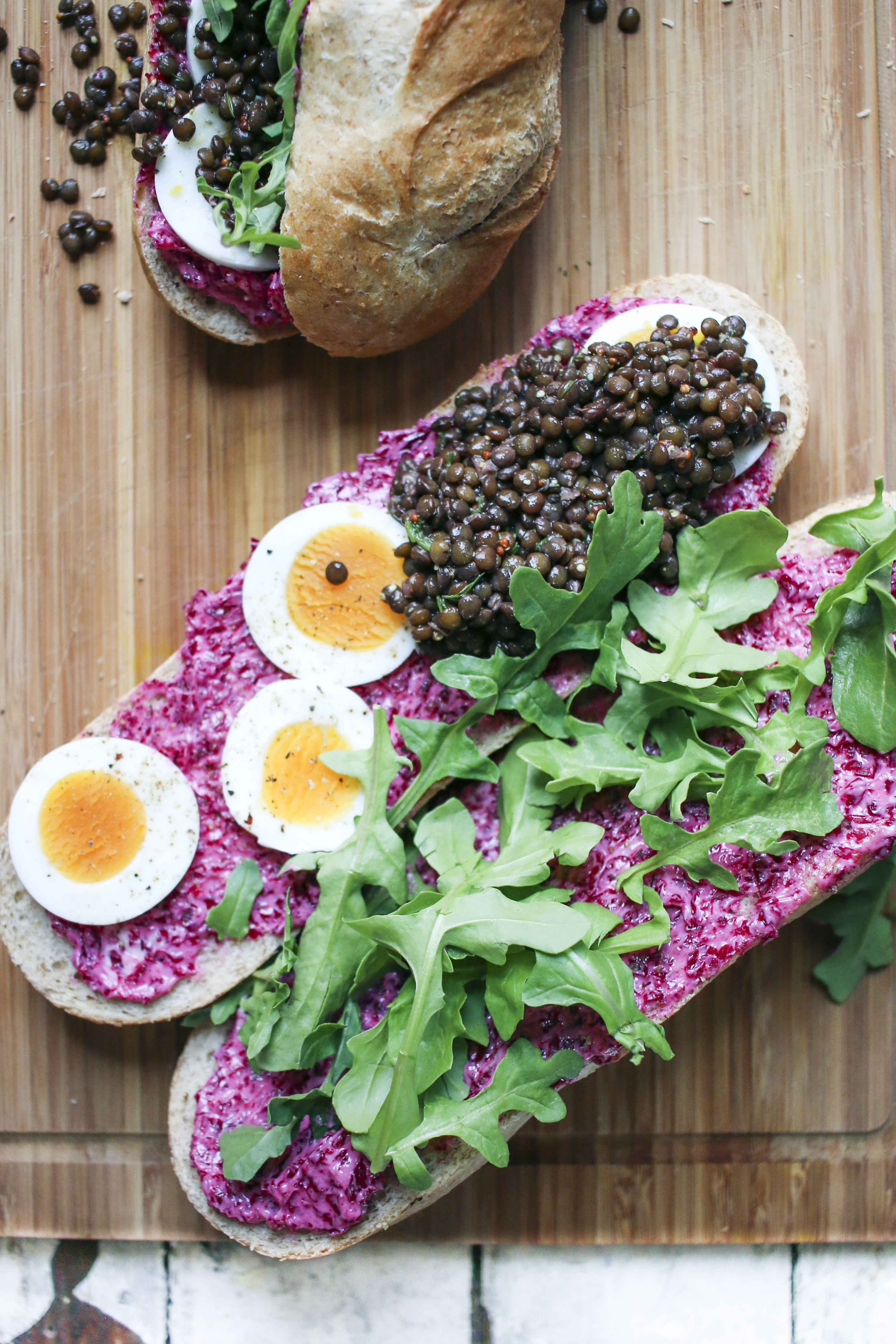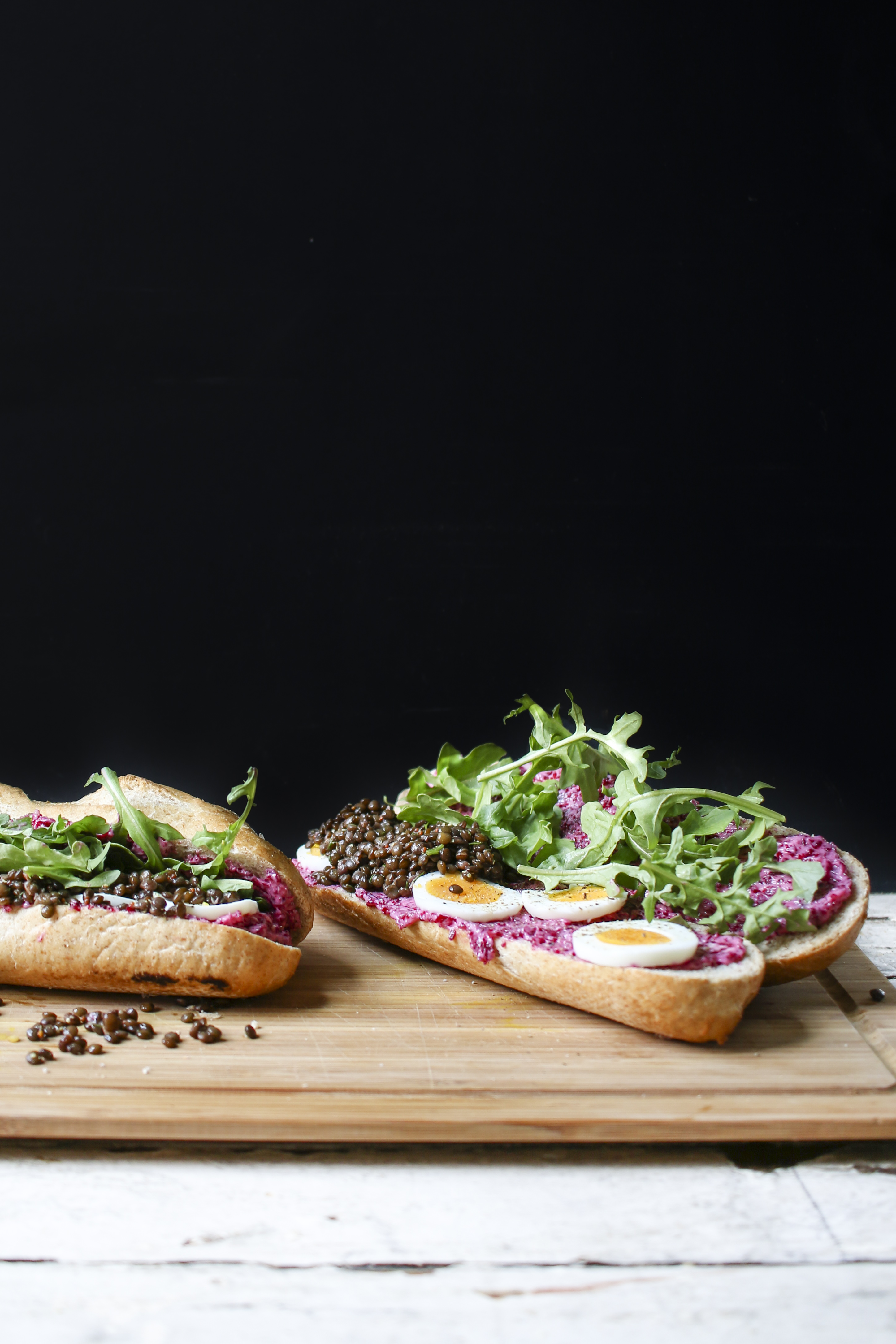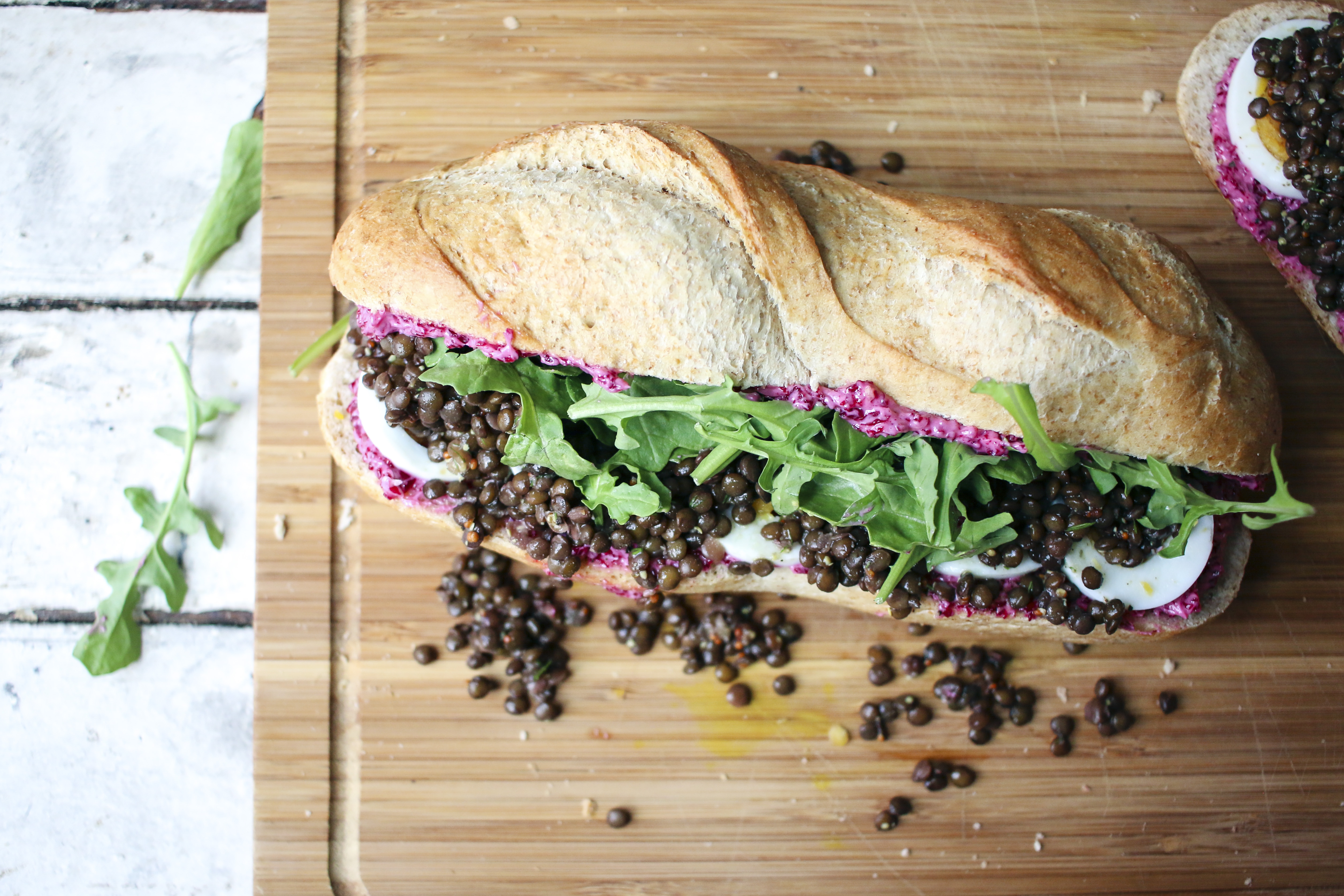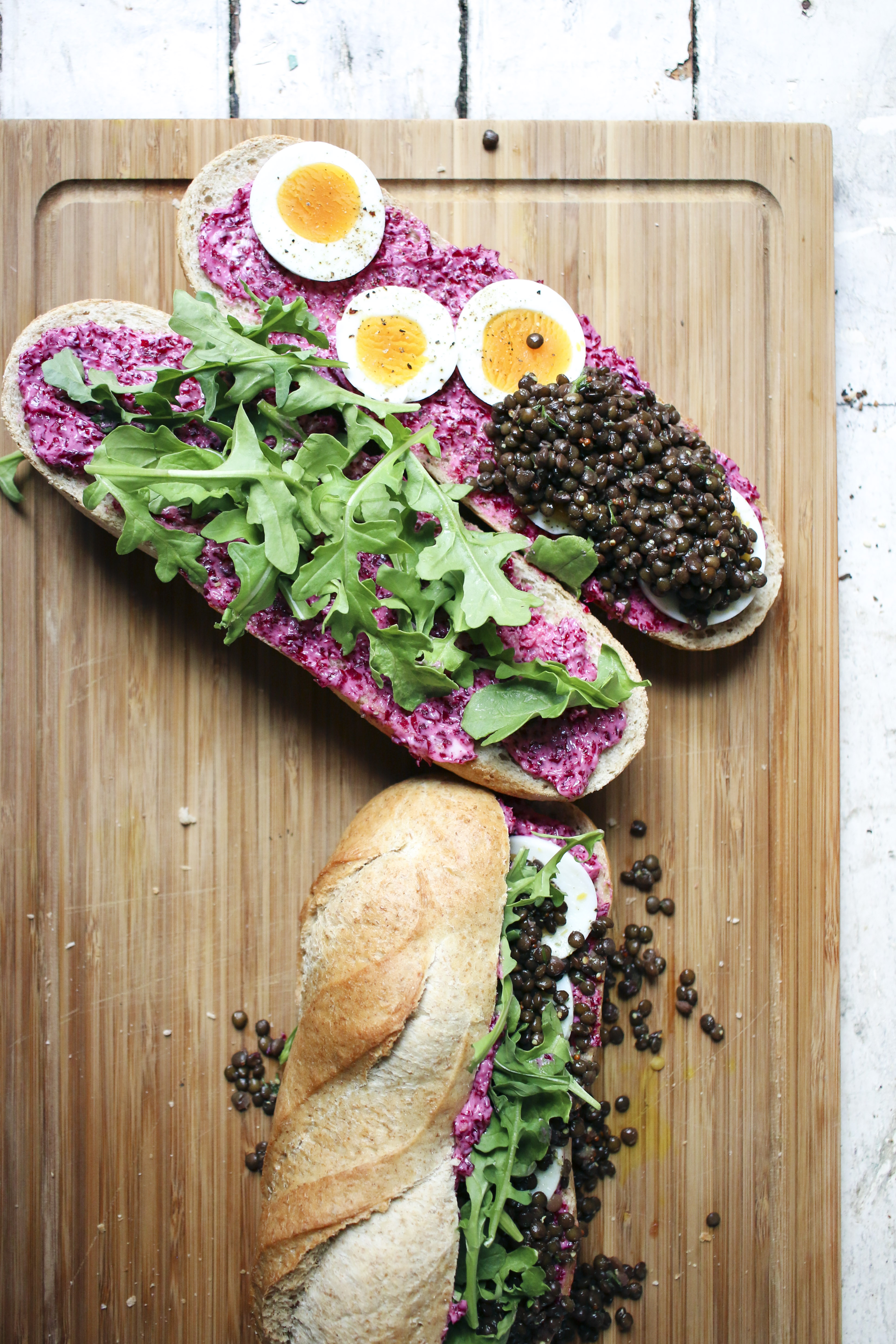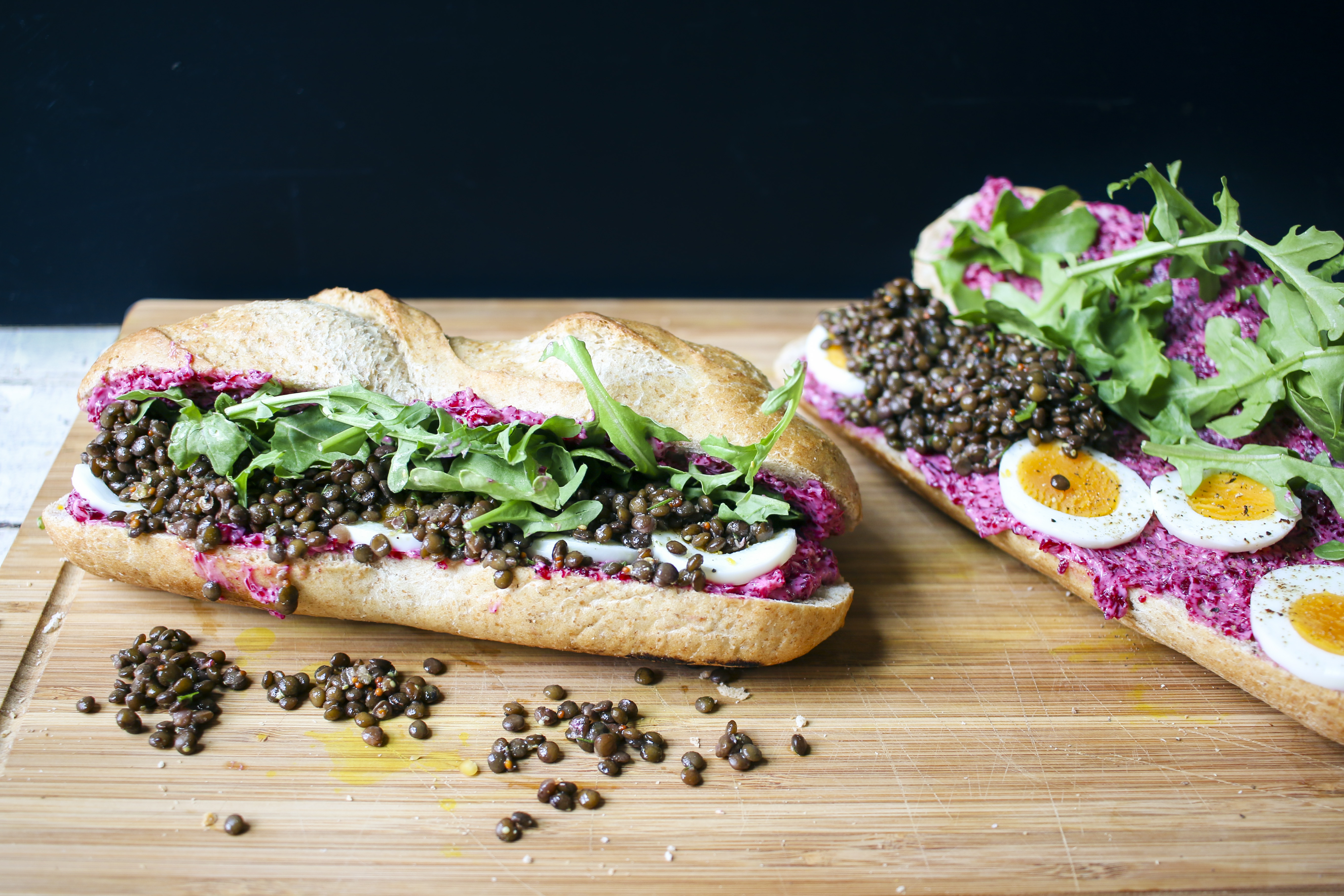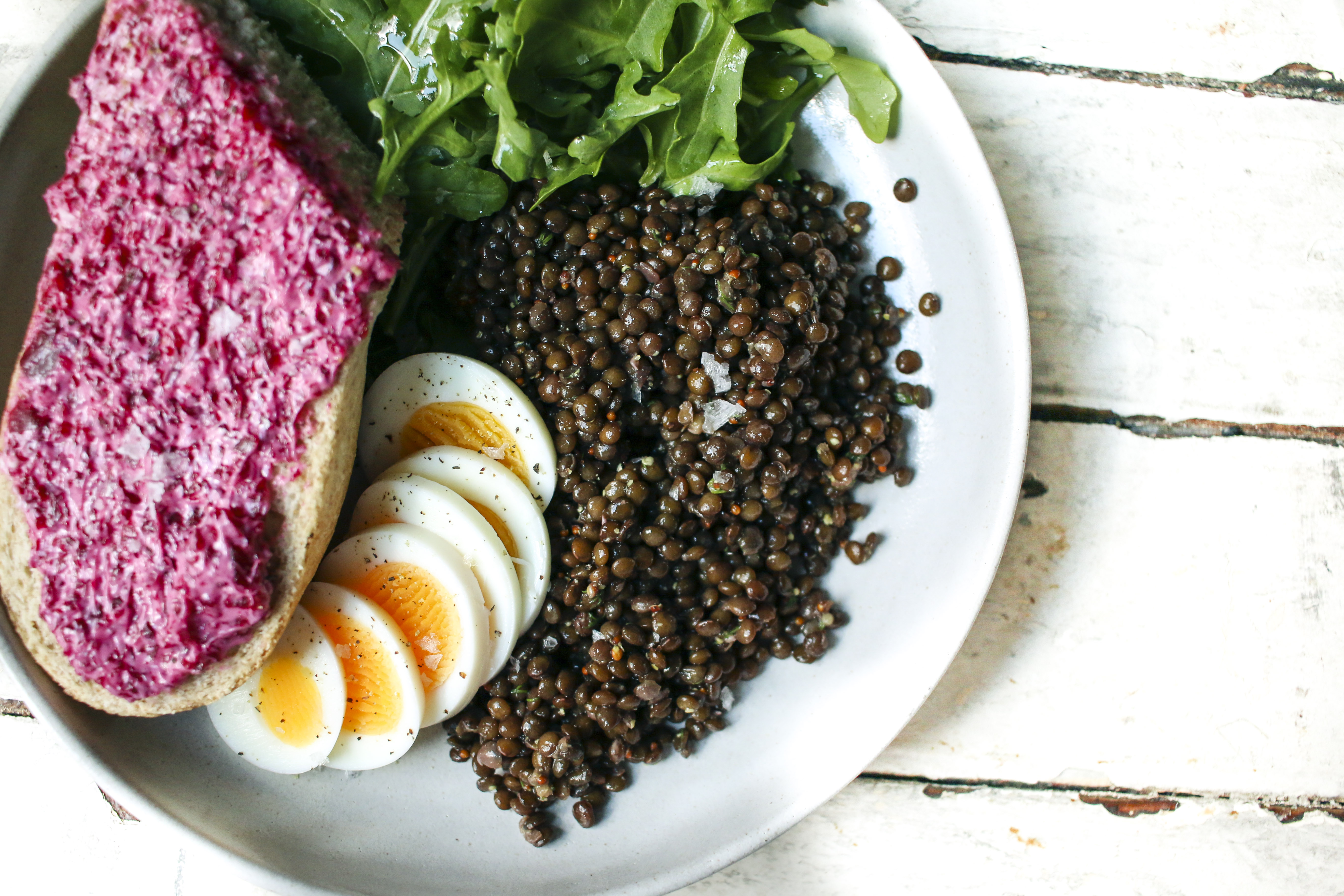 LENTIL SANDWICH
WITH PICKLED BEET BUTTER
4 SERVINGS
[one_half padding="0 20px 0 0px"]
PICKLED BEET BUTTER
1 small beet
1/3 cup apple cider vinegar
1/2 cup water
1 tsp sugar
1/2 tsp salt
1/4 tsp mustard powder, optional
1 stick (8 tbsp) unsalted butter, room temp
LENTIL SALAD
1 cup beluga lentils, rinsed
2 cups chicken or vegetable stock
1/2 tsp salt
1/4 tsp pepper
2 dried bay leaves
3 tbsp lemon juice
1 tbsp grainy mustard
1 tbsp chopped dill
1/4 tsp salt
1/4 tsp cumin
fresh pepper to taste
2 tbsp olive oil
2 whole wheat demi-baguettes, cut open
2 hard boiled eggs, sliced
arugula
Maldon Salt and fresh black pepper
[/one_half][one_half_last padding="0 0px 0 0px"]Place the beet in a pot and cover with cold water at least 2-inches above the beet. Bring the water to a boil over high heat. Boil the beet for 45-50 minutes until cooked through. Allow the beet to cool. Peel by rubbing the skin off with a paper towel. Cut the beet into 1/4″ cubes and place them in a non-reactive bowl.
Heat the apple cider vinegar, water, sugar, salt and mustard powder over high heat in a small sauce pot until the sugar and salt have dissolved and the mixture comes to a light simmer. Pour the pickling liquid over the beets and let marinate for at least 30 minutes.
Drain the beets and transfer them to a food processor. Process until very finely chopped. Combine the beets and a pinch or two of salt with the room temperature butter until combined. This butter is best when eaten at room temperature.
Place the lentils, stock, salt, pepper and bay leaves in a sauce pot with tight fitting lid. Bring the mixture to a boil over high heat, cover, turn the heat down to low, and simmer for 20 minutes until the lentils are al-dente. Drain the excess liquid and discard the bay leaves. Set aside to cool.
Whisk the lemon juice, grainy mustard, dill, salt, cumin and fresh pepper in a small bowl. While whisking, slowly drizzle in the olive oil to emulsify the dressing. Pour the dressing over the lentils and mix to combine.
Spread the pickled beet butter on each side of the baguette. Be generous. Lay the sliced egg on the bottom half and top with a lots of lentil salad, arugula and garnish with Maldon salt and fresh black pepper. Top and enjoy! [/one_half_last]