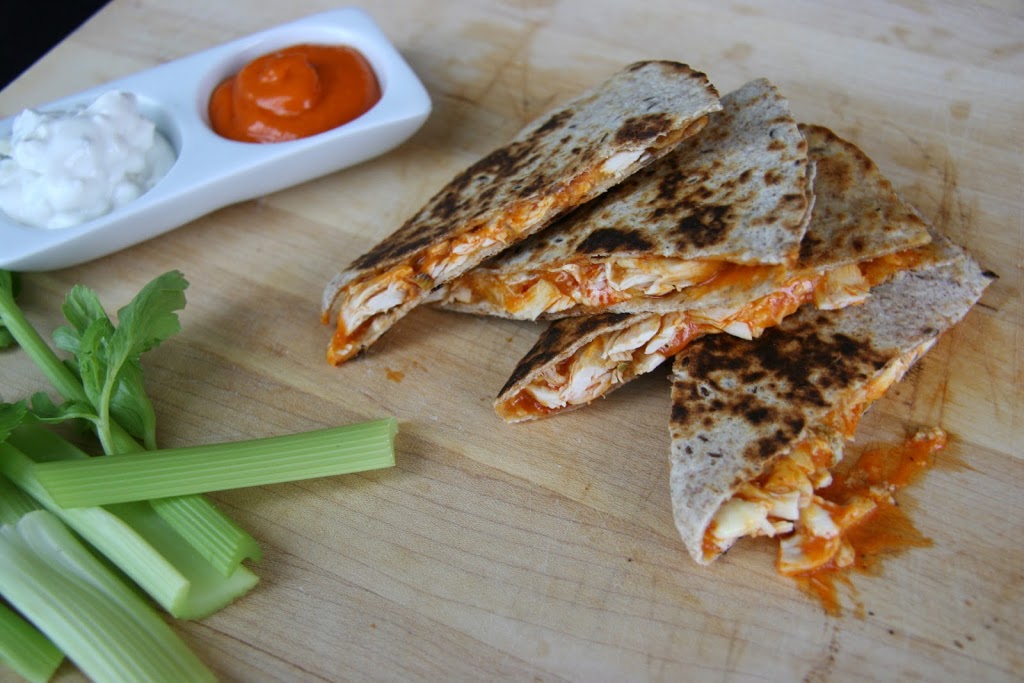 Buffalo Chicken Quesalillas
This weekend, my beau and I hosted "Sabado Picante." How many quesadillas were consumed at "Sabado Picante?" In the voice of Charlie Sheen, "Tons!" I didn't get to make all the various types I wanted to, but the crowd wasn't disappointed. And, these Buffalo Chicken Quesadillas were definitely the favorite.
I am obsessed with buffalo sauce. I want to drink it. Though it gives us heart burn, my family and I go to this fast food-ish chain, which will not be named, almost every week to have their "Kickin' Buffalo Chicken Salad." So good.
Have a quesadilla party or just make some for lunch. Buffalo chicken nachos! Buffalo chicken grilled cheese! I just keep a container of the buffalo chicken in my fridge to have on hand just in case my boyfriend decides he's hungry at 11:30pm.
PS – I heart Frank's RedHot.




Buffalo Chicken Quesadillas
w/ Blue Cheese Dipping Sauce
Makes about 12 quesadillas
For buffalo chicken:
6 TBSP butter
1 TBSP all-purpose flour
1 1/2 cups hot sauce (like Frank's RedHot)
1 TBSP white wine vinegar
1/2 TBSP olive oil
4 stalks celery, sliced thinly
2 chicken breasts, cooked and shredded
Salt and freshly ground pepper
For quesadillas:
12 tortillas (flour, whole wheat, flax, etc.)
1 cup shredded cheddar cheese, jack cheese, marbled cheddar, or your favorite kind
1/2 cup blue cheese, crumbled
1 TBSP olive oil for pan frying
For Blue Cheese Dipping Sauce:
1 1/2 cups sour cream
1/3 cup blue cheese, crumbled
In a small sauce pot over med heat, melt 5 TBSP butter. Add the flour and mix with the butter. Cook for about a minute to cook out the flour taste. Add the hot sauce and vinegar, and let the sauce heat but not boil for 4-5 minutes, stirring constantly. Turn the heat off and stir in the remaining 1 TBSP butter. Reserve 1 cup of the buffalo sauce. Place in an air tight sealed container and keep in the fridge for future use.
In a small bowl, mix the sour cream and blue cheese crumbles.
Heat the olive oil in a skillet or large pan on med-high heat and add the celery. Sweat until celery is slightly soft and darker in color. Add the shredded chicken and season with salt and pepper. Turn the heat down to med-low and add the buffalo sauce. Cook together, stirring, for about 5 minutes.
Place ingredients in this order on one side of a tortilla: shredded cheese, buffalo chicken, blue cheese, and shredded cheese again. Not too much or else it will overflow! Assemble all the quesadillas you plan to eat.
Heat olive oil in a large pan or skillet on med-high heat – not too high or else the tortilla will burn and the cheese inside will not melt. Place 1-2 quesadillas at a time in the pan. Fry them for about 2 minutes on each side (keep in a 200 degree F oven if you are making them all at once and want to serve all 12 at the same time). Slice them into 4 pieces.
Serve hot with blue cheese dressing on the side.