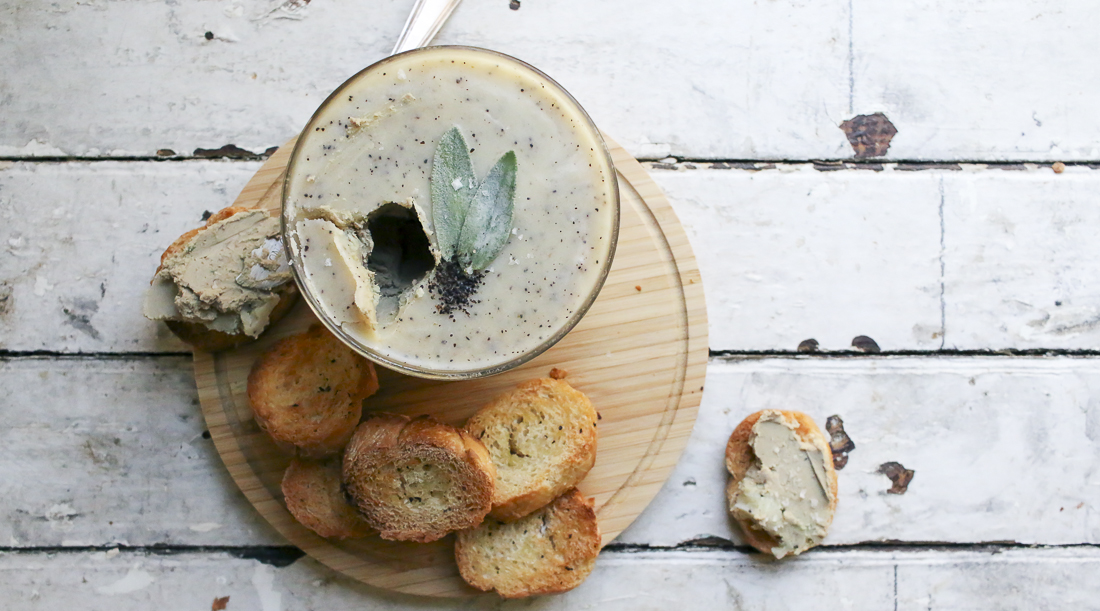 Bourbon Sage Paté with Coffee Butter
What a lovely night it was. Tas and I invited our friends, and friends of friends, for a great night of tapas and cocktails to raise money for World Food Day through a FEED Supper. We fed them and they fed the world by donating. We collectively raised 11,455 meals! Over 30 days, FEED raised over 2 million meals. What an accomplishment! Congrats FEED! Being the person that I am, I made enough food to feed an army, not 35 people. That's the panic in me feeling like there will never be enough food. Which is incredibly ironic considering that we were raising money for World Food Day. I know that I'm crazy, and I embrace it. Don't worry though!! All leftovers were eaten. As guests were saying their good byes I ran after each one of them with containers getting them to take some food home. Tas and I also continued to feast for the whole next day.
Some highlights of the spread we served included my Kabocha & Havarti Pockets, caramelized onion tart tatin, dried spanish chorizo cooked in tempranillo, radish and herbed goat cheese toast, spicy lamb meatballs, tons of meats & cheese, a bulgur salad, cheese bourekas, beet tarts, spinach galettes, pan con tomate and this bourbon sage paté. Oh! And my pride and joy: The Gin Bar.
The Gin Bar. Which really was only a few very large bottles of gin, Fever Tree ginger beer, Q tonic water, a few garnishes, and freshly squeezed citrus juices. But this was such a hit. I think there was only one person that said they don't like gin and went for the massive bottle of bourbon. Success. I got drunk fast. Especially because as a host, you forget to eat. Oooopsh. And this is why I have zero photos from the night. I'm good at life.
Thank you to everyone who donated and helped organize the supper! I highly recommend hosting your own FEED Supper. There is something different in the air when you're celebrating the fact that you helped raise money for a cause.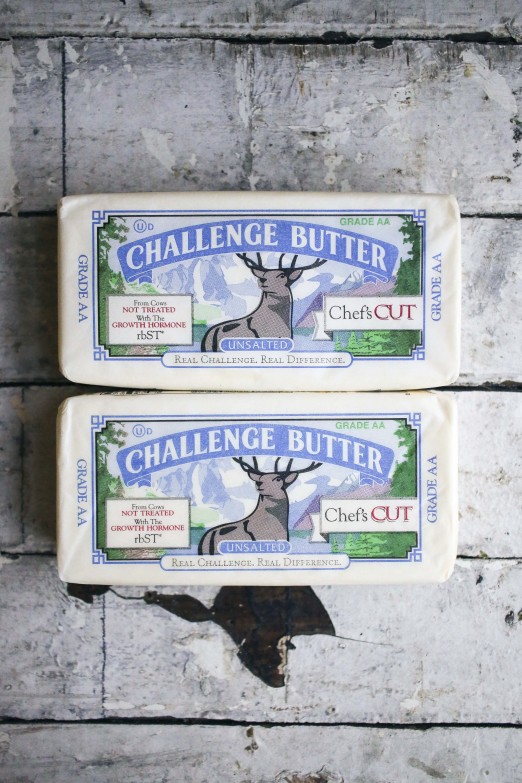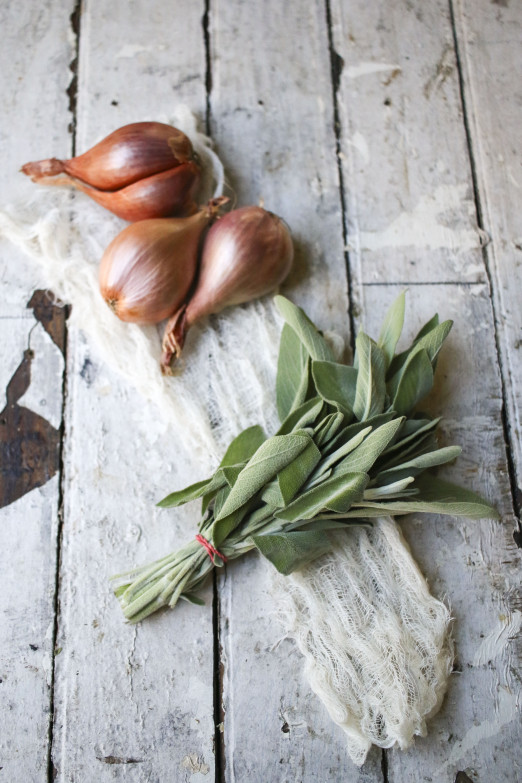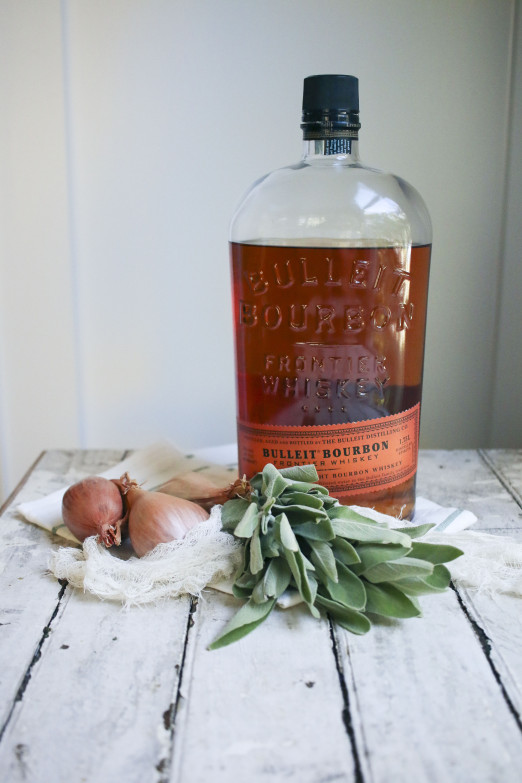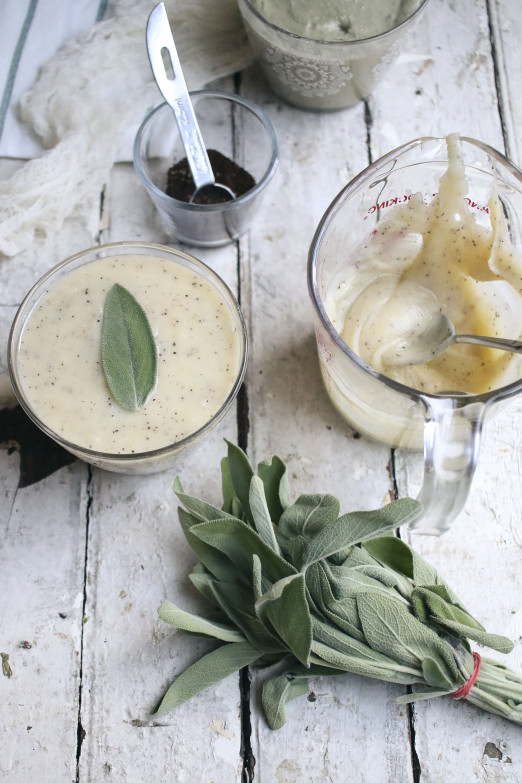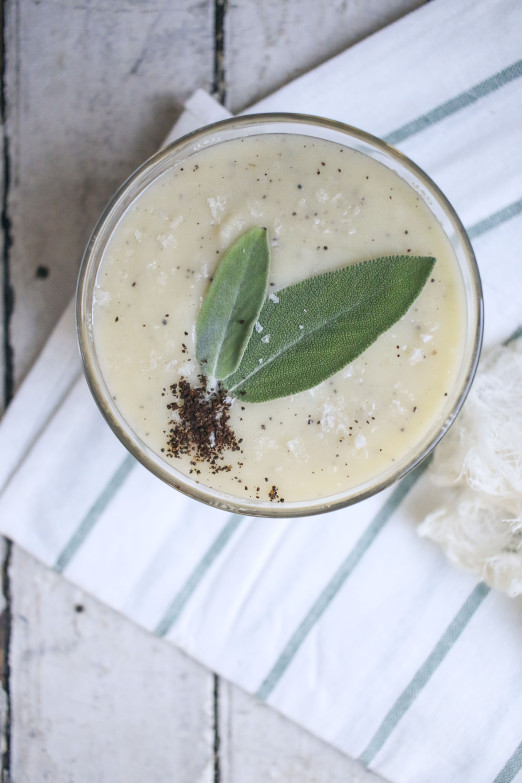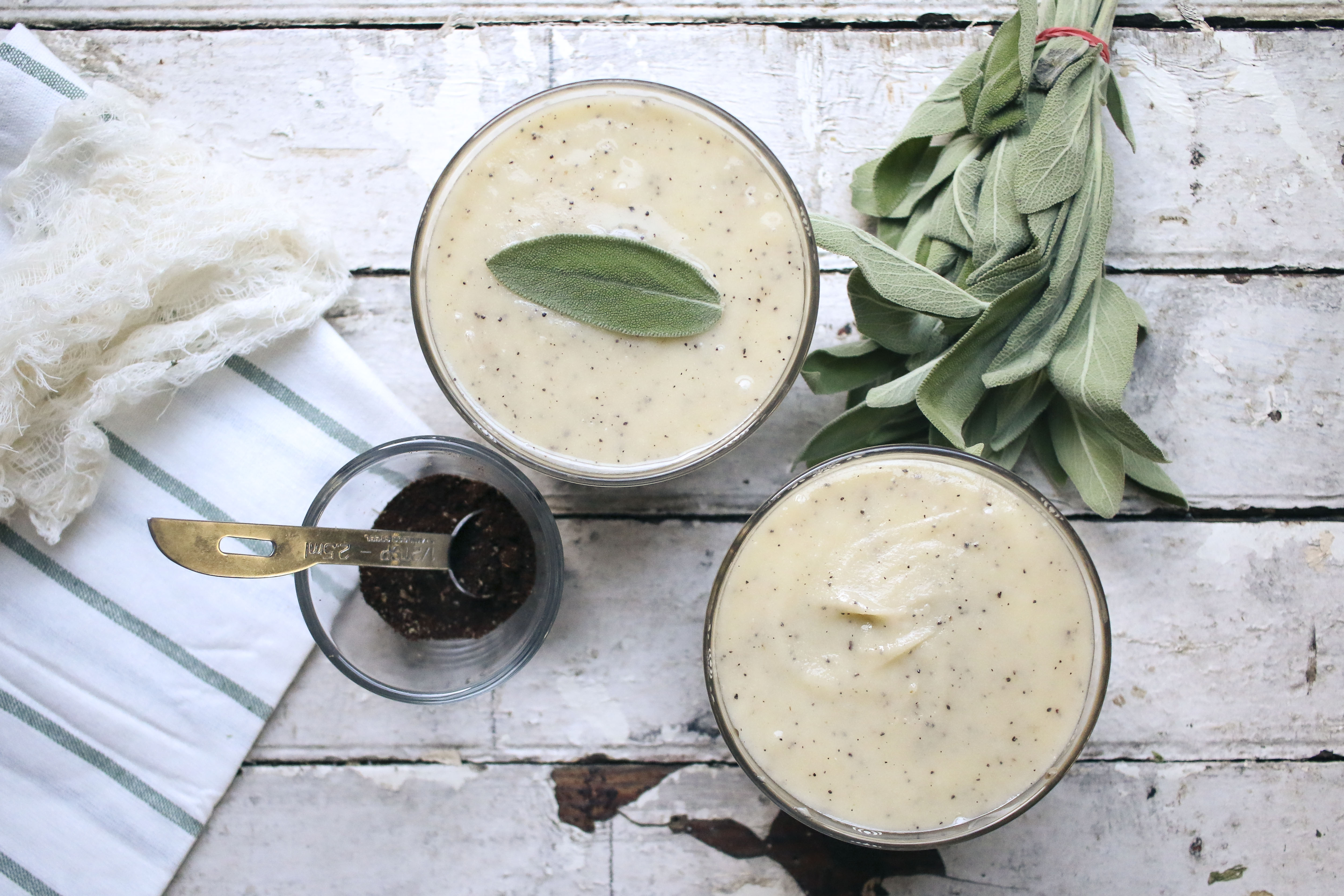 People are always surprised when they hear that paté is made with liver. It had become somewhat of an inside joke with myself during the night of the FEED Supper. Someone would come up to me and, while still chewing the paté, would ask, "Oh my goooaaawwwdddddd, what's in this?" As I reply, " Bourbon, sage, a hell of a lot of butter and chicken liver…" I love watching the chewing pause and then a quick swallow. It's just chicken liver! It's delicious. Shut up.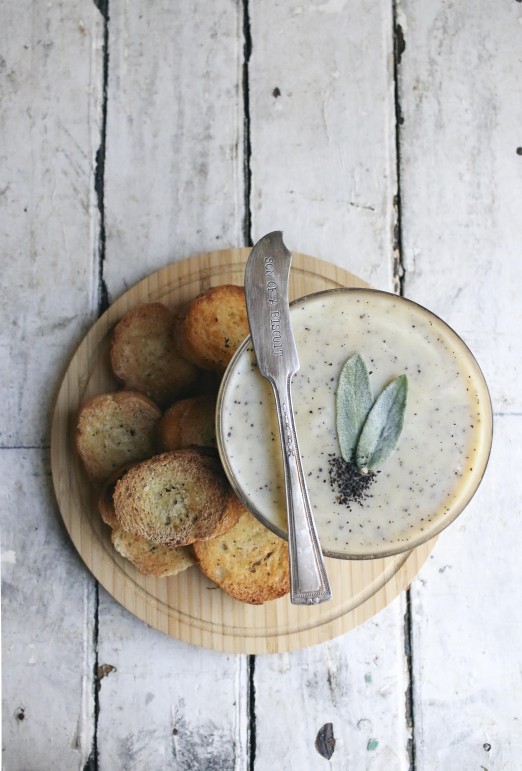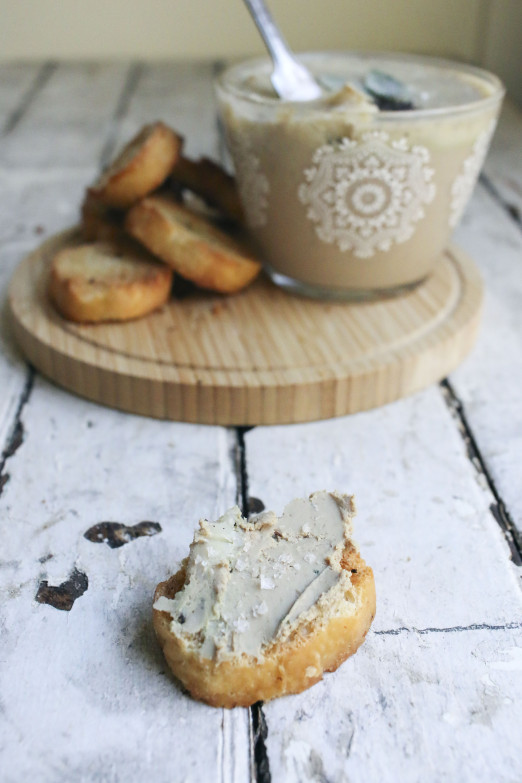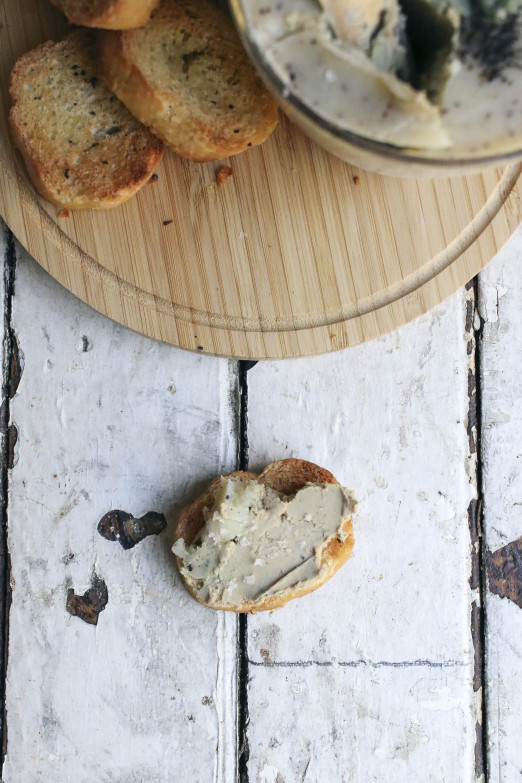 BOURBON SAGE PATE
WITH CLARIFIED COFFEE BUTTER
MAKES 8-10 APPETIZER SERVINGS
1 stick (113g) unsalted butter
freshly ground coffee
 
1 lb quality chicken livers, trimmed
olive oil
3 shallots, sliced
3 leaves sage, sliced into ribbons
salt & fresh black pepper
1/4 – 1/3 cup bourbon
1 tsp champagne or sherry vinegar
1 1/2 sticks (170g) unsalted butter
 
sage leaves
Maldon or other finishing salt
crostinis or baguette
For the clarified coffee butter: Place the butter in a small sauce pot over low heat. It will melt then begin to simmer. Simmer over low for 12-15 minutes until all the milk solids have come to the top and start to slightly brown. Strain through 4 layers of cheese cloth and set the clarified butter aside. You want the butter to start hardening but not be completely solid. You're looking for the consistency of flooding royal icing, is the best I can describe it. You can leave it out at room temperature to cool to that consistency, or if you are impatient, you can pop it in the fridge for 20 minutes or so.
In the meantime… make the paté: In a large sauté pan, heat a teaspoon or so of olive oil over medium-low heat. Sauté the shallots until softened, about 8 minutes. Add in the sage and sauté another minute. Season with salt and fresh black pepper. Remove it from the pan into the bowl of a food processor. Raise the heat to medium-high and sauté the chicken livers until seared on the outside but still pink in the middle. About 1 – 1 1/2 minutes per side. Season with salt and fresh pepper. Add the bourbon to the livers and flambé (optional). Cook off some of the alcohol, about 30 seconds, or until the flames subside. Remove from the pan into the bowl of the food processor. Add the vinegar and process until smooth. Add the 1 1/2 sticks of butter and continue to process until very smooth. Then process some more. Taste and adjust the seasoning with salt and fresh pepper. Place the paté mixture into 2-4 serving dishes leaving at least 1/2″ at the top for the clarified butter.
Mix in a few pinches of the coffee grinds into the semi-hard clarified butter. Top each paté with the butter making sure that it completely covers edge to edge. Tap the dishes on the counter to release any air bubbles. Garnish each with a few sage leaves and a small pinch of ground coffee. Set in the fridge for at least 24 hours for the flavors to develop.
Serve with crostinis and a side of Maldon finishing salt. Enjoy!